Smooth to the palate with a hint of spice and coconut milk, this humble pumpkin soup gets elevated with toasted quinoa on top. While I always favor soaking slices of crusty bread in my warm bowl of soup, this time I just kept sprinkling crunchy quinoa until I reached to the bottom of the bowl.
This year, we didn't have a lot of cold days to glug on soup. However, for the past few weeks, it suddenly got a little chill, gloomy, windy and there was barely any sign of sunshine. Both my boys were under the weather, cough and cold followed by sleepless nights. We cancelled our plans and spent the long weekend at home, just smacking on homemade spicy street food to uplift the taste buds and then slurp some soup to warm us up.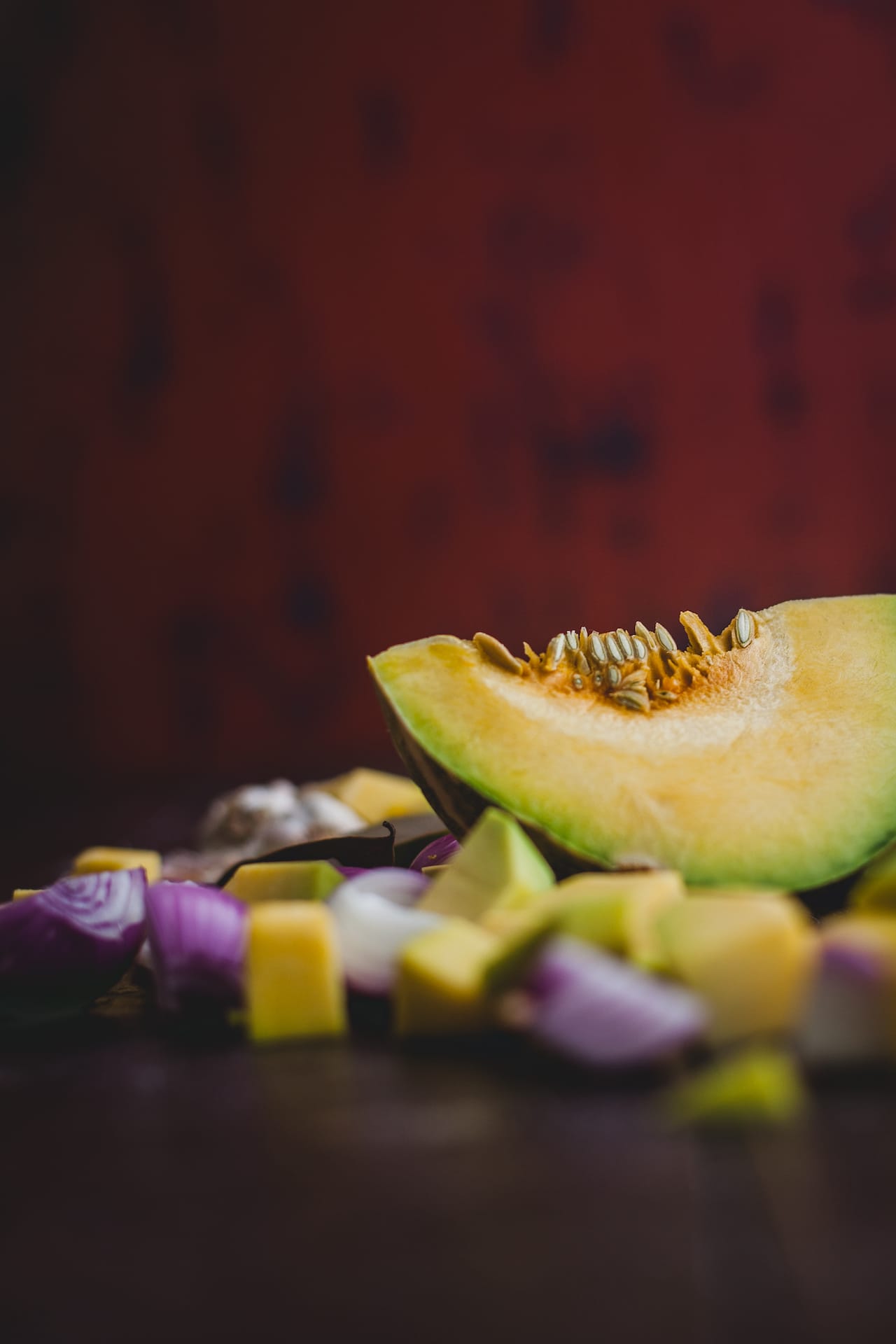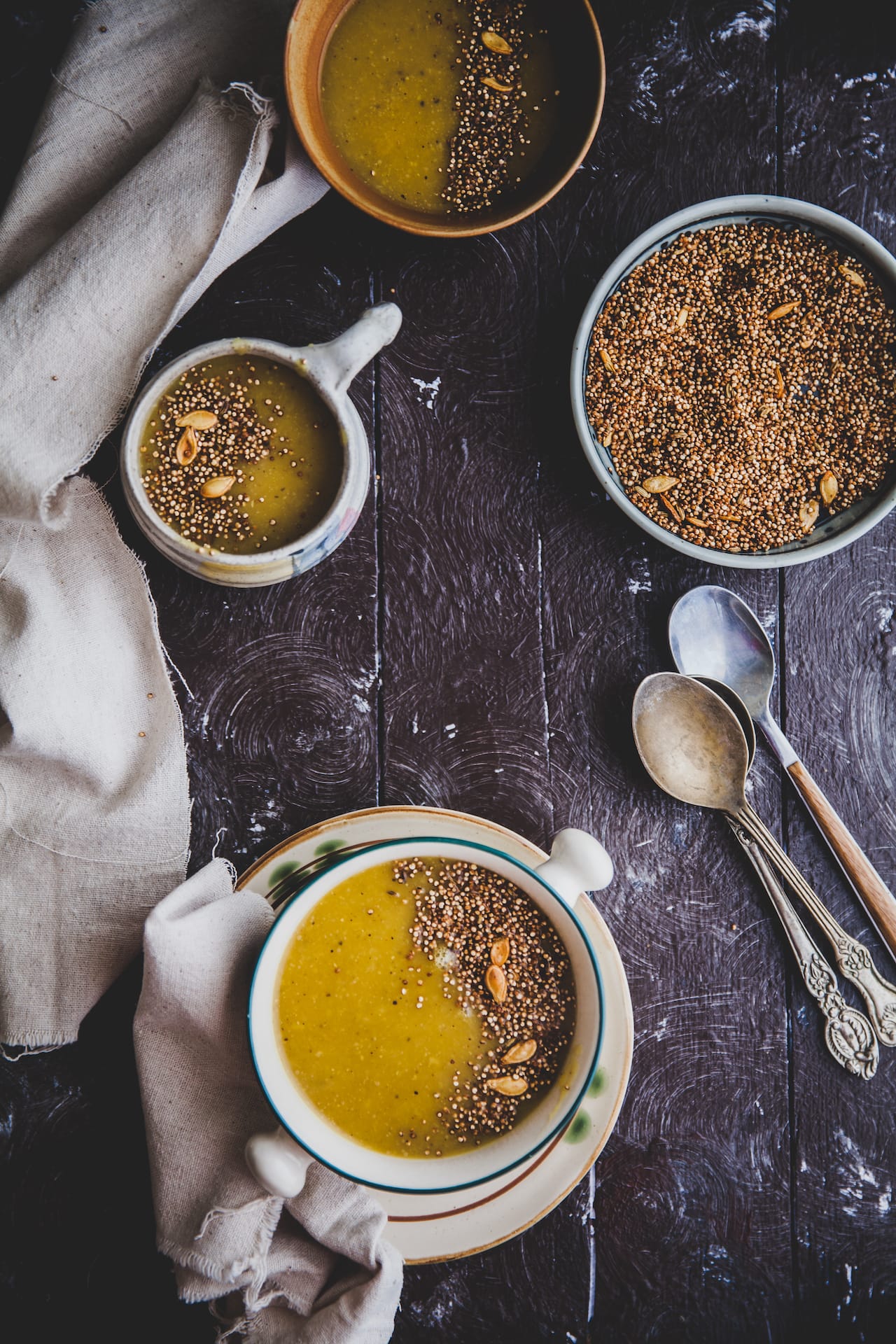 Roasting pumpkin always brings out the sweetness and since I don't have an oven out here, I just slow cooked it with some whole spices. The the best part of making soup is that you can just drop everything in a pot and allow it simmer while you catch up on your reading or in my case, play building blocks along with our little man.
If you enjoy toppings on your soup, try toasted quinoa. It's so easy to prepare and stays crunchy for several days in an airtight jar. It's also a great way to add texture to your silky soup.
Pumpkin Soup With Toasted Quinoa
Ingredients
for toasted quinoa
¼

cup

quinoa

(I used Natures Baskets)

1

teaspoon

fennel seeds

salt
for pumpkin soup
500

gram

pumpkin

(chopped to bite size)

1

medium onion

(roughly chopped)

4 to 5

garlic cloves

(roughly chopped)

2

bay leaves

1

cinnamon stick

1

teaspoon

fennel seeds

½

cup

coconut milk

1

teaspoon

cumin powder

salt

pepper

2

tablespoons

butter

1

teaspoon

oil
Instructions
to prepare the toasted quinoa
Start by rinsing quinoa several times. This is mainly to remove the bitter taste.

Then, drizzle oil in a medium hot pan and add fennel seeds. Once they start sizzling, scatter the quinoa and start toasting.

It will take a while for it to change color and get crunchy. Just keep tossing every now and then to avoid them from burning.
to prepare the pumpkin soup
Add butter and oil in a hot pan. Drop the bay leaves, cinnamon stick and fennel seeds.

Once they sizzle, drop garlic and onion, season with salt, pepper and allow it soften for a minute. Next, drop the chopped pumpkin and give it a toss. Add cumin powder and enough water to cover the pumpkin.

Bring it to a boil and then allow it to simmer until the pumpkin is tender.

Remove the cinnamon stick, bay leaves and add coconut milk.

Finally, blend it to a smooth puree, ladle the soup into bowls and top it with toasted quinoa.
Nutrition