We both like to eat some light snacks in the evening. Something that can be paired with ginger tea or coffee followed by a light dinner later in the night. The habit of eating snacks with evening tea is very common in India. It would mostly be something savory, like fritters or something deep fried. I never had the habit of making snacks back in India. By the time I reached home, it would be time for dinner followed by some pending work to finish.
However, it's been different since the time I moved to US and became a full time home maker. You will notice that I have quite a few snack items in my recipe index 🙂 I am always in hunt of snack recipes and at times, I try to come up with some new ideas. I avoid deep fried stuff these days because i'm trying to get back in shape… you know, time to get back in summer clothes. No more jackets or sweaters to cover those guilt calories 😀


Last evening, I was craving for Papri chat – an Indian favorite fast food/road side snack. Papri refers to crispy fried dough wafers made from refined white flour and oil. I was feeling too lazy to knead and then again, it would be deep fried! So, I decided to give my own twist and enjoy papri chat with tortilla bread. I cannot call it papri chat or even compare it with papri chat. But, all in all, it was a great light snack which could also be enjoyed as an appetizer .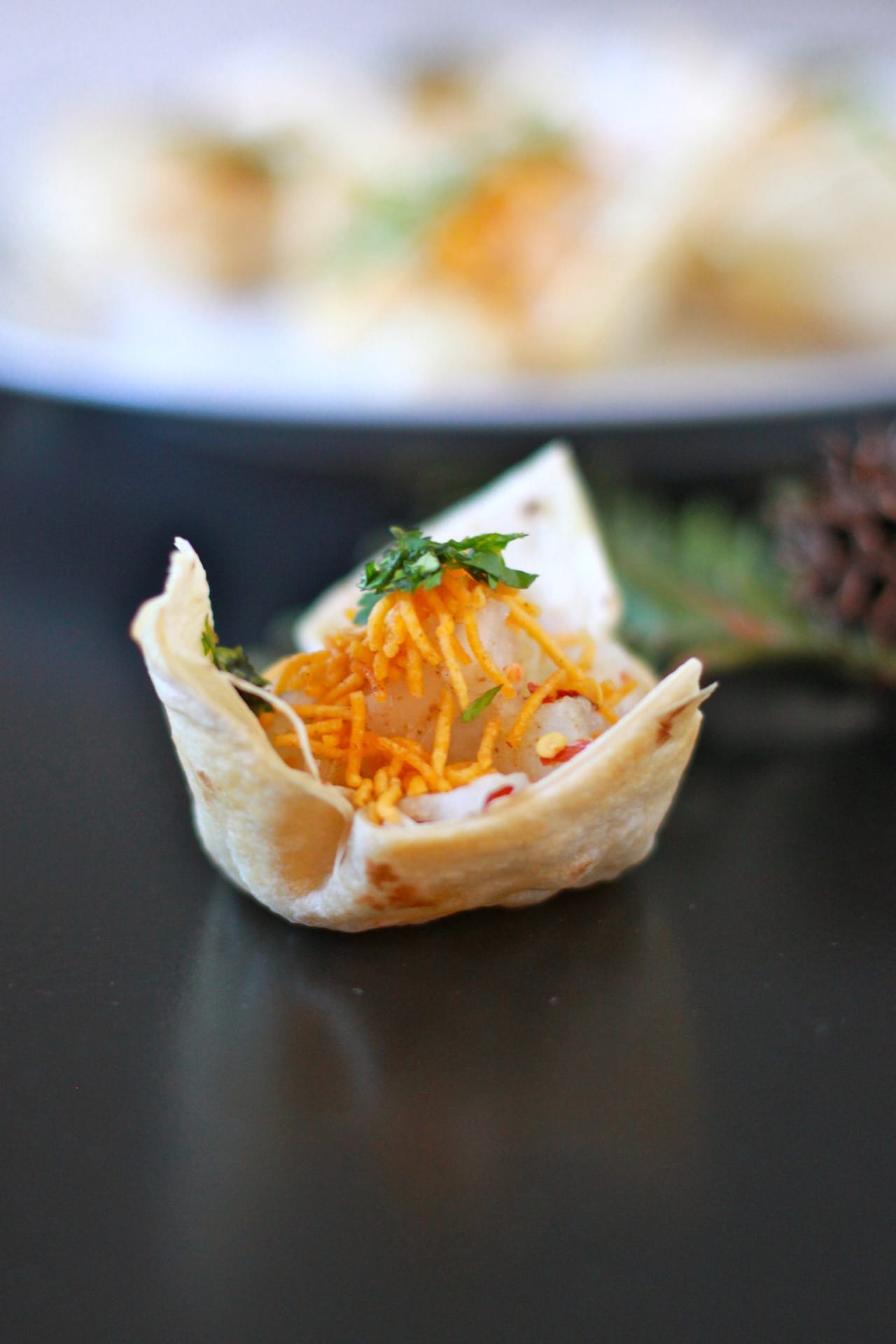 Tortilla Cups with Tangy Filling
Ingredients
3 to rtilla bread
1 big potato
1/2 medium onion, finely chopped
1/2 cup cilantro, finely chopped
1 cup plain curd
1 cup spicy potato fried noodles/bhujia, you can find them in any Indian store
1 tsp mango powder
1 tsp chilly powder
1/2 tsp cumin powder
1 tsp chilly flakes
salt
pepper
Instructions
oil to grease the muffin pans
Cut each tortilla bread into four squares or circles.
Boil the potatoes and chop them to bite size pieces.
In a bowl, mix potatoes, onion, mango powder, salt, pepper, cumin powder and chilly flakes.
In a separate bowl, mix the curd with some salt and chilly powder.
Grease the muffin pans and place the chips in the pan. Press it a little bit to form a shape of muffin.
Bake it for 15 to 18 mins at 400 F.
Let it cool for a while and then take out the tortilla chips. It should look like crispy, tiny cups.
Put the potato mix in the tortilla cups. Then, add curd on the top and finally, garnish with some chopped cilantro and bhujia.
Serve it either as an appetizer or snack.. Enjoy 🙂

Sharing this dish with Cooking Thursday and Friday Potluck
Did you enjoy this Tortilla Cups with Tangy Filling? Share your creation by tagging
@playfulcooking
on Instagram with the #playfulcooking and I will re-share in my story!