Growing up in a Bengali Family, we ate fish everyday and used every single part of it. I like to deep fry the tail and bite every inch of the crispy end. There are several delicacy dishes in West Bengal that are cooked with fish head. It may sound very un-appetizing for many of you, while  for some of us.. party in our mouth!
This sure does tells you about my love for fish.
The thought of eating fish head, tail or even fish with skin and bones scares Arvind. So, I don't cook anything but boneless skinless fillet. Someday.. someday.. I am hoping to make Arvind eat fish like I do.. and may be, I should start by making him eat fish with skin.. (evil grin) 😉
I am sure to receive some stares after he reads this post !
So, until the time I visit India or I manage to cook one of those head or tail,  fillet is what I will be cooking in my kitchen.
Tilapia is one of my fav white fish.. soft and light. It's one of my go-to fish during summer. Grill it with some salad on side. Or pan fry it and enjoy with some lentil, which is our all time fav meal. Today, I roasted it with some purple potatoes.
Purple potatoes are so creamy and soft in texture. If potatoes are comforting, then purples ones are double comforting. If you haven't tried them yet ..I'd say, you should!
I never came across these potatoes in India and initially, I was a little worried about the taste. But, I knew it cannot taste bad as it was still a potato, just pretty purple in color 🙂 The white soft tilapia with these purple potatoes was such a comforting dish for a warm summer afternoon. This is one of Giada's recipe.
Tilapia with Purple Potatoes and Roasted Broccoli
Ingredients
2

tilapia fillet

3

purple potatoes

(peeled and thinly sliced)

1

tbs

dried parsley

1

tbs

chilly powder/chilly flakes

1

tbs

lemon juice

salt

pepper

oil

(I used extra virgin olive oil)
Instructions
Season the fillet with salt and pepper.

On top of the fillets, place enough slices of potato to completely cover the surface of the fish.

Sprinkle some salt, pepper and parsley on top.

Heat an oven proof skillet with 1 tbs oil and place the fish on the pan, potato side down.

Quickly arrange some more potatoes on the other side and season with some salt and pepper.

Put it in the oven and bake it at 375 F for about 18 minutes.

Sprinkle some lemon juice on top and serve it hot!
Nutrition
You could enjoy it with some salad or bread. Or you can have them roasted broccoli and orange salad, like we did. Broccoli is Arvind's fav and he likes it boiled with little butter and salt. This time, I wanted to try roasting the broccoli and it tasted really good. He loved it 🙂
The smokey flavor of the roasted broccoli with tangy sweet oranges was an amazing combination. Just to add some more crunchy bite, I garnished it with some roasted almond on top.
Ingredients :
3 cups broccoli florets
½ cup bread crumbs
2 tbs oil (I used extra virgin olive oil)
1 tbs dried parsley
salt
pepper
1 tbs chilly powder
3 cloves garlic, smashed
1 orange, peeled and cut in bite size pieces
2 tbs chopped roasted almond for garnish

Directions :
Mix the bread crumbs with oil, parsley, salt, pepper and chilly powder.
Rub the breadcrumbs on the florets.
Put it in a baking pan and add garlic along with the florets.
Bake it at 450 F for about 18 to 20 minutes.
Cool the florets and mix it with the oranges.
Garnish with the roasted almond and serve!
The crunchy roasted broccoli with the tender tilapia was such a perfect palate pleasure.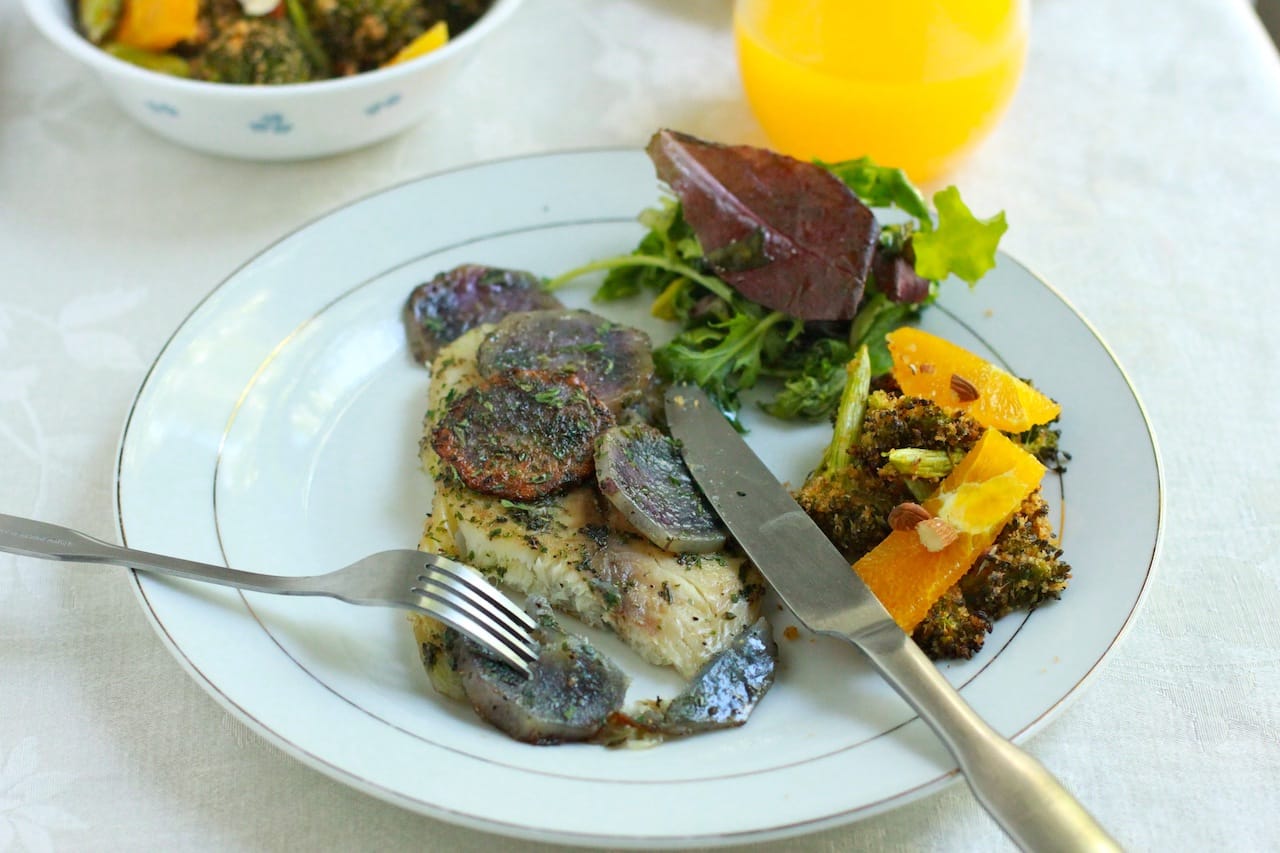 Sharing this dish with Food palette series purple