I am really missing home today. I can almost visualize all the yummy, delicious food that Mom must be cooking - different varieties of seafood, meat and sweets. I won't be surprised if I come to know that she ended up making a 7 course meal. Today is Bengali New Year called Pohela Boishakh in regional language. We never really follow the calendar so religiously. I can't even memorize the months, dates and etc. The only thing I remember is that on this day, we wear new clothes, Mom cooks amazing food, gifts are exchanged and families get together.. A day full of fun and laughter. Since we are in different time zone, we will celebrate it tomorrow. I and hubby will treat ourselves with some of our favorite sweets and savory treats 🙂
Today's post is pretty special to me. It's a challenge, my first Daring Cook Challenge! When I saw the email from DK mentioning that my blog got approved to participate, I was super thrilled. Immediately, I jumped there to see the month's challenge and I laughed out loud. This month's challenge is to make savory edible containers and fill it with something appropriate. If only the mail would have come just a day before.. I had just posted my Tortilla Cups recipe 🙂 You got it.. right ?! 😀
Anyways, this was challenging as well as interesting. I didn't want to make the same thing again and most importantly, I wanted to make the cup from scratch. After cracking my head a lot and talking to my friend Deepa, I came up with this recipe. It's pretty simple and you can use the dough to make savory, crunchy cookies too! Deepa uses similar ingredients to make her savory cookies and that's how we thought of trying the same dough for cups, and it worked!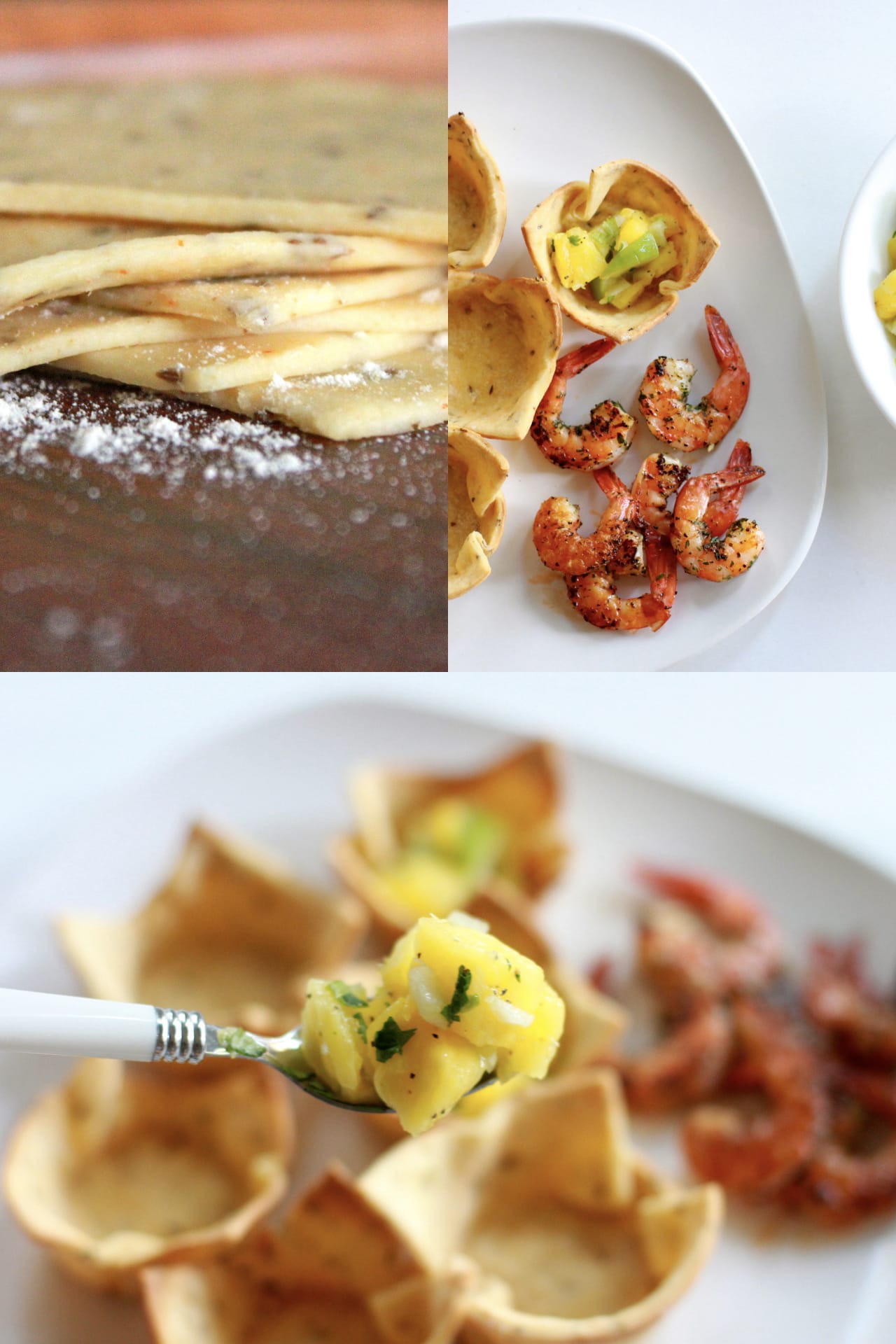 Renata of Testado, Provado & Aprovado! was our Daring Cooks' April 2011 hostess. Renata challenged us to think "outside the plate" and create our own edible containers! Prizes are being awarded to the most creative edible container and filling, so vote on your favorite from April 17th to May 16th at http://thedaringkitchen.com!
Ingredients for the cups
Ingredients
1

cup

all purpose flour

½

cup

semolina

1

tbs

roasted cumin seeds

1

teaspoon

carom seeds/ajwain

1

teaspoon

chili powder

salt

1

tbs

butter

½

cup

curd/yogurt
Instructions
Mix all the ingredients in a bowl and knead to form a soft dough.

Using a rolling pin, roll it into a thin layer. Then, use a cookie cutter or a knife to make 2 inch squares sheets.

Grease the muffin pans with little oil and press down the square sheets into the pockets.

Bake it at 375 F for 15 mins.

Let them cool for a couple of minutes before you take them out.
Notes
You can use the same dough to make some savory cookies too. However, the baking time for the cookies will be 20 mins.
These cups can be made much in advance . I made these 8 hrs in advance and they were still crispy.
Nutrition