Sabudana Vada is a very popular Maharashtrian snack that is prepared with very basic 5 ingredients. It's crunchy on the outside while being very soft and airy inside. Also referred to as Subadana Tikki, this popular teatime snack is vegetarian and is enjoyed a lot during Navratri festival. While these fritters are most commonly enjoyed deep-fried, it is equally tasty when you bake or air fry it. There are a few tricks involved in making Sabudana Vada with a perfect texture, and I have mentioned everything in detail.
The Navratri Sabudana Vada consists of 5 basic ingredients:
Sabudana or Sago – It's important to soak the sabudana for a few hours before you make the vada. On soaking, these will puff and rehydrate. You will know that it's ready when you can crush the pearls by pressing between the fingers.
Potatoes – Mashed Potatoes act as the binding element in the dish, and it also adds the soft texture in the process.
Green Chili – Few finely chopped green chili not only add flavor but also the heat that we Indians love in fritters. If you don't like the heat of green chili, you can remove the seeds and finely chop the flesh. Or, just avoid it completely.
Roasted Peanuts – Nut and Sabudana goes very well together. Coarsely crushed roasted peanuts give a lovely taste and crunch to the vada.
Fresh Cilantro Leaves – Finely chopped cilantro leaves gives a vibrant, refreshing flavor.
FEW KEY TIPS:
Do not over soak the sabudana. I have seen in the past that depending on the variety, it sometimes takes 4 hours to rehydrate these pearl and sometimes, it takes overnight. You want these pearl to be soft but retain shape.
When you mash the boil potatoes, it is advised to use a grater. Grating the boiled potatoes gives a delicate, airy texture.
When you are mixing everything, do it gently without squishing the pearls into a mush.
When you are shaping the dumplings, and it starts to get sticky, just rub a little oil on your hand, and it will get easy.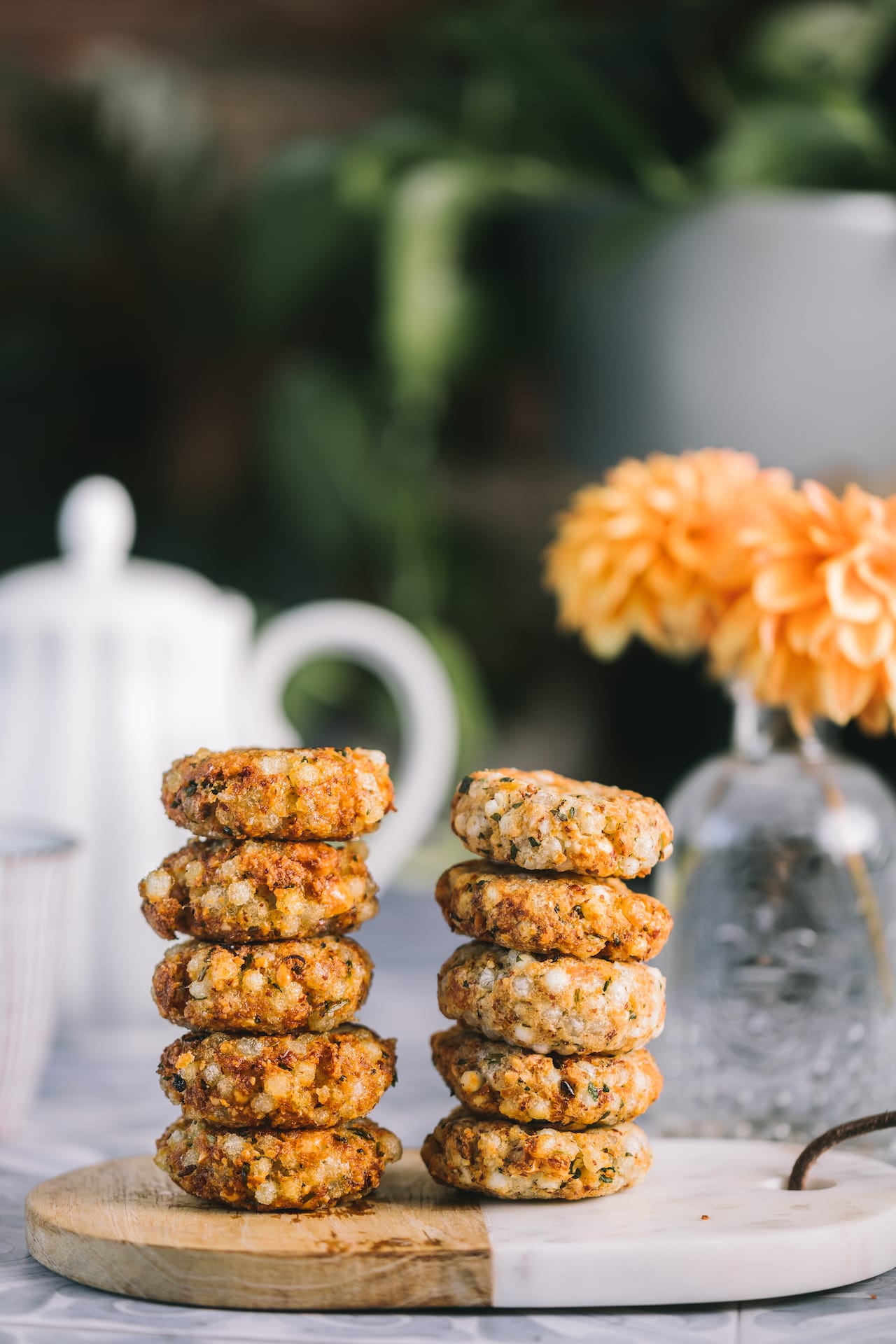 Here is the VIDEO
Tips on FRYING:
Fry the vada in medium hot oil. If you drop them in hot oil, it would brown up quickly, leaving the inside raw and tasteless. Give time and fry these slowly in medium hot oil.
Do not over-crowd the pan when frying.
Have you tried AIR FRYER
Air Fryer is my current favorite option as it happens very quickly and the texture turns out just like the deep fried. Crispy on the outside and fluffy inside.
In the above photo, one stack is deep fried and the other stack is air fried. I doubt you can make any difference.
This is the Air Fryer I use and quite happy with it!
Tips on BAKING the Sabudana Vada:
You have to add a little bit of oil in the mixture before you make the dumpling. Then, sear it on a cast iron pan on the stove top for the golden brown crust. After that, bake it in the oven.
I have tried baking the vada in the oven without searing on the stove top, and it didn't work great. While it gets cooked and turned out fluffy, the golden brown color was missing.
Re-heating the Sabudana Vada:
Do not microwave the vada. Just layer the left over fried vada in a cookie wire rack over a cookie sheet. Bake it for 5 minutes at 375 F. It will crisp up once again. Or reheat in Air Fryer.
We both are extremely fond of this snack, and I often try to give my own little twist to it. I like to add some non-Indian spice mixes like jerk spice mix or pukka spice mix while making these fritters/vadas. Occasionally, I also like to add fresh greens, like fenugreek leaves or spinach.
Here is a recipe of Sadunana Vada with Methi that I had shared a few years back. I added fresh fenugreek leaves that gave it a beautiful flavor.
Sabudana Vada Fried and Baked
Sabudana Vada is a very popular Maharashtrian snack that is prepared with very basic 5 ingredients. It's crunchy on the outside while being very soft and airy inside.
Ingredients
½

cup

sabudana/sago

(soaked until rehydrated)

1

big potato

(boiled)

½

cup

peanuts

2

green chili

(very finely chopped)

⅓

cup

finely chopped fresh cilantro leaves

1

teaspoon

salt

oil for deep frying

2

tablespoon

oil

(if you are baking)
Instructions
In a hot pan, dry roast the peanuts for a few seconds. Then, let it cool down completely before you coarsely grind it. You could even use a knife to finely chop it.

Using a grater, grate the boiled potato into a mixing bowl along with the cilantro, green chili, salt and peanuts. Give it a mix.

Drain the soaked sabudana and add it into the mixing bowl. Mix it around gently without squishing the sabudana too much.

If you planning to bake the vada, add 1 tablespoon of oil to the mixture.

To shape the dumplings, rub a little oil in your hand. This will prevent the vada from sticking. Take about 2 tablespoons and shape it into a disc.
FOR DEEP FRYING
Place a skillet at medium heat and pour enough oil to deep fry the vada. Once the oil starts heating up, layer the shaped vada without over crowding the pan. After 2 minutes, gently flip the vada and continue flipping every now and then until it's golden brown.

Once done, keep it in a paper towel to drain off the excess oil. Serve warm.
FOR BAKING
Preheat the oven to 375 F.

Place a cast iron pan at high heat and grease the pan with a little oil. Place the vada in one layer and let it crisp up for 2 minutes. Then, flip and repeat for 2 more minutes.

Place the cast iron pan into the oven and bake for 30 minutes.

Serve warm.
FOR AIR FRYER
Preheat the air fryer to 375 F

Spray some oil on the sabudana and let it air fry for 12 to 15 minutes by turning once in between.

Enjoy warm.
Nutrition