Pudina Aloo is a great weeknight meal and gets ready in about 15 to 20 minutes. Refreshing mint, tangy yogurt and potatoes, all simmered into a uniquely tasting curry! The mint and yogurt makes the curry taste light, and the sour from the yogurt balances wonderfully with the carb.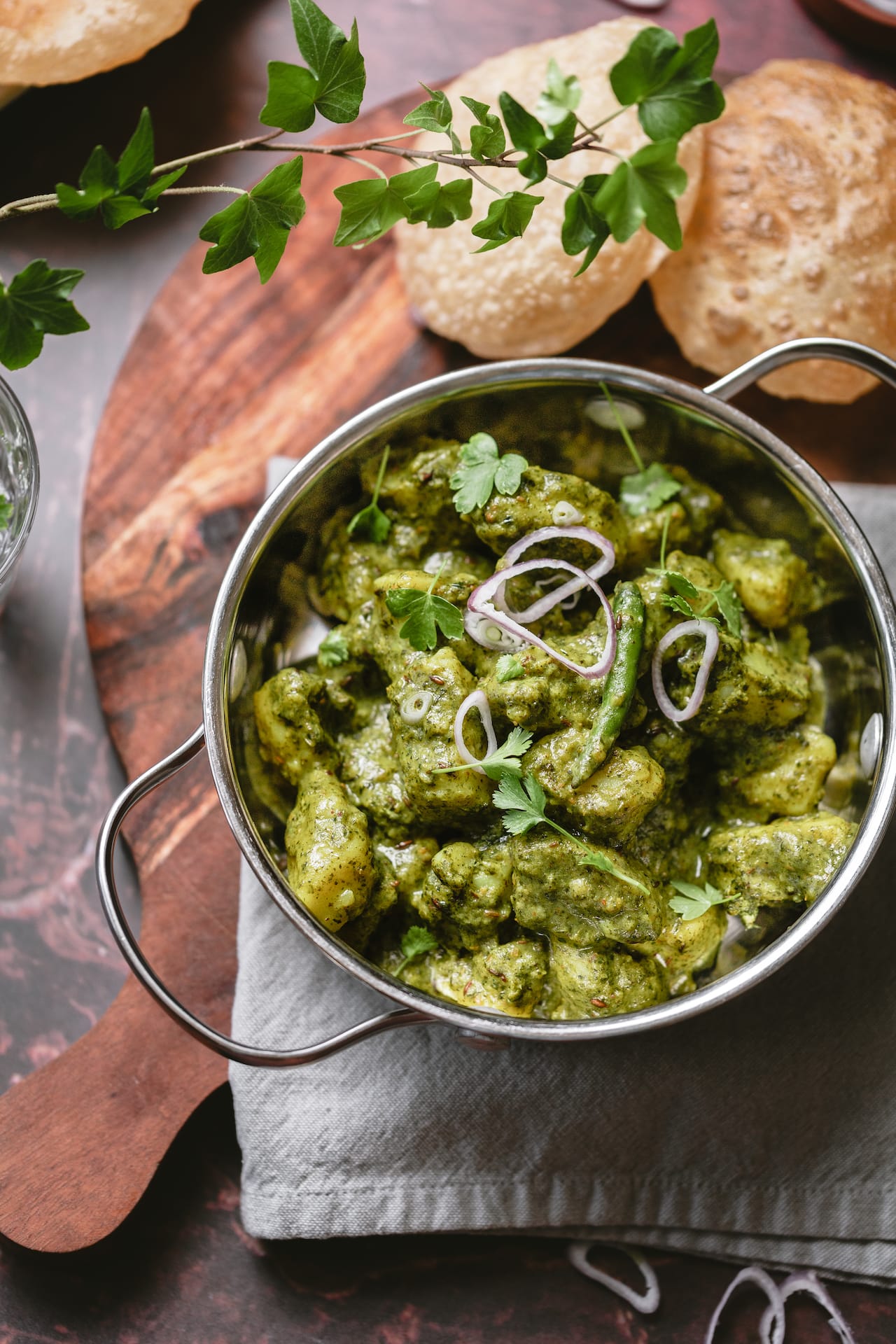 We like to pair this curry with poori (fried Indian mini bread) but you can also enjoy it with Indian flat bread (roti) or paratha.
I learned to make this dish from my Mother in Law, way back in 2011. Even though I was not much into cooking back then, the curry did come out very effortlessly. \
Ingredients you need for Pudina Aloo
Pudina (Mint) - Fresh mint will make the curry taste much better than using frozen or store bought mint chutney.
Cilantro - Fresh cilantro leaves helps to cut down the pungent taste of fresh mint.
Green Chili - Fresh green chili adds a refreshing aroma to the curry and a subtle heat that goes so well with potatoes.
Spices - Cumin seeds and cumin powder always works beautifully with potatoes, so don't skip that. A little bit of turmeric for the color and chili powder for a little heat. I like to end the curry with garam masala, but you can skip if you don't have garam masala at home.
Yogurt - Thick yogurt adds a mild sour refreshing taste to the dish, and it also makes it so creamy.
PRO-TIP : To avoid yogurt from curdling, always whisk yogurt nicely, make sure to add at the end when the dish is almost ready and whisk a little bit of flour to yogurt.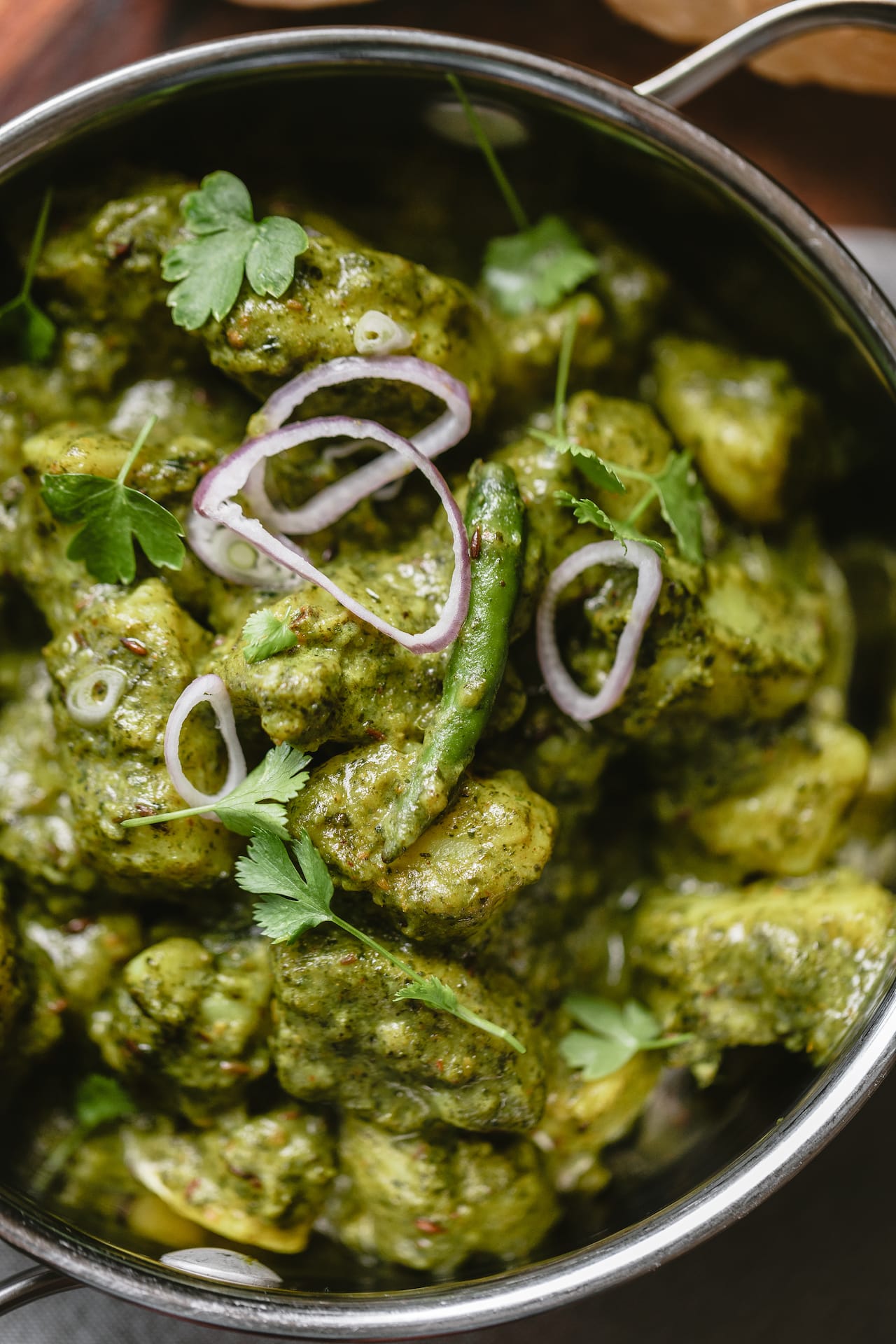 How to make Pudina Aloo
There are very few ingredients required to make this delicious Pudina Aloo | Potato with Mint Curry
1- Boil or steam the potatoes, peel and then dice into bite size cubes.
2- In a heavy bottom skillet or pan, heat the oil and add cumin seeds. Let it splatter for a realize and release the aroma.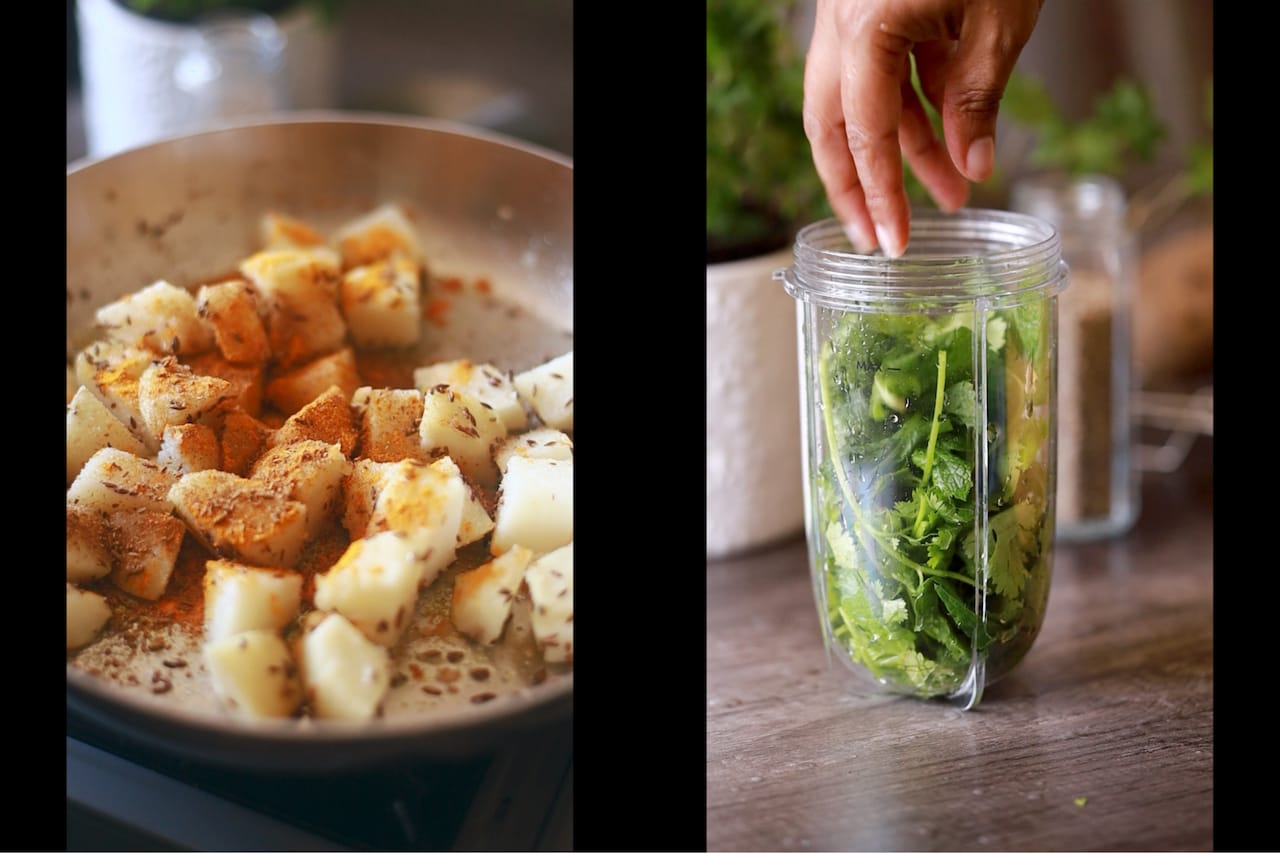 3- Add the spice powder and sauté the potatoes for a while.
4- Blend the fresh mint and fresh cilantro with little water.
5- Add the herb purée and mix it around. If it looks too dry, add a little water and simmer for a while for the potatoes to soak the mint flavor.
6- Next, add garam masala. This step is optional, as sometimes I like it less spicy and keeping the flavor profile restrict to just herbs.
7- whisk yogurt with little flour and add it to the pan. Mix everything to form a thick gravy.
8- Add more water if needed. Check for salt and add more if needed. Enjoy this refreshing potato curry with your choice of bread.
In terms of heat, I add whole fresh green chili, mainly for flavor, but you can finely blend the chili along with the herb.
I like to keep this curry semi gravy, but if you intend to serve with rice, then definitely add more water.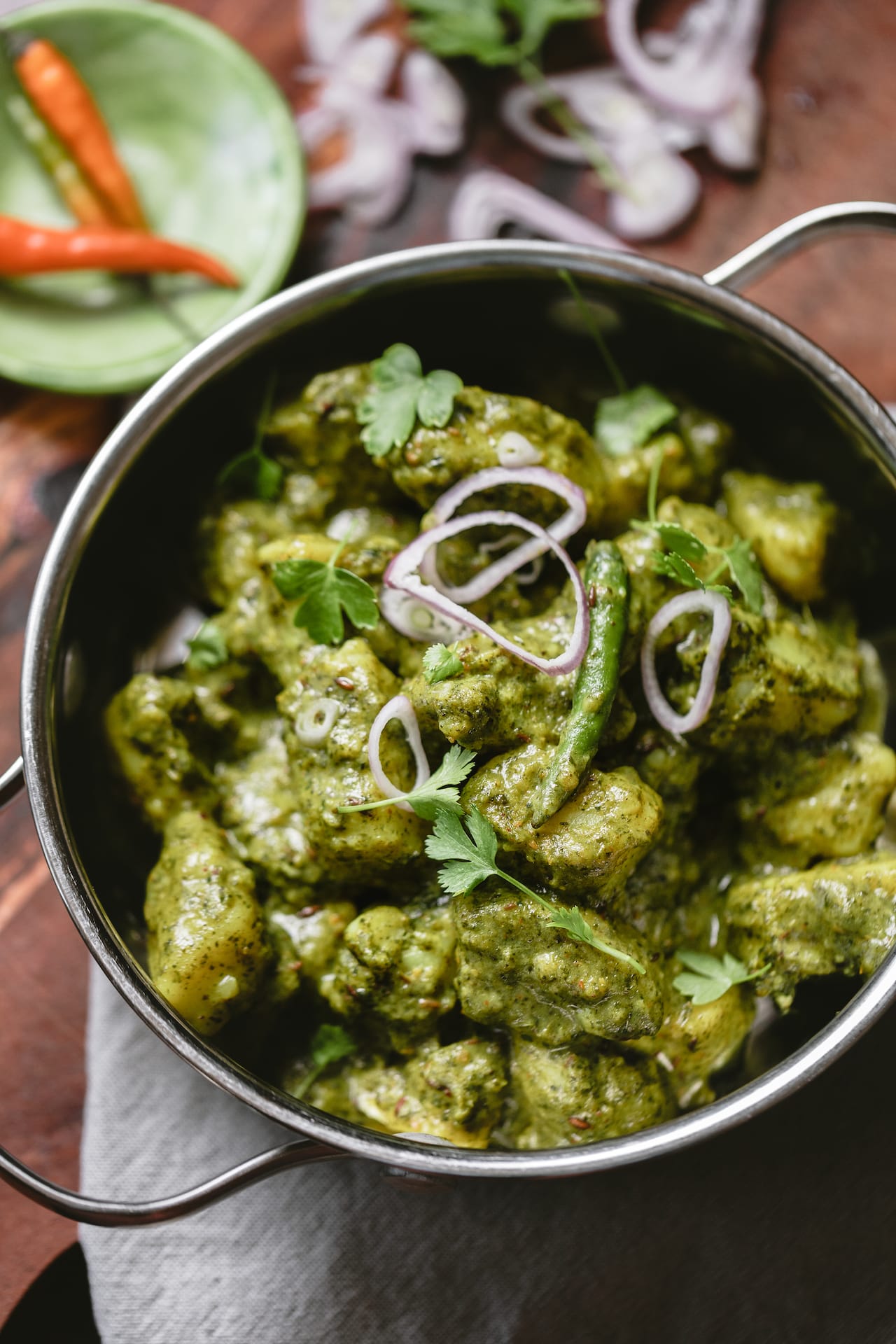 Do keep in mind that depending on how fresh the cilantro and mint are, the blend will look green and even on cooking for a while the color will retain.
But as it sit, the color does turn to mild brown and it's absolutely ok. It will still taste delicious.
Make this Pudina Aloo (Potato Mint Curry) as an appetizer:
I sure do always prepare this for main course, but you can give it a fun little twist and make Potato with Mint as an appetizer to go with the drinks.
Pick baby potatoes
Skip the water and reduce the quantity of yogurt. Let the herb purée and the spices quote the potato.
Serve in a big platter along with your choice of drinks. I do feel this dish, as an appetizer, will go amazing with beer.
What variety of Potato should you use?
Well, In India, I don't see a multiple variety of potatoes. So whatever you find in your local grocery store will work great. In the US, there are quite a few options to pick from. I would say Yukon gold are the best pick for this Pudina Aloo | Potato with Mint Curry. Definitely avoid red potatoes for this curry as it can get gluey on boiling and get to turn the curry mushy.
Now, whether you make it as a curry for main course or serve it as an appetizer, this is a fun dish to try, and I hope you do. It's easy, it's simple and it's quite quick. Perfect weeknight meal!
Here are a few more everyday Indian Curries to try:
Achari Gobi (Cauliflower In Pickled Sauce)
Badami Paneer (Paneer In Almond Gravy)
Badami Lauki Kofta (Bottle Gourd Dumpling in Almond Curry)
Pudina Aloo (potato with mint curry)
Refreshing mint, tangy yogurt and potatoes, all simmered into a uniquely tasting curry! The mint and yogurt makes the curry taste light and the sour from the yogurt balances wonderfully with the carb.
Ingredients
1

lb/ 500 g potatoes

4.25

oz/ 120 g fresh mint

1.75

oz/ 49 g fresh cilantro

1

and ½ cup plain yogurt

3

green chili

1

teaspoon

cumin seeds

1

teaspoon

cumin powder

½

teaspoon

garam masala powder

½

teaspoon

turmeric

1

tablespoon

oil

1

tablespoon

salt to be added during boiling the potatoes

1

teaspoon

added later in the curry
Instructions
Boil the potatoes with 1 tablespoon salt just until fork tender. Drain and once cooled, peel and dice into big bite size

Discard the hard stems of the mint and retain the leaves. As for the cilantro, I used even the stems. Place the leave along with a little water and blend.

In a medium hot pan, pour the oil and scatter the cumin seeds. Add the diced boiled potatoes along with ½ teaspoon salt and the turmeric, chili powder and cumin powder. If you want spicy curry, chop the green chili and add it or add the whole chili just for flavor Toss it gently and cook for 2 minutes.

Pour the mint cilantro purée along with little water if needed. Sprinkle garam masala and simmer for 5 minutes. Add yogurt mixed with little flour and toss it around. Cover the pan and cook for 1 minute. 

Check for salt and add more if needed.

Enjoy warm with your choice of bread.
Nutrition
Serving:
4
people
Calories:
45
kcal
Carbohydrates:
3
g
Protein:
0.2
g
Fat:
4
g
Saturated Fat:
0.3
g
Polyunsaturated Fat:
1
g
Monounsaturated Fat:
2
g
Trans Fat:
0.01
g
Sodium:
114
mg
Potassium:
24
mg
Fiber:
1
g
Sugar:
1
g
Vitamin A:
13
IU
Vitamin C:
4
mg
Calcium:
10
mg
Iron:
1
mg