Last ten days was amazing. We had been to Pune to attend my brother's and sister in law's house ceremony, which was on Diwali night. What I didn't expect was to also see my uncle aunty and cousins. It was a houseful situation. Don't even let me get to the detail of sleeping arrangements. It was just fun. And in between all these, I completely stayed away from my blog and social media. So here it is, a luscious rich curry with paneer chunks in creamy almond gravy, Badami Paneer.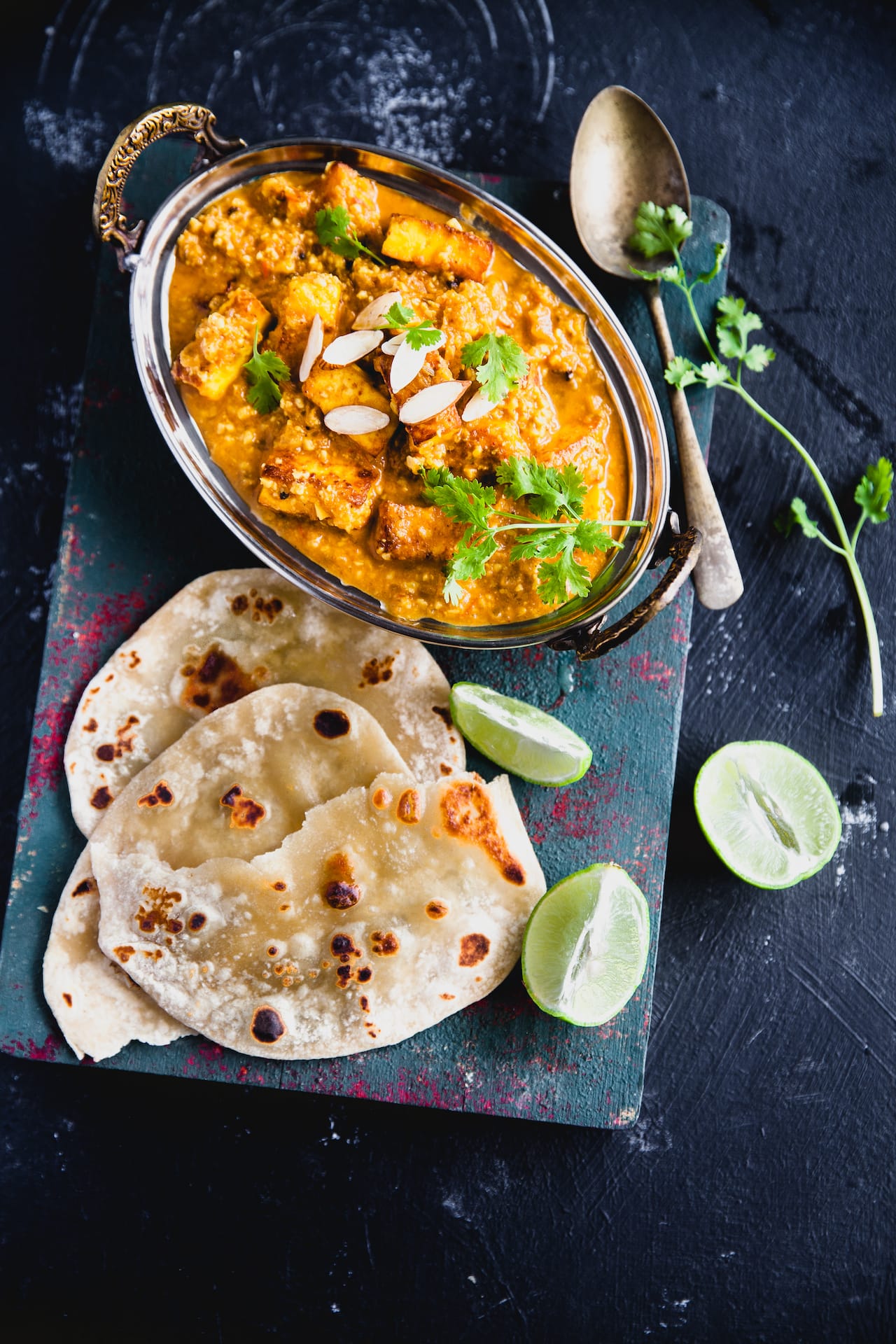 Soaked almonds raisins was our mandate morning munch. I never liked it but Mom would continue insisting until I picked at least a couple. My brother, on the other hand, loved it and he still follows the same ritual. When Avyan started his solids, I used to add finely powdered nuts to his baby food and now that he is a toddler, he loves to munch on plain nuts. It has made my life so easy. As for me, I am still not a fan of plain nuts but love to add in curry and desserts. It not only adds creaminess and nutrition but also brings out a robust flavor.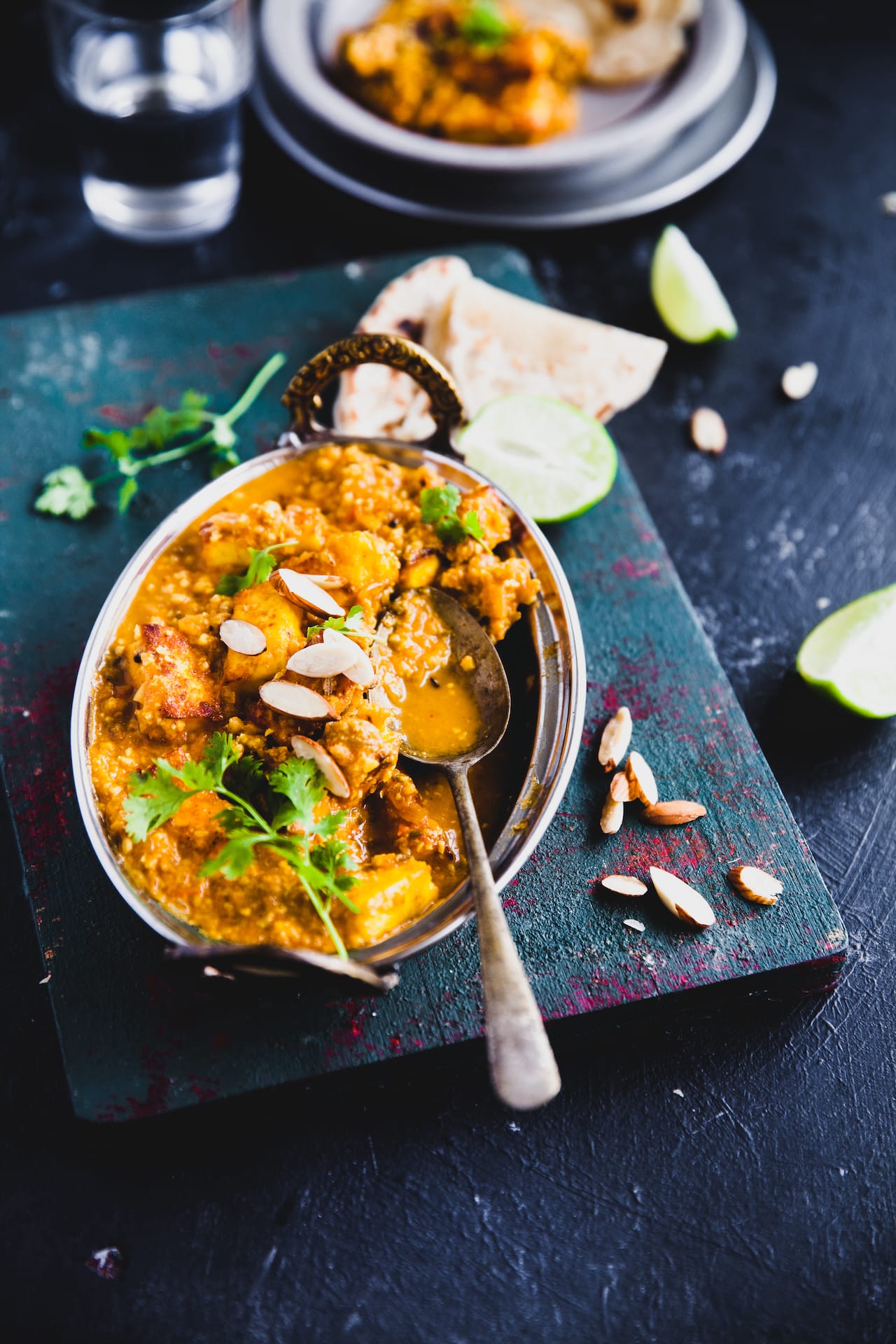 Badami Paneer (Almond Cottage Cheese) is a rich curry that takes barely any time to prepare and makes for a great pairing with soft pillow-y naan. I adore the gorgeous orange hue that comes from blending lightly caramelized onions with tomatoes, a common technique I follow quite often with curries.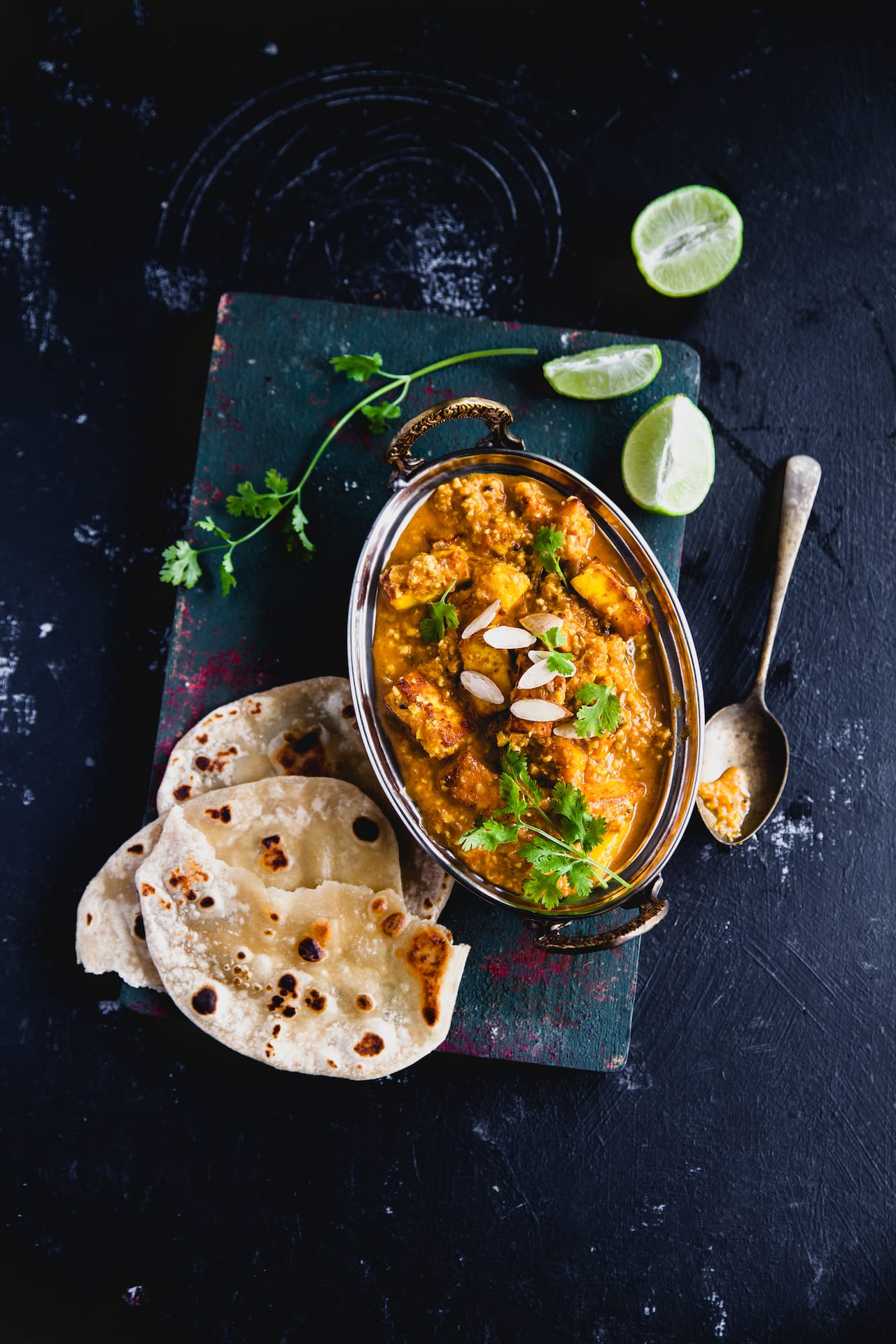 The skin of almond can taste a little bitter at times and that is why I prefer to take it off before blending. It is not a mandate. I like to leave the paste a little coarse instead of grinding it to a smooth paste, but that's just my taste buds. I believe that such kind of curries should be prepared without following the recipe exactly. Just follow what your palate prefers more and add the spices accordingly.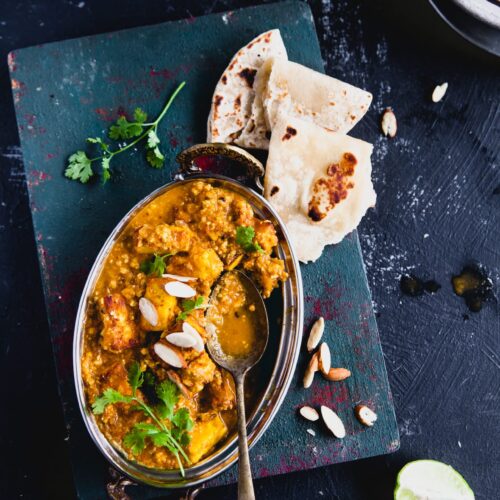 Badami Paneer
Ingredients
200

gram

paneer

¼

cup

almonds

1

medium onion

(thinly sliced)

1

medium tomato

(roughly chopped)

½

inch

ginger

(grated)

1

teaspoon

fennel seeds

2

green cardamoms

4

cloves

½

teaspoon

cumin powder

½

teaspoon

coriander powder

1

teaspoon

turmeric powder

1

teaspoon

chili powder

pinch

of sugar

fresh coriander

(for garnish)

few slivered almonds

(for garnish)

salt

oil
Instructions
Soak the almonds for a few hours and then peel off the skin.

Cut the paneer into bite size. Then, rub some salt and ½ teaspoon turmeric to the paneer cubes.

Heat some oil in a pan and shallow fry the paneer cubes until they're golden brown on all the sides. Once done, keep them aside to be used later.

In the same pan, add 1 tablespoon of oil and drop the fennel seeds, cardamom and cloves. Allow it to sizzle and infuse the oil.

Next, drop the garlic and scatter the onion. Sprinkle salt, rest of the turmeric and sugar. Cook until its mild golden in color.

Once done, transfer it to a blender along with tomato and almonds. Grind it to a smooth or coarse paste.

Transfer the paste back to the same pan and give it a stir. Add cumin powder, coriander powder and chili powder. Cook for a few minutes until the raw smell of tomato is gone.

Finally, drop the fried paneer cubes and ½ cup of water. Give it a stir and cook for a couple more minutes. Taste for salt and add any, if required.

Garnish with some finely chopped fresh coriander and slivered almonds.
Nutrition