Creamy and rich this Badami Lauki Kofta is bottle gourd dumplings that are friend and then simmered in a tomato based curry that is then enhanced with almond flour.
The term Kofta often refers to meat dumplings that are shaped like mini logs. In Indian cooking, Kofta is not restricted to just meat but also extends to roots, vegetables and even cheese.
What is Badami Lauki Kofta ?
Badami is almond, well badam is technically almond. Lauki is bottle gourd and kofta is dumpling.
There are a wide variety of vegetarian Kofta dishes that are typically served in form of a curry. This a very popular vegetable dumpling curry prepared with bottle gourd.
I like to prepare the gravy with a combination of almond and poppy seeds and hence the name, Badami Lauki Kofta (Bottle Gourd Dumplings in Almond Curry). It enhances the flavor and makes the gravy very creamy without adding any cream.
Variations of the Badami Lauki Kofta!
I enjoy the creaminess that almond and poppy seeds bring together and so, I added these two to Badami Lauki Kofta. Here are a few other variations for the curry:
Grated Coconut
Coconut Milk
Onion and tomato-based gravy with garam masala at the end - Which is typically refered to as Lauki Kofta
Mix the spices with yogurt and add it to the gravy
Use the

makhni masala

for a robust flavor
Bottle Gourd
I grew up eating bottle gourd very often and especially during summer, as this vegetable helps to keep your tummy cool. Ma would prepare it with lentils, with shrimps and even with fish.
Lauki Kofta is something that I learnt to cook and enjoy only after I met Arvind. He is not a picky eater but when it comes to bottle gourd, he prefers it only this way.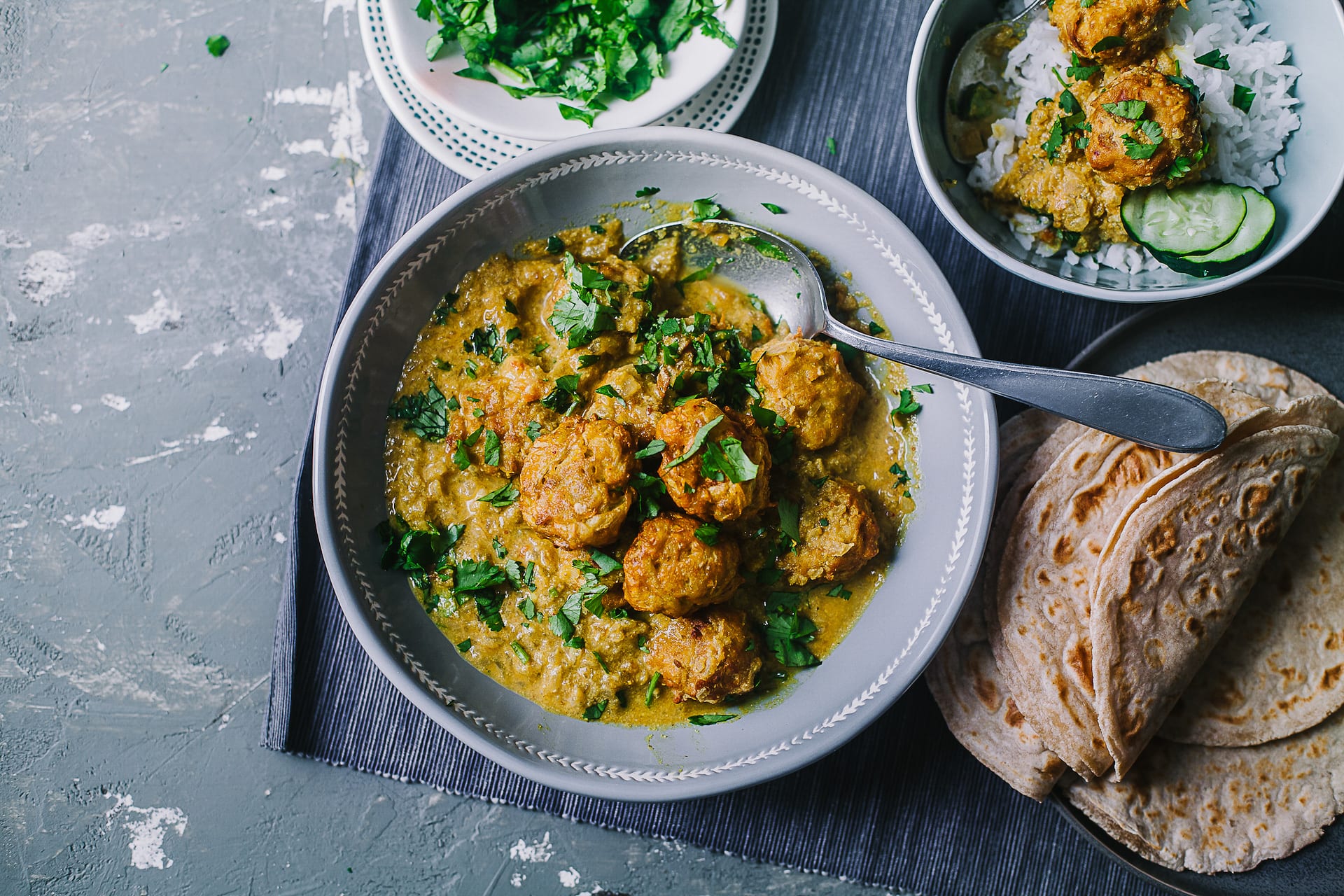 Lauki (Bottle Gourd) is one of the healthiest vegetables and because 90% of it is water and mineral, it keeps your body hydrated. It is also a great vegetable in terms of absorbing flavor.
While on its own, it can be a little boring but mix it with spices, herbs and seafood, it turns into a delicious meal.
Bottle Gourd Fritters
Bottle Gourd fritters can be served as a snack or dunked into a spiced gravy for a curry.
If you want to serve the fritters as a snack, make sure you add rice flour with a little bit of corn flour instead of the chickpea flour as that will make it crunchier.
When I prepare the fritters for the curry, I make the mixture very loose and as a result, the fritters don't form a neat shape. However, the advantage of the loose texture is that it helps to absorb the gravy better and quicker.
One veggie and so many different ways to prepare it! There is a little bit of prep work involved but once that is done, the curry comes out very quickly.
It's a tasty healthy meal that can be paired with either rice or roti. As for those peels, do not discard those. You could use it to make a delicious stir-fry dish and here is the link.
Badami Lauki Kofta
Ingredients
1

medium red onion

(5.65 oz/ 161 g)

3

garlic cloves

1

inch

fresh ginger

2

tablespoons

ground almond

1

tablespoon

ground white poppy seeds

Bottle gourd

2

teaspoon

salt

turmeric powder - 1 teaspoon

cumin powder - 1 teaspoon

coriander powder - 1 teaspoon

chili powder - 1 teaspoon

⅓

cup

chickpea flour

oil for deep frying the fritters

1

tablespoon

oil for the curry

1

bay leaf

2

cinnamon barks

½

teaspoon

cumin seeds

3

green cardamoms

1

medium tomato

(5.65 oz/161 g, finely chopped)

2

cups

water

fresh cilantro leaves for garnish
Instructions
Finely chop the onion, garlic and ginger. Keep it aside to be used later.

In a bowl, mix the ground almond and ground white poppy seeds. Keep it aside to be used later.

Slice off the stem portion and discard it. Then, divide the bottle gourd into 3 or 4 portions so it's easy to peel and grate (watch the video to understand it better).

Using a sharp knife or a potato peeler, peel the skin. Save the peel to prepare the stir-fry dish. Grate the bottle gourd. If the seeds don't feel tender, discard the portion using a sharp paring knife.

Place a heavy bottom deep pan on medium heat for frying the fritters. Place enough oil to reach a depth of about 1½ inch from the bottom of the pan. Let the oil heat up to about 300F.

Place the grated bottle gourd in a mixing bowl and add ½ teaspoon salt, ½ teaspoon turmeric, ½ teaspoon cumin powder, ½ teaspoon coriander powder, ½ teaspoon chili powder and the chickpea flour. Give it a mix to incorporate everything together. Make about 15 to 16 dumplings out of the mixture. Drop the dumplings in the hot oil. Do not over crowd the pan. Toss and turn around the dumplings until they turn golden brown in color. It should take about 5 minutes.

Keep the dumplings aside on a plate layered with kitchen towel.

Place a separate heavy bottom pan on medium heat and pour 1 tablespoon of oil. Once the oil heats up, drop the bay leaves, cinnamon barks, cumin seeds and the green cardamoms. Let it sizzle for a few seconds then, drop the chopped onion, ginger and garlic together. Sauté for 1 minute. Add ½ teaspoon salt, ½ teaspoon turmeric powder, ½ teaspoon cumin powder, ½ teaspoon coriander powder and ½ teaspoon chili powder. Stir and cook for 3 minutes

Drop the tomato, stir and cook for 5 minutes. Scatter the mix of ground poppy seeds and almond, stir and cook for 2 minutes.

Pour the water, bring the heat to high and let it come to a boil. Then, simmer at medium heat for 5 minutes. Drop the fried fritters and toss it around gently to coat it with the gravy. Cook for 2 minutes. Switch off the heat and leave it aside for 5 minutes. The fritters will continue absorbing more gravy.

Garnish with fresh cilantro leaves and serve warm.
Video
Nutrition
Serving:
1
Serves 4
Calories:
265
kcal
Carbohydrates:
20
g
Protein:
12
g
Fat:
16
g
Saturated Fat:
2
g
Polyunsaturated Fat:
13
g
Cholesterol:
19
mg
Sodium:
606
mg
Fiber:
5
g
Sugar:
5
g