Packed with nutrition, this Mung Bean and Kale Daal is such a tasty wholesome meal. It can be served in two ways. You could serve it with a good doze of ghee and spice sizzle on top and it would pair beautifully with rice. You could also swirl a little bit of cream and enjoy it as soup with the bread of your choice. I have tried both the versions of Mung Bean and Kale Daal. They both taste equally comforting and so good!
Mung Bean and Kale Daal
Daily Indian menu almost always includes a type of lentils or beans. It's a ritual that I grew up with but didn't follow much after I moved out of home and started on my own.
I have never been a big fan of lentils or beans. Until about a few months back, I would make lentil very occasionally, maybe once a week. But of late, I have changed that and started to make it on a more regular basis mainly because of two reasons.
Firstly, we mostly eat vegetarian food and lentils/beans is a great easy way to add protein. Secondly, Arvind can pretty much survive on daal and Avyan has also developed a liking for it.
All the more reasons to go back to the ritual that I grew up with. Life truly comes back full circle!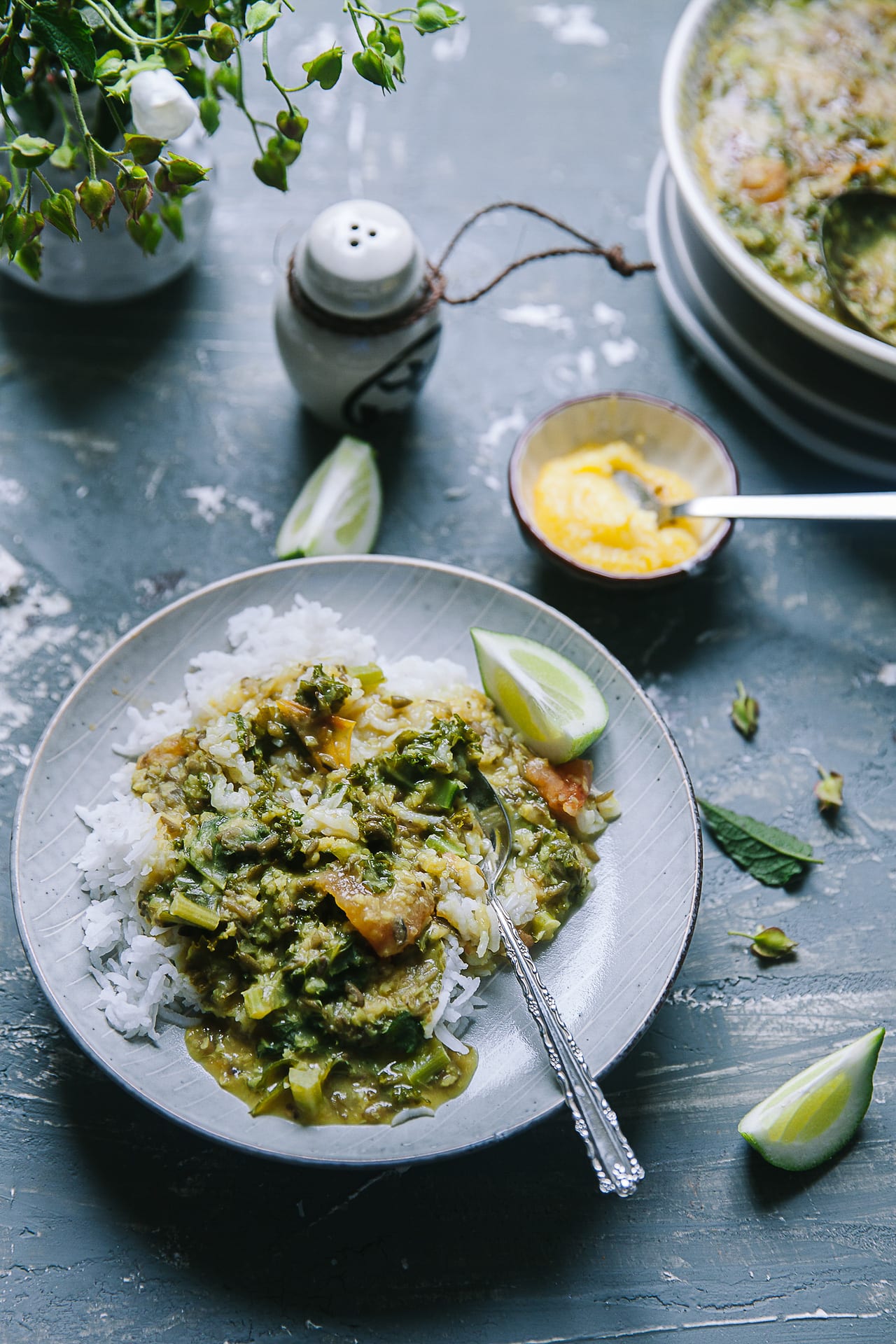 The Goodness of Mung Beans
Packed with fibre, protein and antioxidants, mung beans are very common to Indian cooking. There are various different ways we use mung beans in our daily diet. From pancakes to sprouts salad to daal and stew. Mung beans cooks fast, doesn't necessarily need a pressure cooker and that make it my first choice of protein on busy days. The addition of greens to daal not only makes it filling but it also makes it a perfectly balanced meal.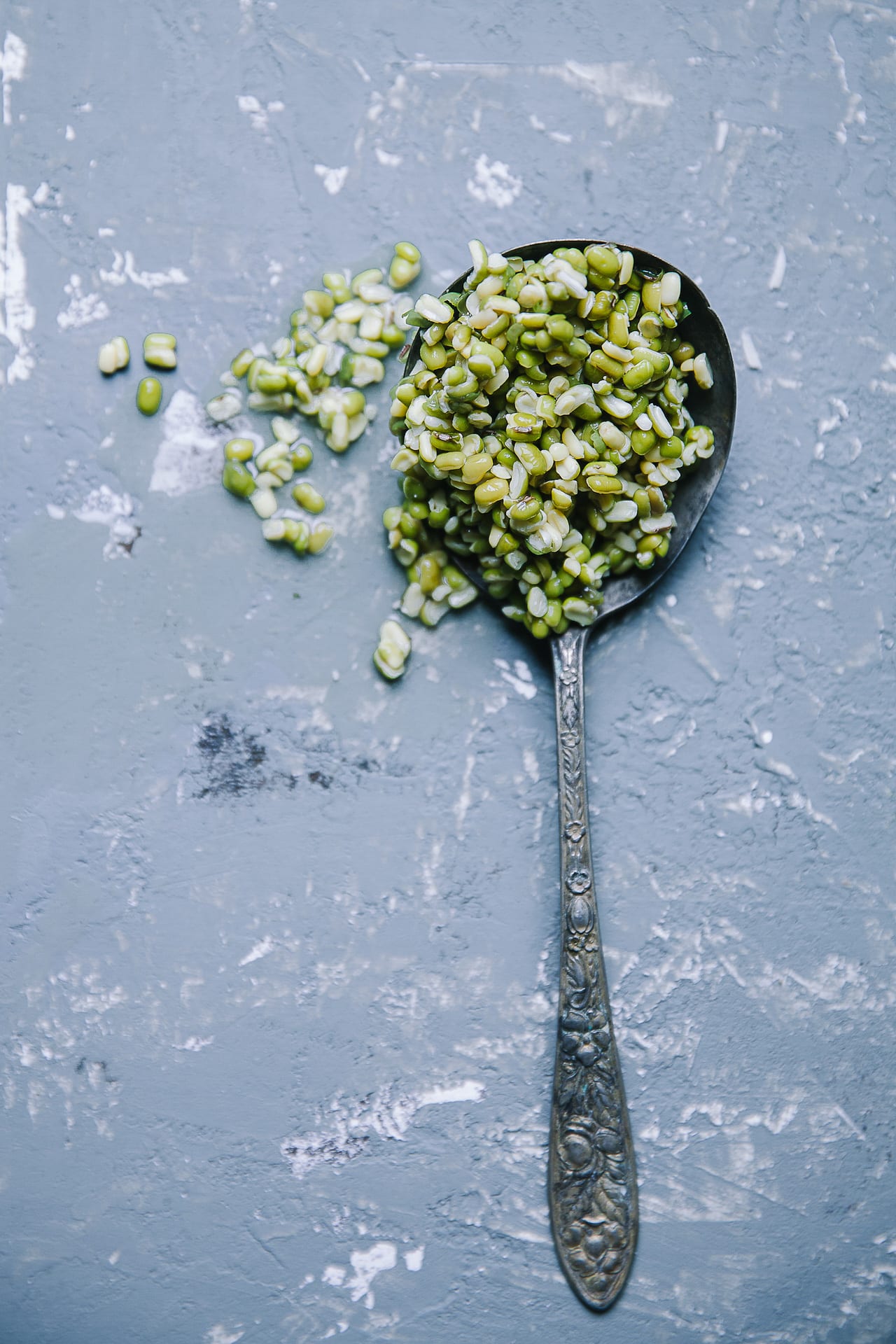 This particular recipe is inspired by Lakshmi's cookbook Pure Vegetarian. She shared a recipe for Green Mung Dal with Fennel where she uses spinach. I took the same idea and added kale instead. It is a one-pot easy to prepare meal that gets ready in 30 minutes, perfect idea for a weeknight dinner.
Mung Bean And Kale Daal
Ingredients
½

cup

split green mung beans

4

cups

water

1

teaspoon

salt

½

teaspoon

turmeric powder

1 to

mato

½

teaspoon

cumin powder

½

teaspoon

coriander powder

4

cup

finely chopped kale leaves

2

tablespoons

cream

(if you are serving it as a soup)
for tempering
1

tablespoon

ghee

1

bay leaf

½

teaspoon

cumin seeds

½

teaspoon

chili powder

¼

teaspoon

asafoetida
Instructions
Wash the mung beans and place it in a heavy bottom saucepan with water and salt. Bring the water to a boil at high heat and then, lower the heat to medium. Place a lid on top of the saucepan and keep it ajar as the beans tend to boil over and spill on your stovetop. Let it simmer for 20 minutes while the beans soften.

Cut the tomato wedges and drop it into the saucepan. Sprinkle the turmeric powder, cumin powder, coriander powder and give it a stir. Let it cook for 3 minutes.

Drop the chopped kale and let it cook for 5 more minutes. Check for salt and add any, if needed.

If you want to serve the Mung Beans with Kale as a soup, swirl the cream on top and it's ready.

If you want to serve it as daal with the tempered spice on the top, place a small pan on medium heat. When the pan heats up, pour the ghee followed by bay leaf, cumin seeds, chili powder and asafoetida. Let it sizzle for a few seconds and pour the tempering on top of the daal. Give it a mix and serve it warm.
Nutrition