Moong Dal Khasta Kachori is a winter favorite, especially during festive season. Yellow mung beans are sautéed with spices until crumbly and then stuffed in flaky dough and deep fried to golden brown. Paired with a cup of masala chai, it's a favorite indulging evening snack! Read all the tips I mentioned below and don't miss the VIDEO!
What is Moong Daal Khasta Kachori ?
Kachori is one of the most popular street foods in North India. The local vendors prepare it freshly and fry it in a ginormous pan during morning hours, It's great for breakfast on-the-go and around evening hours for people to pick it their way home.
A perfect warm indulging snack to keep you going, especially on those cold winter months. There are different variety of stuffing used in kachori and my favourite has always been Moong Daal Khasta Kachori loaded with asafoetida (hing)
It's often enjoyed with Fresh Coriander Chutney and Sweet Tamarind Chutney. Occasionally, it is also paired with Aloo Tamatar Sabzi for weekend breakfast.
As for me, a cup of masala chai is enough to wash it down.
As you crack open the moong dal Khasta Kachori, you get this strong flavor of asafoetida (hing) which when cooked with mung bean makes it so earthy.
Some people don't like the smell of asafoetida and if you are one of them, do skip it. It is an acquired flavor for sure and we Indian grew up enjoying the aroma.
So, what the trick to flaky Kachori?
Adding fats to the flour – ghee is the best option, but you could also use oil. You have to incorporate the fats into the flour evenly before adding water and kneading.
The filling shouldn't be wet or too moist.
The temperature of the oil should be low when you drop the prepared dumplings. It takes easily 15 minutes to fry these Kachori. It's extremely important to continue frying in low to medium heat for about 10 minutes before cranking up the heat to medium for the golden-brown color.
If you follow these tips, the Kachori will definitely turn flaky and will stay flaky for several days.
The filling for the Moong dal khasta kachori:
You can choose various fillings and endless options are available. The key is to avoid retaining too much moisture in the filling. In terms of spice, I kept it mild but do taste the filling and add more spice, if you wish.
I like to overload the moong daal filling with hing(asafoetida) because I absolutely love that flavor. If you don't like asafoetida, exclude it from the recipe.
Shaping the Moong Dal Khasta Kachori
Divide the entire dough into tiny portions. And then, either by using a rolling pin or hand, shape the dumpling into a flat disc. The KEY here is to thin out the edges, because the edges come together to seal the filling.
If you keep the edges thick, then it will turn into an uneven disc after shaping.
Once the filling is done, some prefers to roll it thin, which I used to do before. But with time, I felt that just pressing with the dough with gently pressure is enough to flatten it out.
As you shape the Kachori, remember to keep them covered, or else the dough dries out easily.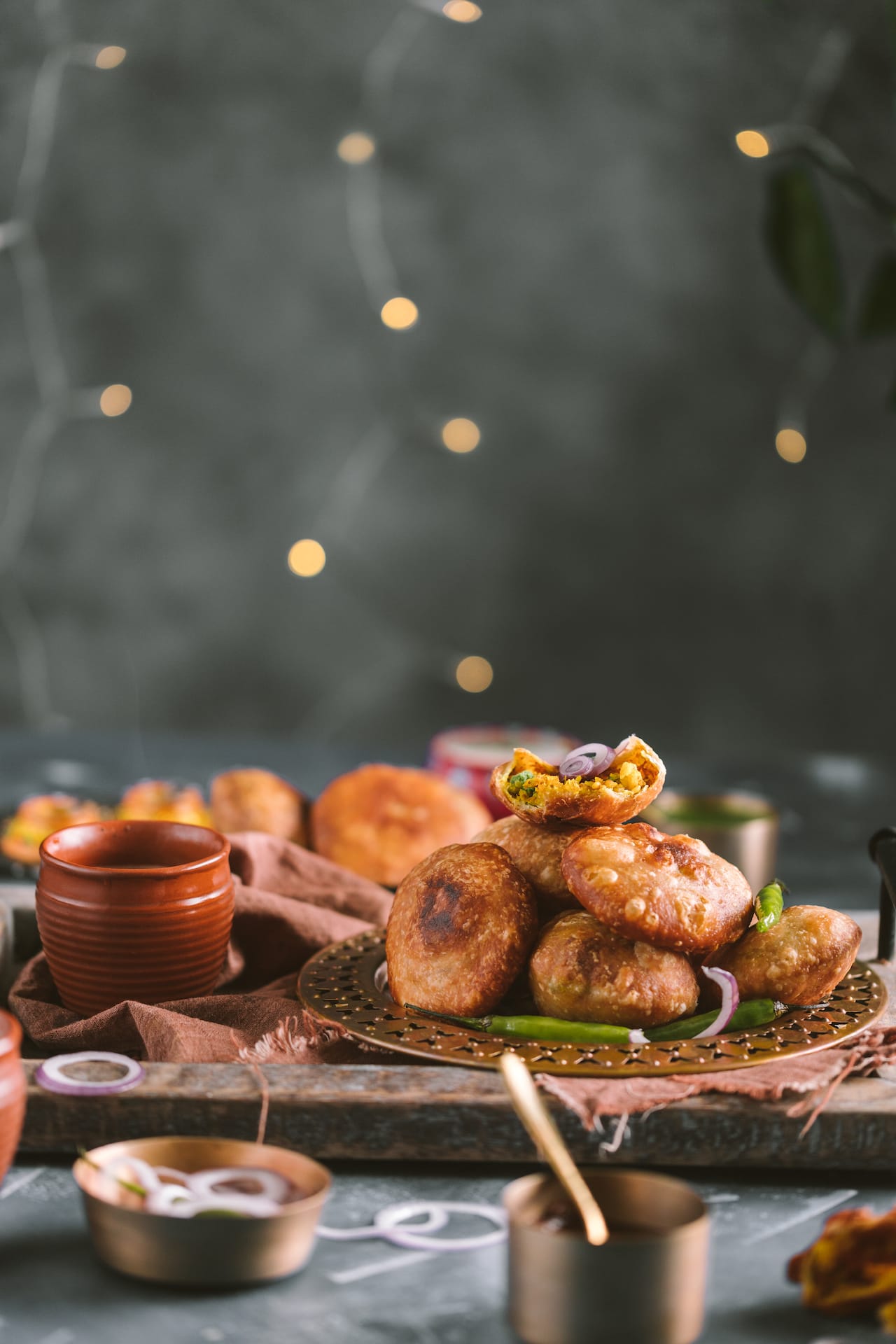 Reheating Left Over Kachori
Don't microwave heat left over Kachori. Just keep it in a preheated oven 350 F for 5 to 7 minutes.
While there is definitely a certain amount of work involved in making these, in the end, it does feel worth all the work.
The best part is that you can make these in bulk and enjoy over the next few days. If prepared correctly, they easily last for 10 days and stay flaky. Just store in an air tight jar once it is cooled completely.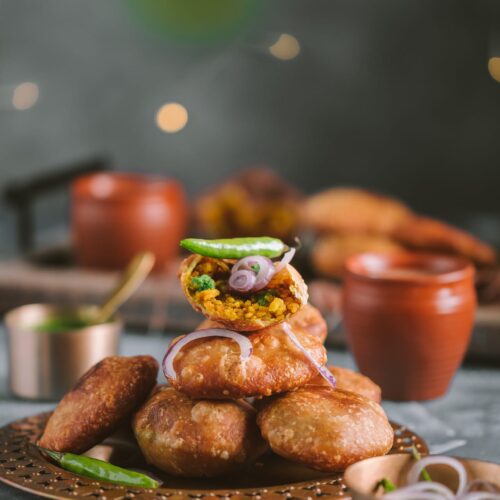 Moong Daal Khasta Kachori (Spiced Mung Bean Stuffed Flaky Dumpling)
Ingredients
for the filling
2

tablespoons

ghee

½

cup

yellow mung beans

3

tablespoons

chickpea flour

1

teaspoon

cumin powde

½

teaspoon

coriander powder

½

teaspoon

fennel powder

¼

teaspoon

turmeric

½

teaspoon

chili powder

salt to taste

1

teaspoon

dried fenugreek leaves

½

teaspoon

dry mango powder

1

and ½ tablespoons asafoetida

(hing)
for the dough
2

and ½ cups all purpose flour

2

tablespoons

ghee

1

teaspoon

salt

1

teaspoon

sugar

warm water

(you might need more or less)

enough oil to deep fry these Kachori
Instructions
Start by preparing the filling.

Soak the mung beans overnight. Then, drain them and keep it aside on a dry clean towel to air dry for 30 minutes.

Then pulse it to coarse texture.

Place a heavy bottom pan on medium heat. Once the pan is hot, add the ghee. Once it melts, scatter the chickpea flour. Stir the chickpea flour constantly for 2 minutes, or until the raw flavor of the flour is gone (using a rubber spatula really helps at this stage).

Make a spice paste with all the ground spices and little water.

Drop the drained mung beans and mix it around. Then add the spice paste, salt and stir around to mix everything. Add dried fenugreek leaves and dry mango powder and keep stirring and cooking for about 7 minutes. The moisture will be gone, and it would turn crumbly. Add the asafoetida and mix it around for 1 more minute.

Keep the filling aside and let it cool completely.

In the meantime, prepare the dough.

Add the flour into a mixing bowl, followed by salt and sugar. Pour the ghee and mix everything until it's crumbly but holds shape.

Pour the water, little by little, as you might need more or less. Knead the dough for 10 minutes and then, cover it with a damp cloth for 30 minutes.

After 30 minutes, knead the dough one more time and divide it into tiny dumplings.

To shape the filled dumplings, you could either use your hand or use the rolling pin. Take each dumpling and flatten it out a little by pinching the edges. Add about 1 tablespoon of the filling, then, pinch the edges and seal it tightly. You could apply little water on the edges to do so. Then, either using your hand or the rolling pin, gently flatten the filled dumpling.

Shape the rest of the dumpling the same way. Keynote: Just before frying, press the center of the flattened, filled disc gently. This will help puff up the Kachori beautifully.

Place a heavy bottom pan and pour enough oil (about 2.5 inch from the bottom of the pan). Try to use the biggest pan you have, as these take time to fry. Keynote: The temperature of the oil for frying should be about 160 F/ 71 C. If you don't have a thermometer, there are two other ways to check

Dip the back of a wooden spoon in the oil. If very light bubbles appear, it's ready. The oil shouldn't be very mildly warm.

Depending on how big your pan is, drop the filled dumplings. Give enough space for these to puff up. In about 3 minutes, these should start puffing up. Flip gently every few minutes and keep frying at the same heat for 10 minutes.

Then, crank up the heat to medium high and fry for 3 minutes, or until the color changes to golden brown.

Take it off the pan to either a cookie wire rack or kitchen towel. I prefer cookie rack because the moisture passes through, leaving the kachori flaky. With kitchen towel, there is always a chance of the moisture getting trapped and making the bottom a tad bit soggy.

Key note: If you are frying these in batches, make sure you wait for the temperature of the oil to come down before you drop the next batch.

Serve these warm or at room temperature with your choice of dipping and sides. If you intend to store them, allow it to cool completely before storing in an airtight jar.
Nutrition