I am a tea person and irrespective of the season! I need my morning cup of Indian Masala Chai every day. Sweet and warm, flavored with spices and fresh ginger. A cup of Masala Chai always feels like the perfect way to kick-start the day. I learnt this version of Indian Masala Chai (Spiced Milk Tea) from Arvind. He makes the best tea, no kidding!
When a tea/coffee place display Indian Masala Chai Tea in the menu, I get tempted to give them a lecture on how chai is tea so you should really use either and not both! 
What goes in Indian Masala Chai?
Black tea leaves:
You cannot any other type of tea leaves. Here are a couple brands I like to use more often,
Taj
and
Red Label Tea
Sugar: I need sugar in my tea but I know many who likes it without sugar or adds jaggery instead. 
Milk: I do prefer whole milk but you can surely use you choice of milk. 
Fresh Ginger, green cardamom, bay leaf, clove and black pepper all grind together to form a chai spice. 
Few Key Notes Remember!
The quantity of chai masala that I mentioned here will lasts for several days and will your morning tea quick and easy.
Add the ginger only after the milk gets warm or else, it could curdle your milk.
To get the best flavor and taste of masala chai, you have to simmer the milk until you see a thin layer of milk skin on top. This makes the chai robust or "kadak" as we say in Hindi!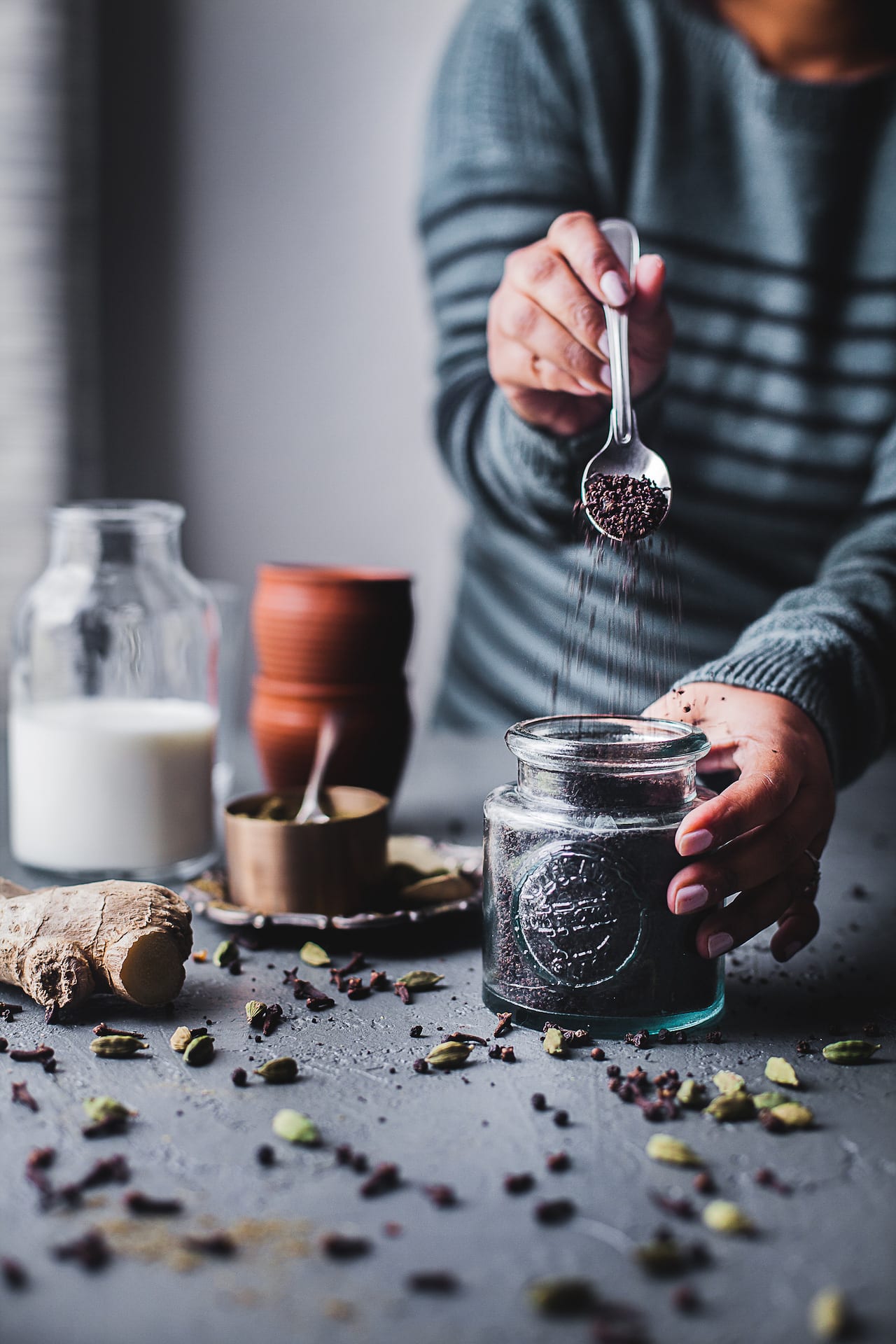 For us Indians, tea is not just our morning ritual, it a very important part of our food culture. If you have visited India, you would know that you could find a chai stall simmering away a huge pot of tea in every other lane. These stalls are often small, beautifully rustic and have probably been there for generations, serving the milk tea for people passing by.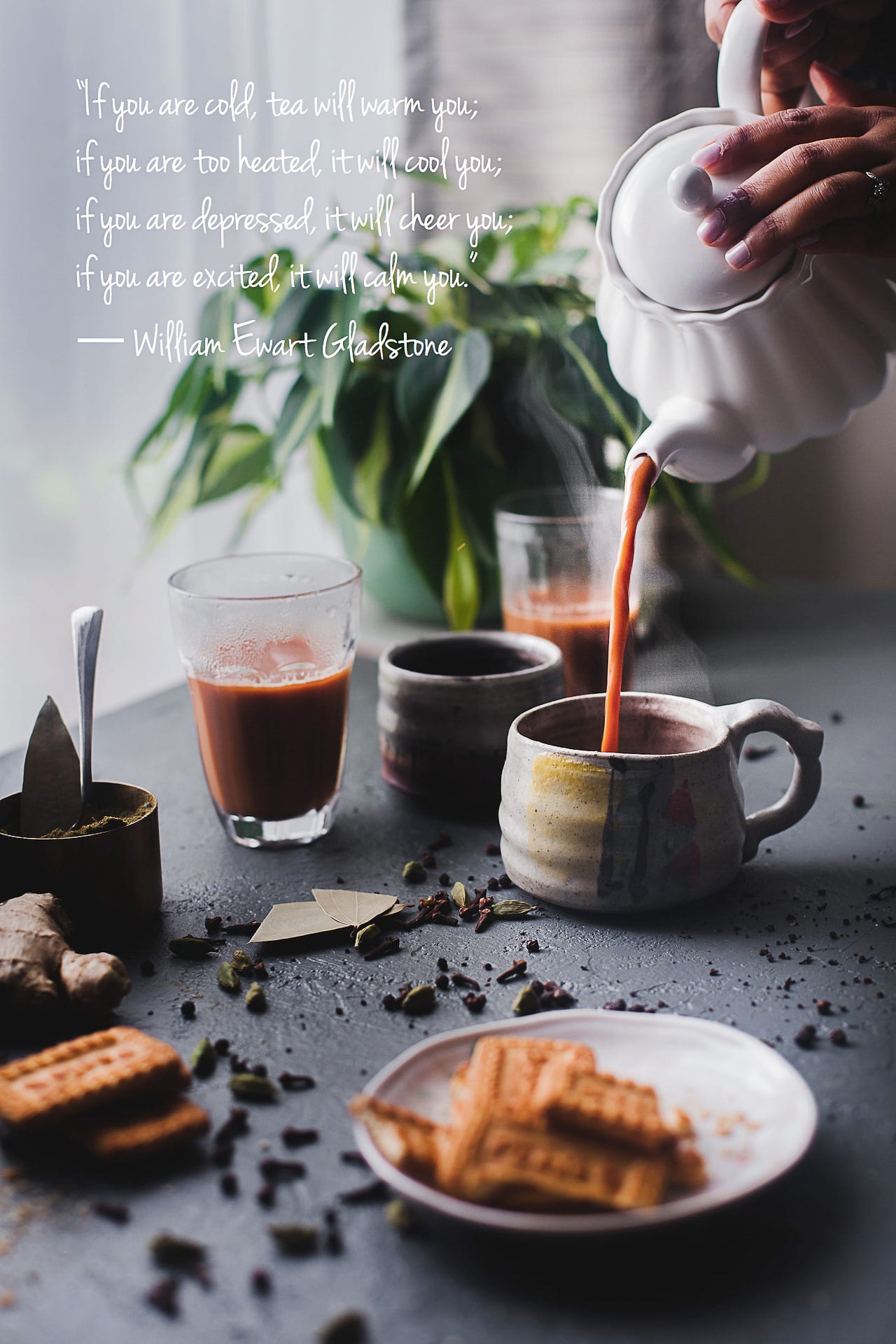 My husband is not much of a talker and I am the complete opposite. Yeah, that's my best skill!  Whenever we have guests over for tea, I am chitchatting while he happily makes the tea for us. Every time, he manages to wow our guests with the tea. One sip and you can instantly feel the warmth flowing down and you can't help but reach for the next sip almost immediately. It is my all-time preferred caffeine kick.
I am sure we all have our own versions of Masala Chai. We all have our choice of spices that goes in and we all have our own way of making it. One factor that remains common is ginger! Sometimes, I might omit all the spices but fresh ginger is a must!
Here are couple other drinks you will like:
Indian Masala Chai (Spiced Milk Tea)
Ingredients
1-

cup

water

1-

cup

whole milk

2

tablespoons

sugar

1-

tablespoon

black tea leaves

0.80

oz

ginger
for the chai masala
0.25

oz

bay leaves

0.55

oz

green cardamom

0.30

oz

clove

0.30

oz

black pepper
Instructions
For the chai masala, grind all the spices into a fine or coarse texture.

Place a heavy bottom saucepan on high heat and pour the water, milk, sugar and tea leaves. Mix it all together and add the chai masala. Stir and let it continue heating up.

Once the milk is warmed up, grate or pound the fresh ginger and add it to the pan.

Once you the milk comes to a boil, lower the heat to medium and let it simmer for 3 minutes or until you see the color change to a darker shade and a thin layer of milk skin starts setting on top.

Strain the tea and serve it warm right away.
Nutrition