A winter special dish prepared with pumpkin and spinach (Kumro Palak) is a simple Bengali vegetarian dish. It is not heavily spiced, and the dish comes together in about 30 minutes. There is a detailed video to show you how easy is this dish.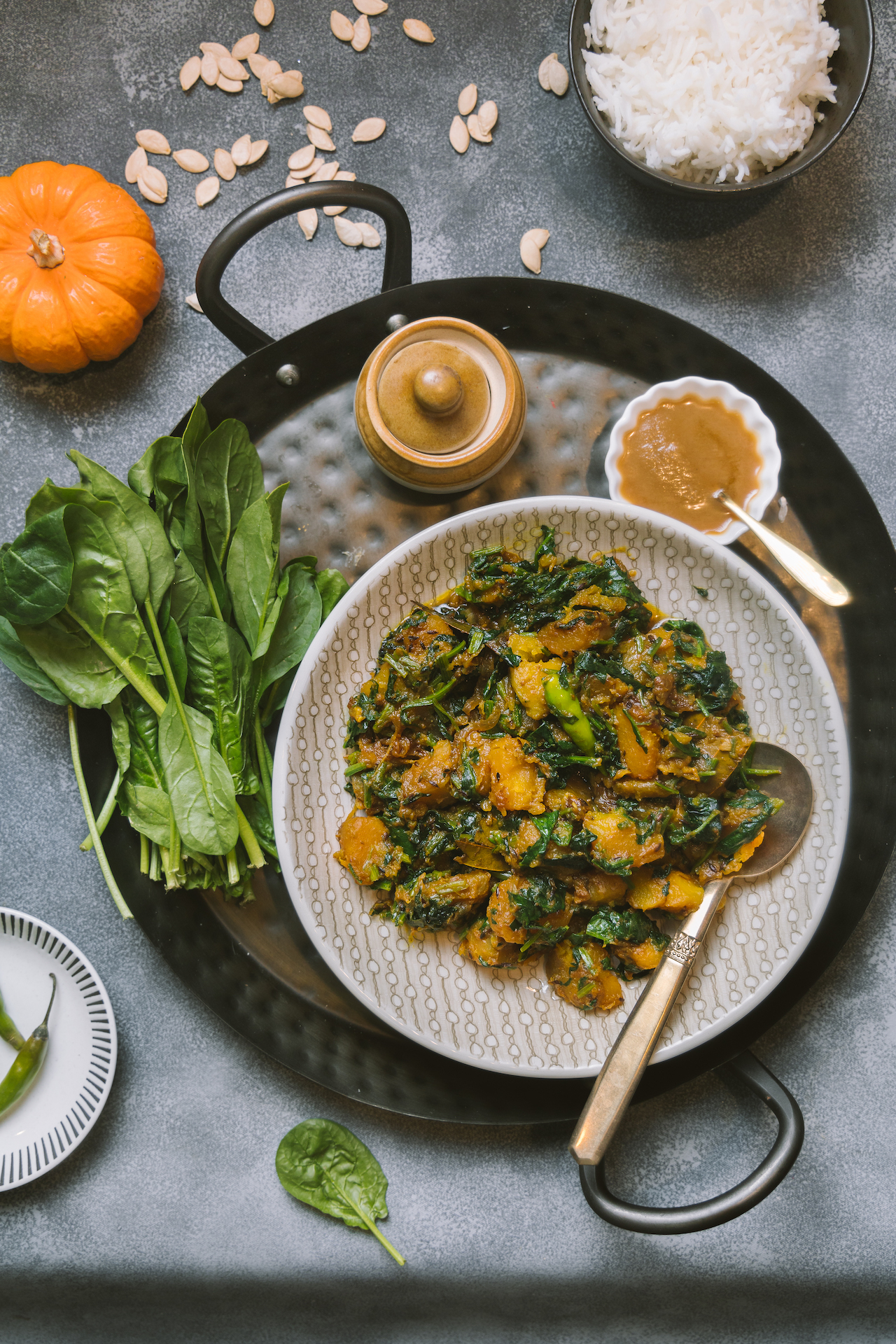 Traditionally, this Bengali Vegetarian side dish is prepared with lots of assorted veggies and spinach. I wanted to keep it simple by using only pumpkin. The sweetness of pumpkin with the spinach makes this a very comforting meal on a cold winter night.
Just like Labra and Shim Beguner Chorchori, this dish too pairs best with rice.
Ingredients you need for Kumro Palak:
Pumpkin - In India we always use the green skin pumpkin which doesn't get very waxy on cooking. It stays fluffy with a lovely bite. If I don't find the green skin pumpkin, then I use acorn squash, which I find very similar to the taste of the pumpkin we get in India.
Spinach - You can either use the baby spinach or the big variety that comes in a bunch. I personally like to use the large leaves that come in a bunch.
Onion - Indian dishes prefer using red onion, but you can use any variety that works for you. The onion is also not a mandate here and a lot of Bengali Vegetarian dishes skips onion, but I like the sweetness it adds.
Spices - The dish is not heavy spiced and only a few things are added to enhance the flavor of the pumpkin. Fennel seeds and Cumin seeds always work beautifully with pumpkin. Few ground spices, like cumin powder, fennel powder, and chili powder is added.
Ghee - Just a hint of ghee at the end adds a warm aroma to the dish. You can skip ghee if you want to keep the dish vegan.
Mustard Oil - The dish is typically cooked in mustard oil, which adds a pungent, but you can definitely use vegetable oil too.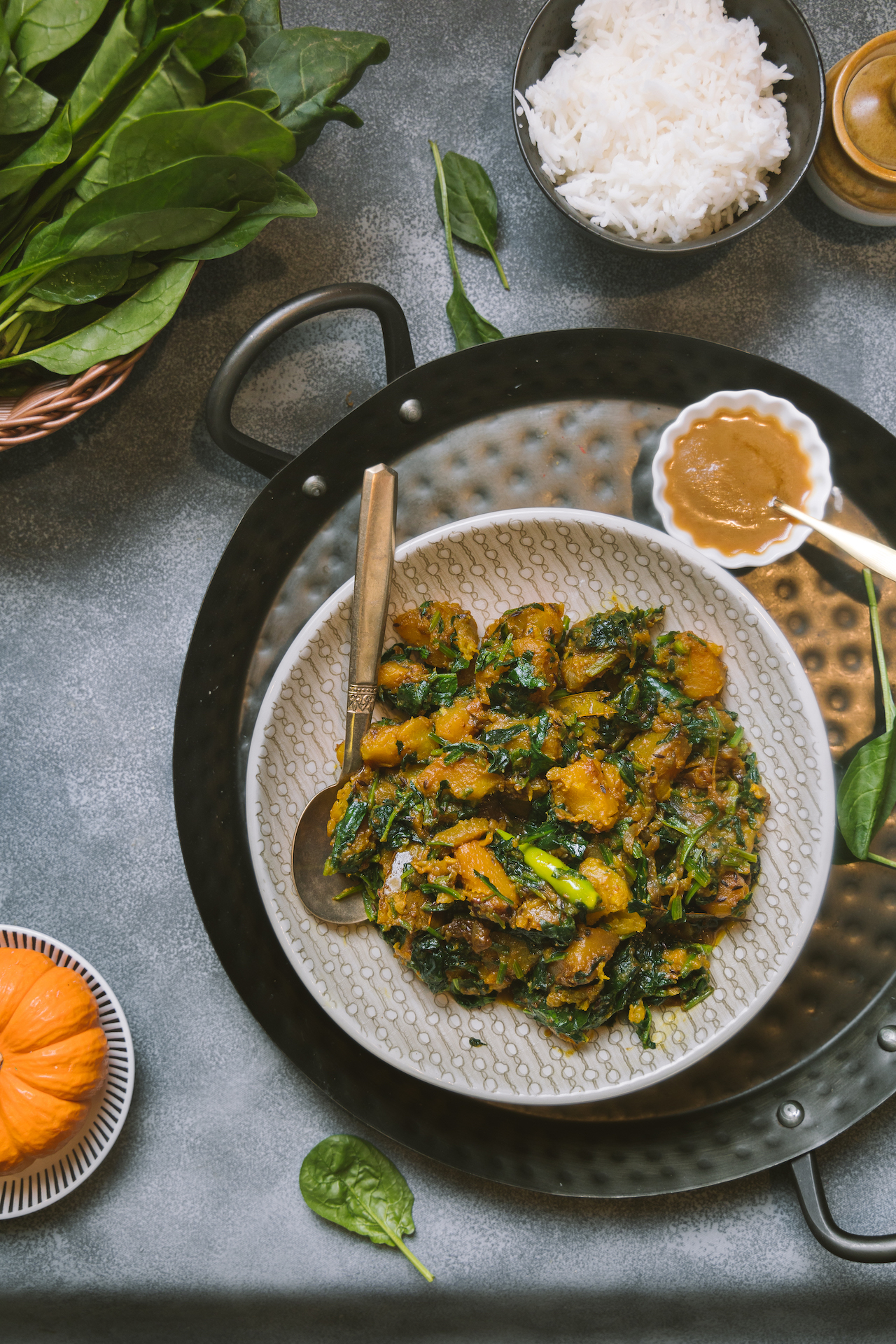 Steps to prepare Kumro Palak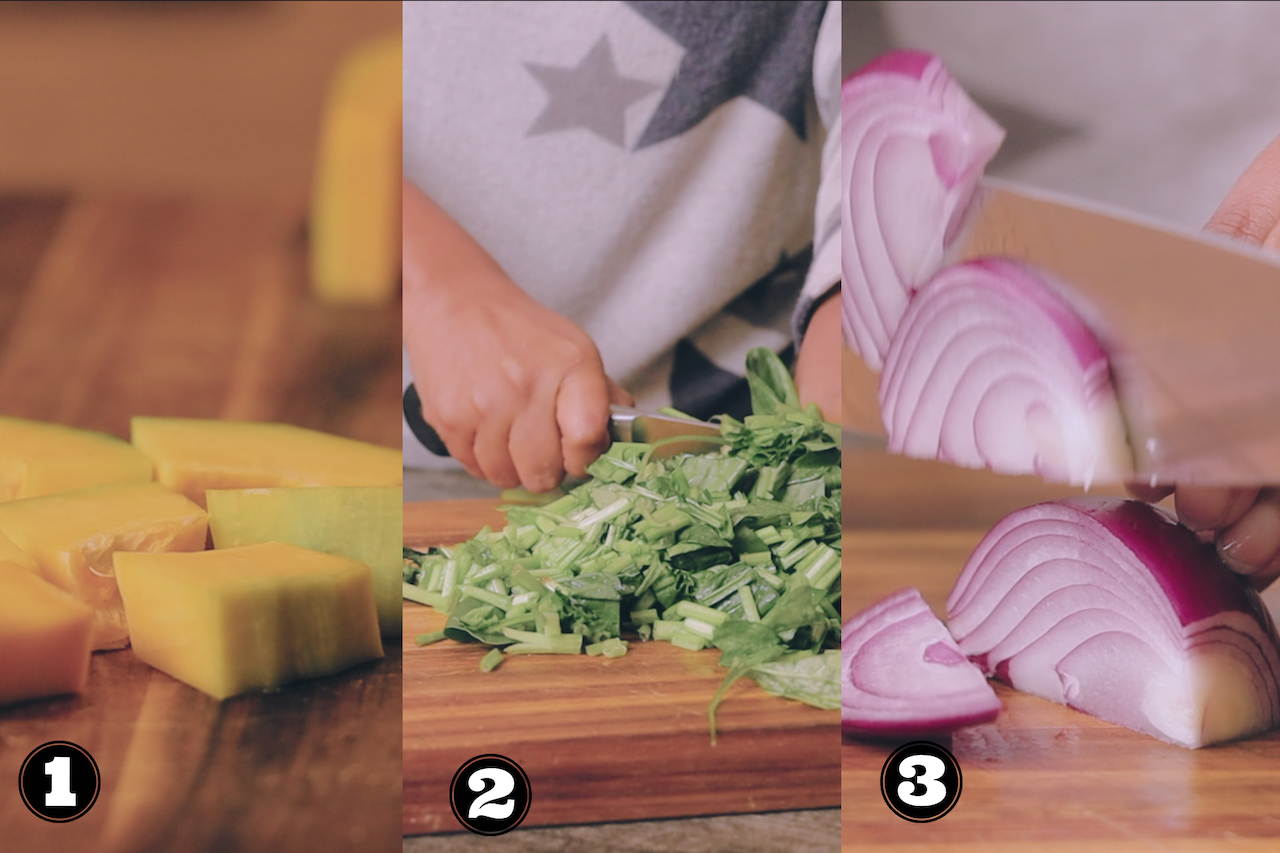 Peel the skin of the pumpkin and slice into big bite size. If you are using acorn squash you can keep the skin on, as it's very delicate and cooks easily
Clean the spinach leaves and chop roughly. I don't discard the stems. I use it all.
Peel and thinly slice the onion.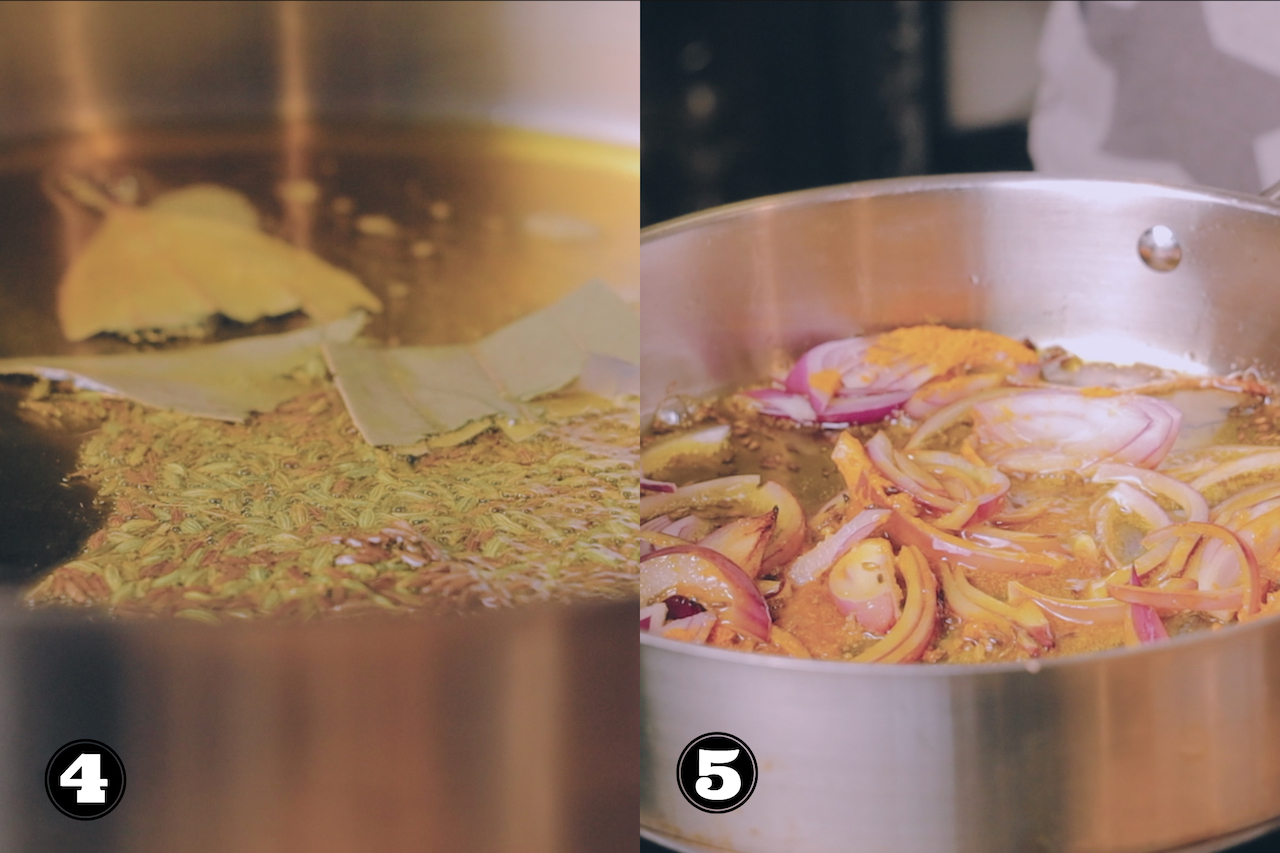 4. Heat mustard oil and then add bay leaves, fennel seeds and cumin seeds. Allow it to sizzle for a while.
5. Scatter the onion, add salt, turmeric and sauté for a while.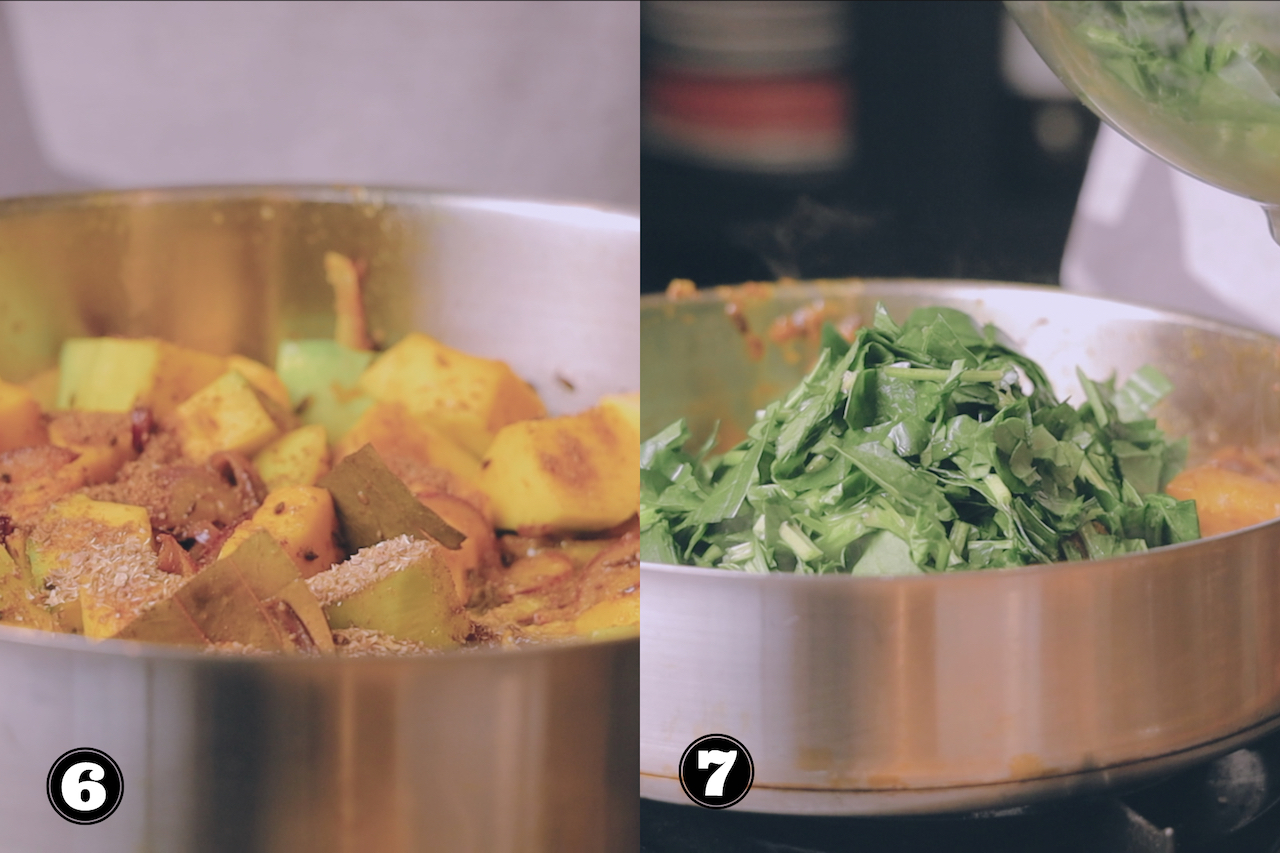 6. Add the pumpkins, stir it around and add all the spices and stir it around. Then add a little water, cover the pan and let it simmer until the pumpkin is cooked though. You don't want it to get mushy, you want it to be soft and retain shape.
7. Add the chopped spinach and cook for a few more minutes.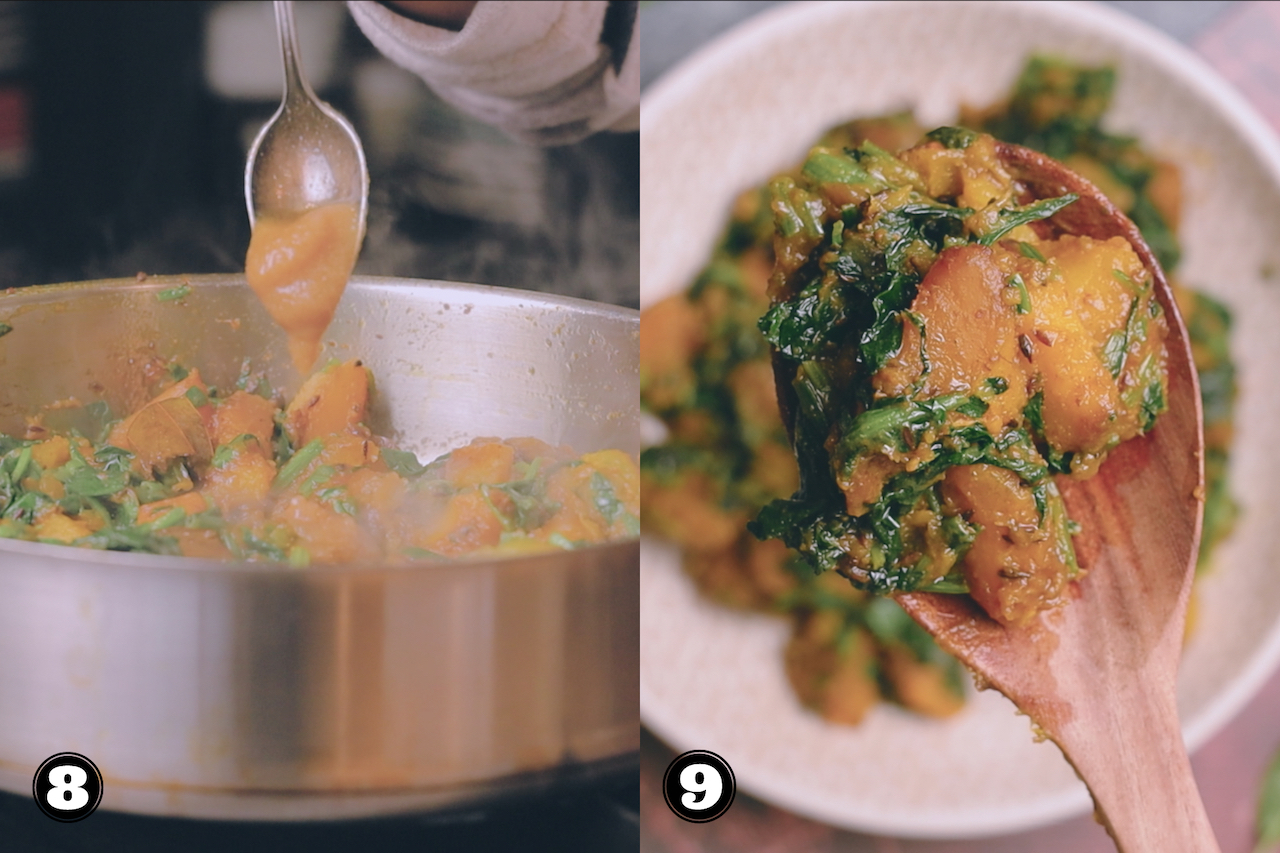 8. Finish it with a drizzle of ghee. Ghee is optional, but it adds warmth and enhances the flavor.
9. Serve Kumro Palak with steamed rice.
Recipe Video
The dish hardly takes any time to prep and can be paired with rice or roti. You can definitely make more spicy, and feel free to add more vegetables to the medley.
Try these Vegetarian dishes:
Kumro Pata Torkari - If you are growing pumpkin, you have to try this dish with the stems and the leaves.
FAQs
What other vegetables will go well in this dish?
There are no such rules, but here is what I like to add to make it more filling. Cabbage, potatoes or sweet potatoes, and radish.
Can you roast the pumpkin instead of frying in a pan?
Yes, you can definitely roast the pumpkin and then finish it in the pan by sautéing spinach along with it.
What kind of pumpkin or Squash works best for this dish.
I like the green skin pumpkin or acorn squash. You can make this even with butter nut squash.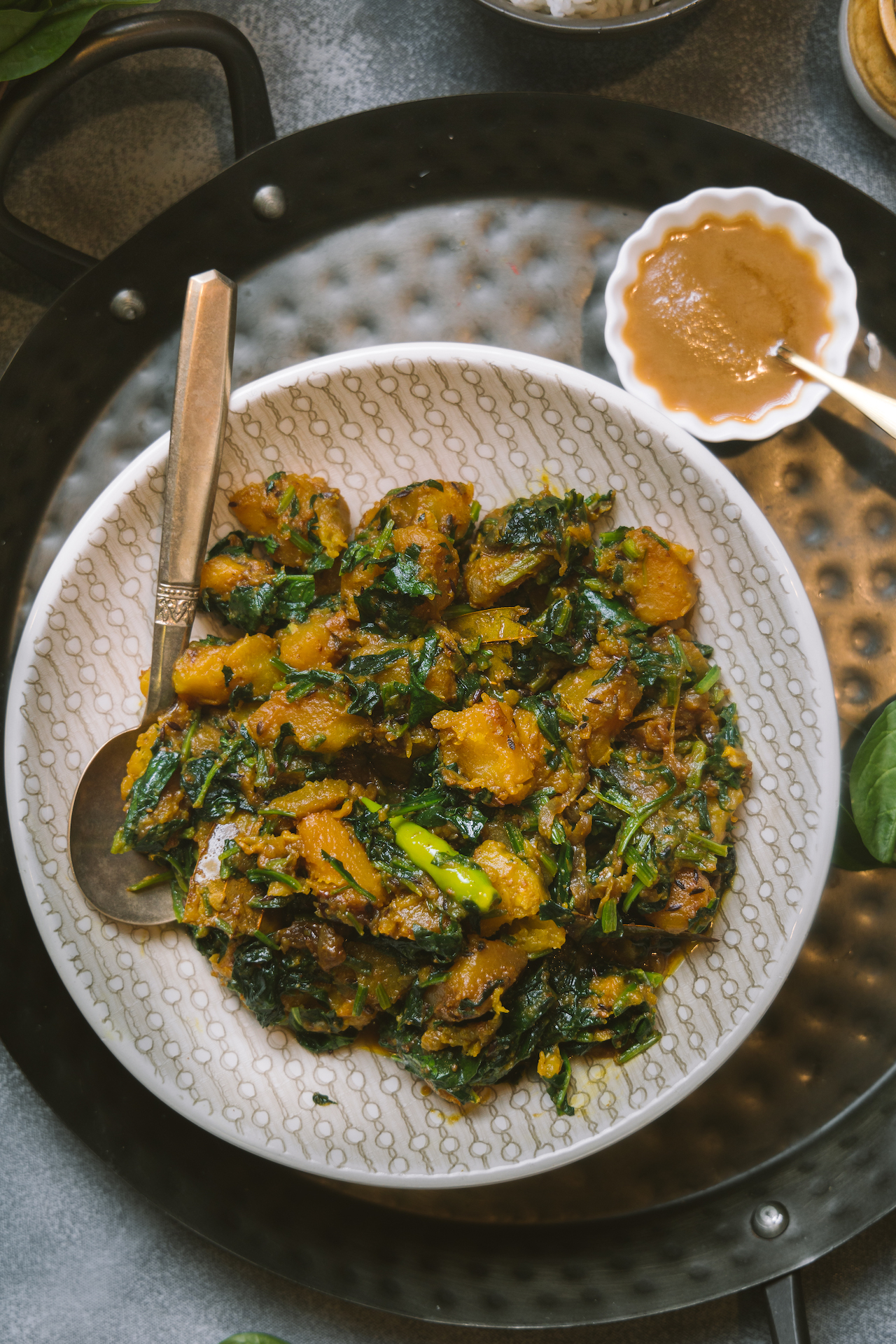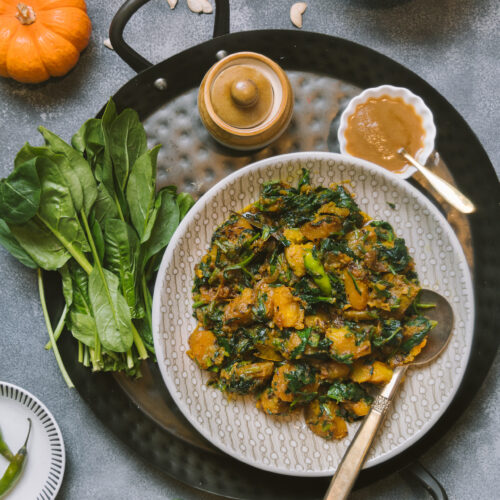 Kumro Palak
A winter specialty of pumpkin with spinach (Kumro Palak) is a simple Bengali vegetarian dish. It is not heavily spiced, and the dish comes together in about 30 minutes. There is a detailed video to show you how easy is this dish.
Ingredients
1

lb

pumpkin

(Peeled and cut into medium bite size)

3

Garlic cloves

(Finely, chopped)

7

oz

spinach

(Roughly chopped)

1

teaspoon

fennel seeds

1

Red onion

(Thinly Sliced)

2

tablespoon

garlic

1

teaspoon

Fennel seeds

1

teaspoon

Cumin Seeds

2

teaspoon

chili powder

¼

Bay leaves

1

teaspoon

salt

(You might need more to adjust your taste bud)

½

teaspoon

Turmeric powder

1

teaspoon

cumim powder

½

teaspoon

Fennel powder

1

tsp

chili powder
Instructions
Heat some oil in a pan and drop the fennel seeds along with cumin seeds and bay leaves. Once it starts to sizzle, add the onion, season with salt and turmeric and stir it around for 3 minutes.

Add the garlic and the pumpkin and stir it. Add the spice powder (cumin, fennel and chili) and let it sizzle for 4 minutes.

Pour 1 cup water and mix it around. Cover the pan and let it simmer for 15 minutes. The pumpkin should be softened by then.

Scatter the spinach and cook for a while for the spinach to softened down. Taste for salt and add more if needed.

Finally, pour some ghee and mix it around.

The dish tastes best with rice or roti. Serve warm.
Nutrition
Serving:
1
Servings
Calories:
73
kcal
Carbohydrates:
16
g
Protein:
4
g
Fat:
1
g
Saturated Fat:
0.2
g
Polyunsaturated Fat:
0.3
g
Monounsaturated Fat:
0.2
g
Sodium:
650
mg
Potassium:
793
mg
Fiber:
3
g
Sugar:
5
g
Vitamin A:
14760
IU
Vitamin C:
29
mg
Calcium:
116
mg
Iron:
3
mg