A delicious simple burger recipe with Indian spiced Chicken. The patty is spiced with Indian spices and because there is yogurt added, it turns out very juicy. This Indian Spiced Chicken Burger is super simple and doesn't need a lot of work either. Try it out with my homemade burger buns.
Indian Spiced Chicken Burger
As much as I love burgers, I barely make it at home. I find it stressful to prep all the components.
But some days it can be fun too with some helpign hands around. I make the patty and the buns, and my boys gets busy with the rest of the components.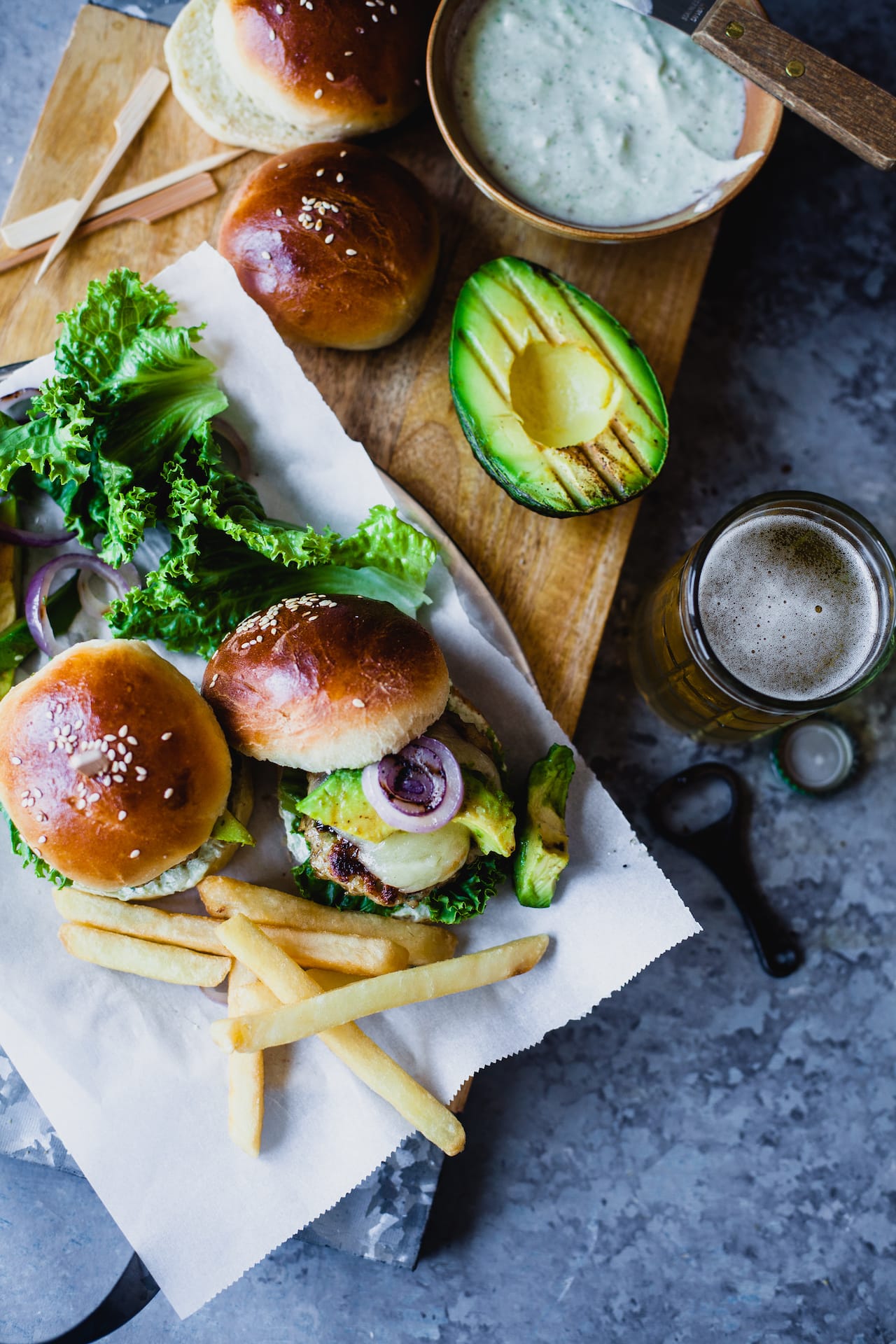 Making the Chicken Patty for the Indian Spiced Chicken Burger
Chicken patties are tricky to prepare. I think it's easy to go wrong and make the patty dry.
It has happened with me several times in the past. Then, I figured out that adding yogurt to the patty keeps it moist and juicy.
Of course, adding yogurt makes the mixture loose and it is not so easy to give it that perfect round shape.
But, I care less for the shape and more for the taste.
With all the warm spices like cumin and coriander, the chicken patty turned out delicious. Since the patty had all the warm flavors, I went with a simple yogurt and herb sauce for the burgers.
Other Components in the Chicken Burger
Yogurt herb sauce which is just a quick blend of yogurt, cilantro and cumin powder, salt and sugar. The sour yogurt really helps to balance the spices in the chicken patty
Grilled Onion - I love grilled onion rings on myt burger, In-N-Out Burger style I however go for red onion instead of white.
Sliced of Avocado and lettuce for the perfect crunch!
We had a few things planned out for the long weekend. Cherry picking, attending my best friends' house warming party and spending long hours by the pool.
Instead, we cuddled up on the couch trying to comfort our sick baby. Avyan loves to go out but every long weekend, he happens to catch some bug and we land up staying at home.
So, all we did for the past three days was movie marathons and indoor grilling. I made some Indian Spiced Chicken Burger hoping to cheer up our baby as he started to enjoy chicken a lot. But he didn't even bother to touch it. So, we grown-ups ate it all.
With the grilling season in full swing, we went in full on grilling mode. The patties, onions, avocado, all charred grilled to perfection, thanks to Arvind. So, while our long weekend was a little low, we kept the spirits high with good food.
Indian Spiced Chicken Burger
Ingredients
for the chicken patties
1

lb

500g minced chicken

3

tablespoons

finely chopped onion

2

garlic cloves

(finely chopped)

1

inch

ginger

(finely chopped)

2

tablespoons

thick plain yogurt

2

teaspoons

cumin powder

2

teaspoons

coriander powder

1

teaspoon

chili powder

2

teaspoons

salt

1

tablespoon

oil

1

egg
for the herb yogurt sauce
1

cup

thick plain yogurt

¼

cup

fresh cilantro leaves

¼

cup

fresh mint leaves

⅛

teaspoon

sugar

½

teaspoon

salt
rest of the ingredients
10

mini burger buns

1 3.8

oz./108 g red onion

(thinly sliced into rings)

2

ripe avocadoes

(peeled and cut into wedges)

10

tiny lettuce leaves or big lettuce leaves

(chopped to the bun size)

5

cheese slices

(each cut in quarters)
Instructions
For the yogurt sauce, put everything mentioned under the ingredient list for the herb yogurt sauce in a blender and whisk until its smooth. Taste for salt and add any, if required. Keep it aside in a bowl to be used later.

For the patties, crack the egg in a big bowl and put everything else mentioned under the ingredients list for chicken patties in the same bowl. Mix everything to combine it together. Then, layer a big plate or tray with parchment paper. Now take ¼ cup size of the chicken mixture, form a rough patty and place it on the parchment paper. Repeat for rest of the mixture. Once you are done with the patties, place the tray in the refrigerator for about 30 minutes.

After 30 minutes, start by grilling the onion slices and avocado wedges. Place the grill pan on medium high heat and brush some oil. Layer the avocado wedges and onion rings. Press the slices and the wedges with a spatula and cook for a couple of minutes on each side. Once done, take it off the pan and put it in a plate.

Next, grill the chicken patties. Brush some oil to the same grill pan and place the patties without overcrowding the pan. Press the patties very lightly with a spatula and cook for 3 minutes on one side. Flip the patties and place two tiny pieces of the cheese slices. Cover the pan and cook for 2 minutes. Take off the patties and keep them on a plate.

Finally, assemble the burgers by spreading some herb yogurt sauce on one side of the bun, followed by chicken patty, lettuce, grilled onion, grilled avocado and if you wish, some more of the herb yogurt sauce.

Wash it down with some chilled beer or your choice of cold drinks.
Nutrition
Serving:
1
Makes 10 mini burgers