These Eggless Burger Buns are soft and fluffy with delicate crumbs. Homemade burger buns are the best and with summer vacation I will be baking these quite often. In this recipe and the video, I have mentioned details on how you can make these buns with very little amount of yeast. Yeast is a rare commodity these days and so you need to make it last longer.
One of the things I miss eating out is burger. I am a big fan of juicy hamburger with a till chill glass of beer. We have a few local places where we would often visit on Friday evenings. That is of course on hold now hense I had to roll my sleeve up and bake some eggless burger buns.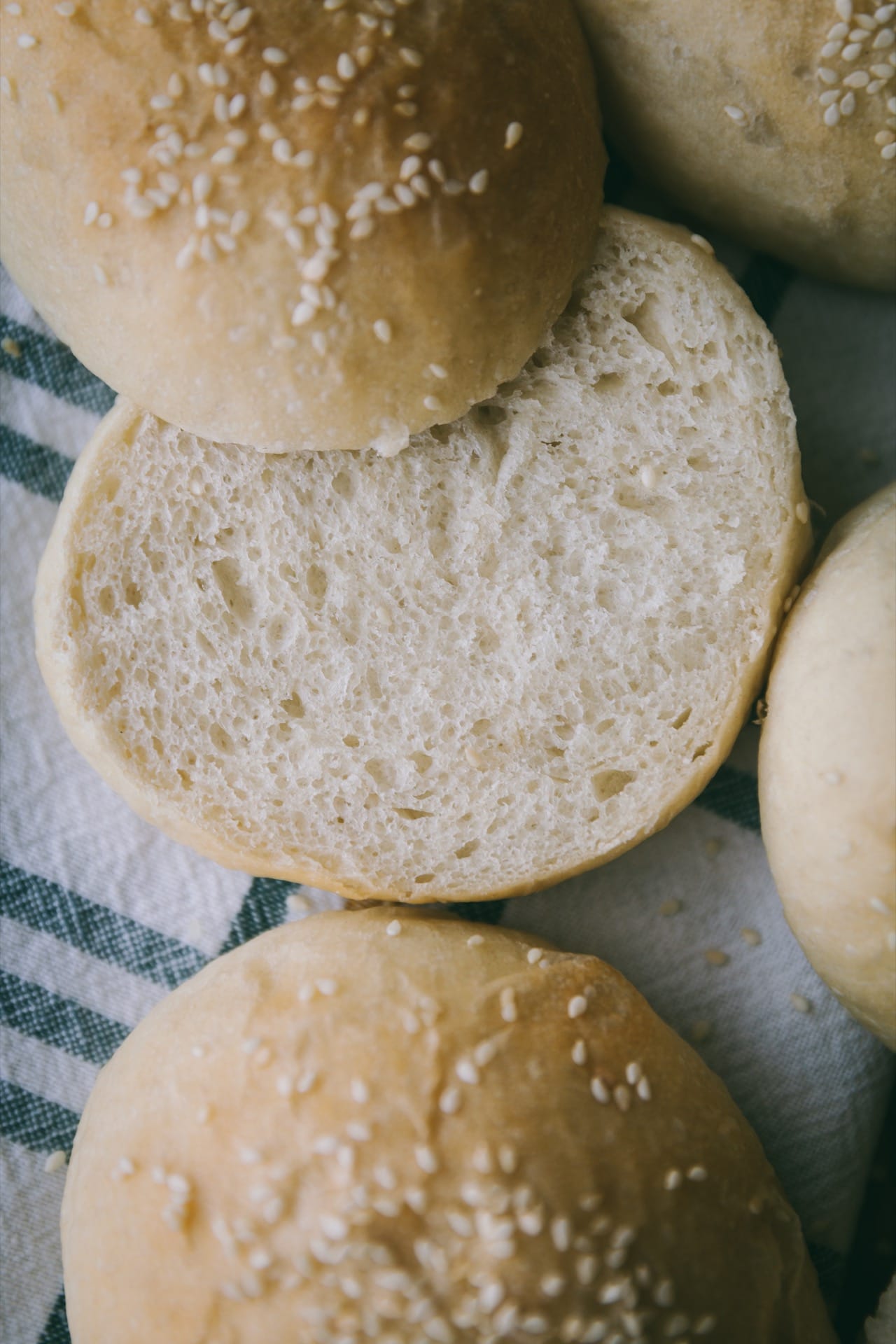 Ingredients for Eggless Burger Buns
All-purpose flour (you can use whole wheat flour too). Just keep in mind that if you use wheat flour you might have to add little warm water while kneading the dough.
Yeast – For quick rise, I use 1 tablespoon active dry yeast. If you want to save some yeast, use just ½ teaspoon for 2 cups flour and then let the dough rise overnight in the fridge.
Milk
Sugar and salt for seasoning
Room temperature butter cut into small cubes
Sesame seeds (optional)
Little bit of oil to grease the bowl
How to make Eggless Burger Buns
Activate the yeast in lukewarm milk with some sugar
Add the activated yeasty milk to the flour along with salt and knead the dough for 5 to 6 minutes.
Then add the butter cubes little by little to incorporate in the dough.
Shape the dough into a big ball and place in a greased bowl. Leave it aside to rise
KEY POINT: If you use 1 teaspoon yeast then let the dough rise overnight in the refrigerator. If you use 1 tablespoon yeast, the dough will rise and double in size in about 2 hours or so.
Divide the dough into 6 dumplings. I prefer to weight each into 105 g.
Then small the dough balls into burger buns (watch the video to understand this step better)
Cover and let it rise for 1 hr
Brush melted butter and bake at 375 F for 17 minutes.
Let it cool completely in a wire rack before you slice the bun.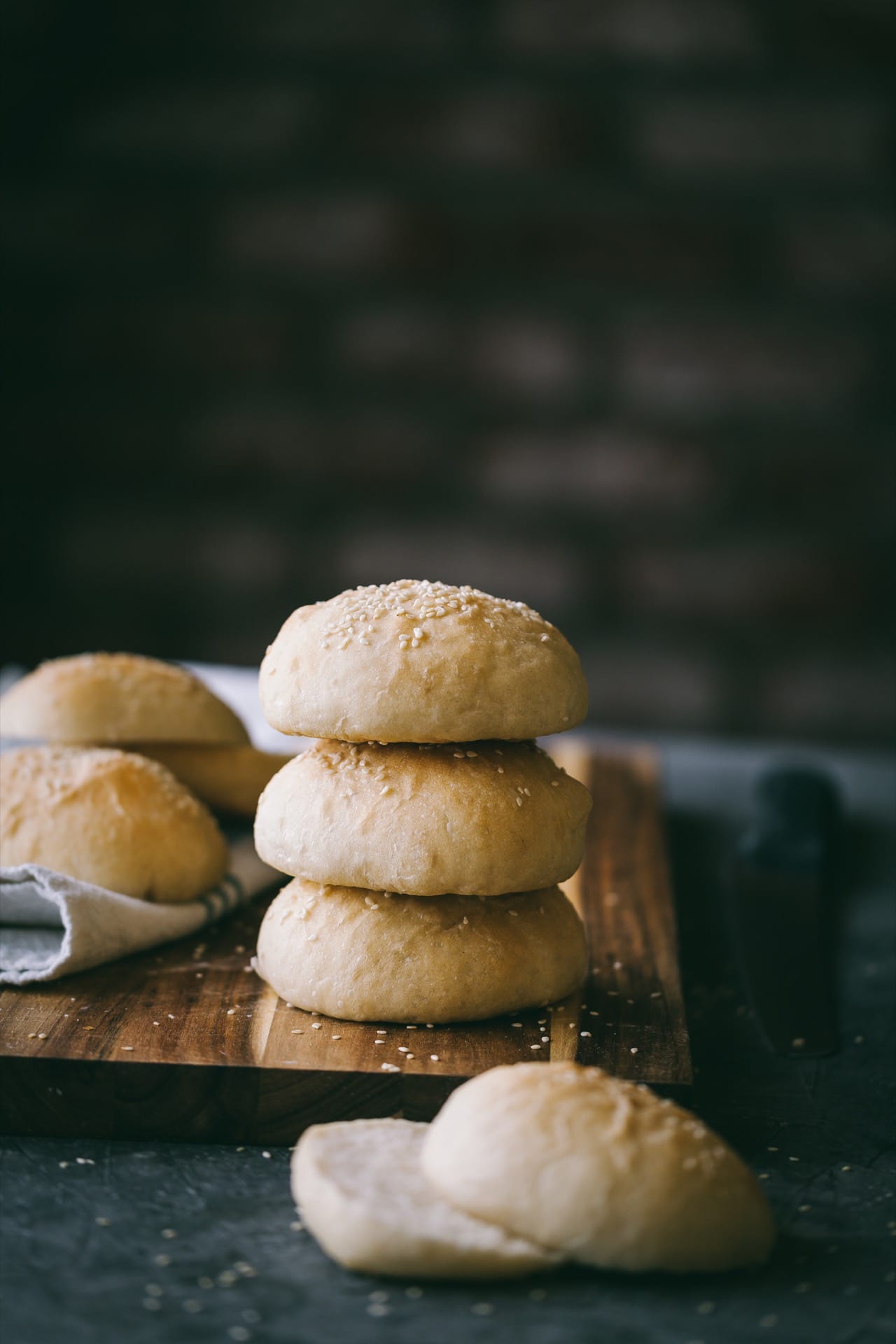 Few Key Notes:
Once you add the butter to the dough, it will turn very sticky. Do not add any flour at this point Give it time and continue kneading. The dough will come together nicely.
I would highly recommend using a measuring scale to divide the dough into buns for more accurate shape. It often ranges from 95 g to 105 g
Give it some time and shape the burger buns neatly for a smooth top.
I had tried melted butter and milk both together and separately to brush the buns on top. It doesn't give the dark golden color. If you love that golden color on the buns, then definitely brush egg wash (1 egg whisked with little water).
We made a simple burger with some beef patty, a simple mayo sauce, few kale leaves from my garden (wish I had lettuce though) and some caramelized onion. It was a great way to fulfil my burger craving without much effort.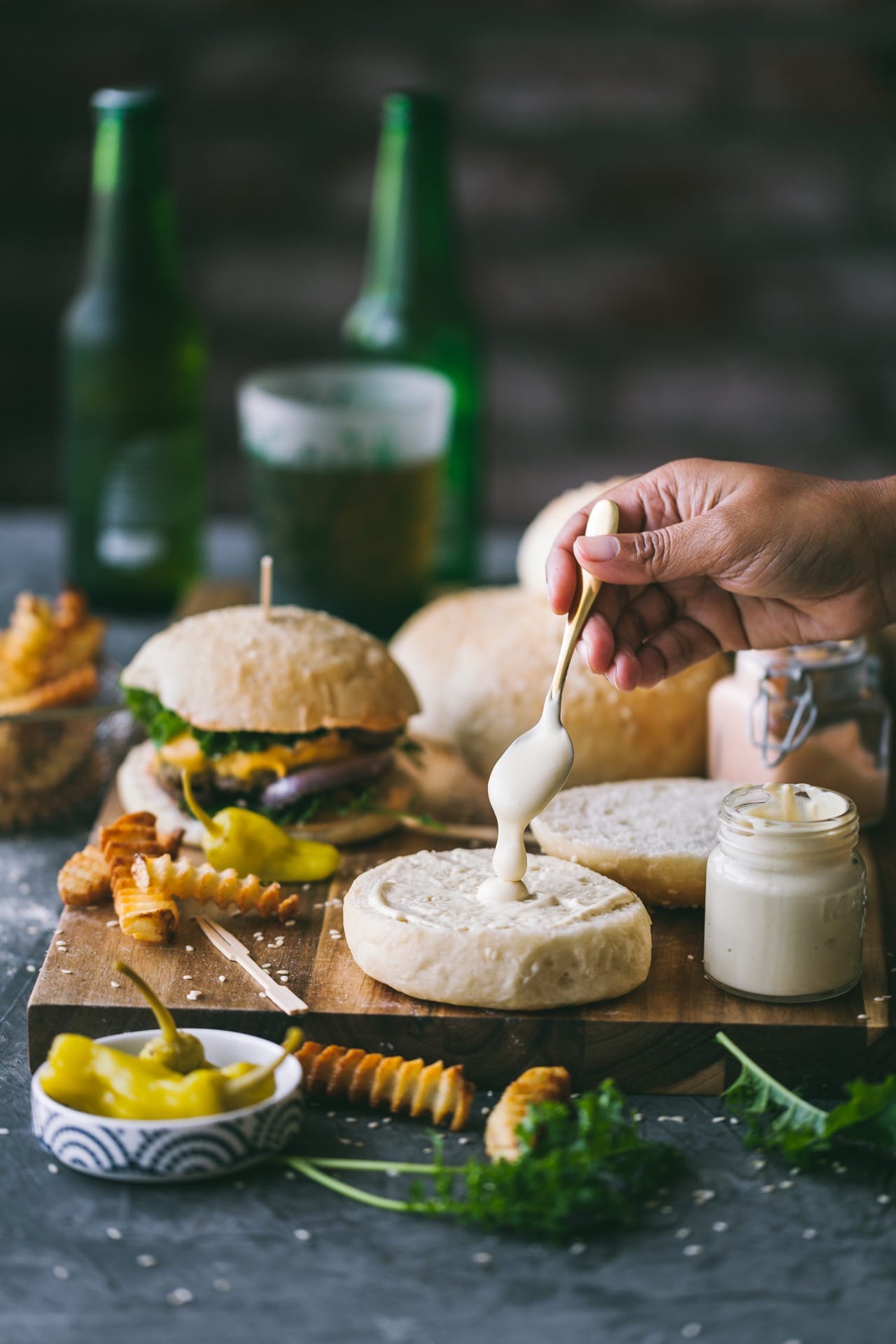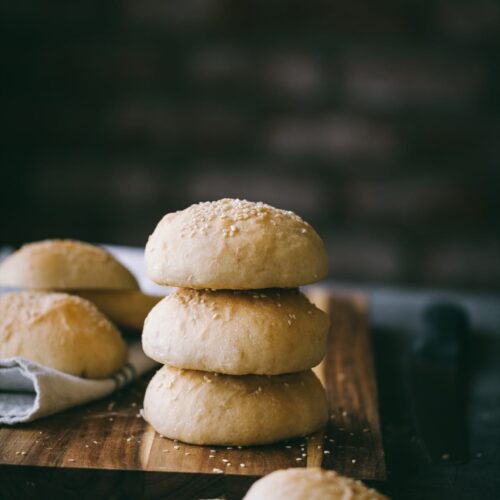 Eggless Burger Buns
Ingredients
warm milk - 1 cup

sugar - 1 tablespoon

1

tablespoon

active dry yeast

(or ½ teaspoon active dry yeast for slow rising in the fridge overnight)

all-purpose flour - 2 cups

salt- 1 teaspoon

3

tablespoons

room temperature butter

(cut into small cubes)

Little drizzle of oil to grease the bowl

1

tablespoon

melted butter to brush on top of the buns
Instructions
In a big glass or measuring glass, warm the milk. It should be warm enough so you can dip your finger comfortably. Add the sugar and the yeast. Give a quick mix and leave it aside covered for 5 minutes.

Depending on how much yeast you used, you will see a lot of rise or less. But it should be frothy.

Attach the dough hook to the stand mixer.

Add the flour, salt and the yeast milk. Start kneading at speed 2 for 6 minutes.

Then drop the butter cubes little by little to the dough while it's still running and continue kneading. It will look very sticky but do not add any flour. Knead for 5 to 6 more minutes.

In our kitchen counter or a big chopping board, dust little flour and drop the dough. Fold the edges of the dough and flip to form a round ball. (Watch the video)

Grease a big bowl with little oil and place the dough. Rub little oil on top on the dough and cover the bowl with clear wrap or a fabric cloth. Now if you used 1 tablespoon yeast the dough will rise in 2 hrs. If you used 1 teaspoon yeast, then give it overnight in the fridge to rise.

Once the dough has risen, punch it lightly and then divide the dough into 6 equal portions.  I weight each about 105 g.

Shape the buns neatly by tugging the edges, flipping and then rolling the dough slowly towards you. (Watch the video)

Place the buns on a cookie sheet about 1 and ½ inch apart layered with parchment paper. Cover with a kitchen towel and let it rise for 1 hr.

Pre heat the oven to 375 F

Brush melted butter on the burger buns and sprinkle sesame seeds if using. Place in the middle rack and bake for 17 minutes.

Brush little more melted butter on top of the warm burger buns and let it cool completely on a wire rack. Do not slice while it's still hot.
Video
Nutrition
Serving:
1
g
Calories:
296
kcal
Carbohydrates:
40
g
Protein:
7
g
Fat:
12
g
Saturated Fat:
6
g
Polyunsaturated Fat:
5
g
Cholesterol:
24
mg
Sodium:
473
mg
Fiber:
2
g
Sugar:
3
g