Make your Indian curry making experience easy and effortless with this Indian Curry Paste. This curry paste is basic but has all the foundation flavor notes an Indian curry calls for. It is easy to make and comes very handy on busy days.
Indian Curry Paste
The base of a typical Indian curry is a mix of onion, ginger, garlic and tomato with several different spices.
Of course, depending on the type of dish that you are making, you could add other flavoring components while preparing the curry.
The preparation of Indian curry does require some amount of time and unless you are used to making Indian curries on a regular basis, you might find it daunting.
But, if you have made the Indian Curry Paste in advance, the curry-making experience will flow smoothly and most importantly, very quickly. If you enjoy Indian food, this curry paste is seriously one of the best condiments to stock up.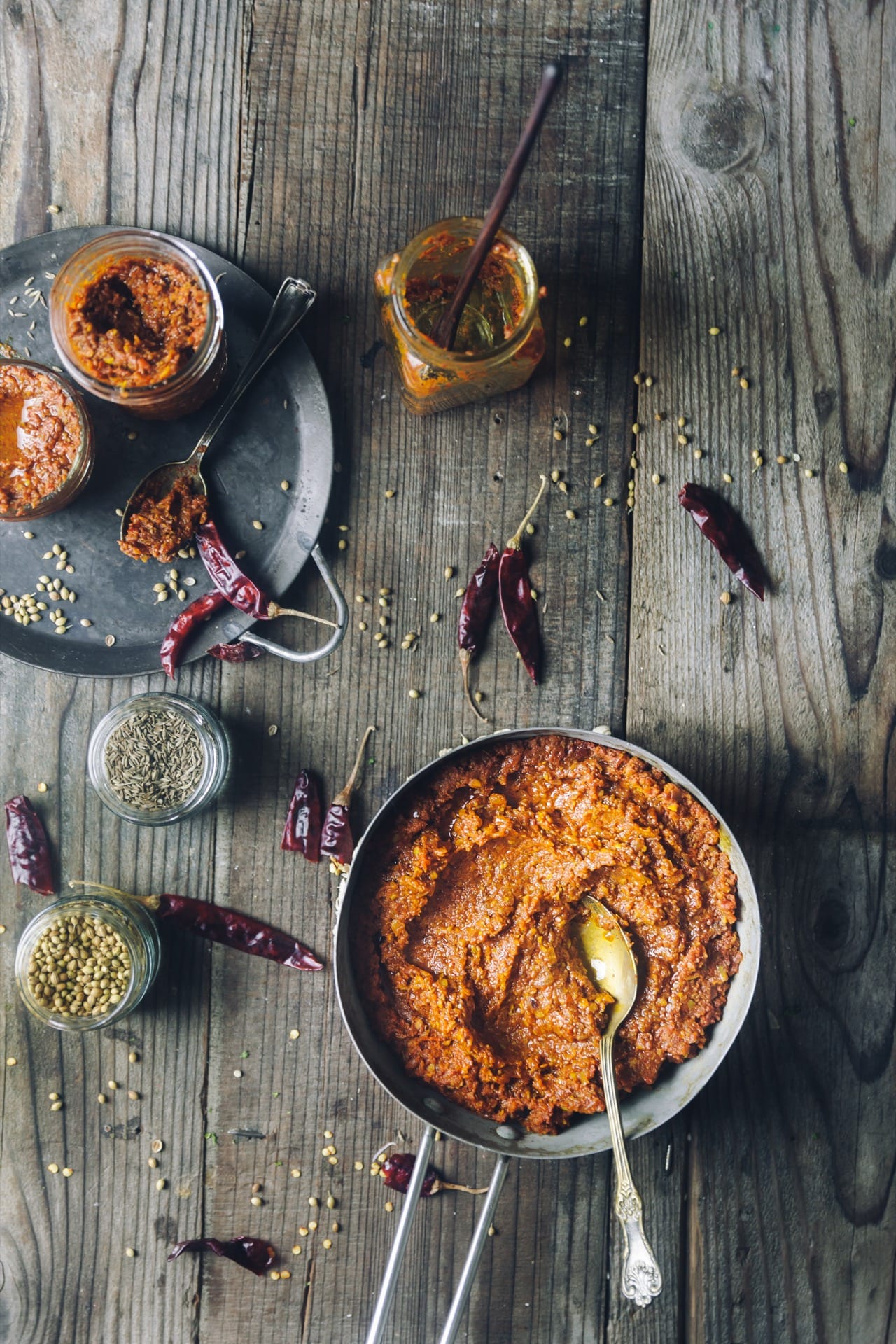 Ingredients for this Indian Curry Paste
Red Onion
Garlic
Ginger
Tomatoes
Cumin Powder
Coriander Powder
Dry Red Chili
Steps to prepare
This recipe is very basic and hence the spices are also kept to minimal.
Start by dry roasting the cumin seeds, coriander seeds and dry red chili. Then grind it to either fine powder or course texture as per your liking.
Then finely chop the garlic, onion and ginger.
Puree the tomato. You can use store bought tomato puree too.
Once all that prep is done, you need to cook the onion, garlic and ginger for a while. Then add the ground spice mix, cook for some more time.
Add the tomato puree and continue cooking until the raw smell is gone and it's not watery any more.
Add salt for taste but keep it minimal as you will be using this curry paste in making curries where you want to have better control of seasoning.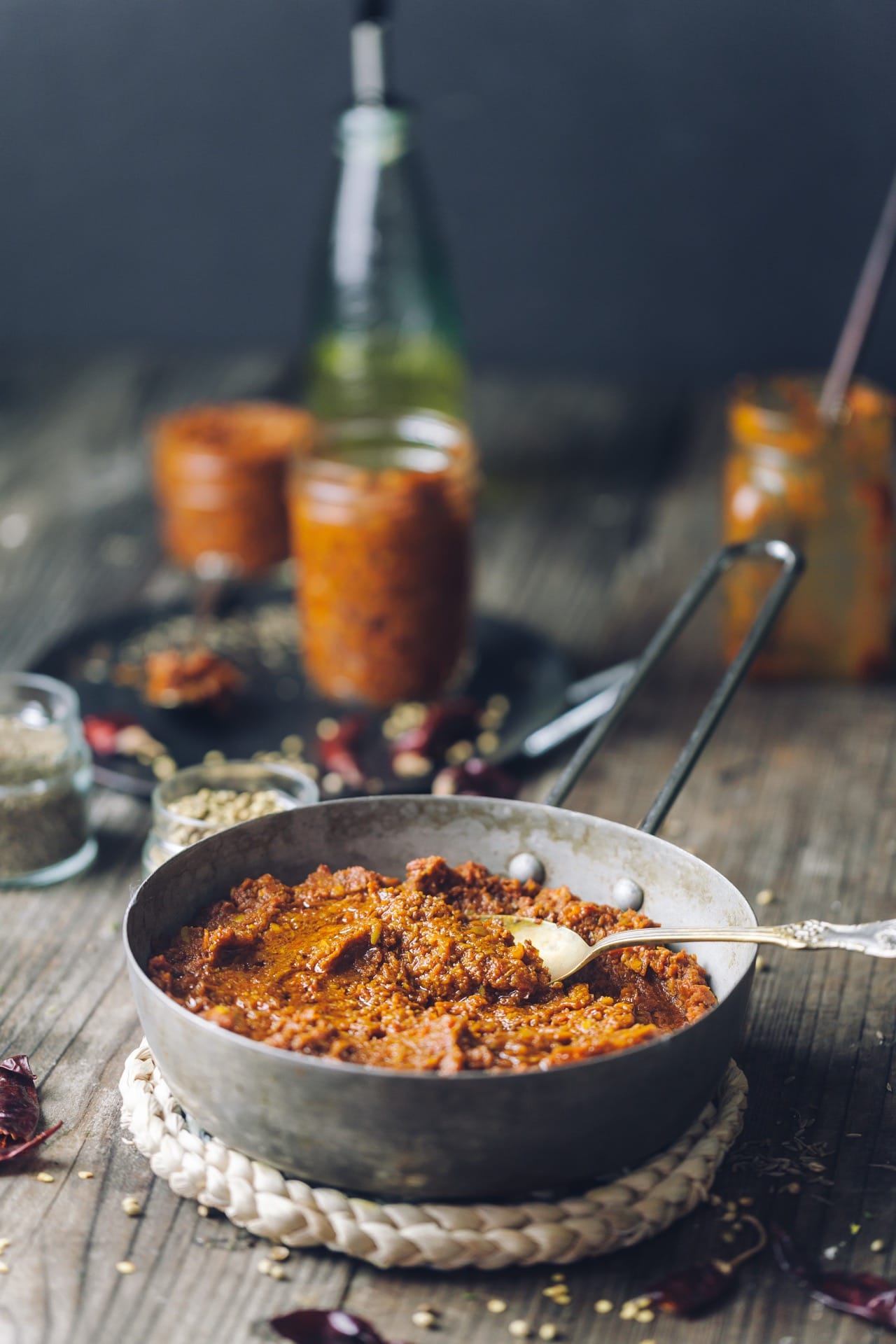 NOTE: Sometimes I do end the curry paste by adding some garam masala powder but you can avoid it. And instead add garam masala powder when preparing the curry with the curry paste.
How to Use the Indian Curry Paste
This curry paste has all the basic flavoring factors.
All you need to do is just pick the protein or vegetable or legumes or beans that you want to prepare. You need to boil the legumes or beans in advance.
Then, simple sauté the meat or vegetable or boiled beans or legumes with the curry paste until everything is cooked. You could enjoy the dish dry or add water to make it gravy.
It basically save the time of cooking down the spices. You will not believe how convenient it is to use the Indian curry paste unless you give it a try!
How to stock ?
Before you store the curry paste, make sure it's cooled down completely. Then, use a clean glass airtight jar.
Unless you are planning on using the curry paste in the next weel or two, store the jar in the freezer. It will last for months.
You can freeze the curry paste using ice trays too. Once it's frozen, take it out of the tray and put the frozen cubes in a Ziploc bag. Then, Place the Ziploc bag back to the freezer.
Using ice tray is extreamly convient as you could just drop a couple of the frozen curry paste blocks straight in the curry. Instead of thawing the entire bottle every time.
Remember to always use a clean dry spoon to take out the amount of paste you need.
Indian Curry Paste
The cooking time will increase if the mixture of onion, ginger and garlic is a puree instead of being super finely chopped.
Ingredients
5.15

oz/146 g red onion

0.55

oz/ 15 g fresh ginger

0.4

oz/ 11 g fresh garlic

1

red tomato

1

tablespoon

cumin seeds

1

tablespoon

coriander seeds

2

dry red chili

1

tablespoon

oil

1

teaspoon

turmeric powder

1

teaspoon

garam masala powder
Instructions
Roughly chop the onion, ginger and garlic. Using a food processor, chop it into a very fine texture. I prefer the super fine chopped texture but you can also make a paste like consistency. Keep it aside to be used later.

Roughly chop the tomato and blend it. Keep it aside to be used later.

Place a pan on medium high heat and dry roast the whole spices (cumin, coriander and dry chili) for a couple of seconds. Then, let it cool before you grind it to a powder. Keep it aside to be used later.

Place a heavy bottom saucepan on medium high heat and pour the oil. Once the oil heats up, drop the onion, garlic and ginger mixture that was kept aside. Cook for 2 minutes, stirring occasionally.

Sprinkle the ground spice along wi that was kept aside along with turmeric powder and give it a stir. Cook for 3 minutes, stirring occasionally.

Drop the tomato that was kept aside and give it a stir. Cook for 5 minutes, stirring occasionally.

Once the raw smell is gone and the oil starts to release from the edges, sprinkle the garam masala powder and cook for 2 minutes.

The final texture of the curry paste should be moist but with no liquid. If you still see liquid, continue cooking for some more time.

Once the curry paste is ready, let it cool down completely and then stock it, either in an airtight jar or ice cube trays.
Nutrition