There are different categories of people when it comes to celebrating Valentine's Day. Some love it, some hate it and some make fun of it. I fall in a different group, the one with folks who like to celebrate any day that calls for yummy food, good drinks and quality time with your loved ones! And irrespective of the occasion falling on a weekend or a busy weekday, our kind figures out some way to make it special. I cherish this day, which is celebrated all across the globe where every one is speaking one single language - Love! The day is filled with chocolates, champagne, roses, love notes, kisses and the world is painted red.
Keeping in mind the color of love, I have this sexy red, flavorful hibiscus syrup for you. Drizzle a little on fruit or salad vinaigrette, swirl it on ice cream or yogurt and on a special evening, stir it with your choice of alcohol and get a little tipsy.
Our Valentine's Day was like any other busy weekday except with more yumminess involved.  There was a grown up version of mac and cheese for lunch, a citrusy cocktail and gnocchi with basil pesto for dinner followed by late night chocolate fudge cake. Eating out would have been more relaxing but then again, who likes to spend a romantic evening in a crowded restaurant. While he was busy at work, I stayed active in my tiny kitchen preparing our favorites.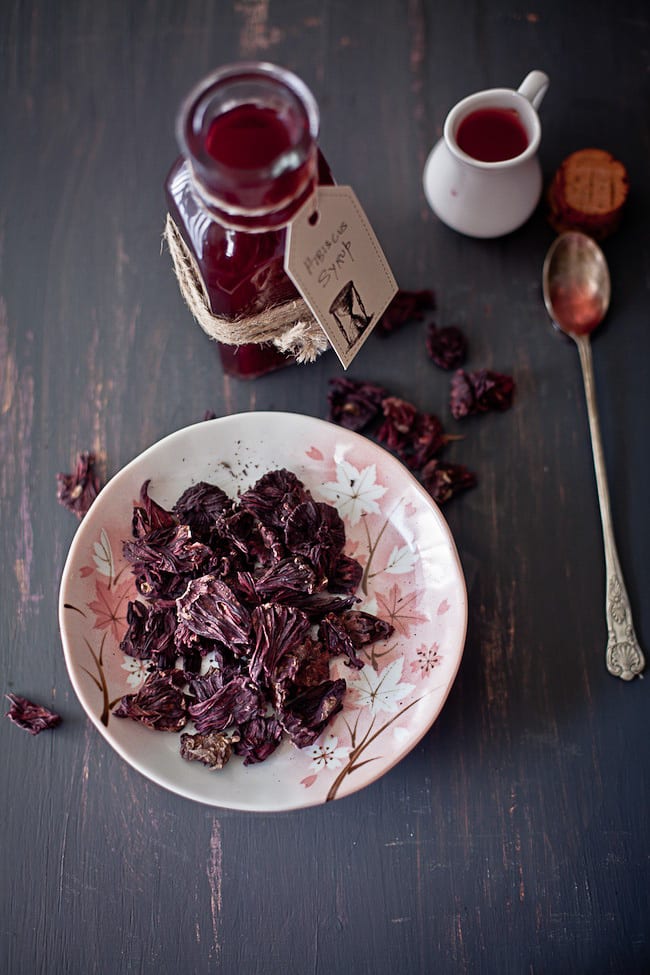 Good homemade syrup always comes handy. It's easy to make and you can flavor it the way you like. I added some ginger, lemon peels and couple of star anise in it. As it boiled, the color got darker, it released the flavor and in about 15 minutes or so, I had a bottle of hibiscus syrup ready to be used.
Hibiscus Syrup
Ingredients
4

cups

water

¾

cup

dried hibiscus flowers

1

inch

ginger

(finely grated)

2

whole star anise

zest of 1 lemon

1

cup

sugar

(add more if you like it sweeter)

⅛

teaspoon

salt
Instructions
In a deep pan, mix all the ingredients and bring it to a boil.

Once it starts to boil, reduce the heat to medium and let it simmer for 10 minutes.

Turn off the heat, cover it with a lid and let it steep for 5 more minutes.

Strain it through a sieve and store the syrup in an airtight bottle.
Nutrition
Did you ever make hibiscus syrup? If yes, where did you use it later? I am looking for more ideas, please share with me if you have any!