Living with a 3-year old is like living a life filled with unpredictable moments. Most of the days, he wakes up happy, we cuddle and share a lot of morning kisses. He then just follows the daily routine without even asking him to. I get this feeling of accomplishment. And out of no where, suddenly the whining starts. There is always a reason, some random reason. I hear myself yell and all those happy moments just vanish. He doesn't like it when I get mad so he starts crying, only louder this time and won't stop unless I hug him. He wins every time and I let him win because I want my happy moments back.
After he leaves for school, I sit down with my smoothie and think back. Was it really necessary to rush him? He wanted to take time brush his teeth. So be it. Just a few seconds more, may be a minute. I could have let that happen. Why did I even get mad? Of course, I couldn't have allowed him to continue playing with his toys. It was school day. I had to rush and get him ready.
I don't do all that thinking every day. I know it's normal and every parent goes through these various phases. But some days, when I yell a lot and then say sorry a lot, I sit back, think and make a note to self to become more patient. I try, trust me! It's not a skill I was born with and never really got better at it. Trying is all I can do. And thank God, Arvind has all the patience needed to balance us out.
When it comes to food, Avyan is somewhere between a fussy eater and a foodie. He gets excited about food but then, he doesn't eat a lot. He is sensitive too and I think he has already developed a pretty good palate. Give him anything that is not tasty enough, he won't eat it. He will also say it out loud 'not tasty'. Until about two weeks back, he wasn't eating chicken. Occasionally, he would take a bite but when a big chunk of chicken went in his mouth, he would spit it out immediately. Then one day, he started eating chicken pieces from the curry. And quite happily! I crossed my fingers and stayed cool, as I didn't want to jinx it. I waited until he was done eating. And then, I almost screamed out of happiness. Motherhood! Things that makes us happy.
These days, he enjoys grilled chicken but it's got to be moist or else, he won't take a bite. He thoroughly enjoyed this Garam Masala Grilled Chicken Tenders. Of course, I had to remove the charred bits, as he didn't think that was the tasty part. Wait till you grow up kid and then you'll understand the taste of char!
What's life without some unpredictable moments, the whining, the crying and the tantrums! We balance it with lots of hugs, kisses and cuddles. For now, I am just glad that he started eating chicken.
This is a super easy grilled chicken recipe. The key is to use homemade garam masala.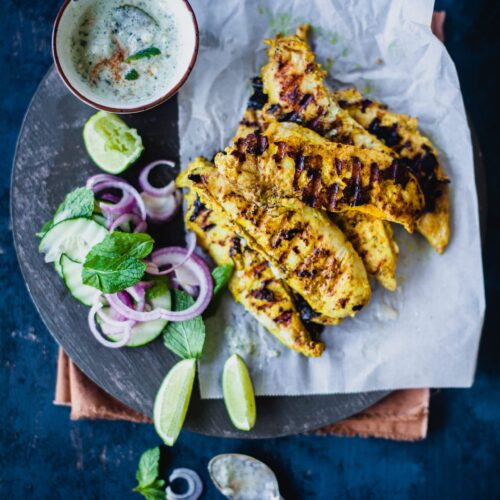 Garam Masala Grilled Chicken Tenders
Ingredients
for garam masala
1

tablespoon

cumin seeds

1

tablespoon

coriander seeds

1

dry red chili

1

inch

cinnamon stick

2

bay leaves

3

cloves

3

green cardamom

1

tablespoon

fennel seeds
other ingredients:
1

pounds

500 g boneless

(skinless chicken breasts tenders)

1

tablespoon

salt

¼

cup

thick plain yogurt

2

tablespoons

oil
Instructions
Bring a pan to medium high heat and scatter all the spices mentioned under the ingredients for garam masala. Keep tossing and turning for about 30 seconds and then, take the pan off the heat. Allow the spices to cool down and then, grind it to powder.

In a big mixing bowl, pour the yogurt along the oil, salt and the prepared garam masala powder. Give it a whisk and then, drop the chicken tenders. Give it a mix to coat the chicken tenders evenly. Cover the bowl and allow it to marinate for a minimum of 4 hours. If you can keep it overnight in the refrigerator, the flavor will definitely get better.

Place a grill pan on medium high heat and brush some oil on the pan. Once the pan is hot, layer the chicken tenders without overcrowding the pan. Grill it in batches, if required, because you definitely want those grill marks. Cook it for 4 minutes and then using a tong, flip the chicken tenders and cook for another 3 minutes.

Once done, take it off the grill pan on a serving dish and allow it to rest for 2 minutes. Then, serve with your choice of dipping sauce. Cool yogurt mixed with some fresh finely chopped herbs, salt and a pinch of sugar works as a great dipping sauce for this dish.
Nutrition