Growing up, mutton was my preferred choice of meat. Most Sundays, Dad would rush to the market early morning so he didn't miss the chance to buy the best quality of meat and later, mom would prepare a rich mutton curry for lunch. We would always be extra hungry on that day. It was only after moving to US that I learnt the difference between lamb and mutton. It surprised me when I realized how rare and hard it is to find mutton in any store over here. After missing my special Sunday lunch for a while, I finally decided to give lamb a try in a restaurant. The experience was bad! I was disappointed with the texture and flavor. The gravy was good but the meat was extremely fibrous with no flavor at all.
That day, I was convinced that my palate would never accept lamb. Until very recently!
Last month, I was contacted by the American Lamb to participate in their Lamb Lovers Photo Contest for the month of February. I was initially not sure but then I believe that my taste buds have changed over the period of time and may be if I flavor it the right way, I might enjoy it. So, I agreed to participate and started discussing some of the recipe ideas with Arvind.
The first attempt was a failure. I over cooked the lamb and it became too hard to chew. It was like a rubber. Disappointed but stubborn, I decided to give it another try and this time I made sure to cook it for less time. Kept it tender and gave it enough time to rest. The result was absolutely delicious. The meat was juicy and the dukkah spice mix gave it a robust flavor with a stunning rustic crust.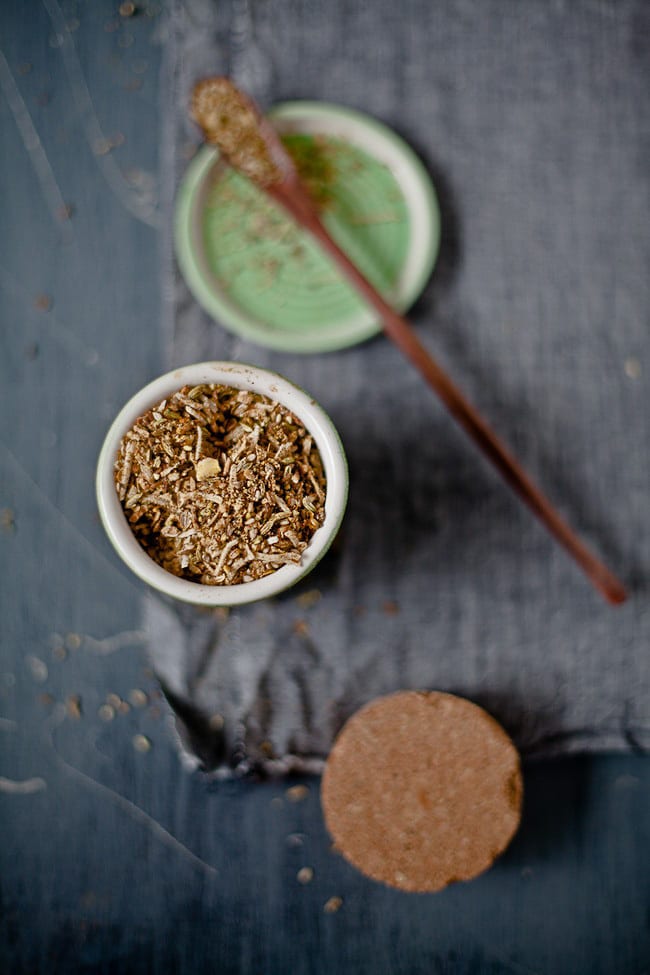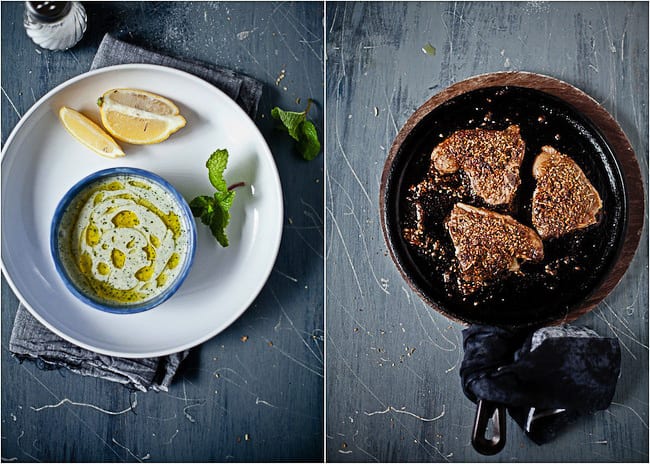 Since I took the Middle Eastern route with the lamb chop, I decided to keep the same theme for the sauce and side. Yogurt and mint is a famous combination to go along with lamb. To enhance the flavor and to add some warmth, I sprinkled just a tad bit of roasted cumin. One can never go wrong with this flavor profile. Creamy yogurt with refreshing mint and warm cumin always works. For the side, there was a quick pea couscous mixed with simple lemon vinaigrette.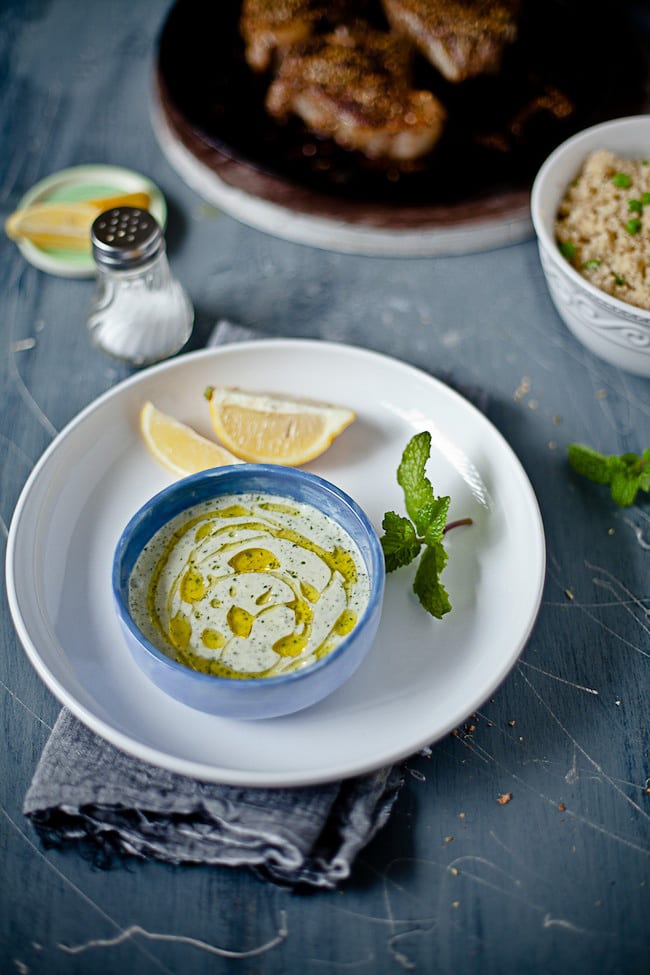 It might sound like a lot of work but trust me when I say this, it took me less than 30 minutes to prepare the whole meal. Add another 5 minutes to make the dukkah spice mix, if you don't have it ready. Of course I was doing multi tasking, but I was not running around huffing and puffing. It was easy going and effortless. The meal was satisfying, hearty and perfect for the season.
Dukkah-Crusted Lamb Chops with Yogurt Mint Sauce and Pea Couscous
Ingredients
For the pea couscous
1

cup

couscous

¼

cup

peas

pinch

of salt

1-¼

cup

water

juice of half lemon

¼

cup

extra virgin olive oil

freshly cracked peppers
For the lamb roast
3

piece

lamb chops

3

tablespoons

dukkah spice mix

1

tablespoon

oil

pinch

of salt
For the mint yogurt sauce
2

tablespoons

plain yogurt

handful of fresh mint leaves

1

teaspoon

roasted cumin

(roughly crushed (you can substitute it with cumin powder))

¼

cup

extra virgin olive oil
Instructions
For the pea couscous
Boil 1-¼ cup of water in a deep pan that has a tight lid.

While the water boils, make the vinaigrette. In a bowl, add half a lemon juice, pinch of salt, freshly cracked peppers. Pour ¼ cup extra virgin olive oil into the mix while whisking it continuously.

Once the water is boiled, drop the peas and let it boil for 2 minutes.

Switch of the heat, pour the couscous, pinch of salt and stir. Cover with the lid and let it rest for 5 minutes.

Once done, fluff it with a fork and pour the vinaigrette in it. Give it a mix and keep it aside to serve later along with the lamb roast.
For the lamb roast:
Pre heat the oven to 350F.

In a bowl, mix 1 tablespoon oil with 3-tablespoons dukkah spice mix and 1 teaspoon salt (avoid using salt if the dukkah spice mix already has salt in it).

Take half tablespoon of the mixture and press it on one side of the lamb chop. Repeat the same for the other two chops.

On a medium hot pan (preferably cast iron), place the lamb chops, spice side down. Now rub the rest of the spices on the other side on the chop and let it cook for 4 minutes on each side. After that, put it in the oven for 5 minutes.

Once done, cover it with an aluminum foil let it rest for 5 minutes, before you serve it.

While the roast is resting, make the mint and yogurt sauce.
For the mint and yogurt sauce:
In a food processor, drop handful of fresh mint leaves, 2 tablespoons plain yogurt, pinch of salt and some freshly cracked black peppers.

Run the food processor until everything is combined to a smooth texture.

Now, pour ¼ cup extra virgin olive oil and give it a mix.

Finally, add the roasted cumin and mix one last time.

Pour the sauce in a bowl and serve it with the lamb roast.
Nutrition