Death Valley has been in our list for a long time now, and we finally got it ticked off this year. We spent 2 Days in Death Valley exploring the beautiful view points and since we had Arvind's Parents with us, we decided to not include any hike in the Itinerary. So it was mostly driving around, a lot, and enjoying the views.
Where is Death Valley National Park
Death Valley National Park is one of a kind! It is located in the area of Eastern California, near the border with Nevada.
The National Park covers craters, dunes, canyons and scenic routes.
Keep in mind that the place gets very hot during summer. There are not a lot of places to eat out, so definitely stock enough food and drink LOTS of water. So definitely carry gallons and not just bottles. All major landmarks are far from one another and there are no restrooms in between. Also, like most National Parks, Death Valley has limited/ no network coverage.
Driving to Death Valley
We live in Bay Area, and it was 6 hours drive for us to Searless Valley, which is where we booked an Airbnb. The drive was pretty smooth and since we drove there on Thursday, we avoided a lot of heavy traffic on the highway.
After 3 hours of driving, we stopped at Denny's at Kettleman city for lunch. Then we stopped after roughly 2 hours at Tehachapi for coffee at Starbucks.
Since we were staying in an Airbnb, we also stopped by Walmart at Tehachapi to buy some food for the next two days.
From there, our Airbnb was a little more than an hour.
Searless Valley is a very isolated town with hardly any shops. So we made sure we bought everything we could need the next two days.
WATCH THE TRAVEL VLOG
Food I packed to Death Valley National Park
Arvind's parents are not very picky about food, but they definitely prefer Indian food. So keeping that in mind, here is what I planned for three nights' dinner:
First Night: We wanted comfort food, so first night we have every Indian's fav Maggi Noodles. I took my chili oil to make my Chili Oil Instant Noodle.
Second Night: We had bought frozen pizza from Walmart at Tehachapi and that was our dinner.
Third Night: I had taken packaged Pav Bhaji from here, which doesn't call for freezing. It just needed to be poured out and warmed either in microwave or in a pan in the stove top. I got some slider buns from the Walmart at Tehachapi to eat along with the Pav Bhaji.
I also bought bread, eggs, fruits and sausage from the walmart for breakfast on those three days.
As for Chai, we always pack Instant Chai powder from Indian stores that just needed hot water to mix with. I will never compare that with my homemade Masala Chai, but it is an excellent quick fix on the road for Chai lovers.
Our 2 Days Itinerary at Death Valley
We stayed roughly 2 hours drive from Death Valley Visiting Center. Keeping that in mind, we decided to cover most of the famous landmarks on DAY 1 when it were more energetic. We started at morning 9 from the Airbnb and reached our first landmark around 11:30ish.
DAY 1 in Death Valley:
Drive Twenty Mule Team Canyon Road
This was our first stop. It is a one way drive of 2.7-mile road through the dry wash and undulating hills. You will get a close up look at the eroded badlands. We stopped for a quick few minutes to take a few photos.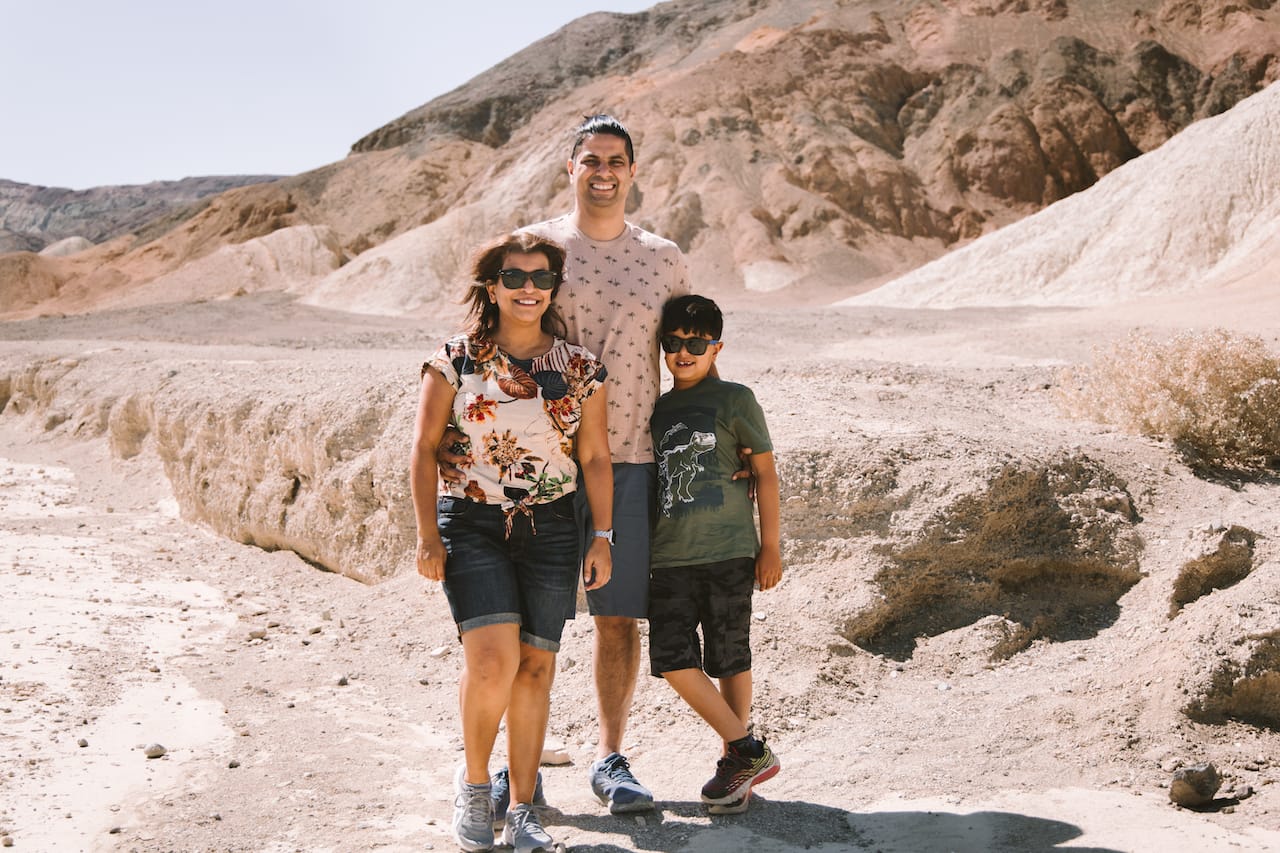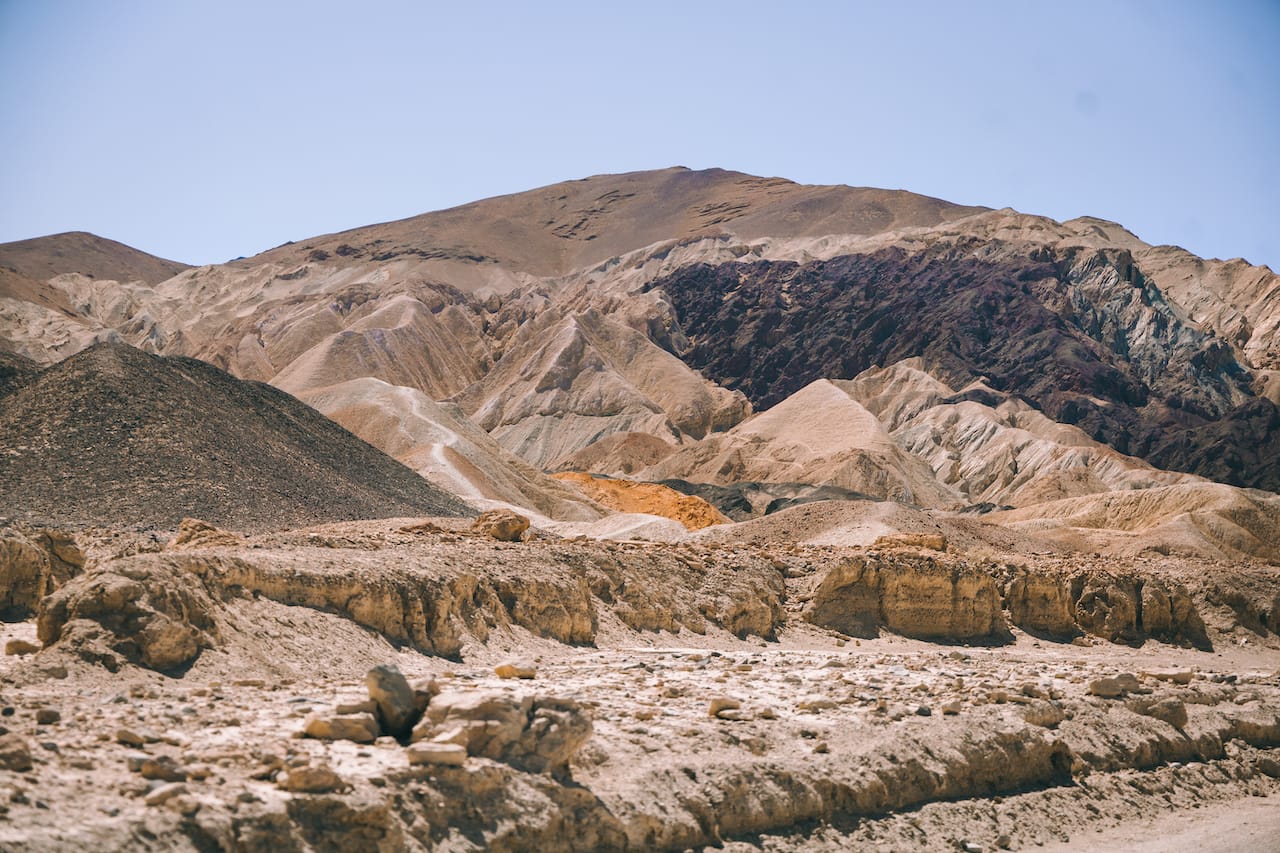 Dante's View Point
Dante's View gives you the most spectacular Paranomic view of the Death Valley National Park. You will spot the black mountains and Telescope Peak, which is the highest in the park.
There are a few trails to hike, but we skipped that and just enjoyed the view for a while.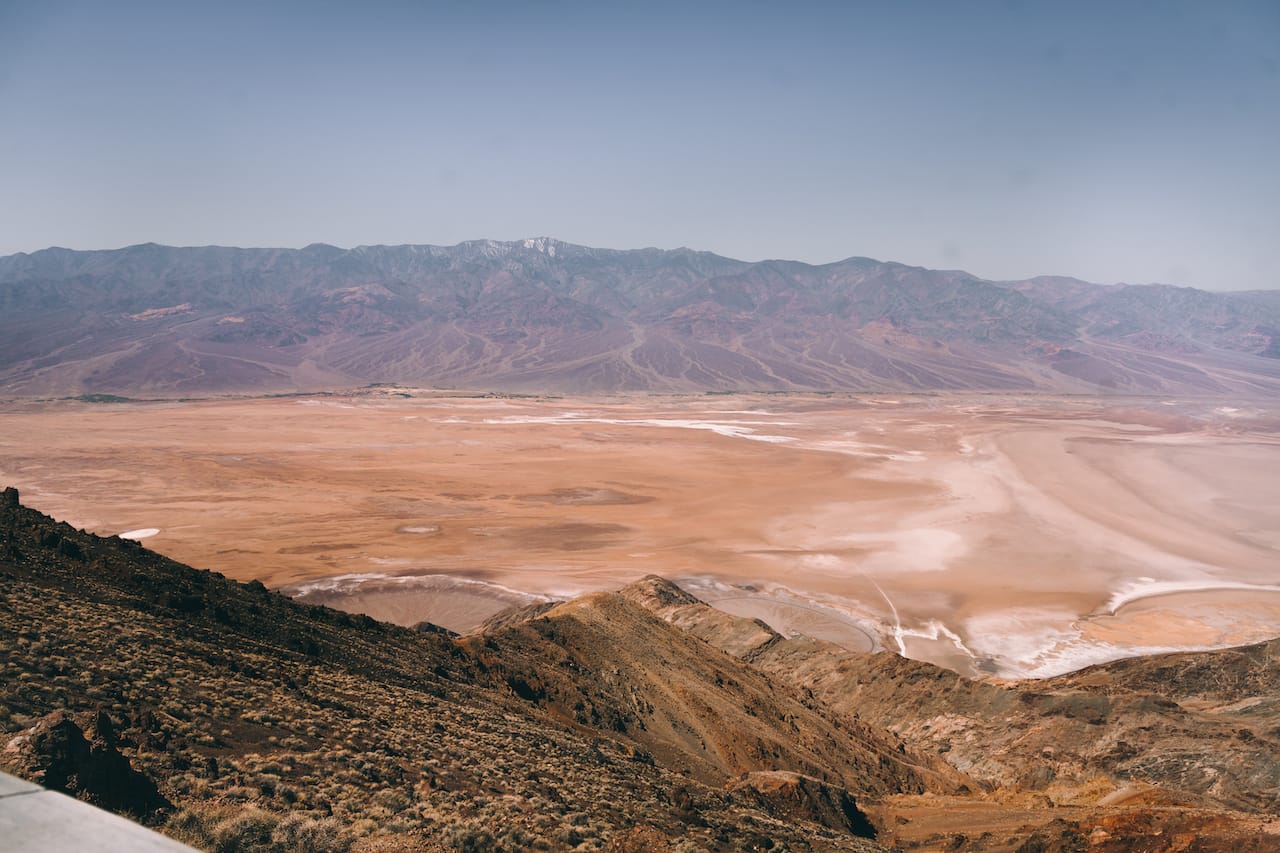 Lunch at 1849 Restaurants Buffet
We had lunch buffet at the 1849 Restaurants. It had good variety, a mix of veg and non veg and there was pasta for kids too. Plus cheesecake for dessert.
We were quite hungry and gobbled up everything quite happily.
Devil's Golf Land
Devil's Golf Land is a short stop on our drive towards Badwater Basin. It's a huge spread of barren land with halite salt crystal formations for as far as your eyes can see.
The terrain is uneven and sharp, so be careful while walking on it and watch your step.
This pace gets its name from a 1934 National Park Service manual that states "only the Devil could play golf" on such a course.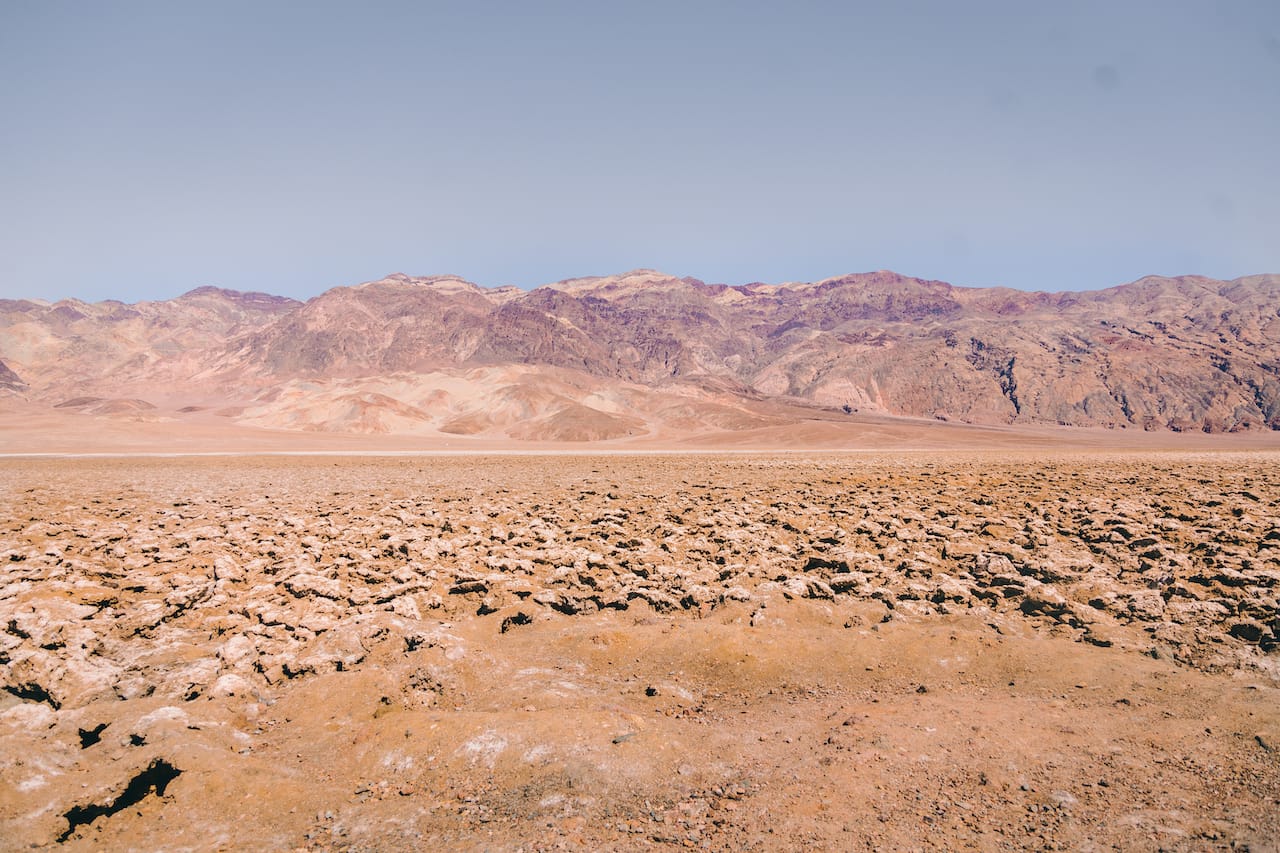 Badwater Basin
Badwater Basin is the lowest point in North America at 282 ft (86 m) below sea level. It was super hot by the time we reached there, post lunch hours.
The salt flat looked spectacular and while the hike was short, we didn't wanted to even take a chance considering we were all quite tired already.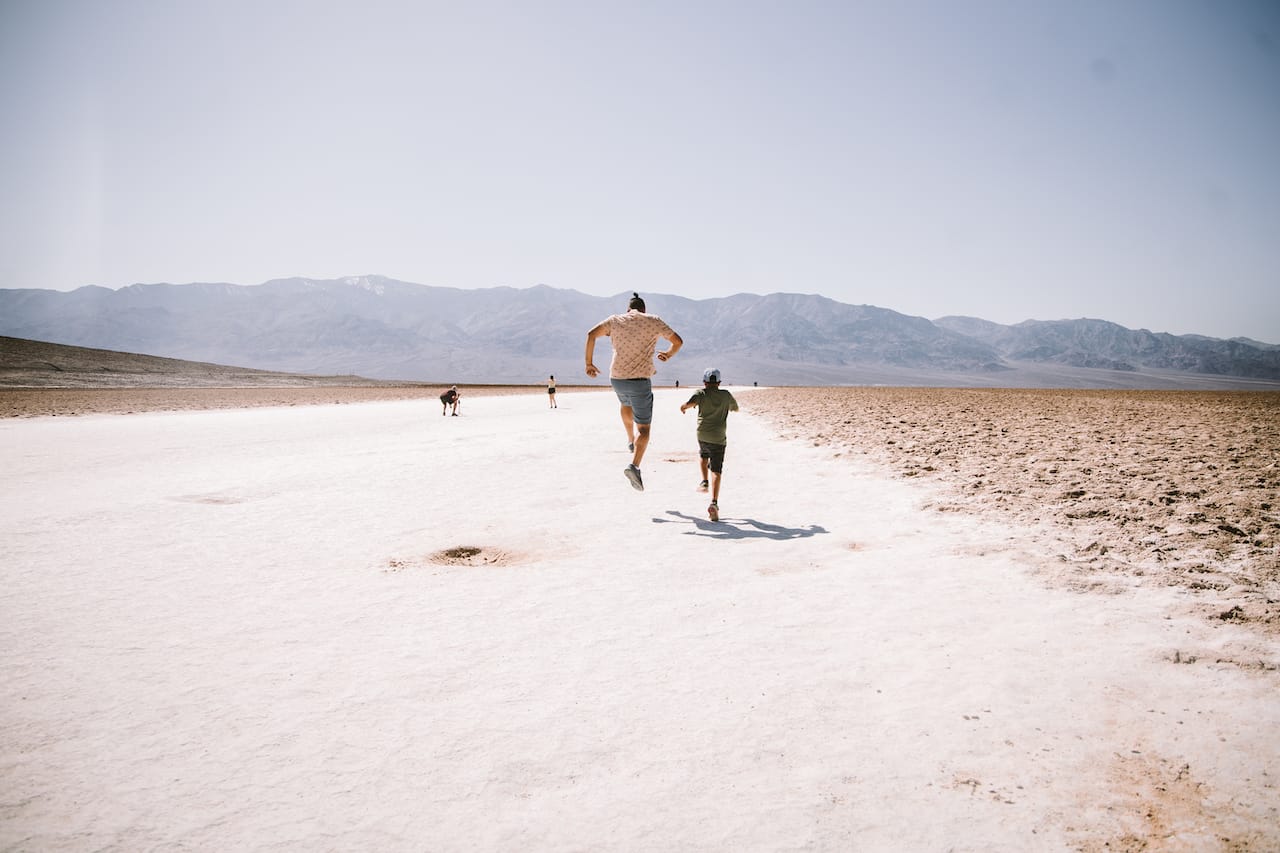 Nature Bridge
Next up was Nature Bridge! A short hike up from the parking lot will lead you to the Nature Bridge. The bridge rises approximately 35 ft (11 m) above the canyon floor and is about 35 ft (11 m) thick.
There is no official trail, but you can keep walking further from the bridge to explore a few more interesting geological structure.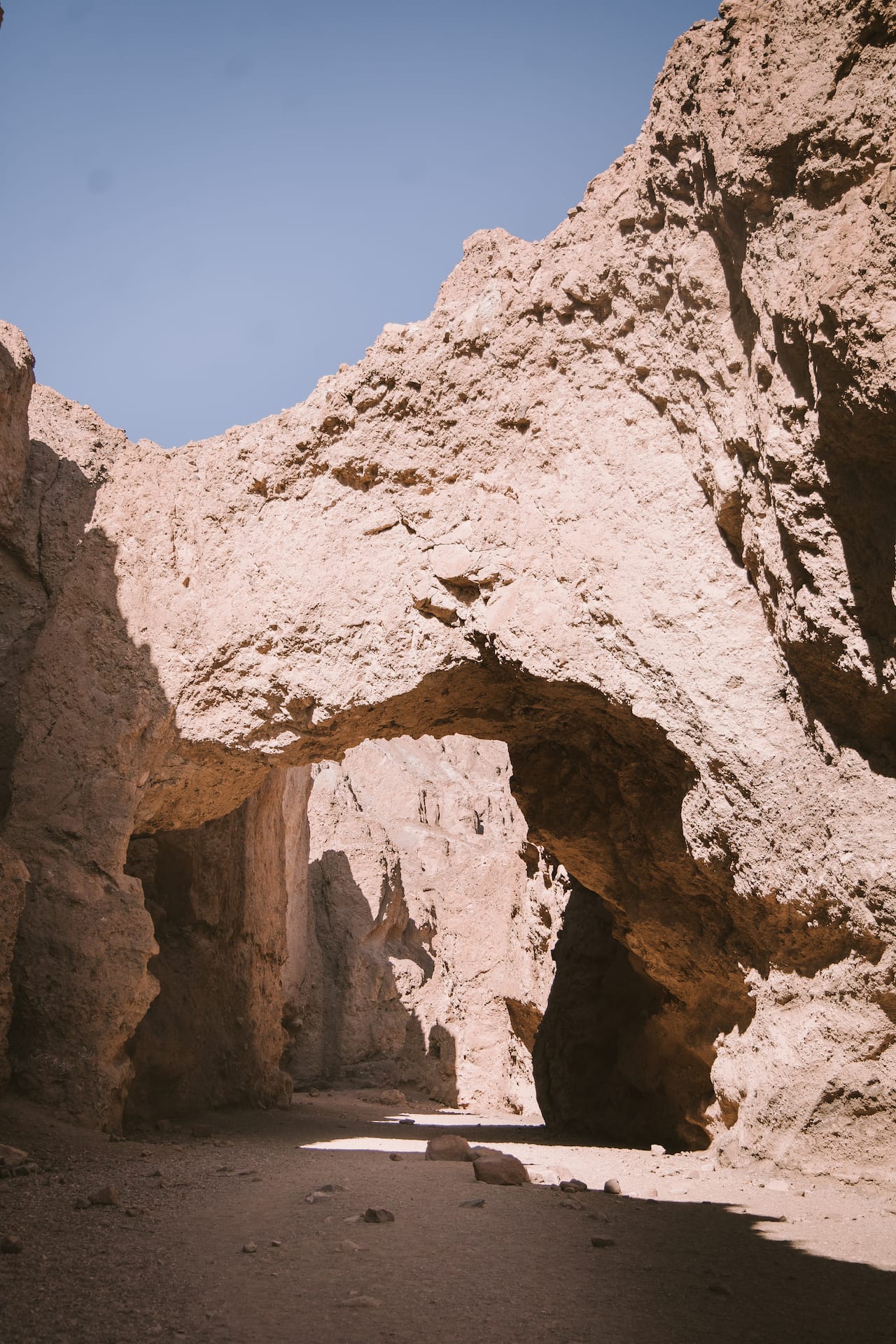 Artist Palette Drive
From Nature's Bridge we went to Artist Palette Drive. It is a one way 9-mile drive where you get to view the stunning colorful mountains. You can stop on the side, and walk up close to the mountains. It's so fascinating to see those colors.
The various colors in the mountains are from volcanic deposits rich in compounds such as iron oxides and chlorite, which creates a rainbow effect. It produces everything from purple and blue to even a slight green.
Coffee and ice Cream break at Ice Cream Parlor
We took a much-needed coffee and Ice Cream break at Ice Cream Parlor. We were quite tired but wanted to cover one last landmark for the day. And sugar was much needed to boost the energy.
Sunset at Zabriskie point
Zabriskie Point was our last landmark for the day. We arrived just before sunset. You have to walk up a short paved path to reach the view point to observe the sunset.
In my opinion, it wasn't all mind blowing. A great experience, but I have seen much beautiful sunset locations. The golden light was amazing on the landscape.
That was the end of DAY 1 and driving back in pitch dark for 1.5 hours without Internet connection did make me a little nervous, but we reached safely.
DAY 2 in Death Valley :
Ubehebe Crater
We started a little late, the second day we had to cover just two points. We drove straight to Ubehebe Crater. It is a ginormous crater created by power volcanic steam explosion. There is a trail to walk around the crater and to go deep in the center too.
Although the trail was short, it was very, very windy, which got us a little nervous with the kiddo. Maybe next time when we visit again.
Lunch at Toll Road Restaurant
Toll Road Restaurant was the only restaurant we found near our next landmark. There was a long wait, but we were quite happy with the burgers and pasta we ordered.
Mesquite Flat Sand Dunes
This Mesquite Flat Sand Dunes was our last spot, and it felt so relaxing to sit in the shade on the soft sand. We walked around a little and spotted a white lizard too.
I am sure sunset must be amazing on the Sand Dunes, but we were exhausted. So we headed off to the Airbnb. We spent a relaxing evening and headed for home the next day.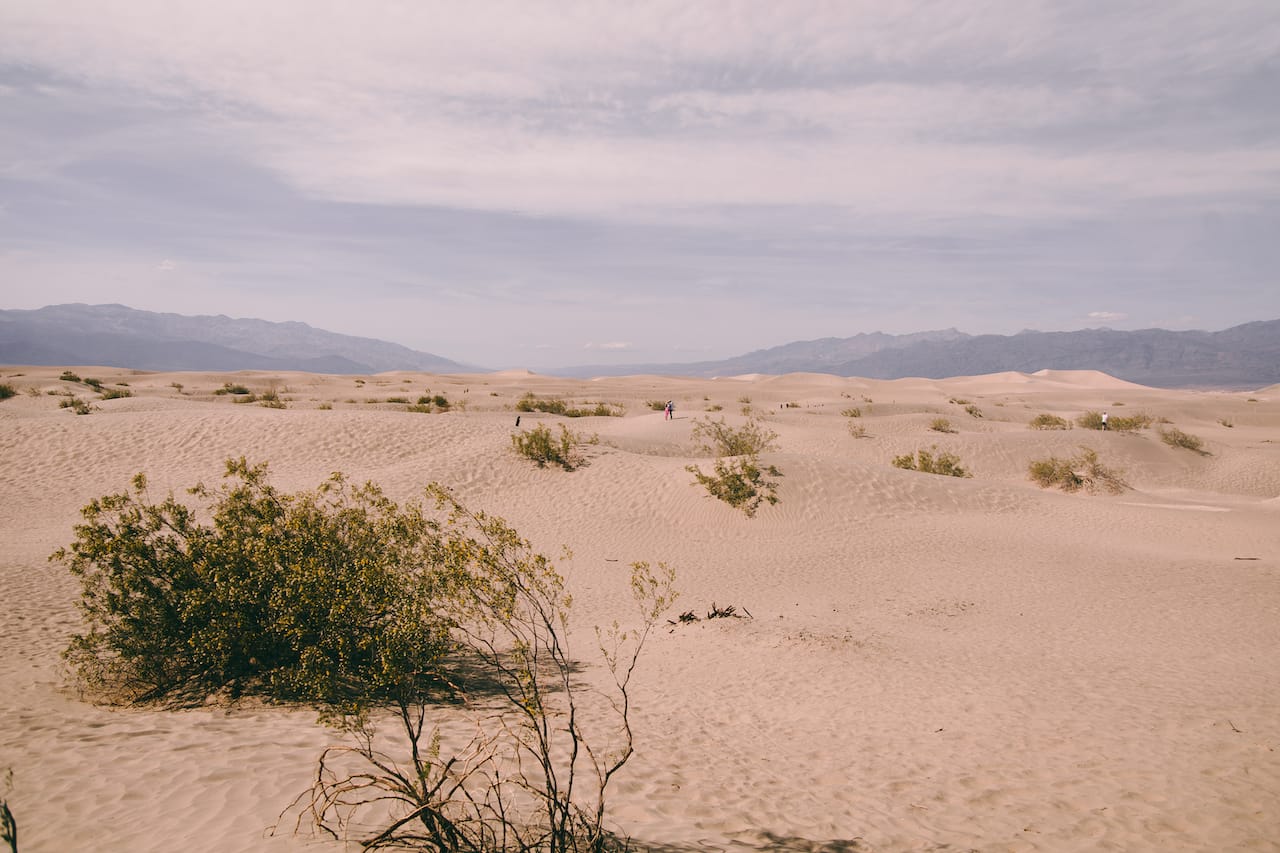 Lunch at Indian Bistro, Bakersfield
On our way back, we stopped at Bakersfield and enjoyed a fantastic Indian Food Buffet at this lovely restaurant, Indian Bistro.
Although none of us was very hungry, the smell of good Indian food made us gobble more than we should.
If only we could take a nap after that! LOL
It was a very well planned Itinerary made by my husband. We covered all major points and even though it was a little tiring it was nice to explore the National Park. We definitely have plans to go back again in a couple of years may be and stay inside the park, so we could explore at night and enjoy star gazing too.