Wanna hear some interesting facts about Mushroom? 'The Egyptian pharaohs reserved mushrooms for their own plates. It was forbidden for anyone else to eat them. They believed that the mushrooms had magical powers. The ancient Romans fed mushrooms only to their warriors because they believed mushrooms gave them god like strength'.
I don't know about the strength but it sure does add a lot of satisfaction to my taste bud 😛 Since I moved to US, I have tried different varieties of mushroom. Some of them became my favorites, like the portobello mushroom. And some of them not so favorite, like the abalone mushroom. In India, I didn't have access to so many varieties of mushroom. We only had white button mushroom that were available throughout the year.
After trying all these different varieties of flavorful mushroom, I started to find the button mushroom very plain and boring!! I know these mushrooms were with me making my tummy happy for so many years and now I call them boring plain.. But, I haven't ignored them completely!
This is a very creamy mushroom dish which I made with button mushroom.. See I haven't forgotten my button mushrooms 😉 Usually, I like to enjoy mushroom with noodles or fried rice or just as an appetizer, but this time I tried it with Poori and it tasted really nice. The creamy mushroom gravy with crispy poori made for a really amazing combo. Next time, I might try it with garlic bread.. Something tells me it will taste good with that too.
Creamy Spinach Mushroom
Ingredients
handful of button mushroom

1

cup

pearl onion

½

medium onion

(grated)

2

cup

baby spinach

(roughly chopped)

1

cup

heavy cream

2 to 3

green/red fresh chillies

(finely chopped)

3

cloves

garlic

(finely chopped)

1

tsb chilly powder

1

teaspoon

cumin seed

1

teaspoon

cumin powder

1

teaspoon

coriander powder

salt

oil
Instructions
Cut the mushroom into thin slices . If you want a big bite, you can cut them in quarter instead.

In a pan, heat some oil and add cumin seeds, garlic and chopped chillies.

Once the seeds start to sizzle, add pearl onions, grated onion and cook in low heat until the onions are slight brown in color.

Add the mushrooms and fry for another couple of minutes.

Next, add spinach, cumin powder, coriander powder and chilly powder.

Add ½ cup water and heavy cream. Then, let it simmer for about 10 minutes.

Check for salt and spice. If you want more heat, add a little bit more chilly powder.

Serve it hot with your choice of bread.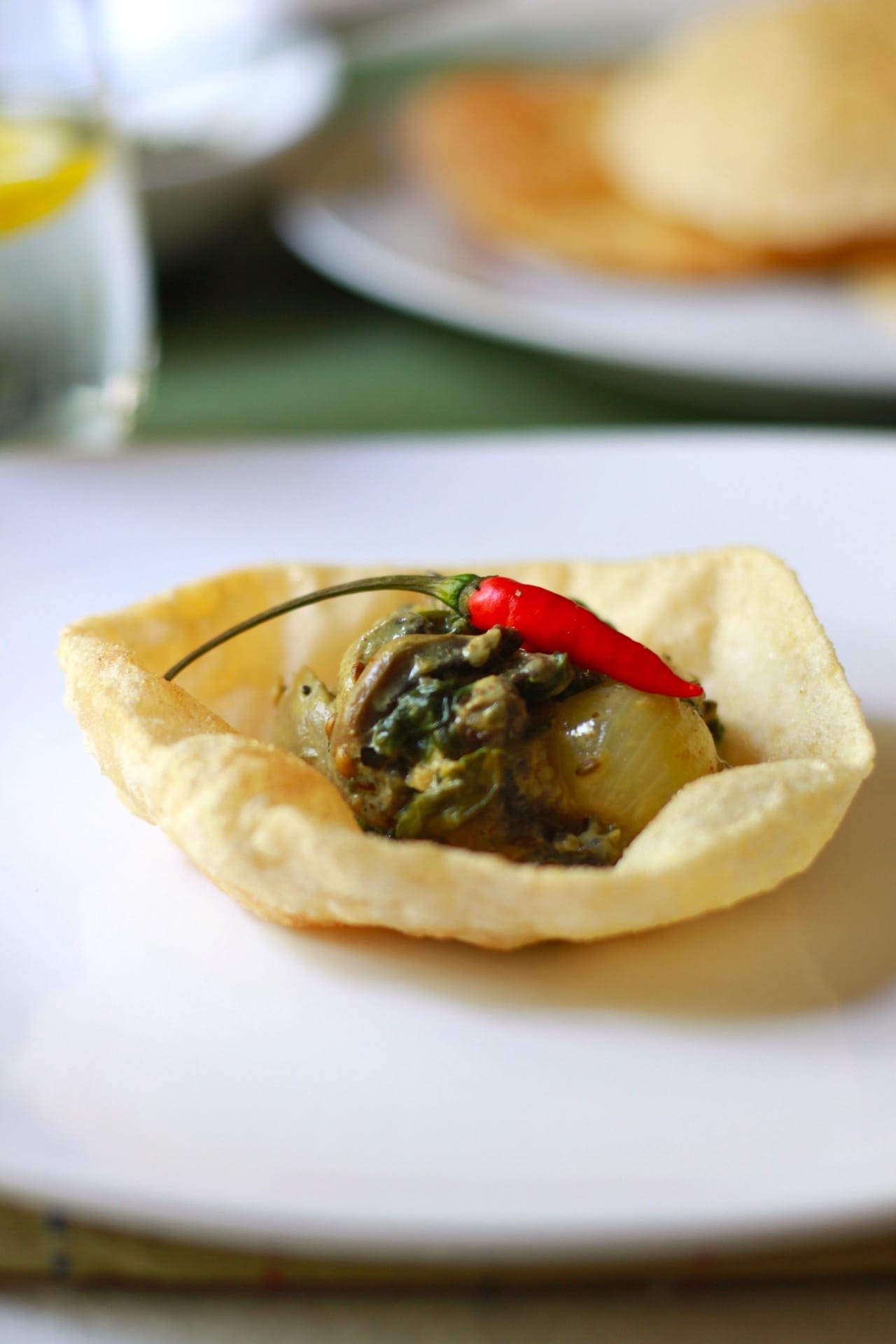 Sharing this with Tasty Tuesday, Delectable Tuesday, Tasty Tuesdays