Bhaja Mung Daal Khichuri is a quintessential Bengali style khichdi that is very special to us! We use short grain rice and roasted yellow mung beans that we slow cook to a luscious porridge, seasoned with Bengali five spice and ghee. It turns into a super hearty meal!
Bhaja Mung Daal Khichuri
This Indian comfort food has got several names - khichdi, kichuri, khichdee, etc. depending on the different regions in India.
There are also several ways to prepare the dish. You can prepare with different kinds of lentils. Sometimes vegetables are added to make it more filling and sometimes, it's left to just rice and lentil.
Bhaja Mung Daal Khichuri literally translates to roasted yellow mung lentils and rice stew. It is comfort on a plate for most Bengalis.
It's prepared on several special occasions, mostly festivals. No matter how much meat or fish we Bengalis crave, during the time of festivals, we all desire the humble khichuri.
Served piping hot, smooth to the palate along with some crispy fried veggie to compliment the texture. It's the simplest kind of feast.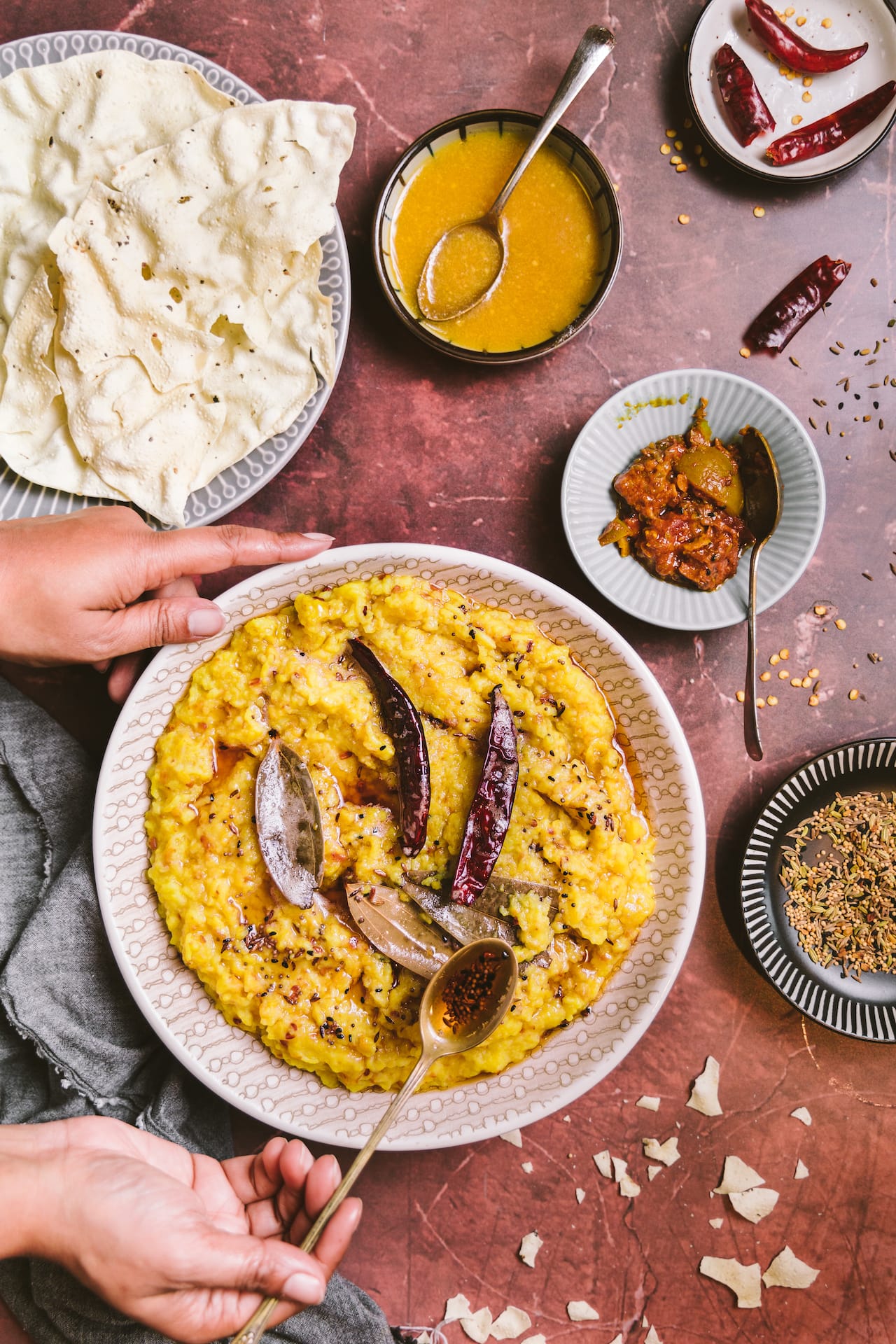 Ingredients needed for Bhaja Mung Daal Khichuri
Split Yellow Mung Beans
Short grain white rice
Ghee
Bengali Five Spice
Bay Leaves
Dry Red Chili
Ginger
Salt and Turmeric Powder
Roasting the Mung Beans
Roasting the Mung Beans is what makes this Khichdi/Khchuri so special. Mung Beans when cooked will turn creamy but after roasting, you will also get that beautiful toasty aroma!
ONE keynote to keep in mind is that you dry roast the Mung Beans and then wash it gently without scrubbing too much or else the aroma goes away.
WATCH THE VIDEO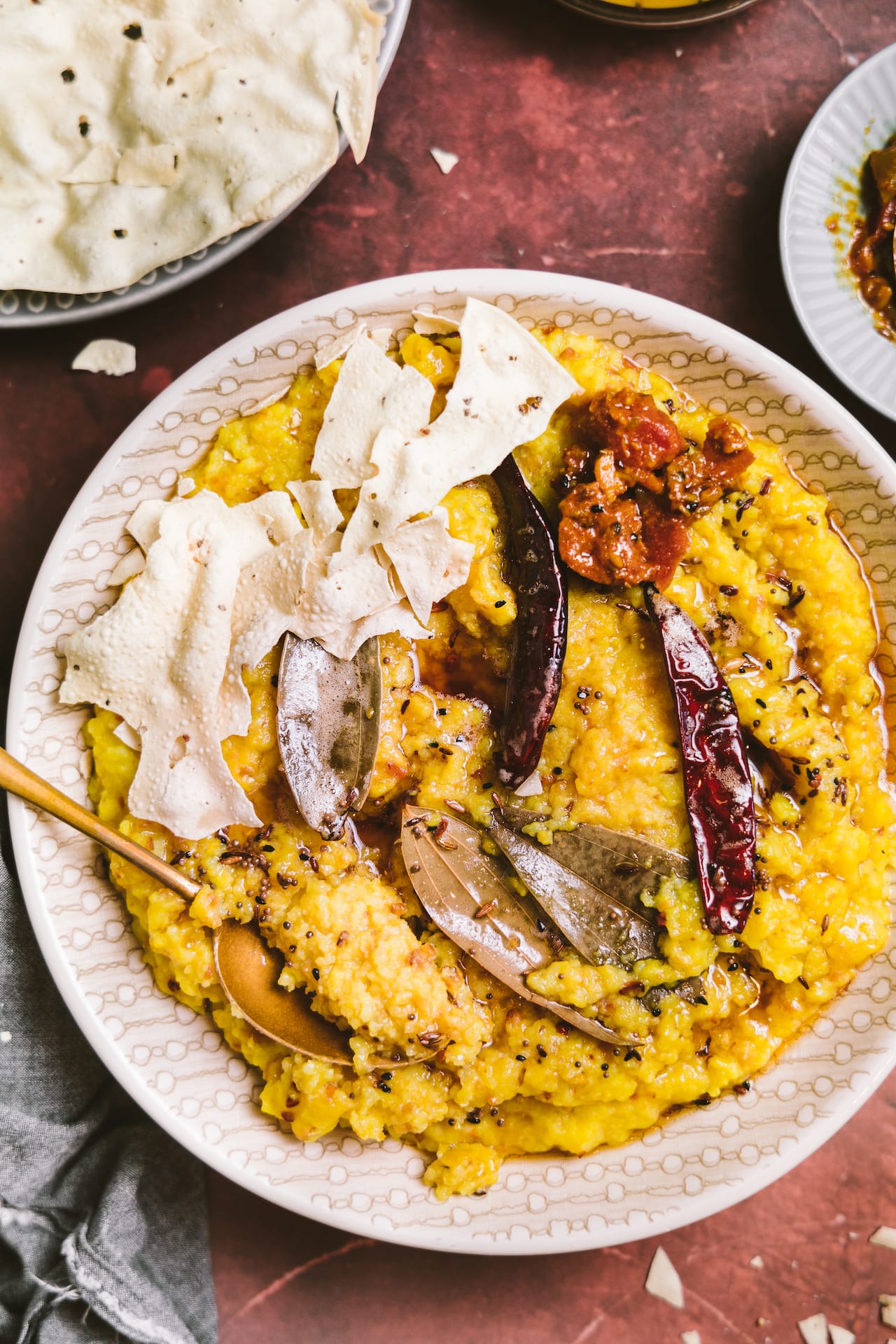 What is a good ratio of Mung Bean to Rice ?
My Mom always used 1:1 ratio and that's exactly what I follow.
Although any kind of rice can be used to prepare the dish, it's always recommended to use short grain rice so both rice and lentils cook together evenly. We Bengali do prefer using a special variety called Gobindobhog, which are short grain rice with a sweet aroma.
You can find a similar variety online on Amazon!
Khichuri is best paired with papadum and Indian Pickle (aachar). We Bengalies love to pair it with Begun Bhaja and Labra. And during winter, we love to pair it with Ilish Maach Bhaja
Bhaja Mung Daal Khichuri can also be prepared by adding some seasonal vegetables to make it more filling! I personally love it simple with the ghee tadka on top!
I love to slow cook to prepare Khichuri, but occasionally I don't mind using pressure cooker too.
Topped with the essence from the spices, little heat from red chili and lots of ghee for that robust aroma.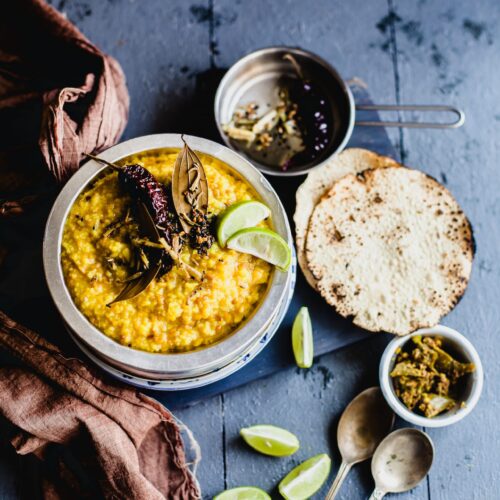 Bhaja Mung Daal Khichuri (Roasted Lentil and Rice Stew)
Ingredients
½

cup

yellow spilt lentils

(moong daal)

½

cup

short grain rice

1

tablespoon

clarified butter

2

bay leaves

3

dry red chilies

1

teaspoon

panch phoron

(Bengali five spice)

1

inch

ginger

(finely chopped)

1

teaspoon

turmeric powder

salt
Instructions
Dry roast the lentils in a pan until it's mild brown in color.

Pour 3 cups of water in a big saucepan along with rice and roasted lentils. Bring it to a boil and then drop it down to medium low heat. Sprinkle salt and allow it to simmer until rice and lentils are half cooked.

Sprinkle turmeric and give it a stir. Continue simmering until the rice and lentils are completely cooked through and it turns into a smooth stew. Add more water if it gets dry and continue cooking. Check for salt and add any, if required.

Once Khichuri is ready with the perfect smooth texture, switch off the heat.

In a separate pan, heat ghee and add bay leaves along with dry red chilies, panch phoron and finely chopped ginger. It should take about a minute to sizzle up. Drizzle the whole thing to the Khichuri and give it a mix.

Serve warm with your choice of sides like crispy fried veggies, pickle or some crunchy papad.
Notes
Bengali five spice is basically a mix of five whole spices (fenugreek seeds, fennel seeds, cumin seeds, black mustard seeds, nigella seeds). If you cannot make or find bengali five spice, replace it by using some of the whole spices from the five spice list.
Nutrition