Garlic Achaar is also called as Lahsun ka achaar or Garlic Pickle. It is packed with bold spice flavors and it is one of the most preferred Indian condiments. We do like to stock up in the pantry. I absolutely love anything that is loaded with garlic, which obviously makes this Spiced Garlic Achaar recipe one of my favorites!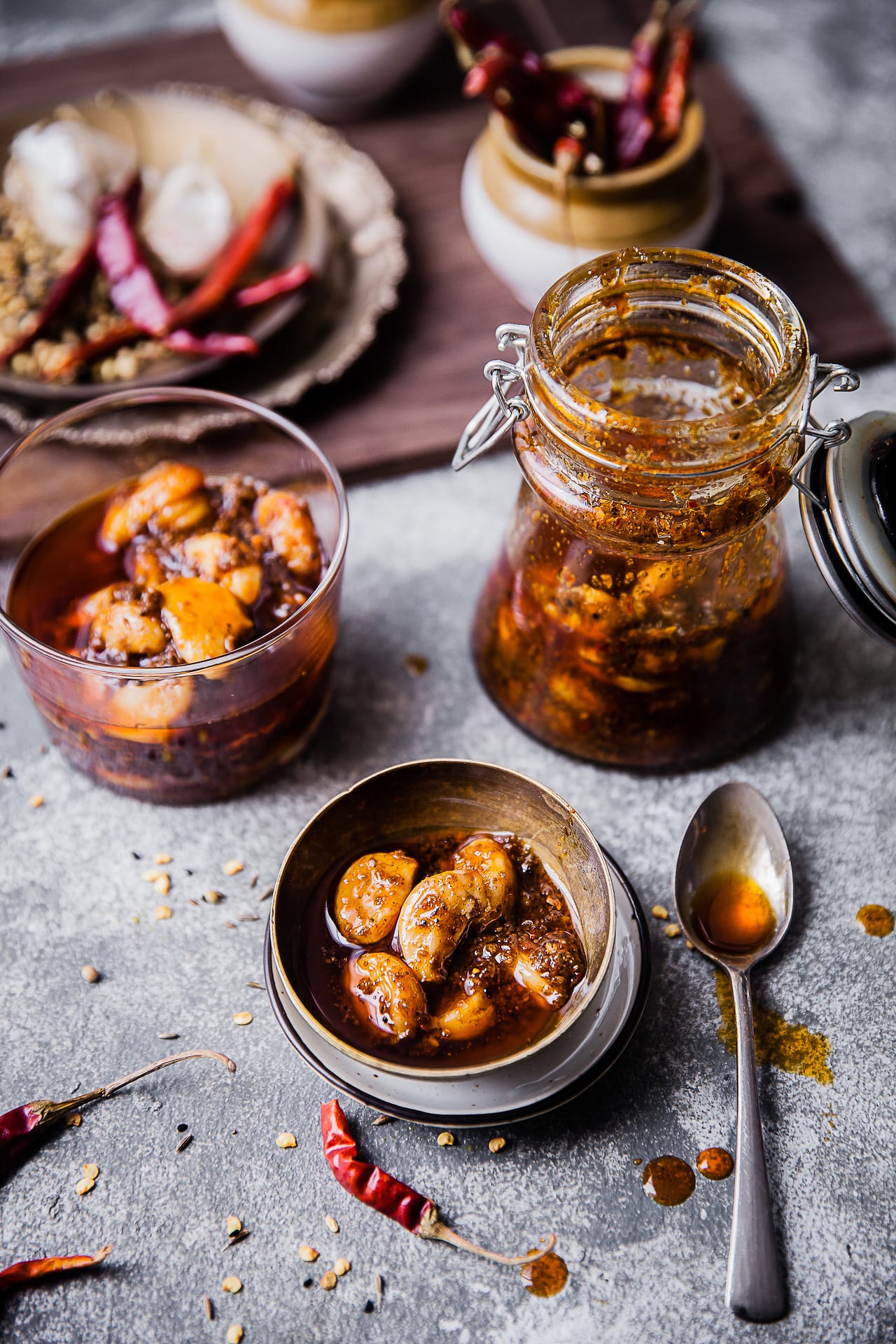 Indian meals are almost incomplete without a tiny spoonful of achaar on the side.
It uplifts the palate at every bite. There are ton load varieties of Indian achaar, ranging from vegetables to herbs to even seafood.
If there is an Indian store nearby, you must already be aware of this. But if you are not and want to try making your homemade Indian pickle, you should surely give it a try with this simple, super easy garlic achaar recipe.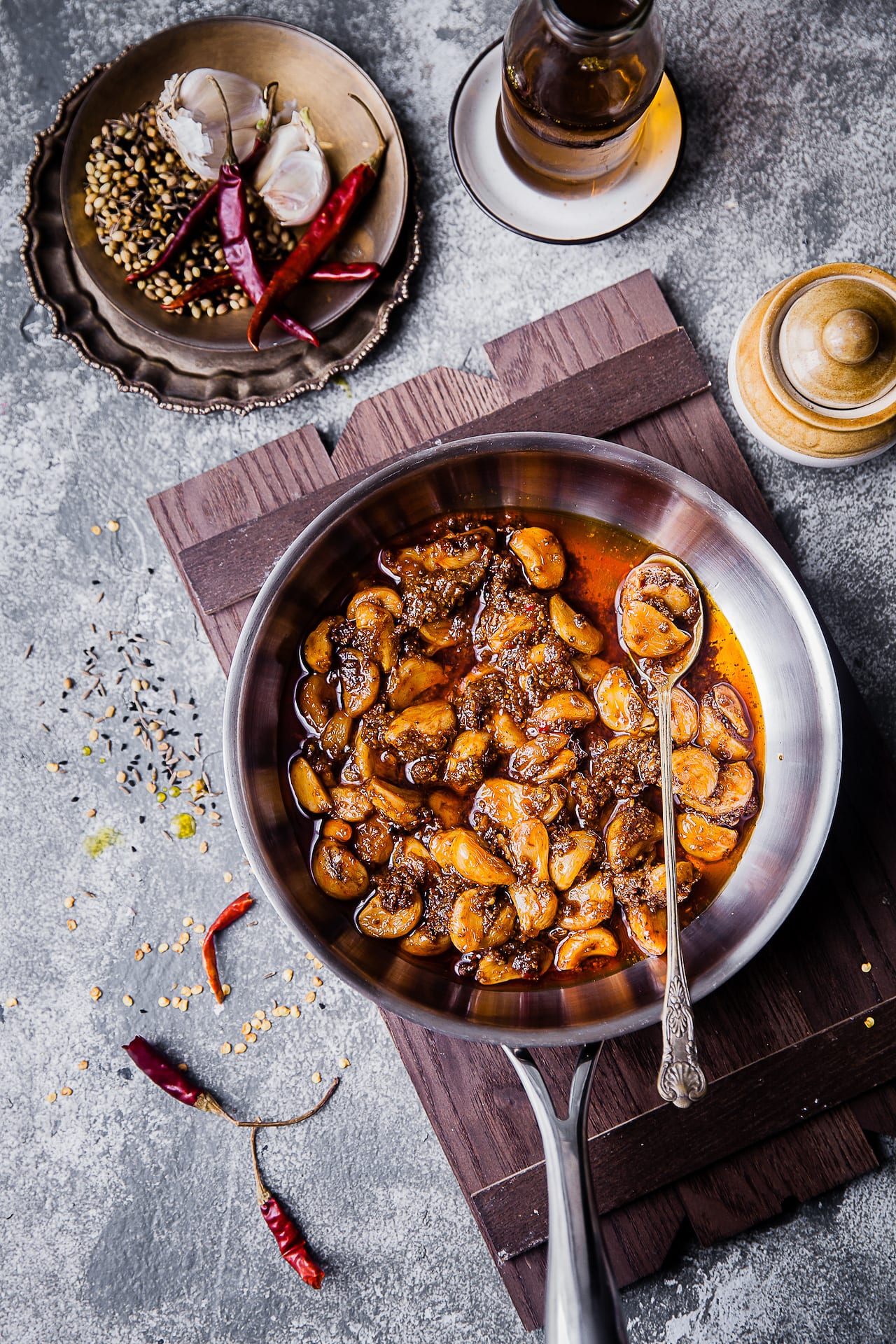 What is Achaar?
It's pickle in hindi. It's the most popular condiment in Indian cuisine and used almost every day. Every region has its own favorite version and unique way to prepare it.
Achaar adds a lovely zest to our daily meal, and it is often our solution to uplift any boring meal. Garlic and Mango Achaar is one of my fav!
I am not particularly a fan of achaar, but I definitely enjoy it occasionally and need it surely with certain dishes. It pairs so well with Paneer Paratha, Aloo Paratha, Mooli Paratha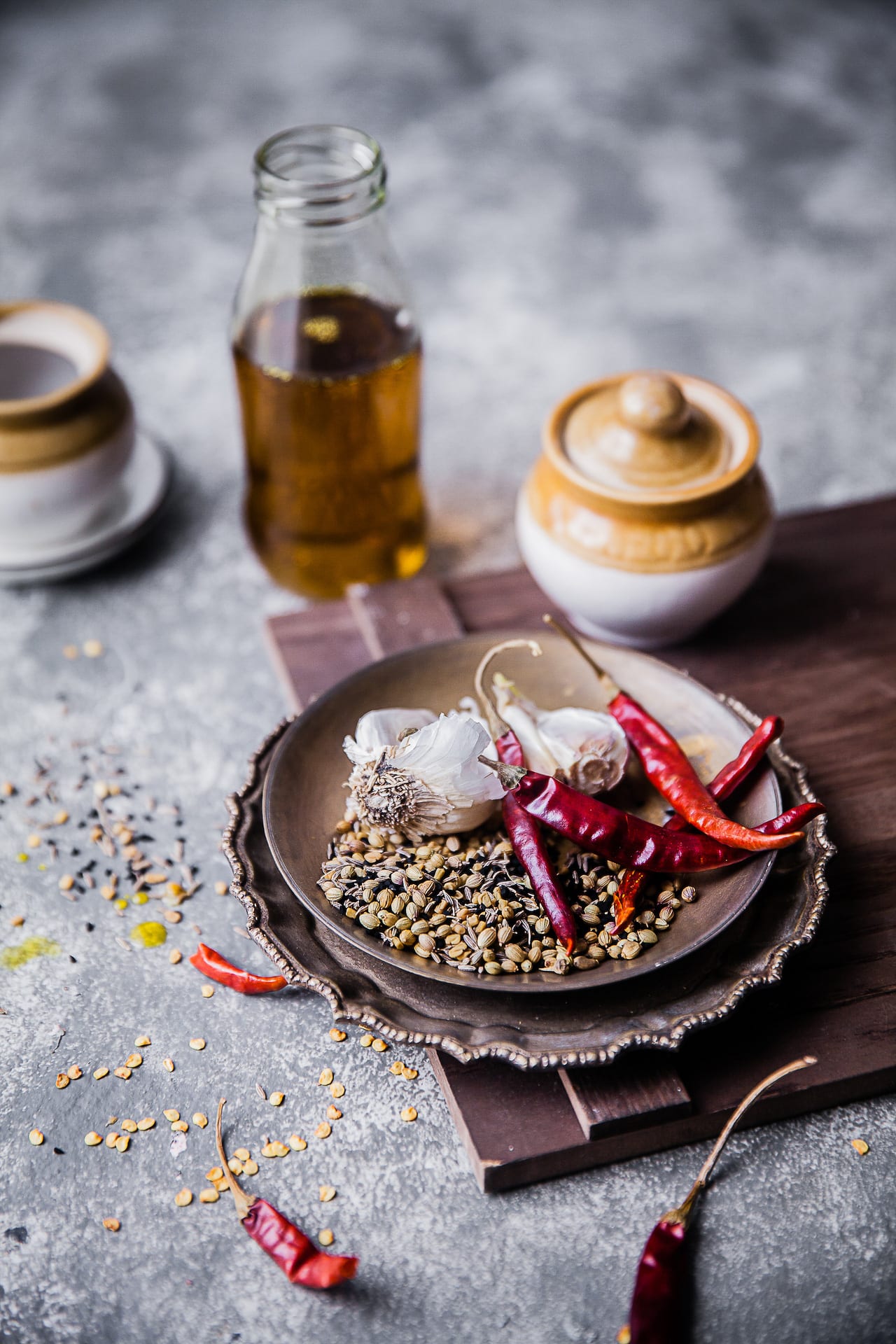 What spices go in this Lahsun ka achaar (Garlic Achaar)
Fenugreek Seeds
Cumin Seeds
Coriander Seeds
Nigella Seeds
Dry Red Chili
Kashmiri Chili Powder
Asafoetida
I made a key spice blend for the garlic achaar by first dry roasting the first five whole spices mentioned in the list above and then, grinding them to coarse dust.
The Kashmiri red chili is added mainly for the gorgeous red color that we all like in the Indian Pickle.
Many choose to use asafoetida right at the beginning of the cooking. I like to add it at the end, which adds a gorgeous flavor.
Recipe Video
How to peel garlic without any effort?
Let me share with you the best and fastest way to peel garlic. You do need a lot of garlic for this garlic achaar. This method will keep the clove intact.
Place the garlic cloves in a microwave safe bowl and place it in the microwave for 20 seconds.
Let it cool down a little bit, and you will realize that the peel will come out easy.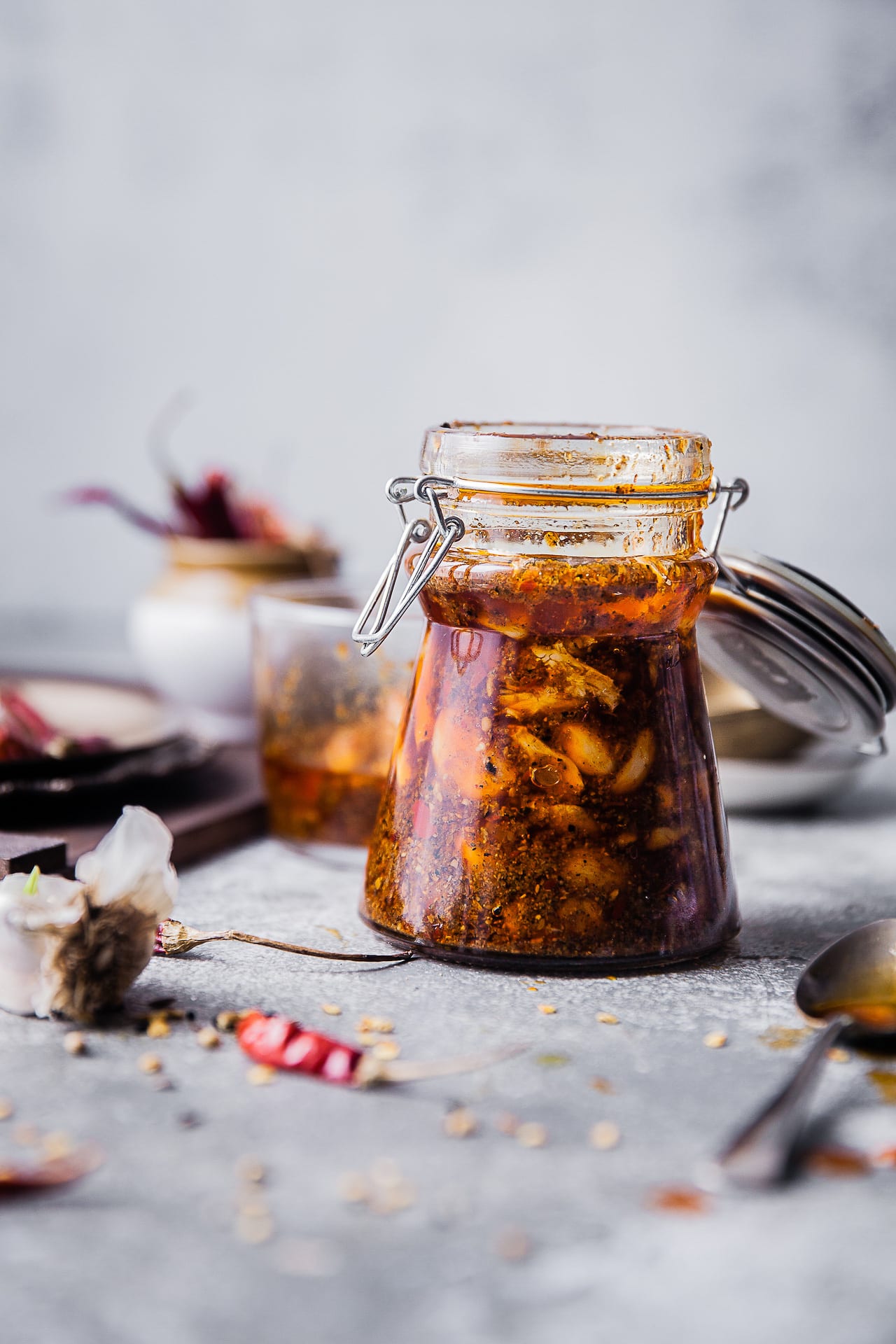 How to store this Garlic Achaar?
First and foremost, it's important to use a clean, dry and airtight glass jar. The garlic achaar tastes better in a few days. So, shake the bottle every day and store it in a cool, dark place.
Do not refrigerate! However, if you are planning to make a very big batch, do store in multiple small jars and the ones which are not getting used, store them in the refrigerator.
Don't ever dip a wet spoon inside the pickle bottle as it can spoil this garlic achaar.
Tips to make this Easy Spiced Garlic Achaar Recipe
Make sure that you dry roast the spices for the best flavor before grinding it.
You can surely use any variety of oil, but try to use mustard oil to prepare the achaar. It will add a pungent flavor and robust taste.
The lemon and salt can be adjusted based on your taste buds. The amount I added is just enough, but if you prefer it tangier and zingy, do add more.
You can use this recipe as a base for any savory spiced Indian pickle and use your choice of veggies or fruits!
Once you make and store the achaar, leave it aside for few days for the flavors to blend and taste will enhance!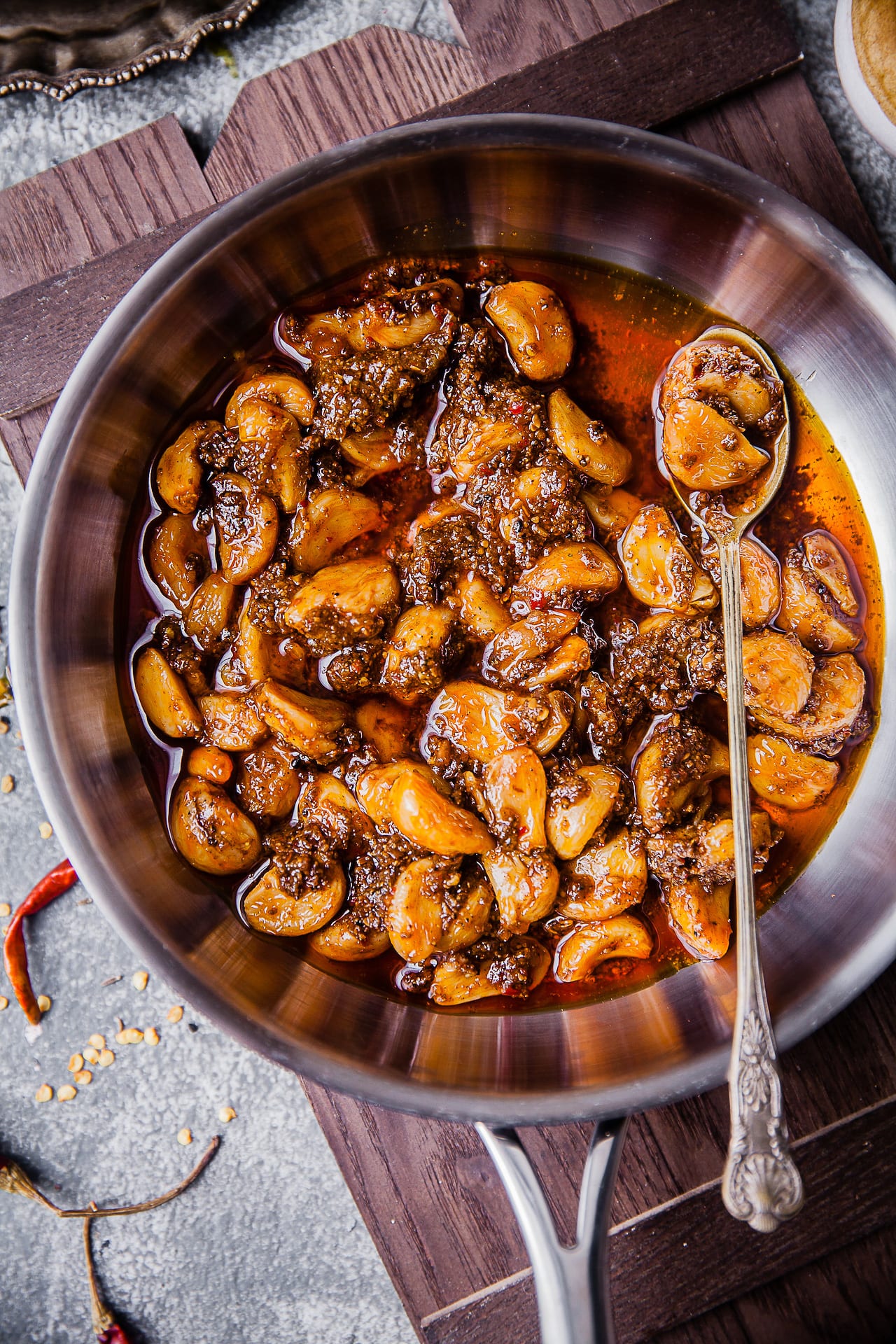 Here are few more Indian Condiments if you want to try:
Coriander Chutney And Tamarind Chutney
Kacha Aam Er Mishti Chaatni (Raw Mango Sweet Chutney)
Spiced Garlic Achaar
Garlic Achaar, also called as Lehsun ka achaar or Garlic Pickle, is packed with bold spice flavors and it is one of the most preferred Indian condiments
Ingredients
2

cups

garlic cloves

(243 g / 8.55 oz)

½

teaspoon

fenugreek seeds

1

teaspoon

cumin seeds

1

teaspoon

coriander seeds

½

teaspoon

nigella seeds

4

dry red chilli

¼

cup

fresh lemon juice

¼

cup

mustard oil

1

teaspoon

Kashmiri chili powder

½

teaspoon

asafoetida

1

and ½ teaspoon salt
Instructions
Dry roast the whole spices (fenugreek seeds, cumin seeds, coriander seeds, nigella seeds and dry red chilli) at medium heat for 5 minutes or until it's toasty and you get the aroma. The color will also change to a shade darker.

Let it cool down and then, grind to coarse consistency. 

Take a heavy bottom skillet and pour the oil. While the oil is still cold, add the garlic cloves. As the oil heats up to medium hot, the clove will start to cook slowly. Let it simmer for 5 minutes or until they're softened. 

Add the spice dust, Kashmiri chili powder and simmer for 3 minutes.

Add the asafoetida, lemon juice and salt. Give it a stir and let it cook for 1 minute. 

Store in a clean, dry and airtight glass jar once cooled down completely. 
Video
Notes
Once you make and store the achaar, leave it aside for few days for the flavors to blend and taste will enhance! 
Nutrition