Don't get alarmed by the name.. give me a chance to explain.
When I was working in Bangalore, every Friday, I and my friend had to work on this boring task of allocating resources to the projects. I am not going to go into a detailed explanation of the task but believe me when I say that for those few months, this was one hell of a friday job that made us go crazy at times.
This friend of mine loves pizza and almost every Friday, it was our lunch. There were two main reason for that - first, it's easy to eat pizza and work at the same time and second, it's Pizza! And since Arvind also loves pizza, we would eat it for dinner as well.
So, at times I ate pizza back to back to keep my friend and my husband (who was then my BF) happy 🙂
Well, that definitely didn't inspire me to make this Pizza, that's actually how I lost interest in Pizza!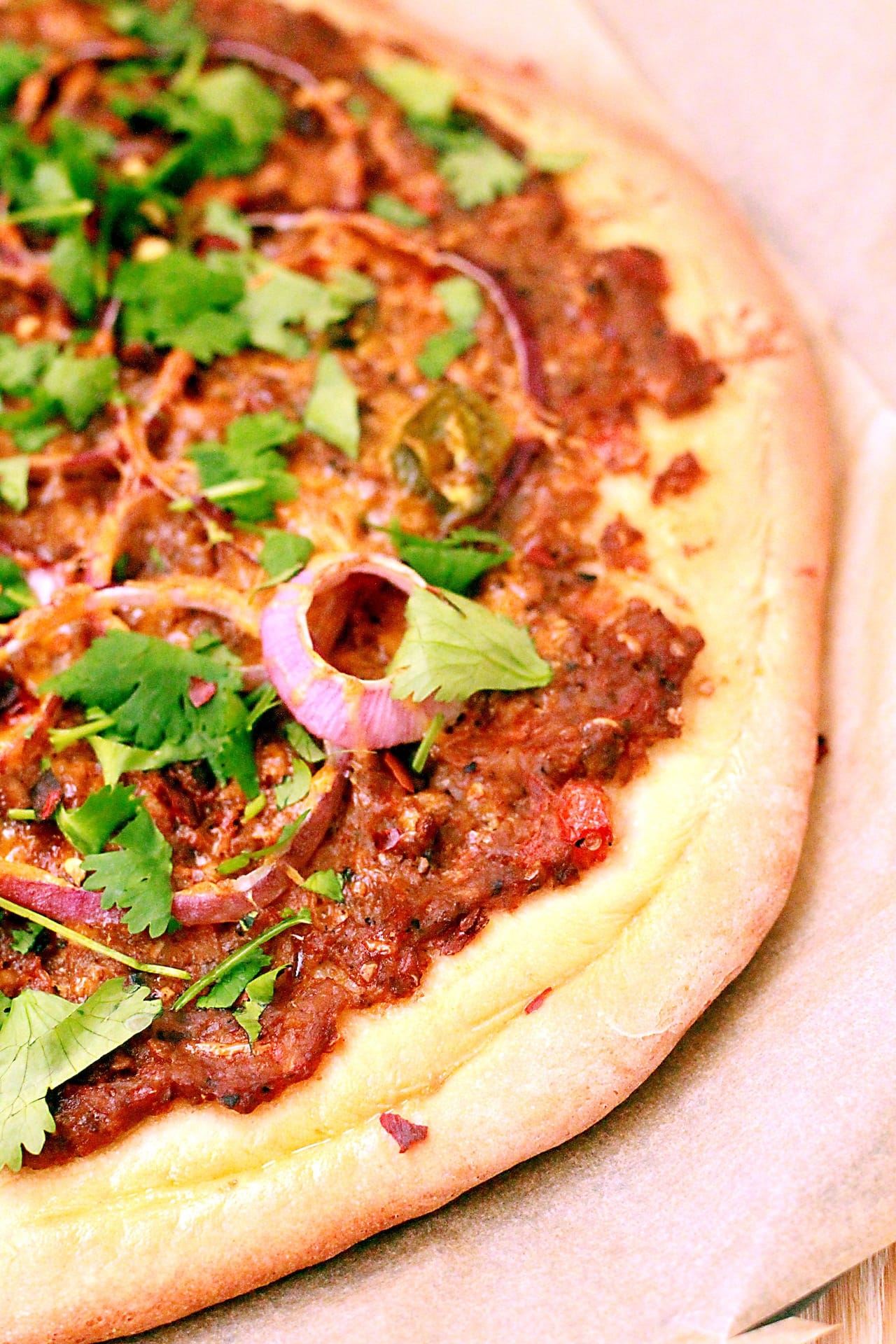 Few weeks back, Arvind took me to this Indian Pizza restaurant near our house. He kept telling me I will enjoy the pizza variety out there as it's different and has very unique toppings. I was thinking how unique can it be.. right? Turns out, it was very interesting. It had every different kind of toppings from Indian cuisine, like 'Matar Paneer', 'Kachodi' and 'Bhel Puri' !
We ate a 'Palak Paneer Pizza' and a 'Baigan Bharta Pizza'. It had the perfect crust, flavorful topping and was super delicious. I would have never ever thought of baigan bharta on pizza.
In the beginning of the month, when Kulsum announced 'Yeast Dough' as Monthly Mingle theme, I was doubtful if any entry would go from my side. Yeast and I are just getting to know each other, still not in the good friend zone. For me, it's little spooky to knead the dough knowing the yeast is alive and in contact with your hand.
After some serious thought and few attempts, I must say yeast is fun to work with. They need some care and once you give that, they can rise the dough pretty high and nice. These little fellows need a lot of pampering and perfect temperature or they can die!
Kneading the soft dough was in-fact quite therapeutic and finally, I am getting to understand why people love baking breads at home.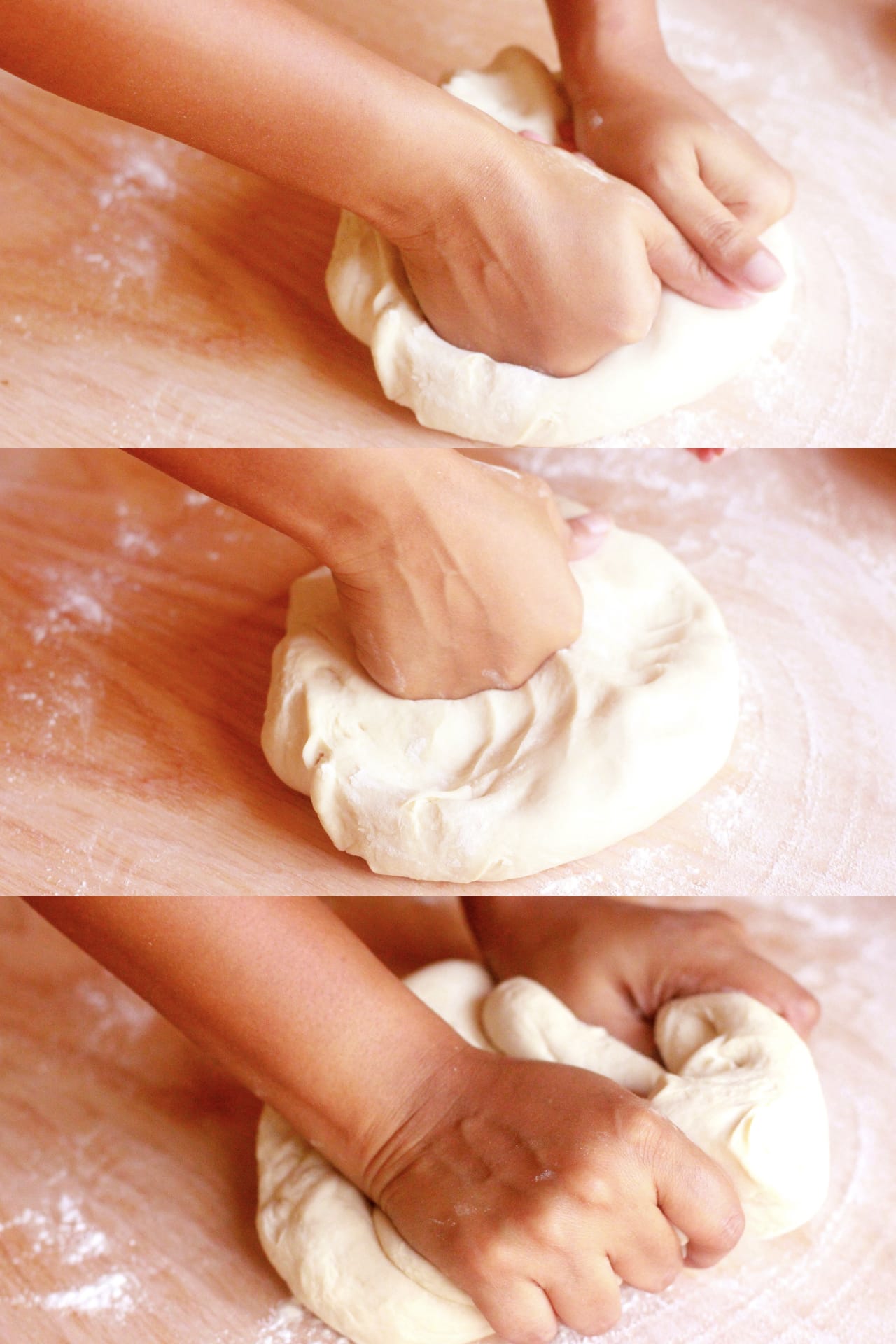 I was not very sure how the pizza would turn out! Never really baked pizza at home and here I was trying out something with roasted eggplant as a topping. While clicking the pictures, I kept telling to myself 'we will see if it worthy enough to share' . Well, as it turned out, we were pretty happy with the taste. It was not as good as the one we ate in the restaurant but pretty good for first time.
I am not sure if it's worthy enough or not, but I had told my friends I will try to get out of the yeast phobia and I sure did. That's a pretty good reason for me to share this with you and Kulsum for the Monthy Mingle 🙂
Baigan Bharta (Roasted Mashed Eggplant) Pizza
Ingredients
For the pizza dough
1 ½

teaspoon

active dry yeast

1

cup

warm water

(not hot!)

2.5

cups

all-purpose flour

2

tbs

olive oil

1

teaspoon

salt

2

tbs

sugar
For the topping
1

big eggplant

2 to

matoes

(roughly chopped)

1

small onion

(finely chopped)

1

small onion

(sliced in round shape)

2

cloves

garlic

(finely chopped)

2

jalapenos

(sliced in round shape)

1

tbs

chilly flakes

1

teaspoon

cumin seeds

1

cup

cilantro

(chopped for garnish)

sharp cheddar cheese

(I used just a little bit of grated cheese on top)

salt

pepper

oil
Instructions
Mix yeast with the warm water in a small bowl. Cover it and let it stand until it looks creamy. This should take about 7 minutes.

In another large bowl, combine flour, olive oil, salt and sugar.

Then, add the yeast mixture and mix it properly. Knead it for few minutes until its smooth and soft.

Take a glass bowl and grease it with some oil. Keep the dough in the bowl and brush some oil on top of the dough.

Cover it, keep it in a warm area and let it rise until it doubles in volume. This should take about an hour.

While the dough is rising, you can start working on the toppings.

Roasting the eggplant can be done either in the oven, stove top or grill. I used stove top.

Pat dry the eggplant and brush some oil on it. Roast it until it soft and the skin starts to peel apart.

Let it cool before you start mashing it. After it cools down, peel the skin off the eggplant and put in a bowl.

Then, heat some oil in a pan and saute garlic and chopped onions.

Season with some salt and pepper, and once it's translucent, add the tomatoes and continue cooking for about 2 minutes.

Take it out from the pan and put in the mixing bowl with the roasted eggplant.

Add cumin powder, chilly flakes and mash it until it's smooth.

Place  dough onto a well floured surface and roll out into a pizza crust shape. (Don't worry about the shape much, just make sure it's evenly rolled out)

In a baking pan, arrange the parchment paper and place the rolled pizza crust on it.

Top with with the mashed eggplant mix and spread the mix evenly.

Arrange the sliced onions and jalapeno over the eggplant mix.

Grate some cheese on top and drizzle some oil.

Bake it at 450 F for about 15 minutes or until it's slight brown and cooked through.

Garnish with cilantro and serve!
Nutrition