Crispy Air Fried Tofu is such a treat, just on its own, or paired with other things for a full meal. All it needs is 10 minutes of your time and Tofu comes out crispy on the outside.
I didn't like tofu for a long time and only recently did I truly started to enjoy it, especially since I started to air fry tofu.
What is an Air Fryer ?
Ever since I bought an air fryer last year, I have been using it on a very regular basis. Air Fryer is high powered convection oven that cooks food very fast and gives the perfect crispy texture that you would expect from frying in deep oil.
It's a healthy way of enjoying fried food with just some oil spray on it. This is the brand I bought from Costco. It's small, making it perfect for my tiny kitchen.
Ingredients you need for Air Fried Tofu
Firm Tofu - For crispy tofu, you have to buy the right kind of tofu. You don't want the silken tofu, get the firm or extra firm tofu. I prefer to press it on a clean napkin to remove all the excess water content in the tofu. This extra step will assure a very crispy texture of the tofu.
Soy Sauce - Not required, but I like to add while marinating the tofu as it adds a lovely flavor. Add the light soy sauce as it is less salty
Spices - You can add some dried spices for the flavor and taste. Typically, garlic powder, ginger powder, paprika and salt is added. But you don't have to restrict to just that.
Cornstarch - Cornstarch is one of the secret ingredients to get the crispy texture in the Air fried Tofu. You can use rice flour, potato starch or even regular all purpose flour.
Oil - If you have sesame oil, use that as it will give a lovely flavor. But any oil will work just fine. Oil spray will be fine too.
Pair it with burnt garlic fried rice or toss it with chili oil noodle
Steps to prepare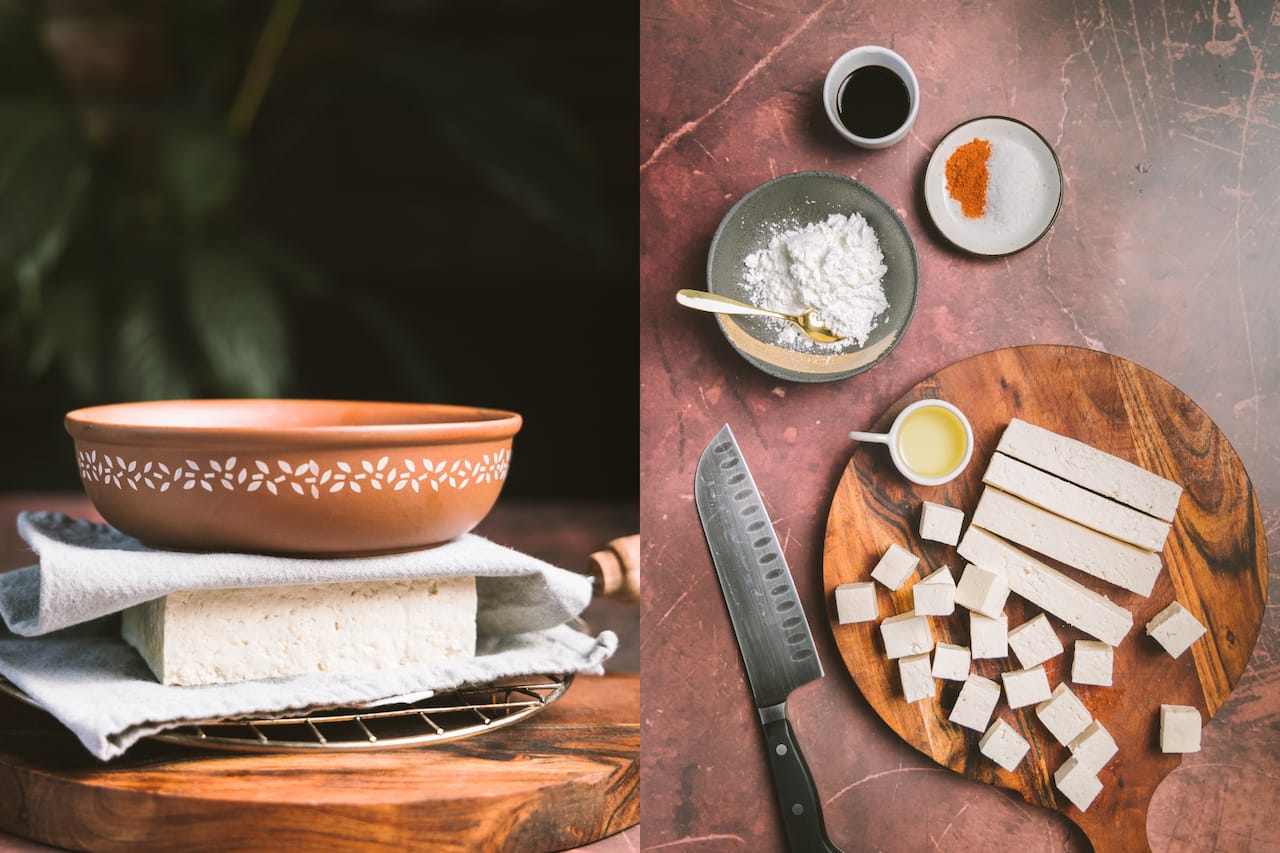 Remove the firm tofu from the packet and then wrap with a clean napkin. Place a heavy bowl on top and leave aside for 30 minutes. This step is not a mandate, but it does help to take out the extra moisture.
Then slice the tofu into bite size cubes.
Preheat the air fryer to 400 F and in the meantime, marinate the tofu with oil, soy sauce, spice powder and corn starch.
Spray some oil on the tray inside the air fryer and place the marinated tofu in one layer.
Let it air fry for 5 minutes, then give it a shake and continue air frying for 5 minutes.
Air fried tofu will come out looking golden brown and crispy. Serve it right away.
You can make Tofu Tikka Masala by switching the chicken in my Chicken Tikka Masala recipe
Or use in wrap, like how I use precooked chicken in this Shredded Chicken Wrap.
Can you store air fried tofu ?
YES! You can make a big batch as part of your meal prep. Once cooled completely, store in an air tight container.
The Air fryer I use has a reheat option. I use that for 3 to 5 minutes to reheat the pre cooked crispy air fried tofu.
No Air Fryer? Bake in the OVEN
You can make crispy tofu in oven too. It will take more time than it takes in an air fryer.
Layer the marinated tofu in a cookie sheet and bake at 425 F for 20 to 25 minutes, turning once in between.
For extra crispy texture, place a cookie cooling rack on the cookie sheet and then layer the tofu cubes on the wire.
Crispy Tofu tastes amazing just on its own, but you can make an array of dishes with crispy tofu.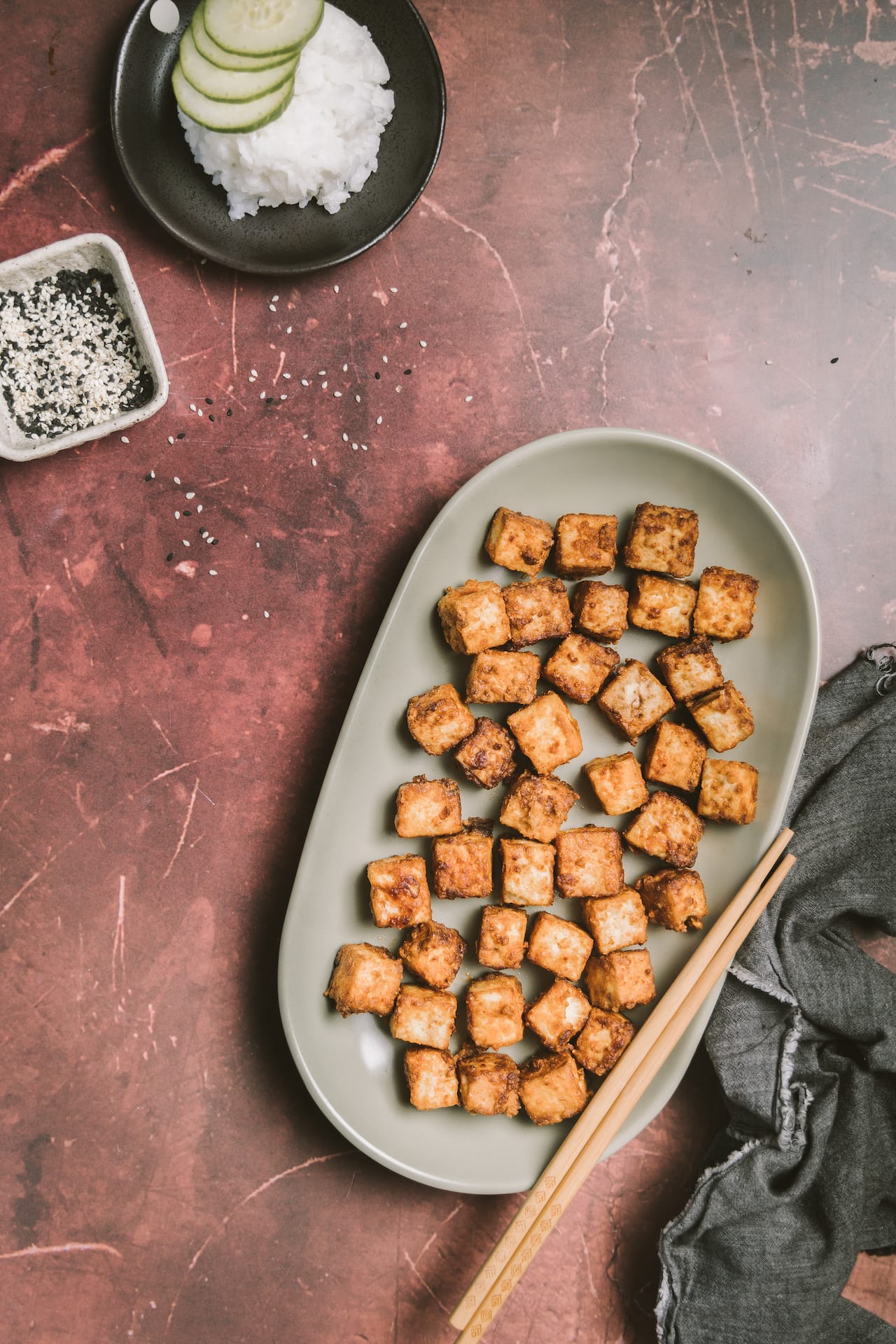 Air Fried Tofu
Crispy Air Fried Tofu is such a treat, just on its own, or paired with other things for a full meal. All it needs is 10 minutes of your time and Tofu comes out crispy on the outside.
Ingredients
1

block of extra firm tofu

(16 oz)

1

tablespoon

soya sauce

½

tablespoon

sugar

¼

teaspoon

Turmeric powder

¼

tablespoon

Paprika

2

tablespoon

Oil

¼

cup

corn flour
Instructions
Remove the firm tofu from the block and wrap it with a clean napkin and place a heavy bowl on top. This will release all the extra moisture. Leave aside for 30 minutes.

This step helps to get the extra crispy texture of the air fried tofu, but it is optional!

After 30 minutes, slice the tofu into small cubes.

Place the tofu cubes in a mixing bowl and all the spices, sugar, soy sauce, corn flour and give a toss.

Preheat the air fryer to 400F and once done, spray a little oil and layer the marinated tofu cubes. Air fry for 10 minutes, by shaking and tossing once in between.
Nutrition
Calories:
197
kcal
Carbohydrates:
15
g
Protein:
2
g
Fat:
15
g
Saturated Fat:
1
g
Polyunsaturated Fat:
4
g
Monounsaturated Fat:
9
g
Trans Fat:
0.1
g
Sodium:
504
mg
Potassium:
84
mg
Fiber:
1
g
Sugar:
3
g
Vitamin A:
432
IU
Vitamin C:
0.1
mg
Calcium:
24
mg
Iron:
1
mg