In the past week or so, I might have finished a whole bottle of cough syrup, sipped several cups of ginger tea and gulped many more glasses of homemade herbal drinks. This dry cough sucks! First, it was the jet lag and then, this dry cough; it's been a while since I had a sound nap. The sore throat has changed my voice. Most importantly, I can hardly talk and that's not an easy task for me.
In between all this, Arvind is showing some fake joy towards it. He seems to be enjoying the noiselessness in the house and that, according to him, is a rare situation. Wait till I get healthier, I will tell him tall tales all-day long (wink wink)! Well, truth being told, he pampers me a lot and takes extremely good care. If only he could prepare my mom's fish curry. Now, that's an interesting thought to discuss with him. I am not asking for too much, am I?
Ok, now let's talk food!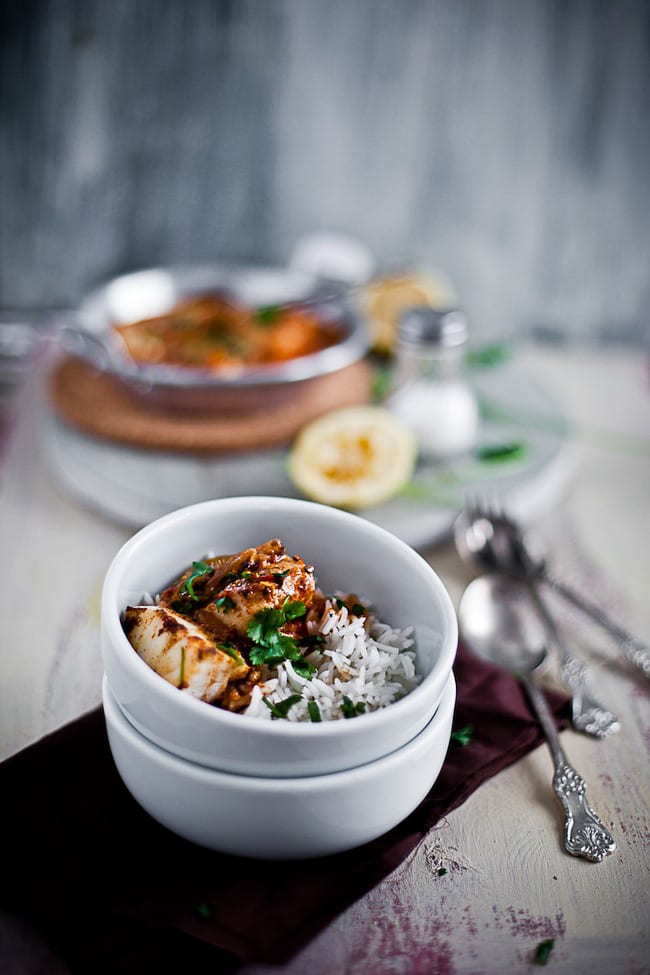 Mom's spicy fish curry is something that I can't even think of trying out here. It's mainly because I won't find those kinds of lake water fishes here. And no matter how much I try the recipe with salmon or tilapia or whatever kind of fish is available; the taste doesn't even come close. Instead of spoiling the taste I remember, I guess it's best to wait and relish it when I get back home. And I think its things like these that make our trip to home even more enjoyable. At times, it's acceptable to miss a few things from back home. It gives us a way to treasure those moments later.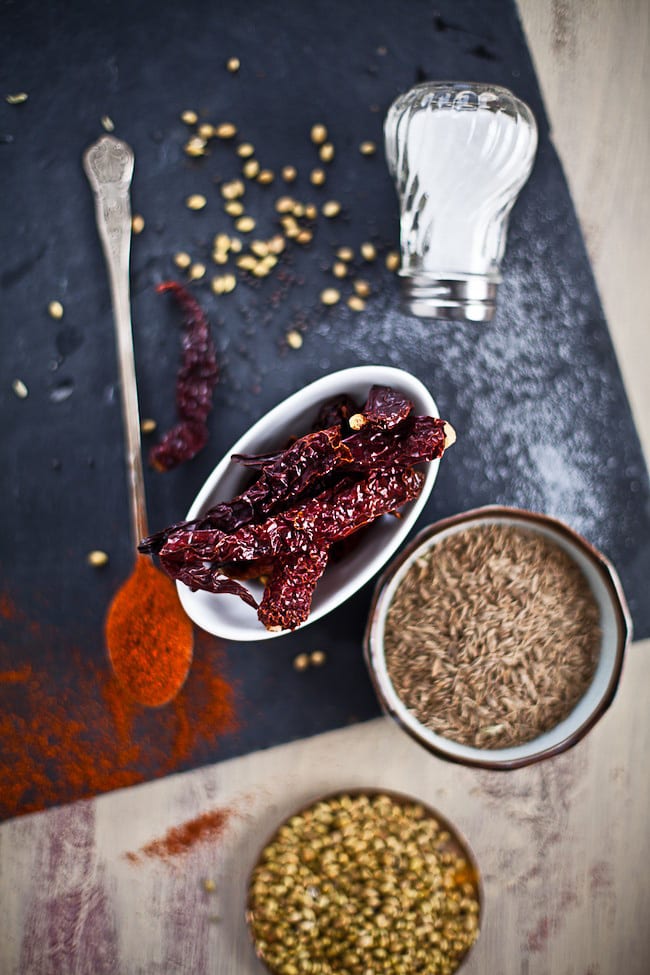 This fish curry was a result of extreme need to lift up my taste buds with something spicy and tangy. My palate has gone for a toss and it genuinely needed something robust and zesty enough to boost it up! Red chili with dry roasted whole spice did the magic.
I normally make a similar kind of dish with Thai red chili paste and coconut milk and serve it as a soup. Since there was no lemon grass at home, I improvised a little and made a chili garlic spice paste and drizzled lemon juice for the smack.
The dry red chili doesn't add a lot of heat; it however makes the broth look rich with its color. This recipe wouldn't give you spice thrill at the first mouthful but as you keep enjoying the gravy, it will give an after taste which is just enough warmth and zing but not burning hot!
Zesty Fish Curry with Coconut Milk
Ingredients
for the chili paste
7 to 8

dry red chilies

¼

cup

water

4

garlic cloves

½

tablespoon

coriander seeds

½

tablespoon

cumin seeds

1

teaspoon

of cayenne powder

juice of ½ lemon
rest of the ingredients
2

fillets of cod

(cut in bite size cubes)

1-½

cup

coconut milk

1

small onion

(thinly sliced)

chopped fresh cilantro for garnish

oil

salt
Instructions
In a small saucepan, pour ¼ cup water, red chilies and bring it to a boil. Switch off the heat, cover it and let it steep for about 5 minutes.

Dry roast the coriander, cumin powder and grind it to a fine powder.

In a food processor or mixer, grind the red chilies along with the water and garlic.

Add the freshly ground spice powder to it and give one more blend. Then, add lemon juice and keep it aside.

In a pan, add 1 tablespoon oil and pan fry the cod fillet for about 4 to 5 minutes on each side and keep it aside.

In a wok or a deep pan, add 1 tablespoon oil and sauté sliced onion until it's translucent. Add some salt and the spice paste to the wok. Continue cooking in low heat, occasionally stirring in between, until the spices are cooked through and oil starts to release. This should take about 10 minutes.

Add coconut milk, about ½ cup water and give it a stir.

Add cayenne powder and half of lemon juice. Add salt and continue cooking for about 5 more minutes.

Drop the pan-fried fish cubes and continue cooking for 10 more minutes. Taste for salt and add any if required. Switch off the heat once done.

While serving, garnish with fresh chopped cilantro on top and drizzle more lemon juice, if you want.
Nutrition