Wine Poached Pears are simple yet so elegant and perfect to show off at any party. Simmering pears in red wine and some spices enhances the sweetness of the fruit and adds warm flavor. Wine poached pear takes some time as you want to slow cook but overall it is very effortless.
Poached pears are perfect Fall desserts, and you don't have to restrict to wine. Although, wine poached pear does have its charm.
Wine Poached Pear is a classic French dessert, and I believe it started as a way to enjoy unripe pears. A great way to maximize their harvest without wasting or throwing away unripe fruits.
I love to serve it mildly warm and then topped it with reduced red wine sauce and some whipped cream. You can make it extra special by adding mascarpone cheese too.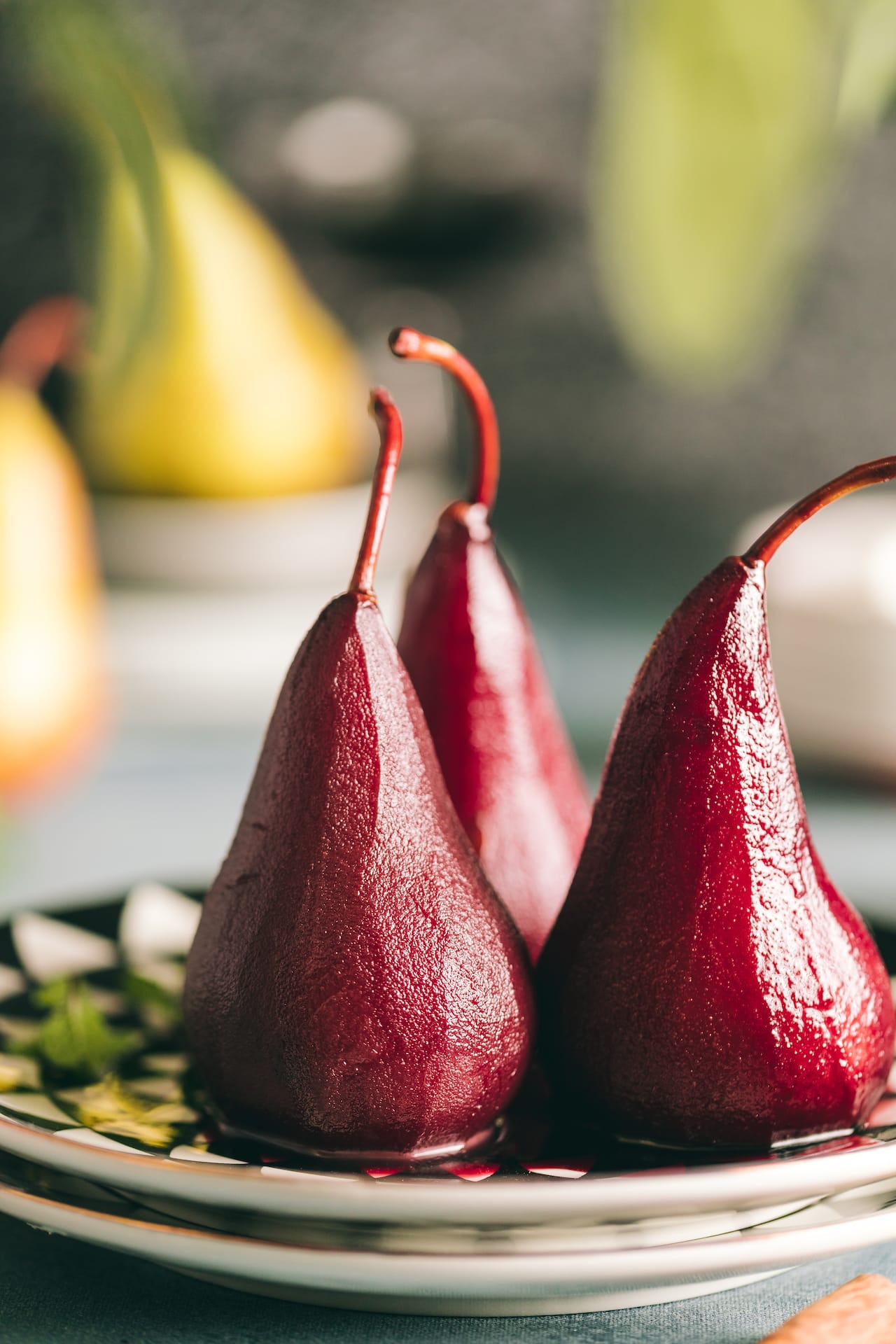 What Pears are best for Wine Poached Pear
I personally prefer Bosc Pears for two different reason.
The texture is smooth and not too fibrous. It is dense and crunchy. Makes it easy to cut through and melts in the mouth at every bite.
The shape is gorgeous and stands tall when served. Looks utterly incredible, like a showstopper dessert.
KEY POINT - You want to pick pears that are not over ripe. As the pears poach for a while in the spiced liquid, it will cook and soften. So you definitely don't want the over ripe ones.
Just feel the pears and it should feel firm. Also, the skin should be smooth. Wrinkled skin means over ripe pears.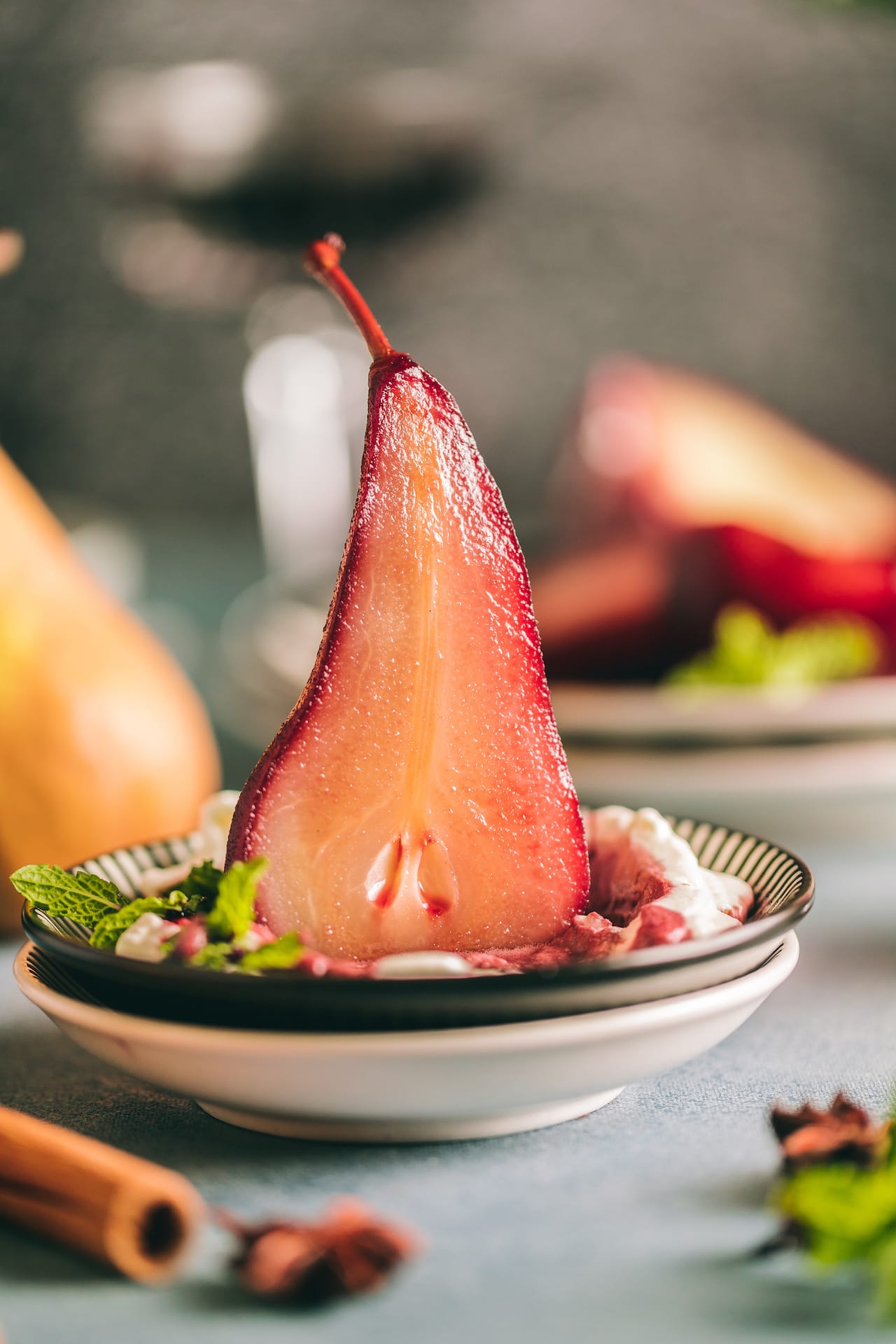 Wine selection for Wine Poached Pears
Preferably fruit-forward red wine. I used Merlot. But if you are using lots of whole spices for the aroma then go for any good red wine, something not too expensive, probably.
It is said that Zinfandel, Shiraz, or Merlot works best. I prefer Merlot!
Spices used:
Star Anise
Cloves
Bay leaves
Cinnamon Sticks
Cardamoms
The Red Wine Sauce
After the pears are poached to the perfect texture, I take it out and reduce the sauce further, add little butter to turn into this delicious red wine sauce.
The red wine sauce is not only delicious on the poached pear, you can also save it and use it with grilled steak.
What other sauce can be used ?
Instead of reducing the red wine, you can strain it and drink it as warm mulled wine.
A simple chocolate sauce works great too on wine poached pears.
How to use poached pear?
You can enjoy it as it with whipped cream or mascarpone cheese.
Poached pears are great with waffles or pancakes.
You can also use the poached pears on chocolate cake. Here is a recipe you can try.
This Holiday Season, wow yours friends and family with this simple but gorgeous looking dessert. You won't believe how easy and flavorful this dessert is, until you give it a try!
Wine poached Pear with Chocolate and Mint sauce
Ingredients
4

ripe and firm pears

(I used bosc pears)

1-½

cup

red wine

(I used Merlot)

½

cup

white/brown sugar

2

tablespoons

fresh lemon juice

2

teaspoons

vanilla extract

1

cinnamon stick

2-

star anise

2

bay leaves

few cardamoms

2

tablespoons

butter

(this is for the red wine sauce)
Instructions
Peel the pears and try to retain the stem.

In a sauce pan big enough to fit all the pears, pour the wine, lemon juice, vanilla extract along with sugar and all the whole spices. Bring it to boil and then bring down the heat to let it simmers for 5 minutes.

After 5 minutes, gently place the pears and let it simmer in medium low heat for 15 minutes.

Toss the pear to the other side very gently and let it continue to simmer for another 5 minutes.

Gently poke the pear with a knife. If it feels soft, it is ready.

Carefully remove the pears to a serving plate.

Continue simmering the wine until it's reduced a lot. When it starts to look sauce like consistency, add the butter and whisk. The butter will add a creamy, rich taste to the wine poached pear.

Strain the sauce to a serving cup.

Whipped heavy cream or mascarpone cheese to serve along with the wine poached pear and red wine sauce.
Notes
You can poach pears in advance and let it refrigerate for a couple of days. You can either serve it cold or boil the sauce for 2 minutes and serve it warm. If you don't like wine, you can use pomegranate juice or cranberry juice, and that will give the gorgeous red color. If you however don't care for color you can choose any citrus juice. 
Nutrition