Hope you all had a fantastic Thanksgiving! We had a blast yesterday at my cousin's place. We went there in the afternoon and left pretty late at night. Those hours just flew by so quickly. We were either munching or drinking or dancing or laughing or doing all of that at the same time. I baked this fudge Spiced Poached Pear Chocolate Cake as my tiny contribution to the enormous feast. It was a fun party and a good break from all the workload of packing that we are busy with right now. Yeah, we are moving again. Not too far, just to a different house nearby.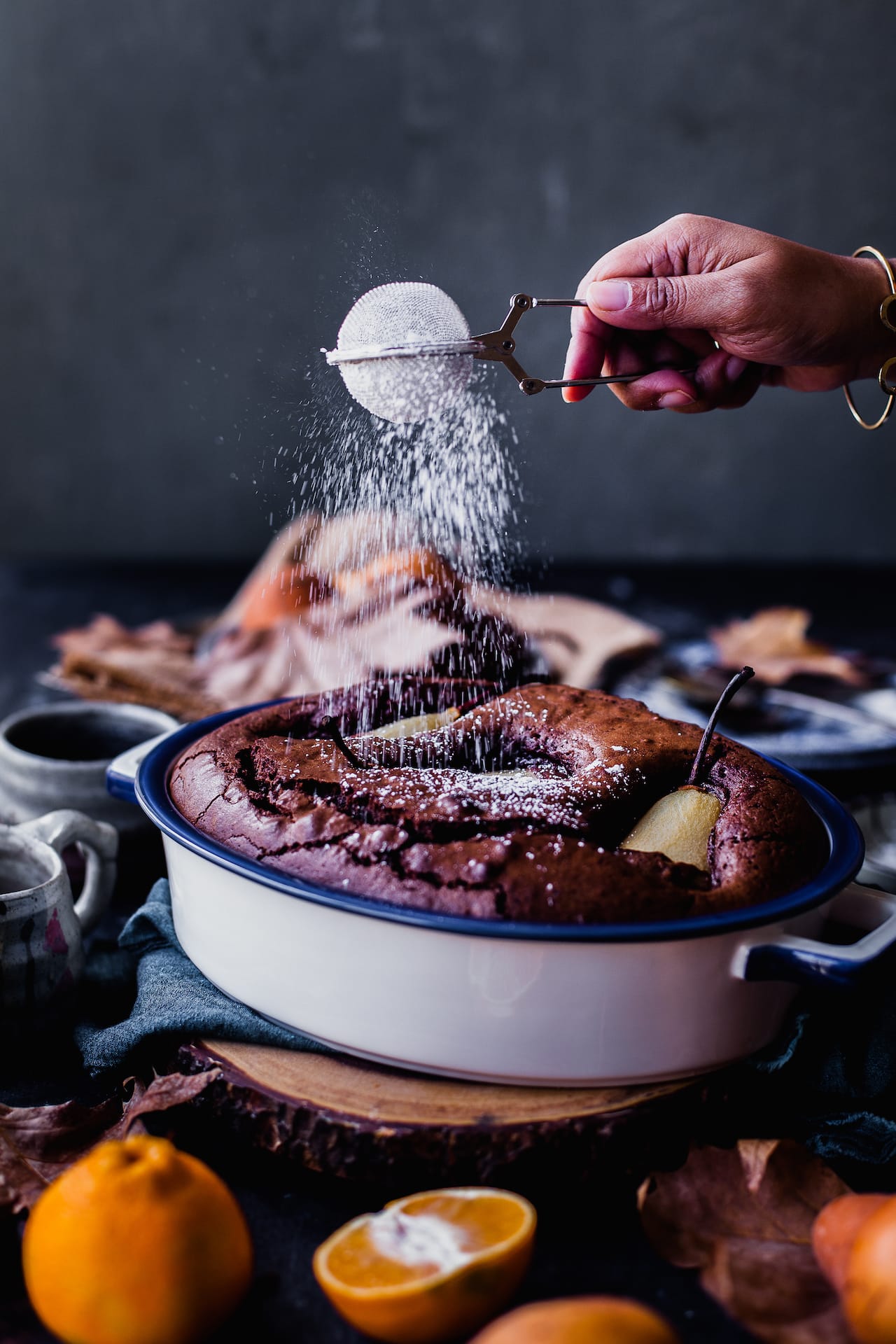 Pear Chocolate Cake
I have baked this pear chocolate cake a few times in the past and thankfully it was always appreciated and relished till the last crumb.
Pear and Chocolate is such a perfect combination and works beautifully in a cake. I normally like to add cocoa powder in my chocolate cake. However with this particular pear chocolate cake, I go for only chocolate, which makes the texture quite fudgy.
Almost like a brownie, with the cracks on top and soft in the center.
Poaching the Pear in spices
Just like apples, there are a wide variety of pears available. For this particular cake, I always go for the brown skin bosc pear.
The creamy white flesh has a sweet flavor and even though it's dense, it's still quite juicy. You could either slice it into wedges and then layer it on the cake batter or dunk it whole.
Poaching the pear, of course, enhances the flavor and I went with bold whole spices along with a few slices of oranges. The poaching liquid is so flavorful that you could drink it on it's own with some honey drizzled for sweetness.
But, I sprinkled some tealeaves and allowed to steep just for a while and then, drizzled some honey. It was such a perfect warm cup of spiced tea to pair with the cake.
Orange Spiced Poached Pear Chocolate Cake
Ingredients
for poached pears
2

cups

water

1

cinnamon stick

6

whole cloves

5

green cardamoms

3

bosc pears

(peeled)

1

orange

(thinly sliced)
for the cake
4

eggs

1

cup

sugar

11

oz

milk chocolate chips

(melted)

½

cup

+ 2 tablespoons butter

(melted)

1¼

cup

all-purpose flour

½

teaspoon

baking powder

pinch

of salt

zest of 1 orange

juice of half an orange
Instructions
Pour water along with all the ingredients except the pear into a deep saucepan. Bring it to a boil. Carefully place the pears, bring the heat down to medium and let it simmer for 15 minutes. If the pear doesn't submerge completely, toss and turn the pears every few minutes.

After 15 minutes, switch off the heat and take the pears off to a plate layered with kitchen towel.

Pre-heat the oven to 350F and grease a 9-inch baking pan with butter.

In a mixing bowl, whisk egg with sugar. Then, pour melted butter, melted chocolate and give it a whisk.

In a separate bowl, mix flour, salt and baking powder.

Add the dry ingredients to the egg mixture and mix them until it comes to form a smooth batter.

Pour the cake batter into the pan and place the pears on the batter, pressing it down. You could also slice the pears and layer it on top of the cake.

Bake it for about 30 to 35 minutes until the top of the cake is dry, shows mild crackle and the center is set.

Cool the cake and then, dust it with sugar on the top.
Nutrition
Serving:
1
Makes a 9 inch cake