Plums always take me back to one of my childhood episodes. Our rented home in Shillong (that's where both I and my brother were born and raised) had a shabby backyard and in that stood tall a pear tree, couple of orange trees and a plum tree. It could be just the sentiment speaking, but somehow, I never tasted plums as sweet as those from that tree. One afternoon, after Mom put us to nap, which was not a success although she thought it was, we silently got up from the bed and tiptoed to the door. Mom was asleep. It was my brother's brilliant idea to climb the plum tree. We just couldn't wait till Dad arrived from work. As per my brother's analysis, Mom was sound sleep and wouldn't realize it at all. He completely convinced me and incase you are wondering, he is a year younger to me.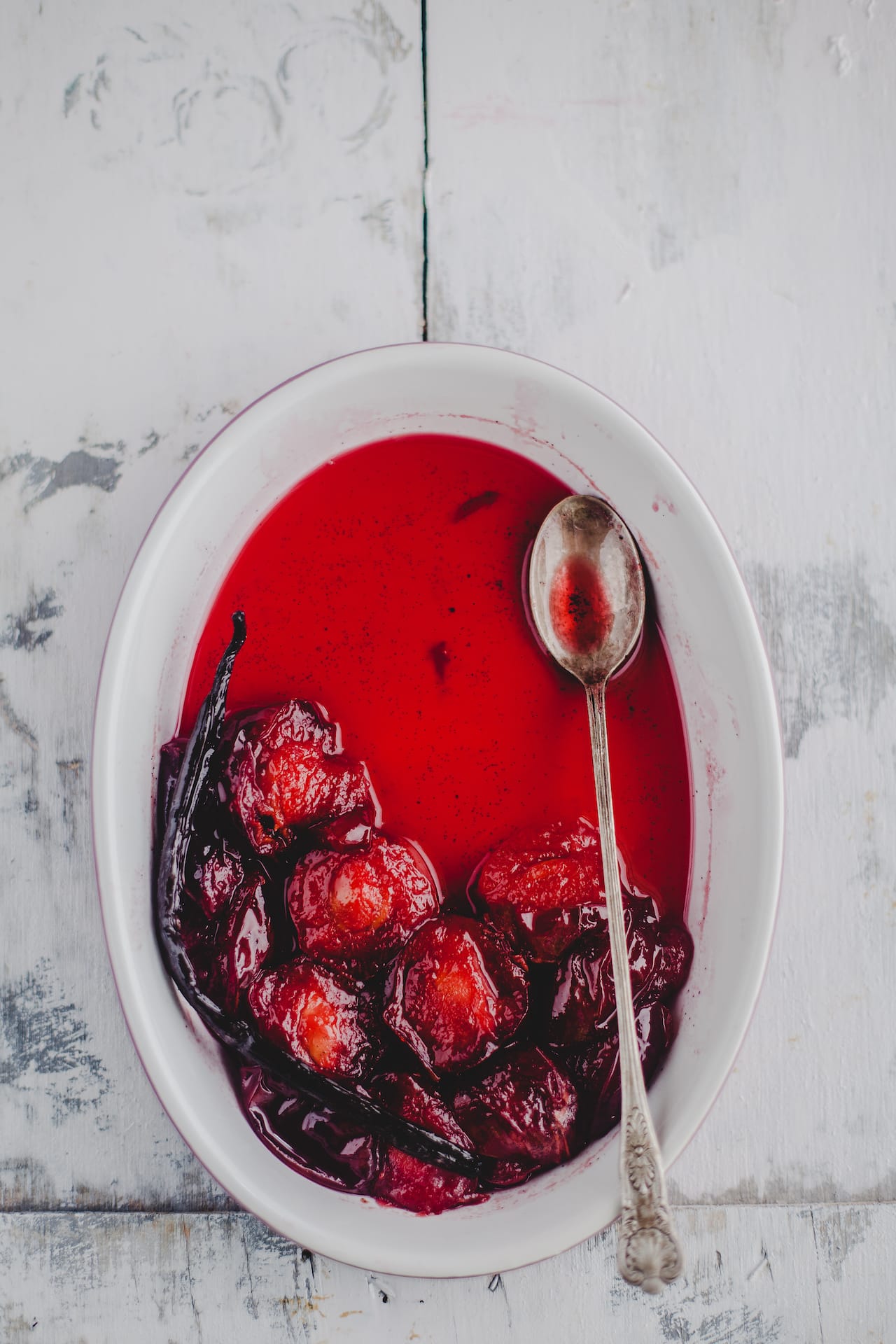 It was a very quiet afternoon. We managed to climb, pluck a few fruits, ate some, made a mess and giggled away at our bravery. Feeling quite sated, we got down and walked towards home. Guess what! Mom was not in deep sleep. She was standing right there at the doorstep looking very angry. The thing is, that shabby backyard was not very safe as tiny snakes were seen a few times in the past. Despite of all the explanations of how careful we were, we were grounded. We promised to never do that act again and we never did that again. That afternoon event is still so fresh in our mind that even today, when we gather together, Mom narrates the incident from her point of view and we say ours. Then, we laugh about it until our jaws hurt.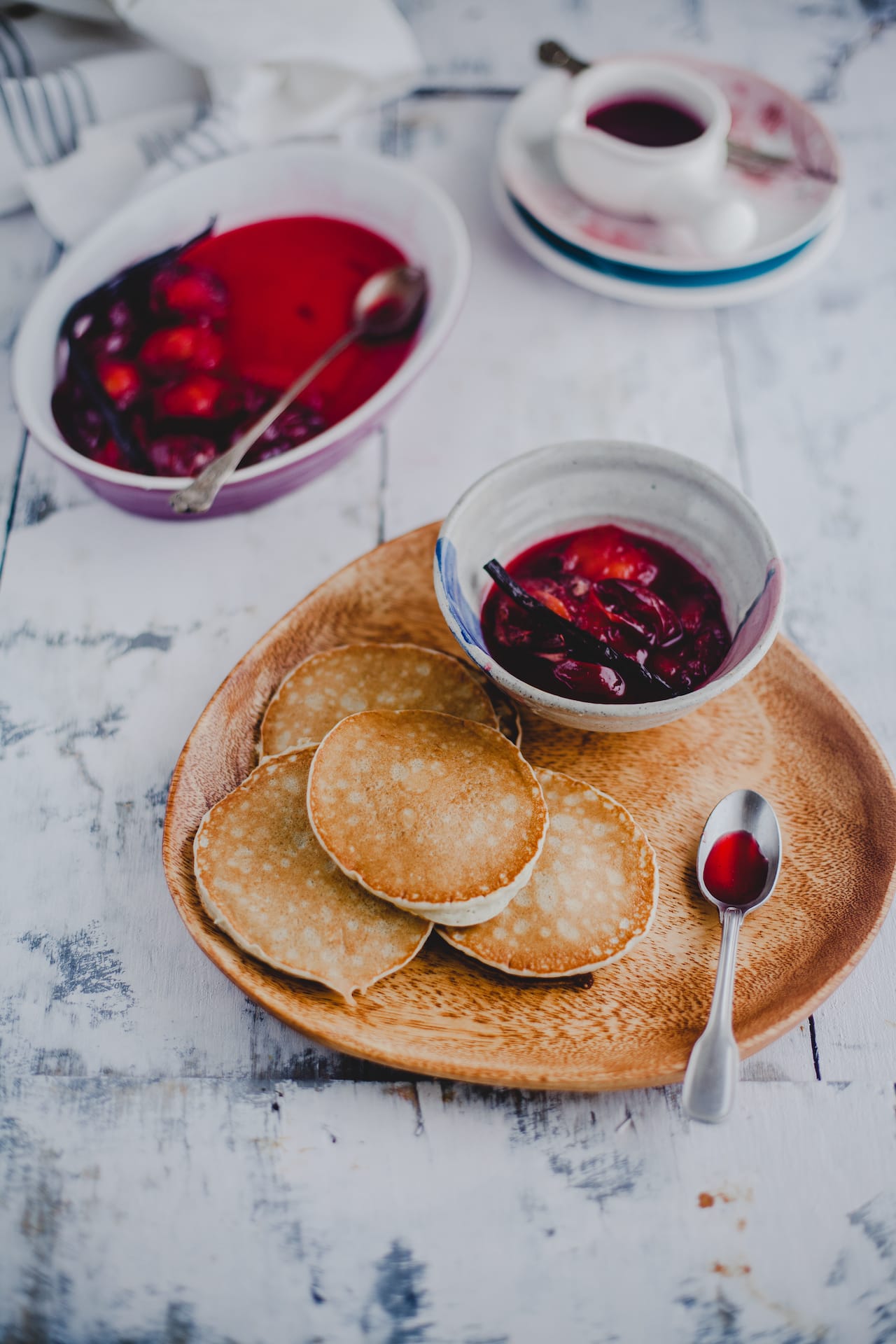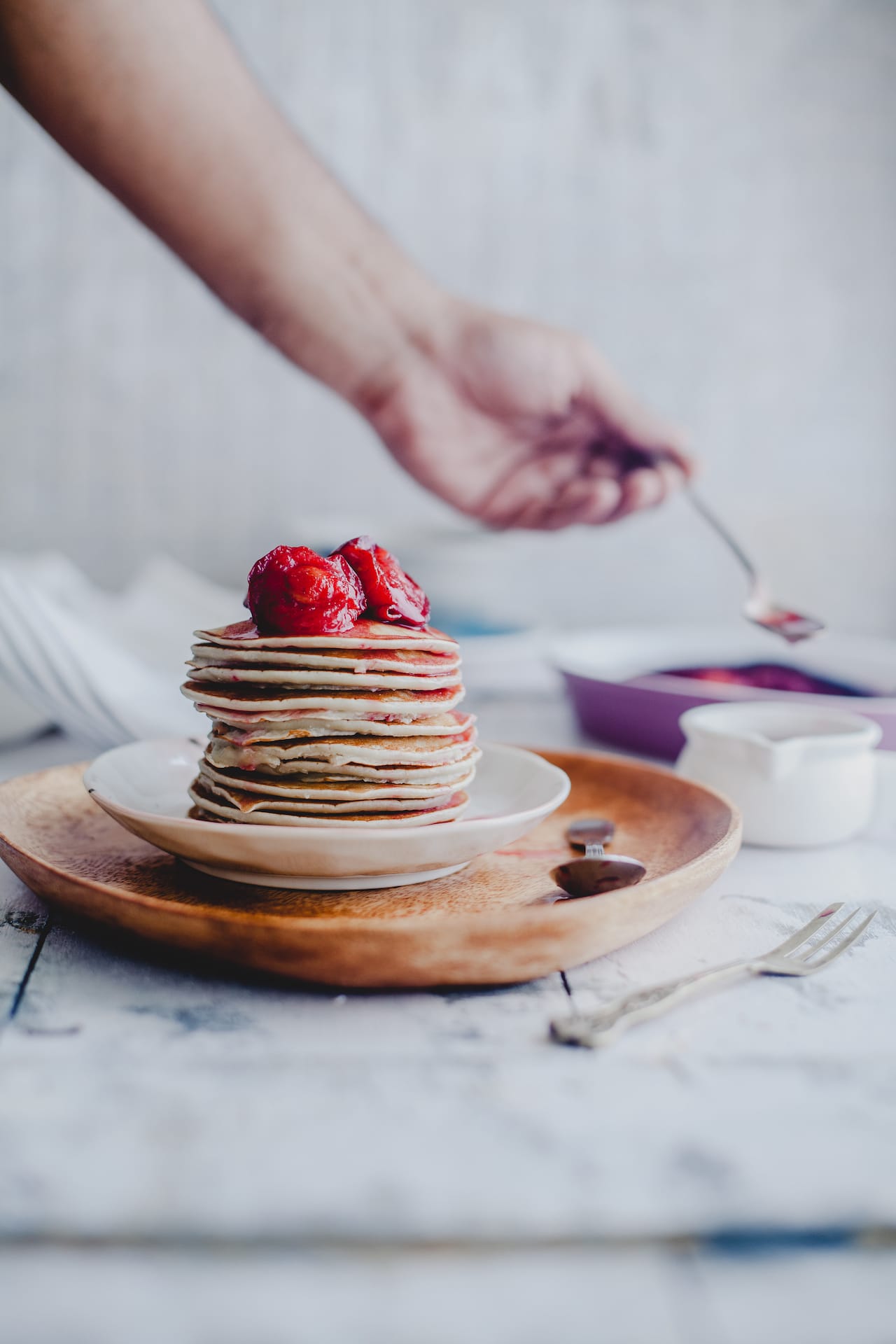 As Arvind whipped the pancake batter and I started on the plum poach, memories of that afternoon came right back. It's been so many years since I visited Shillong and I wish to go there one day with my boys. I don't even know if the plum tree is still there. I do hope it is there, tempting other kids to make their own memories! The sweetness of these plums were not even close to what I grew up eating, hence it required some help. I kept it simple with just a vanilla bean and honey. You can go as creative as you want with the choice of spices. Poached plums make a great topping; be it ice cream, porridge, pudding or pancakes. It's an effortless way to enhance the taste of any dish!
Vanilla Poached Plums With Pancakes
Ingredients
500-

gram

fresh plums

(cut in half)

1

vanilla bean

¼

cup

honey

½

cup

water

1

egg

1

cup

all-purpose flour

1

tablespoon

sugar

2

tablespoons

melted butter

1

teaspoon

baking powder

1

cup

milk

pinch

of salt
Instructions
Split the vanilla beans in half, scrape the seeds and drop it in a saucepan along with the pods. Next, pour water in the pan, drop the plums and sprinkle sugar. Bring it to a boil and then simmer for 10 minutes. Check for sweetness and add more honey or sugar if you want.

For the pancakes, mix flour, sugar, salt and baking powder in a bowl. Next, crack the egg, pour melted butter along with milk and give it a mix.

Once the poached plum mixture is ready, start making the pancakes.

Bring a pan to medium heat and ladle ¼ cup of the batter. Once bubbles start to show on the edges of the pancakes (should take a couple minutes), flip it carefully and cook for 1 more minute. Transfer the pancakes in a plate and continue making more pancakes.

Serve warm with poached plums drizzle on top!
Nutrition
Serving:
1
about 15 mini pancakes