Some weekend starts on a very lazy note with a cup of hot ginger tea at ten in the morning followed by zero plans to implement. It doesn't happen often but whenever it does, Arvind takes every opportunity to make the day as unproductive as he can and at times, I tag along with the flow. We order takeout, be a couch potato and watch movies back to back while sipping some wine or beer in between.
Then there are weekends when the poor guy gets so busy with his work that we hate to even call it a weekend. So, while he spends time with his laptop, I try to get busy doing what I love doing. Like, bake a tart, make it look pretty, take out my props and do some photo shoot.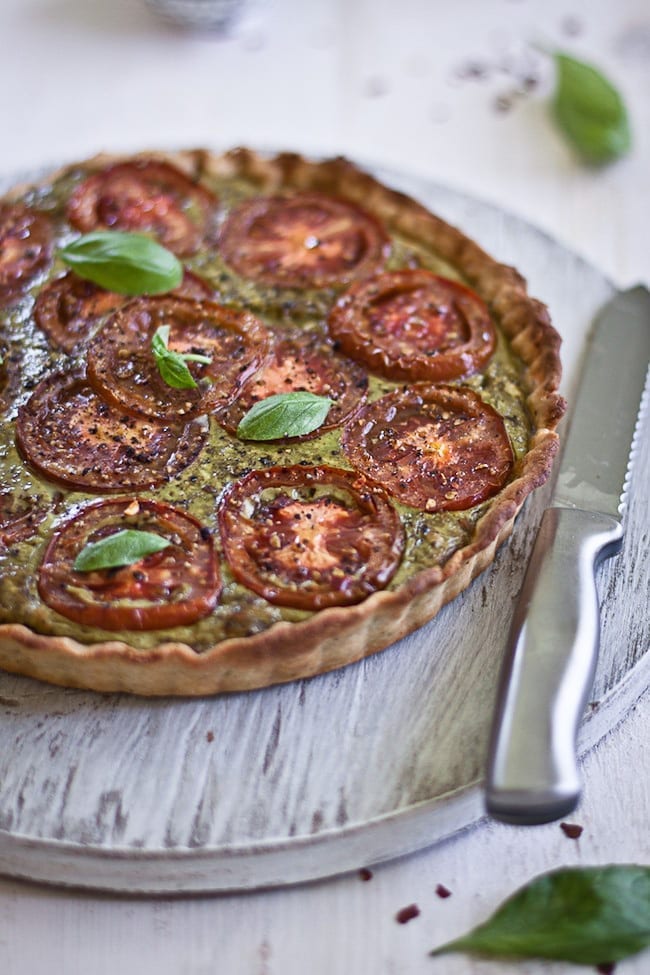 If summer is all about sorbet, ice cream, smoothie, stone fruits and berries. Then summer is also about tomatoes. It's the best season for juicier, rich in color, plump tomatoes. I haven't got a chance to try lot different varieties of this very famous fruit, but this summer I was really glad to get my hands on some exquisite kumato tomato, for the first time.
Kumato tomatoes are sweeter than other variety and also considered as gourmet.
If you haven't seen these before, your initial reaction might not be surprising. It may look rotten to you because of the brown color but touch it to feel the firmness and then give a big bite to enjoy the sweet taste. Like we did.
Tart was on my mind as soon I bought these tomatoes, and to obviously pairs it with basil pesto. After all, isn't basil and tomato like a marriage made in heaven. Then I decided to make it more filling for lunch and in went some grated paneer. Paneer, also known as Indian Cottage cheese is easily available in any Indian store. If however, you don't have access to any, you can always replace it with ricotta cheese or even mascarpone.
The outcome of the tart was wonderful. The crust was flaky, the filling was creamy and every bite was delightful.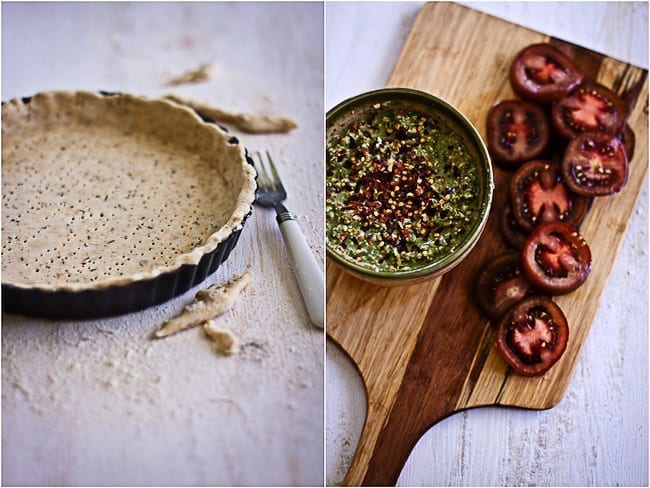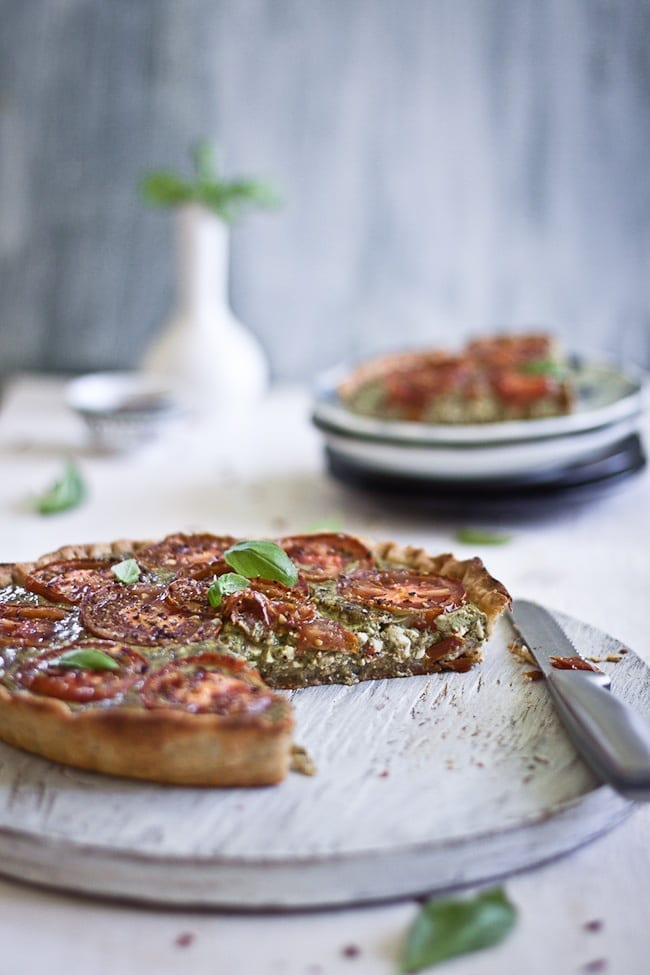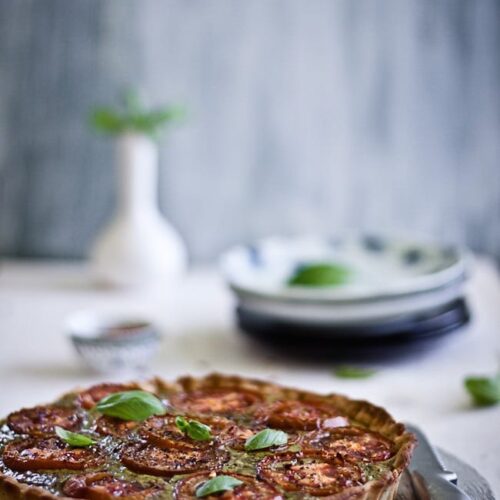 Tart Crust
Ingredients
1 ½

cup

all purpose flour

pinch

of salt

1

tablespoon

herb provence

5

tablespoon

butter

(cold and cut in cubes)

¼

cup

ice water
Instructions
In a bowl, whisk flour, herb provence and salt and keep it in the refrigerator for 10 minutes.

Cut in the butter cubes to the flour until mixture resembles coarse crumbs (If you are using a food processor, just pulse it for about 5 t0 6 times or until the crumbs looks like size of tiny peas. You can also do the same using a fork or your fingertips).

Pour ice water to the flour mixture.

Again, using a fork or your fingertips, mix it properly but do not knead it. It will be sticky.

Do not over-mix the dough. Just pat the lumps into a ball and cover with plastic wrap.

Refrigerate for 1 hour.

Pre heat the oven to 350F

After an hour, take the dough out. Dust little flour on it and using a rolling pin, roll it to a 9/12 inch round.You might need to add little flour in between as you roll it.

Transfer it in to the tart pan and cut off the extra dough.

Poke the crust using a fork and bake it at 350F for about 35 minutes.
Notes
While making the crust dough you have to work very quick so that the butter doesn't melt from the warmt of your hand.
Do not knead the dough or try to mix too much.
The dough can be made in advance, and kept in the refrigerator covered tightly with a plastic wrap.
herb provence is an Italian mixed dried herb. It can also be replaced with any dried herb of your choice.
Nutrition
Serving:
1
makes a 9 inch crust