Three years ago, we had a Friday ritual of pizza, movie and wine. After Avyan arrived in our life, we shifted to another Friday ritual of takeout and movie. Then, it was followed by no dinner ritual because the last two years was a little too crazy. Recently, about a couple of months back, we started another dinner ritual, Sunday Pizza! Of course, the wine and movie happens but only after Avyan snoozes off. This was our last weekend dinner, Spinach Kale Salami Pizza. Avyan is obsessed with pizza. Whenever he sees pizza, he screams pizaaaa with a big smile. He enjoys pizza so much that our Sunday dinner has become like walking on the beach. Casual, easy and we don't have to constantly remind him to take a bite.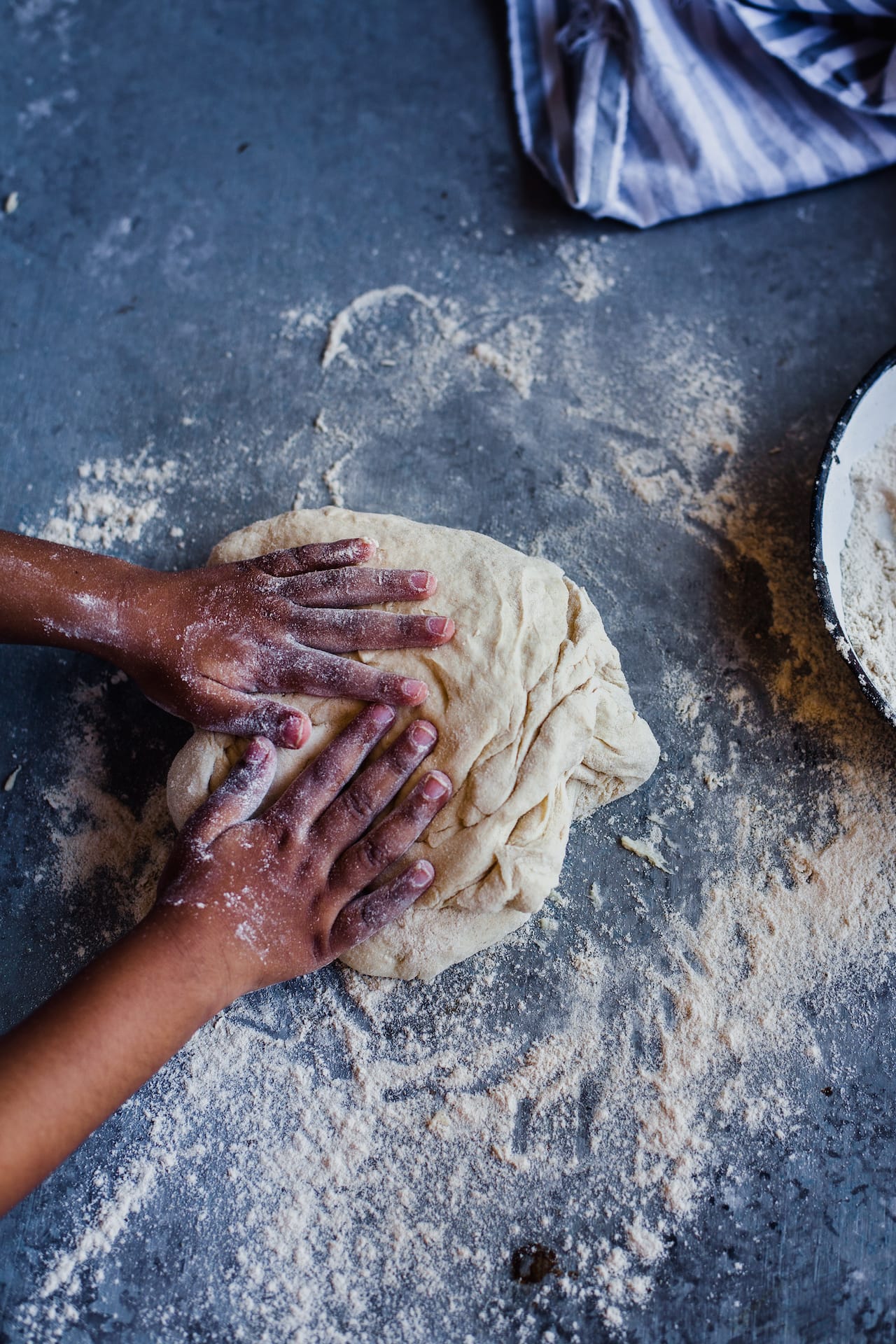 Ever since Avyan started walking, he showed great interest in helping us. If he is awake, you cannot do any work without him getting involved. Be it assembling furniture, dusting the house or making a cup of tea. The boy loves to take charge and takes it quite seriously. You should see the concentration on his face! No smile at all. So, last Sunday, I decided to go ahead and give him the control on topping the pizza.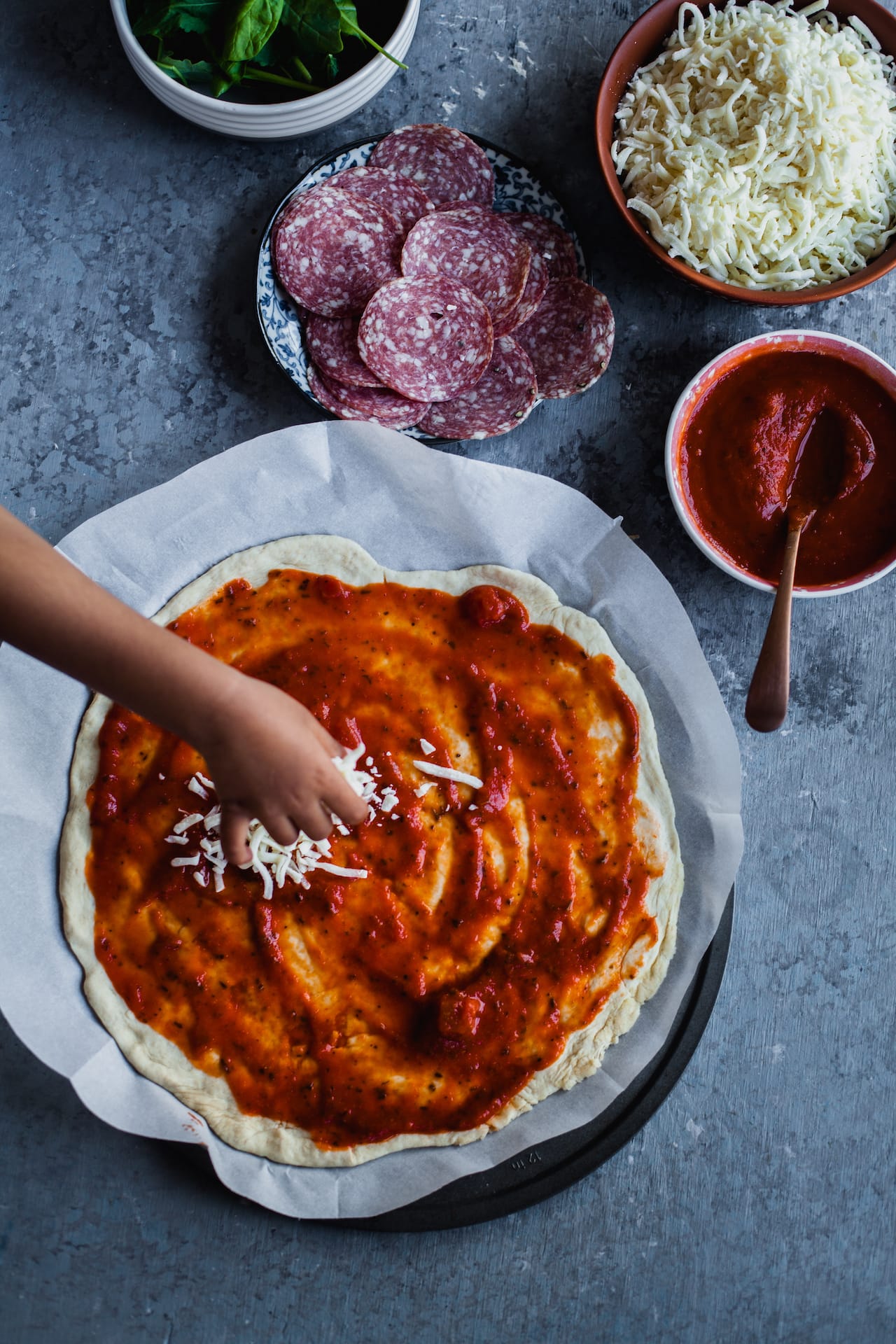 He did a very good job at it. Every time I tried to help him, he pointed to the camera and said "mumma photo". That was probably his subtle way of saying "you do your job and let me do mine". Toddlers!
Spinach Kale Salami Pizza
Ingredients
for the dough
2

cups

all-purpose flour

1

cup

whole wheat flour

1

tablespoon

active dry yeast

1½

cup

water

1

teaspoon

sugar

1

teaspoon

salt

2

tablespoons

olive oil
for the topping
3

cups

grated mozzarella cheese

1

cup

marinara sauce

(I used store bought)

2

cups

mix of baby kale and baby spinach

10

salami slices
Instructions
Pour 1 cup of water in a glass or a measuring cup and warm the water just enough so that you can dip your finger. Stir yeast and sugar. Cover and let it sit for about 5 minutes or until the yeast activates. If the yeast doesn't activate, throw the entire mixture and start over again.

Once the yeast is activated, add flour, salt and oil to a mixing bowl. Give it a mix and make a well in the center. Pour the activated yeast into the well. Using a rubber spatula, give it a mix to form rough dough. If you are using a stand mixer, attach the dough hook and knead at speed 2 for 7 minutes. If you kneading by hand, scrape the dough in a lightly floured countertop or a wooden board and knead until it's smooth and elastic. It should take about 12 minutes.

Once the dough is ready, make a rough round ball and place it either in the same mixing bowl or a separate one that's lightly brushed with oil. Cover it with clear wrap/kitchen towel and keep it in a warm place. Give it a couple of hours to rise and double in size.

Once the pizza dough rises and doubles in size, scrape it carefully on to a board. Cut it into 2 equal pieces and shape each into a ball. Place it on a floured surface (chopping board or baking sheet), cover it with dampened kitchen towel and let it rest for about an hour to rise once again. If you are baking a single 9-inch pizza, you should freeze one of the balls in a zip lock bag.

Once the second rise is done, preheat the oven to 450F. Line a baking pan or pizza pan with parchment paper. Place the pizza dough ball on a floured surface and stretch it using your hand to form a round or square shape.

First top it with the marinara sauce. Then, add ¾th of the grated cheese, followed with baby kale, baby spinach and sliced salami. Finally, add some more grated cheese on the top.

Drizzle a little bit of oil on top and bake it for 20 minutes.
Nutrition