It's all in that spice rub and the sauce! You get the heat and warmth from the pan-fried fish and to compliment that, a tangy sweet smack from the raw papaya salad. Sundays for me are meant for either takeout or fuss-free cooking. This spicy fried mackerel with raw papaya salad is a pleasingly balanced, carb-free meal that took me less than thirty minutes to fix. And the combination totally works.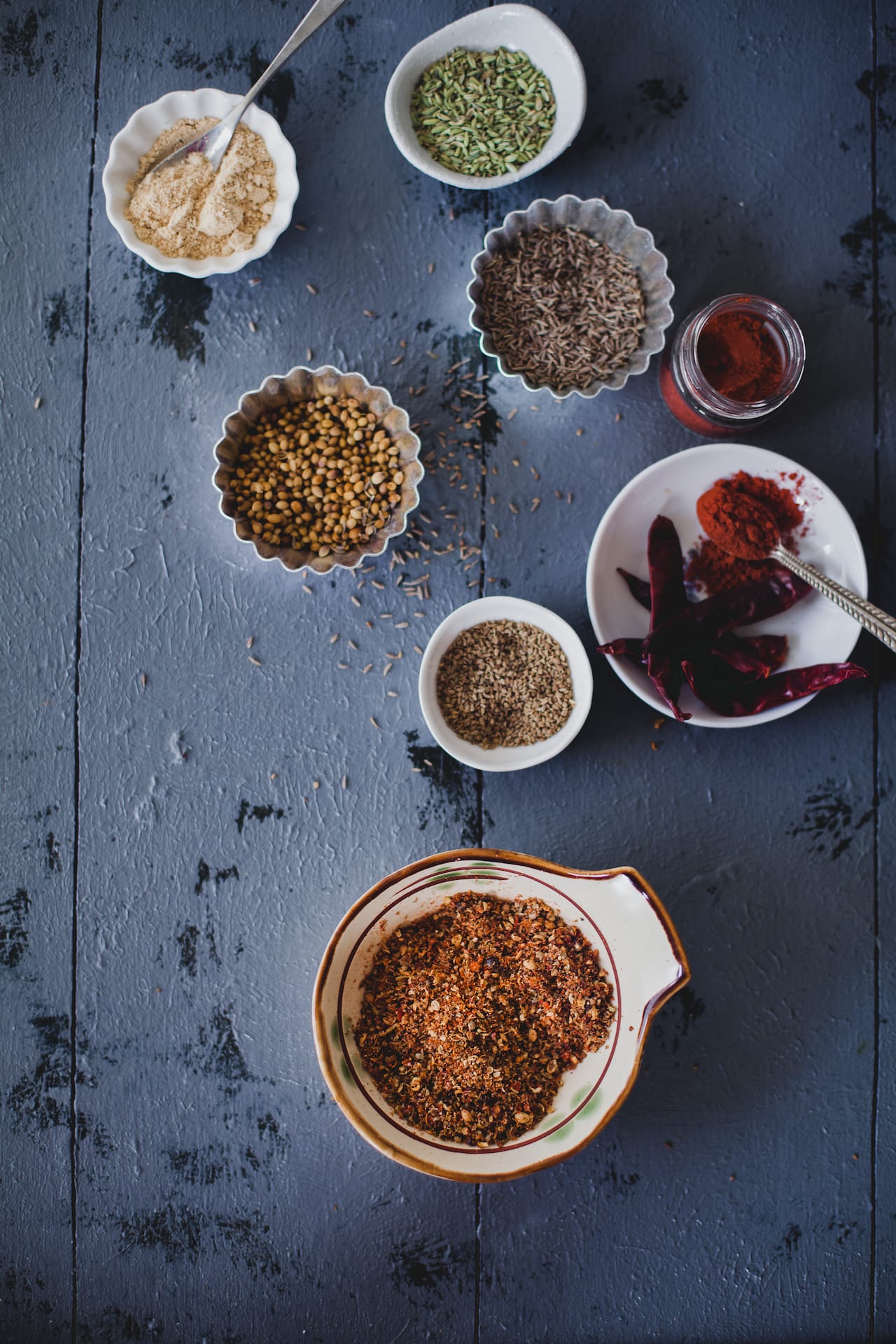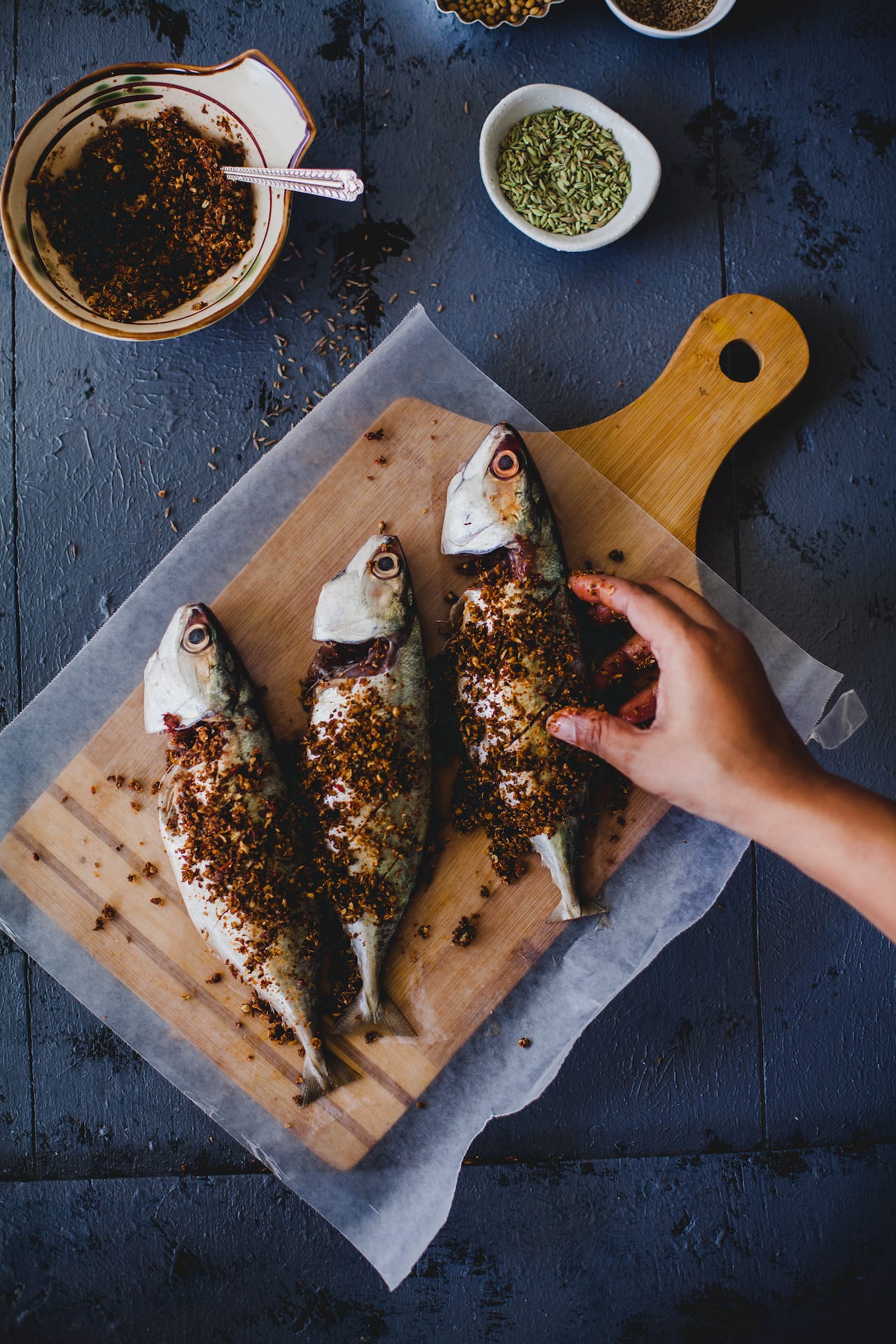 I like a simple fish fry that's just seasoned with salt and pepper but occasionally, I like to explore and make a spice rub. This particular one turned out wonderfully fragrant. There is earthy cumin, citrusy coriander along with the anise aroma of fennel seeds. Some hotness from dry red chili and a sharp tang from dry mango powder. All blended together with the pungent carom seeds. I left the texture of spice mixture coarse, which gives that depth and adds a lovely crunch as well.
Along with the fried fish, I was fancying something light. A salad was a clear choice and the large raw papaya that was gazing at me finally came to some good use. The first time I tasted raw papaya salad was in Bangkok. It was so uplifting and delicious. I was not much into cooking back then, so I didn't even bother to find out the recipe. Last weekend, when I was making the salad, the dressing/sauce was more like an experiment. I just went ahead remembering the taste and determining the components. Coconut milk for the subtle sweetness, peanut butter for the nutty flavor that always works with papaya salad and blended together with some fresh cilantro and soy sauce. There was several tastings and tunings in the process but the end result was exactly what I wanted. I could easily use this dressing/sauce as a dip too.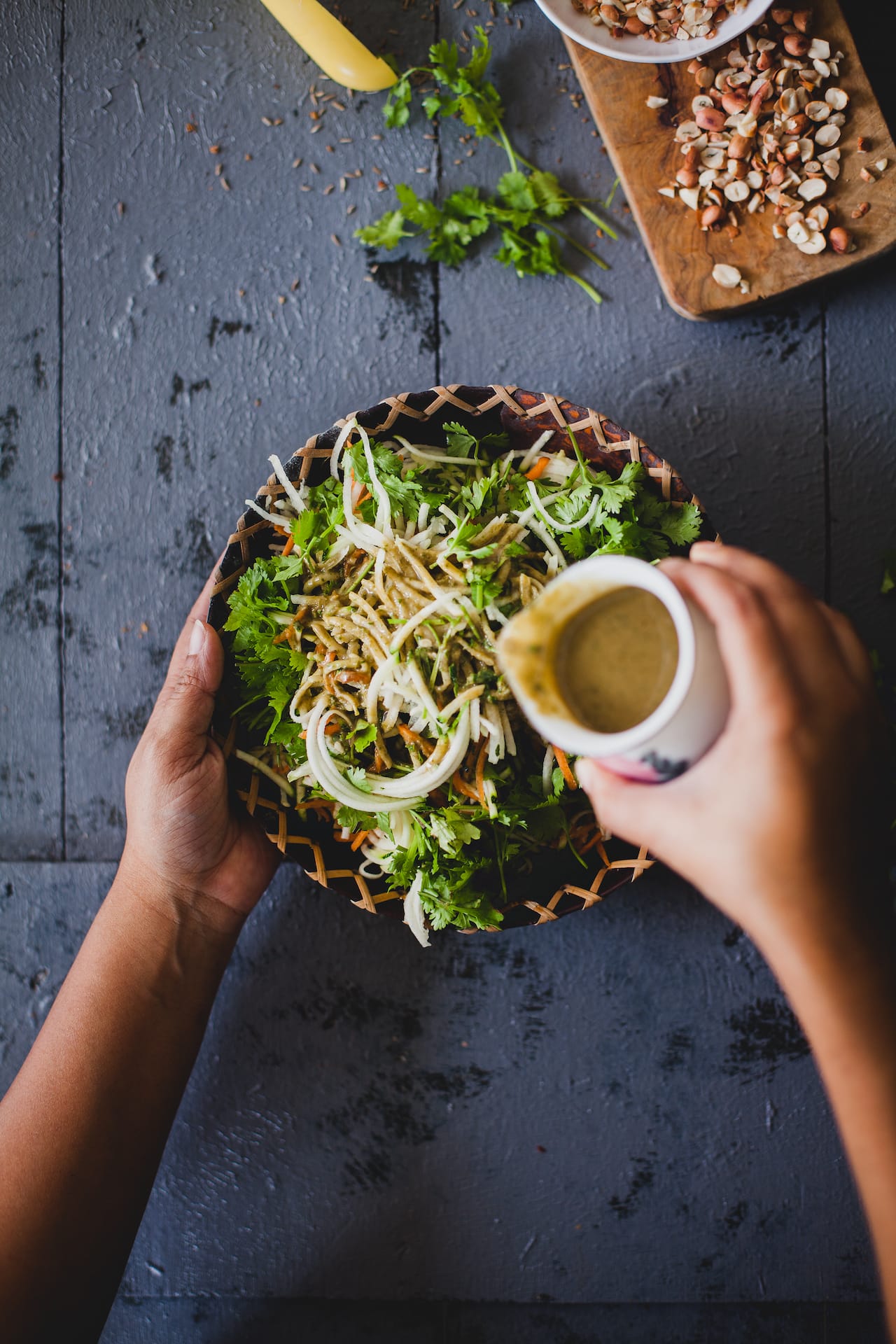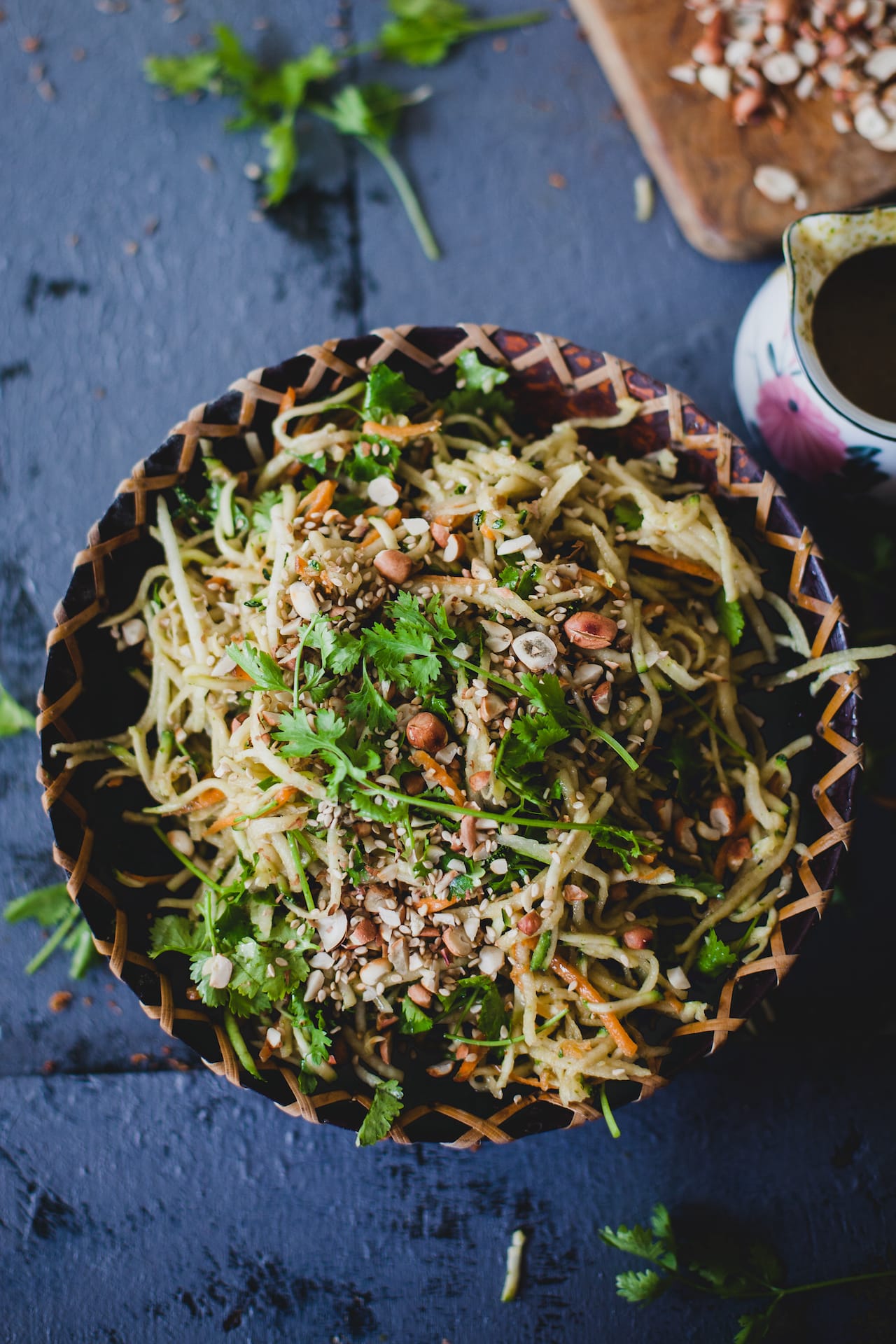 Sunday lunch was a recipe testing that turned into a success. That sauce/dressing and that spice rub made it a delicious meal.
Spicy Mackerel With Papaya Salad
Ingredients
for fried mackerel
3

mackerels

(cleaned and heads removed)

2

tablespoons

coriander seeds

1

tablespoon

cumin seeds

1

tablespoon

fennel seeds

1

teaspoon

carom seeds

1

tablespoon

dry mango powder

3

dry red chilies

salt

oil
for the salad
1

medium size raw papaya

(julienned peeled)

1

medium zucchini

(julienned peeled)

1

large carrot

(julienned peeled)

a bunch of fresh cilantro

2

tablespoons

sesame seeds

½

cup

roasted peanuts

1

cup

coconut milk

1

tablespoon

soya sauce

juice and zest of 2 limes

1

tablespoon

peanut butter

1

red chili

salt
Instructions
To prepare the spice rub, put coriander seeds, cumin seeds, fennel seeds, carom seeds and red chilies into a food processor and dry blend it to a coarse consistency. Mix dry mango powder, salt and 1 teaspoon oil to the dry spice rub and marinate the mackerels with it. Allow it to rest for 15 minutes.

To prepare the salad sauce, put coconut milk, about 1 cup fresh cilantro leaves, peanut butter, zest and juice of 1 lime, soya sauce and 1 red chili. Give it a blend and keep it aside to mix with the salad later.

To pan fry the fishes, heat 2 tablespoons of oil in a pan and place the fishes carefully. Allow it to cook in medium heat for about 3 to 4 minutes. Give it a flip and allow it to cook for another 3 minutes. Add little more oil, if required.

In a salad-serving bowl, place the julienned peeled veggies along with roughly chopped fresh cilantro. Pour the salad sauce/dressing and give it a rough mix. Garnish with sesame seeds, roasted peanuts and some fresh cilantro leaves.

Serve the fish while it's still warm along with the raw papaya salad. If you like a little more heat, garnish with 1 red chili on top.
Notes
The cooking time will depend on the size of the fish and also the kind of fish you are using for the dish.
Dry Mango powder is quite easily available in Indian stores. However, you could substitute it with sumac or lemon zest. The taste will be slightly different but it would work just fine to give that tang in the spice rub.
Nutrition