I was prepping for dinner when I got distracted towards the television. Brian Boitan was sharing his love for a special corn fritter that he ate at E&O Asian Kitchen in San Francisco. Who doesn't like deep-fried snacks and anyways, SF is not far from my place. But then again, I was not sure I could wait long enough for a trip! Quickly I switched off the stove and started making notes of whatever information I could gather while observing the chef. She made it sound so easy but even after multiple attempts, it didn't come out half as close to what the chef had presented.
Deep fried cooking doesn't happen a lot often at our home. We both love it but we avoid it as much possible. My Mom always says, never give up any kind of food that you like. If it's not healthy, eat less and savor the moment. And so we did!
The first attempt was a disaster. I almost burnt my finger, the kernels were getting separated in the oil, it got overcooked and the first few fritters went straight from the wok to the bin. Being stubborn that I am, didn't want to give up. I lowered the heat and this time with much caution, I dropped the mixture in the hot oil. Result – all my fingers were still in place and the fritters came out crispy, crunchy and sweet at every bite!
I had my doubts if Arvind would like it and he proved me correct. It was not as savory or as spicy as he would have preferred in any such snack bites. So, the next time, I gave my own little Indian twist to the mixture. I added garam masala, along with amchoor (raw mango powder), some cayenne powder and fresh mint. And this time, I didn't deep-fry it; rather pan-fried it in a cast iron pan.
We both loved it and gulped it down with some cold beer.
Summer corns are a delightful creamy treat and one should relish some before the season goes away. Growing up, I don't remember eating a lot of corn. It would mostly be the grilled corn that we would buy from the roadside food stalls. This year, I am taking inspiration from everywhere and eating a lot more fresh corn than ever.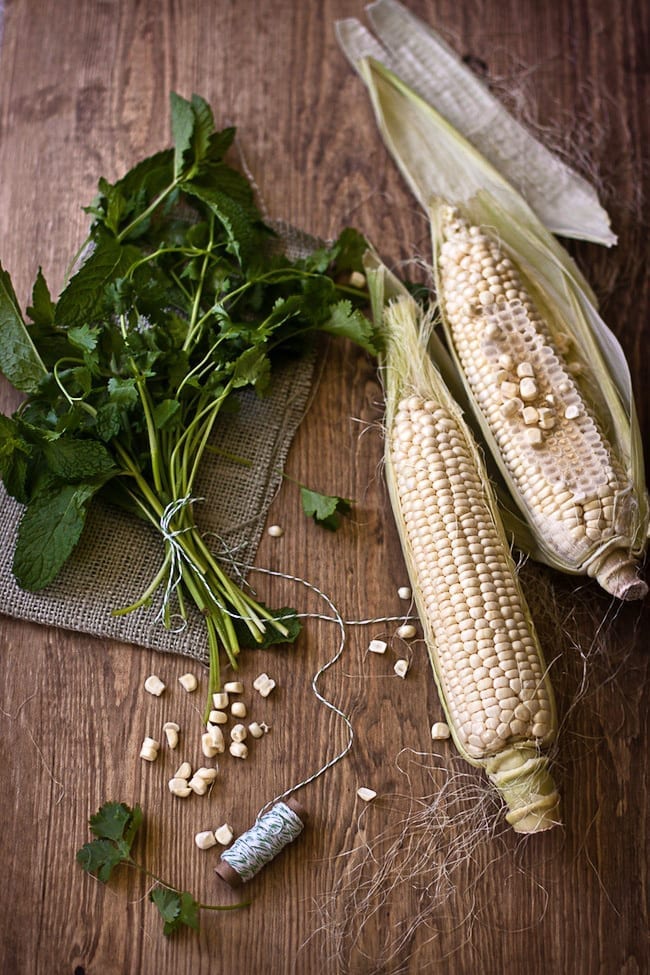 While making this fritter, just make sure not to over mix the ingredients. The mixture can be prepared in advanced and fried later. I still have to visit that restaurant and enjoy some of those Indonesian fritters but until then, I am going to enjoy the home made Indian version ones!
Spicy Corn Fritters
Ingredients
3 fresh corns
1 egg
2 cloves of garlic, grated
1 inch ginger, grated
1 bunch green onions, finely chopped
1 tablespoon garam masala powder
1 teaspoon cayenne powder
1 cup fresh mint, finely chopped
1 cup fresh cilantro, finely chopped
3/4 cup corn flour
1/2 cup semolina
salt
oil for frying
Instructions
Remove the husk, clean the silk and using a sharp knife, slice the kernel off the corn into a mixing bowl.
Then, add rest of the ingredients except oil and using a wooden spoon mix everything.
If you want to deep-fry it, use a wok and heat enough oil. If you wish to pan fry it, use a cast iron pan and heat about 3 tablespoons oil.
Spoon the mixture and very carefully, pour it on the wok or the pan. If you are using the pan-fried method, use the spoon to spread out the mixture just a little bit so that it flattens.
Let it fry for about 3 minutes on each side.
Serve immediately with you favorite dipping sauce. I like to sprinkle some chat masala on it while serving.
Did you enjoy this Spicy Corn Fritters? Share your creation by tagging
@playfulcooking
on Instagram with the #playfulcooking and I will re-share in my story!