I am a seafood lover. Give me fish in any form.. grill, baked, steamed or fried.. I will always enjoy it. As a kid, I didn't eat any shell fish, thought it was very unappetizing!  My mom always prefer fresh water fish but this time when I visit them, I will make them try some scallops for sure, if not any other shell fish.
Last weekend, we saw these gorgeous scallops in our local market, they were shinning white. There was no way I could have ignored it and immediately bought a pound. I had no clue what I was making with it but few ideas were constantly running through my mind. 
I bored Arvind a lot with my ideas and to shut me up, he finally added some of his own and we came up with this simple dish, which was sweet, spicy and delicious. The sauce was totally his idea 🙂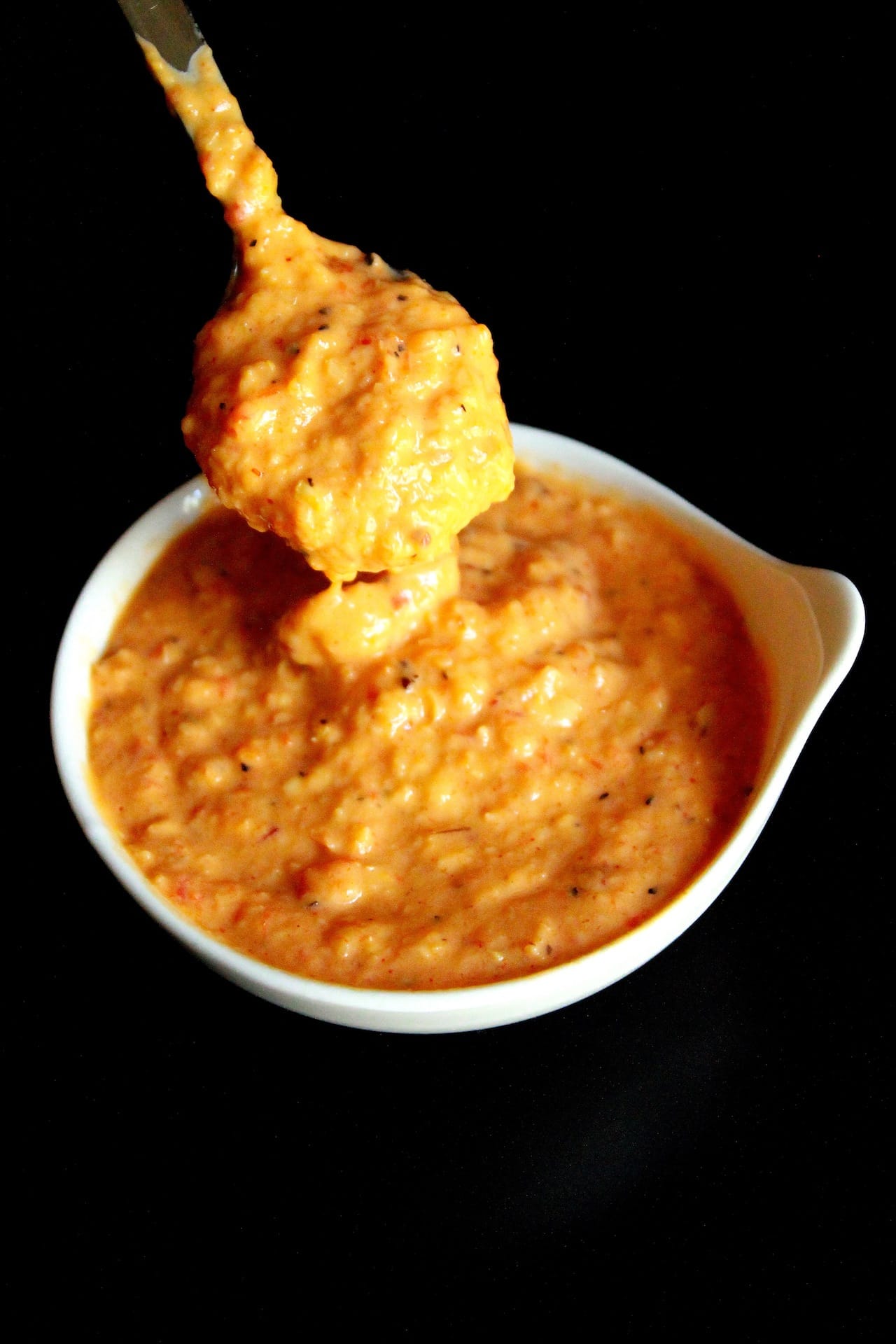 Summer is in full swing and Food Network is kicking it off with Summer Fest! Every other week, an interesting seasonal produce is featured and we cook something new to share with everyone. This is the first time I am joining the group with this week's theme.. Corn.
At first, I wanted to make Corn Masala, something I enjoyed a lot in Bangalore. It's healthy, super-easy to make and almost like a salad except that it has only spice and no other vegetables. I changed my mind after Arvind discussed the idea of sauce with me and I could almost taste it. I knew it will go very well with the pan fried scallops.
These days, corns taste like candies. As I was roasting the corn and the pepper, the entire house was smelling of sweet corn. I had no intention to add any spice to the sauce but it was a little too sweet for a savory dish and so, had to add some chilly and cumin powder to balance out the sweetness.
Frying scallops hardly takes any time but the technique is very critical. An overcooked scallop tastes horrible, gets chewy and becomes inedible.
Scallops with Corn and Pepper Sauce
Ingredients
For the sauce
1

corn

(husk removed)

1

red pepper

1

tbs

butter

1

tbs

flour

1

cup

milk

1

tbs

chilly powder

juice of half lemon

oil

salt

pepper
For the Final Plating
6

piece

scallops

10 to 12

baby bok choy

1

red onion

(thinly sliced)

1

tbs

butter

oil

salt

pepper

chilly powder
Instructions
Brush the corn and pepper with some oil, salt and pepper.

Roast it at 400 F for about 40 minutes, turning it half-way though.

Remove the kernels and grind it to a smooth puree.

In a pan, add 1tbs butter, flour and cook for about 3 minutes.

Add puree and milk to the pan and mix them properly.

Season with salt and pepper. Add cumin powder and chilly powder and cook for another 4 minutes.

Finally, add the lemon juice, give it a mix and keep it aside. Your sauce is done.

In another pan, add some oil and saute the bok choy and onions separately. Don't cook for more than 4 minutes - keep the crunchy bite and don't make it soggy.

Once done, keep it aside.

Using a paper towel, pat dry the scallops. Dust it with some salt and pepper.

Heat another pan with 1 tbs butter and once it hot enough, put the scallops.

After about 2 minutes, turn it to the other side and cook for another 1 minute.

In a serving platter, add some sauce in the base.

On top of the sauce, arrange some bok choy followed by some onions.

Arrange the scallops on top of it and add some more sauce on top.

Garnish with some more onions and serve it hot.
Nutrition