Spiced starchy bite size, almost mashed potatoes along with peas all stuffed in a flaky pasty, deep fried to golden brown! Potatoes and Peas Samosa is my all my favourite Indian snack. And I love to pair it with a perfect cup of Indian Masala Chai. It took a while and few failed attempt to finally get the recipe right. If you follow all the tips, you will get it right too!
Samosa is one of the most popular Indian snack!
Close to our old apartment, there is this very popular Indian sweet and snack shop. It is always jam-packed, serving folks their favorites. They definitely make sure no one misses their favorites from back home. Almost every Friday evening, Arvind would stop there from work and pick my all time preferred – samosa. A short message from him and I would quickly start prepping masala chai. By the time he reached home, tea would almost be ready and samosa would still be warm. What better way to start the weekend? Over the period of time, it almost became a ritual. Then we moved to a different area and the shop was way out of his route. I love samosa and had to learn how to make it at home so that occasionally we could go back to our Friday evening customary.
There are wide varieties of filling you can use in samosas. My favourite pick has always been the classic potato and peas.
Key tips to make perfect flaky samosa!
Just like it's important to use cold butter and ice water to make a flaky piecrust, it's equally essential to start deep-frying the samosas in room temperature oil and not drop these in hot oil. Allowing it to fry the samosa slowly as the temperature rises creates that crispy flaky crust that we all love the most about this snack. My friend Prerna shared this knowledge with me that she learned from local vendors in India. That is the perfect source and it worked like a wonder. Success finally!
Well, it's true that by doing so, it soaks a lot of oil, which is why samosas should never be your everyday diet. Make it occasionally, but make it perfect.
Samosa Filling:
I don't prefer too spicy filling and I also prefer it simple.No matter what stuffing you want, make sure to keep it dry and not too soggy. My favourite choice is boiled potatoes tiny bite size, sautéed with some spices and then mixed with some peas.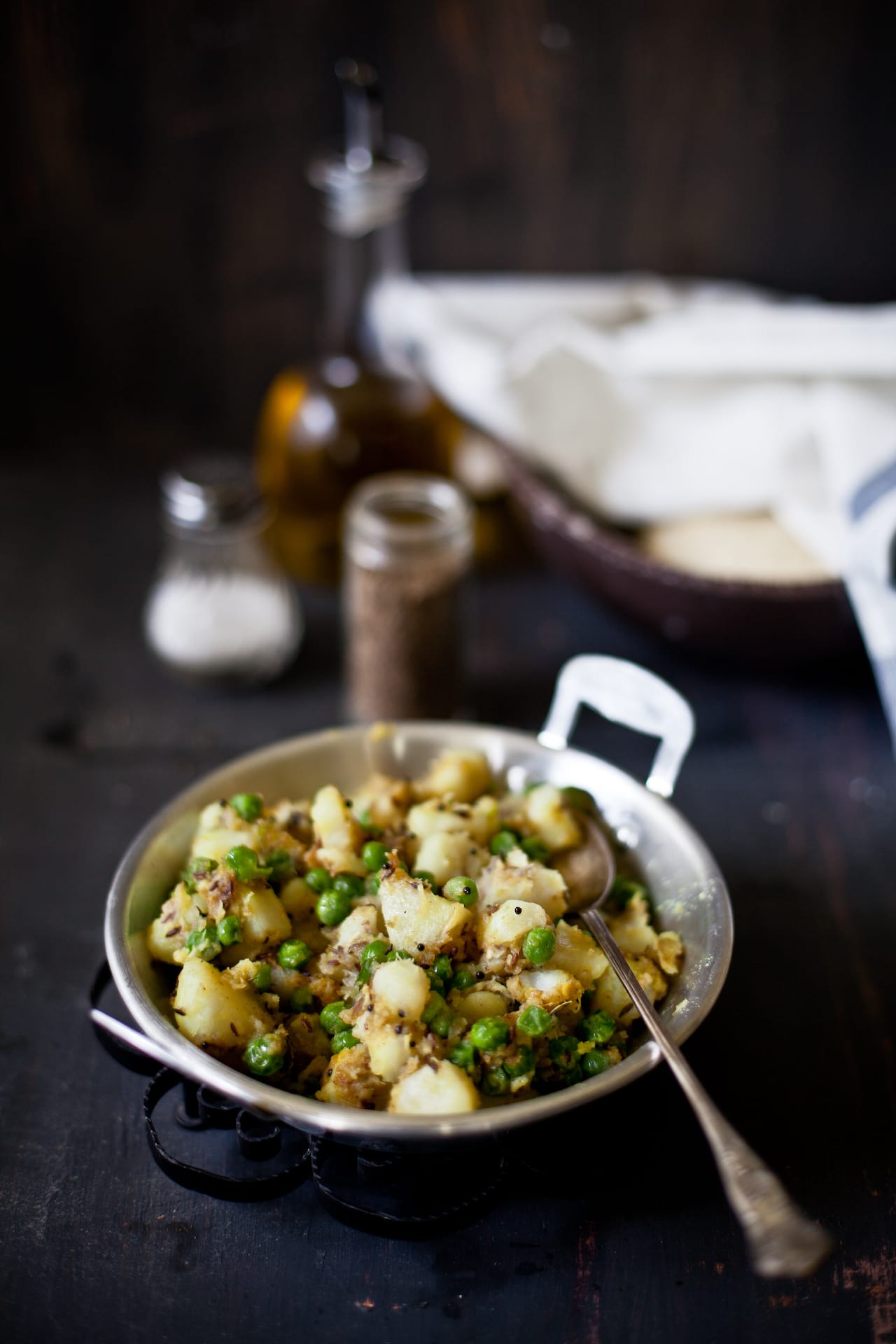 What kind of flour to use?
The preferred choice is always all purpose flour but you can surely keep it healthy by using whole wheat flour. Just keep in mind that all purpose flour with give a light flaky crust. Whole wheat might make it little dense.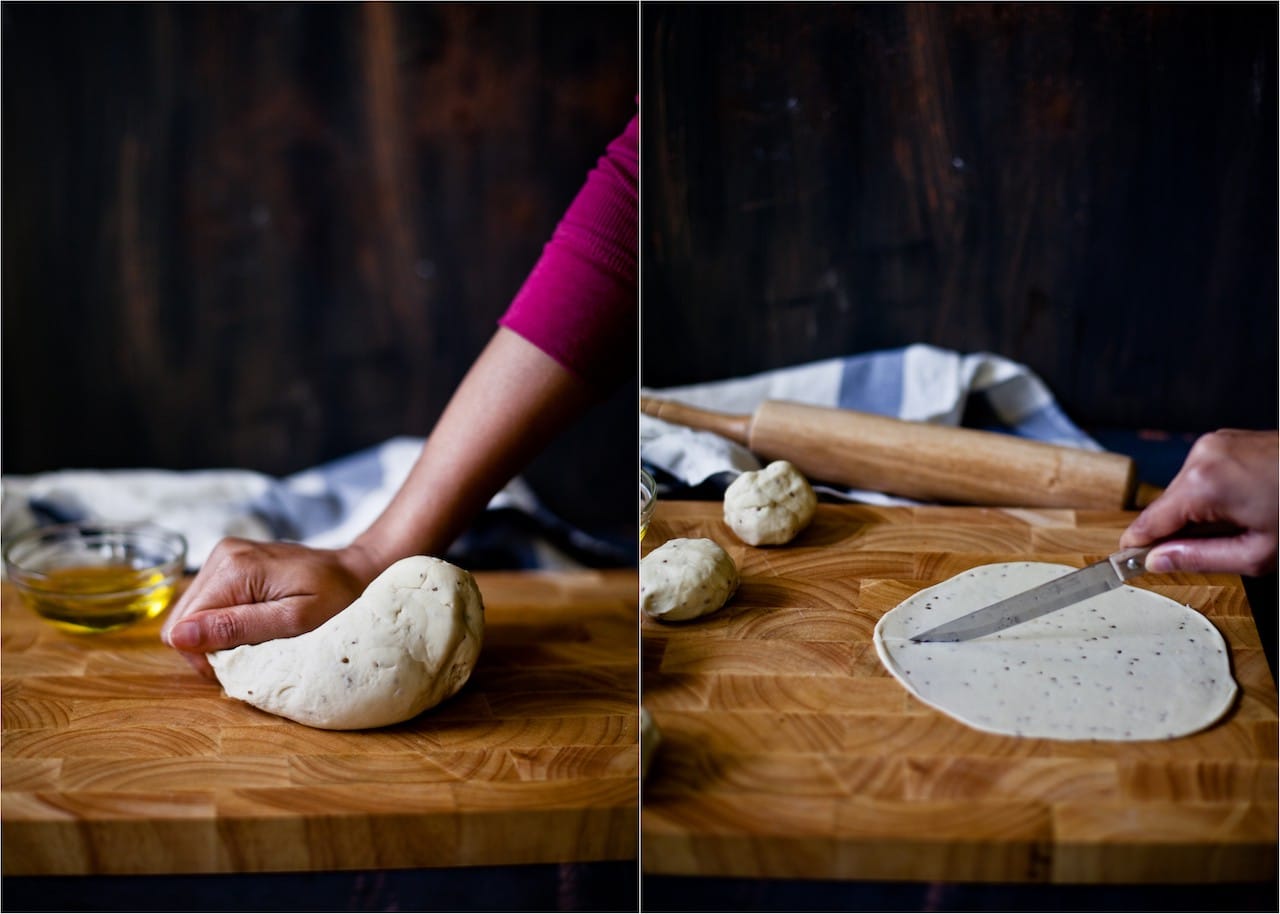 Shaping the Samosa
Roll the dough thin and a little oval instead of circle. This will help you shape the cone better.
I normally just pinch the edges and it seals fine. But if you are worried, rub a little water in the edges to seal it tight.
It's important to seal the samosa tight, so the filling doesn't come out when you fry the samosa.
Also do not over stuff the samosa.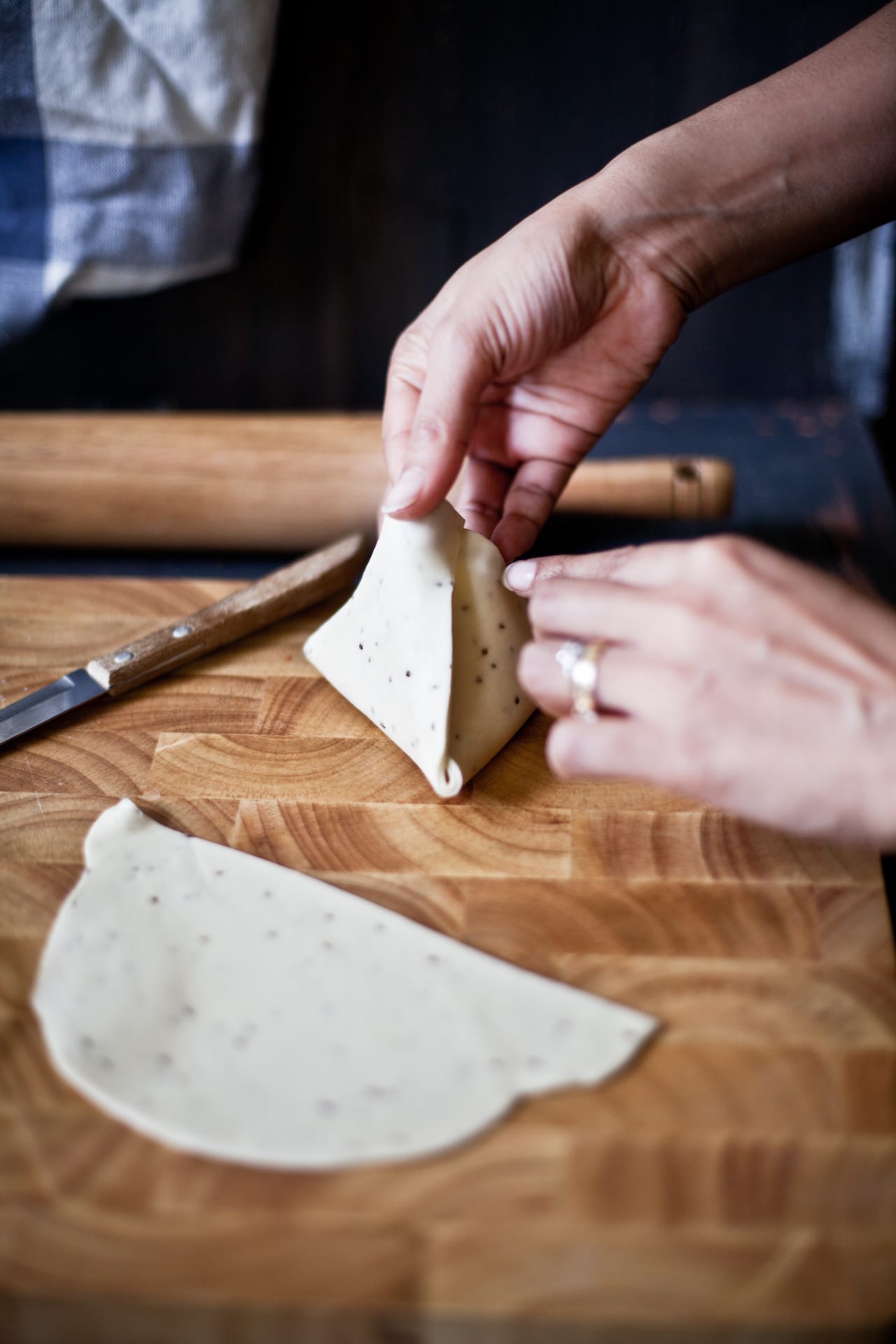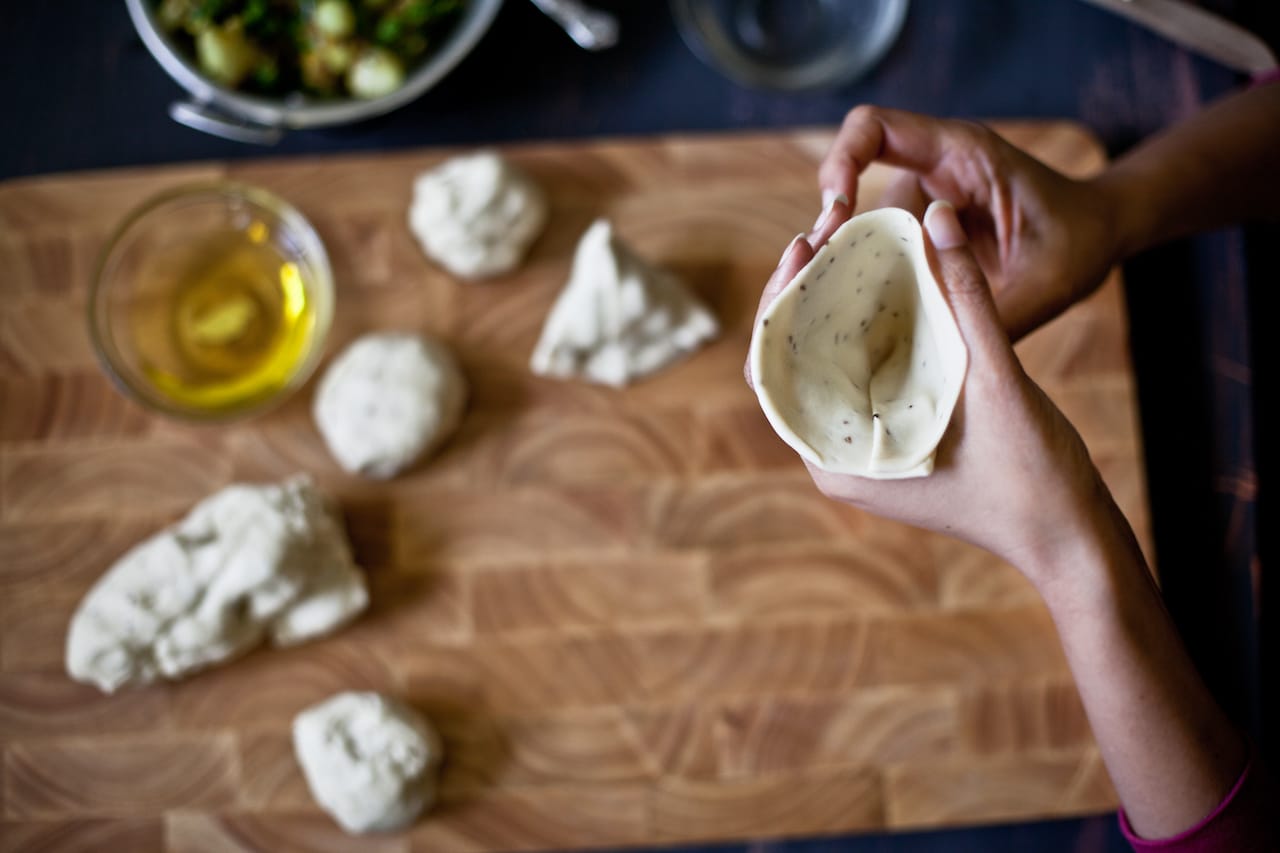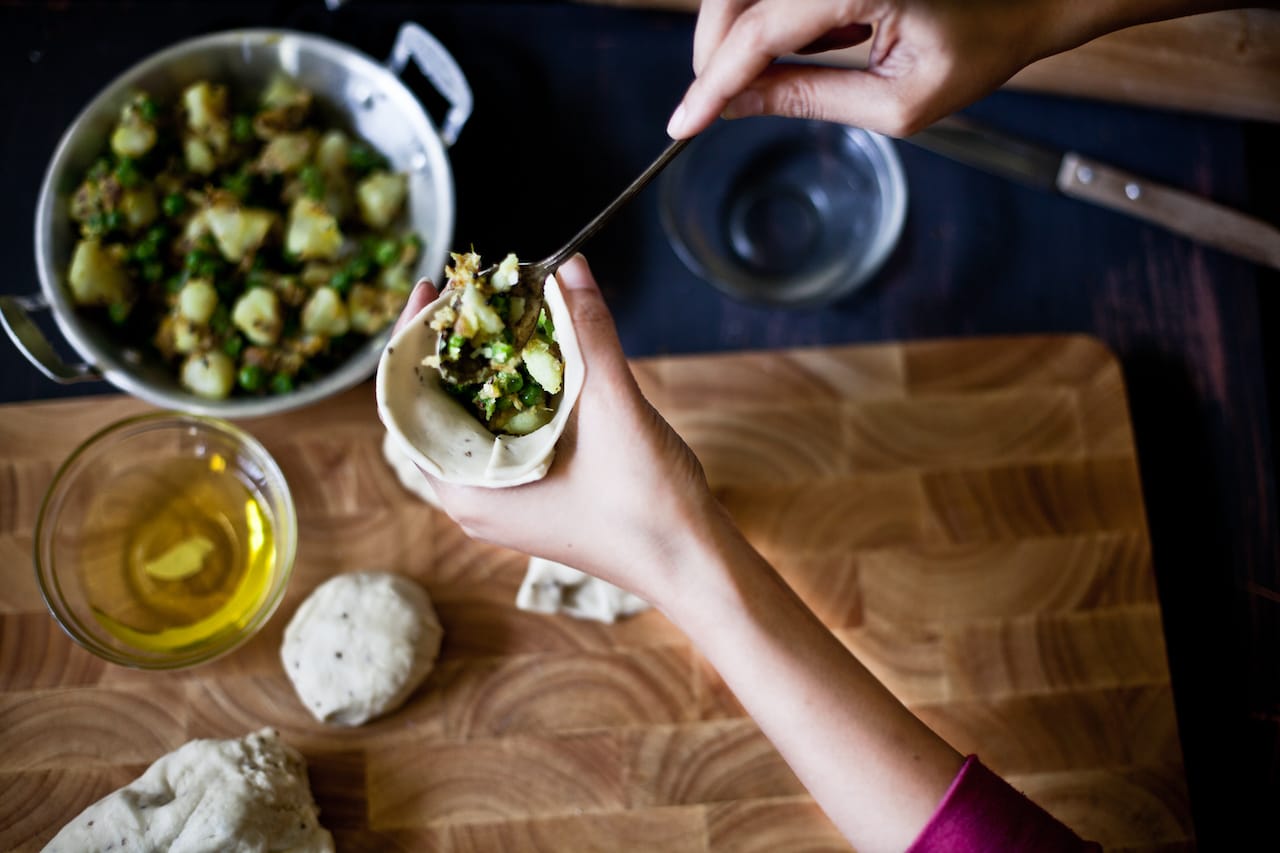 Can you bake or air fry?
You absolutely can! However the taste will be very different and not authentic. I always prefer deep frying because I make it very occasionally and eat just one or two.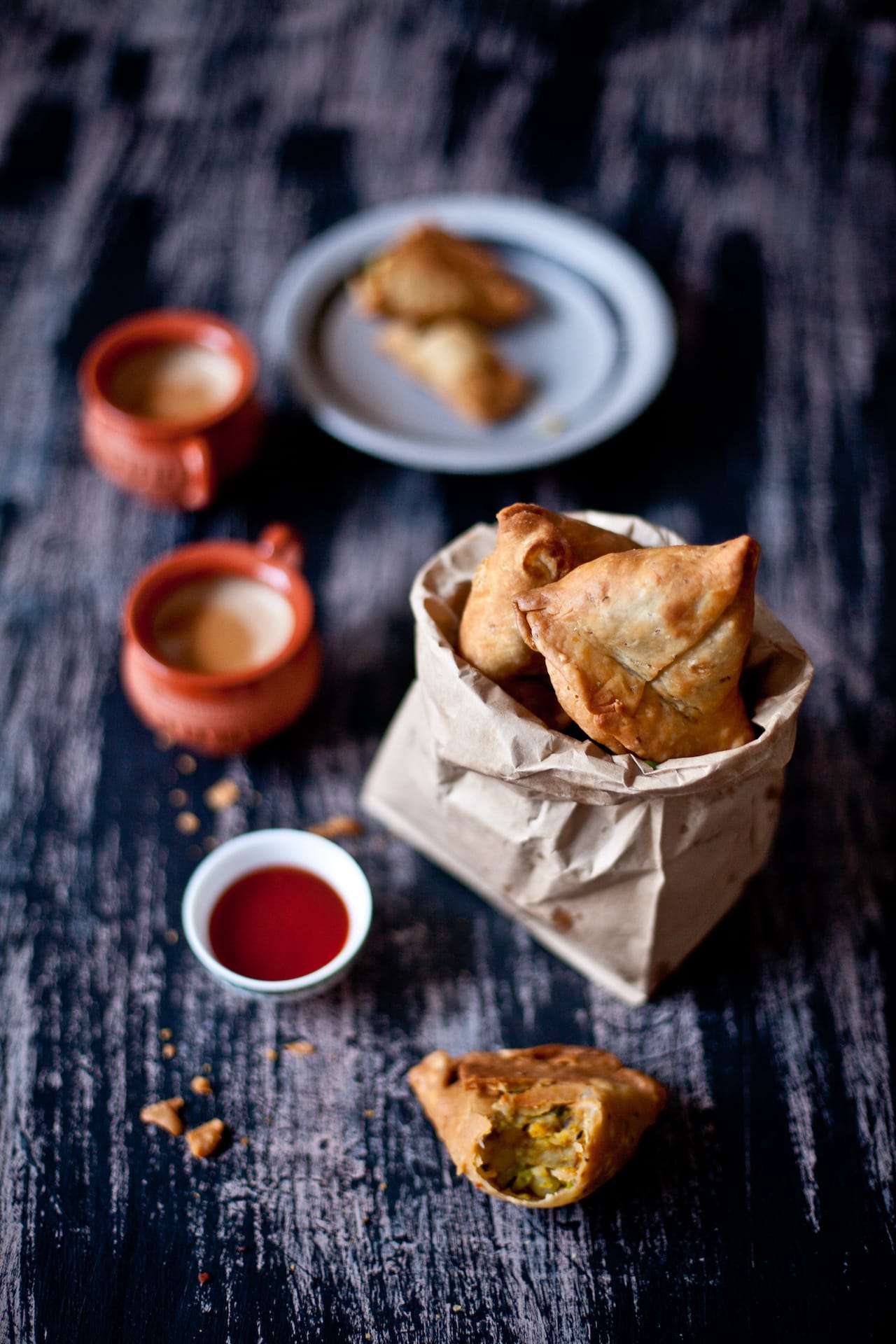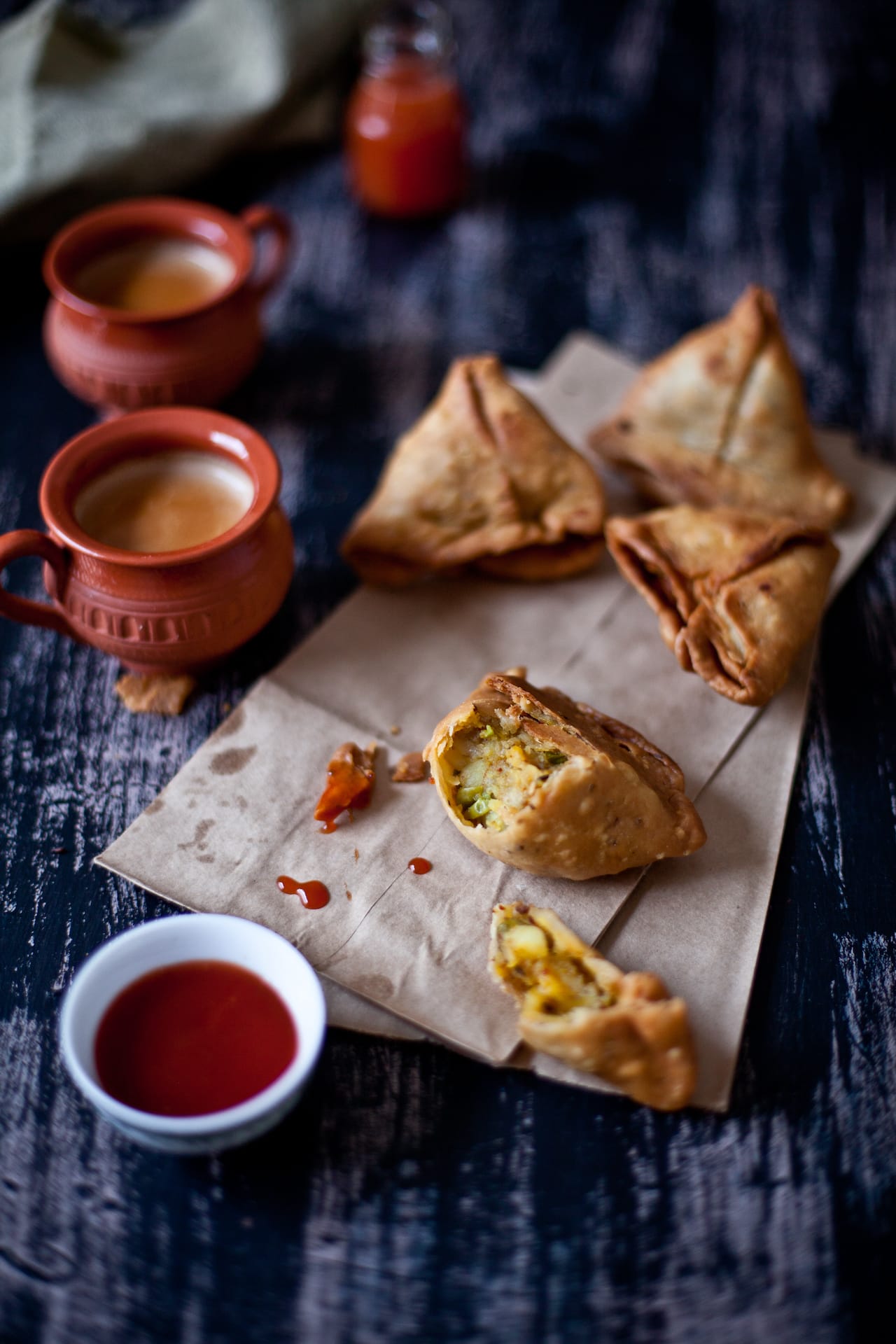 I can never get bored of this flaky, deep fried, savory filled pastry. And while most people like to pair it with green chutney or tamarind sweet chutney, I need nothing more than some ketchup and a hot cup of tea.
And thank you Sam for being such an awesome hand model. If only I could borrow you for all my posts!
Potatoes and Peas Samosa
Ingredients
for the dough
1-½

cup

all purpose flour

3

tablespoons

oil

1

teaspoon

carom seeds

1

teaspoon

salt

water for kneading
for the filling
2

medium size potatoes pealed and boiled.

½

cup

peas

½

teaspoon

mustard seeds

½

teaspoon

chili powder

½

teaspoon

cumin powder

½

teaspoon

dry mango powder

salt
Instructions
In a bowl, combine flour with salt and carom seeds. Now, pour oil and mix it with hand thoroughly. Once the flour holds itself when held in your fist tightly, you can start pouring water little by little until it forms dough. Cover the bowl and let it rest for about 15 minutes.

In the mean time, make the filling. Cut the boiled potatoes in tiny bite sizes and add chili powder, cumin powder and dry mango powder. Add salt if you didn't add while boiling the potatoes and give it a rough mix.

In a small pan, heat 1-tablespoon oil and add mustard seeds. It will splatter, so be very careful. Add peas and fry for about a minute. Next, add boiled potatoes and give it a stir. Check for salt and add any, if required. Once done, keep it aside and allow it to cool completely.

Once the filing is cool and dough is rested enough, give the dough another knead and divide it into equal size balls. Make big balls (about 21/2 inches in diameter), because each ball will make two samosas. Mine were medium size samosas.

Roll out the ball into a circle; slice it with knife in the center, take one semicircle in hand and form a cone. Place it in your hand comfortably (follow the pictures above to understand better) and fill about 2 tablespoons of the mixture. Pinch the end to seal it tightly and allow it to sit on the board to make a flat bottom. You can rub some water at the edges if it's not sealing properly.

In a big wok or deep pan, pour enough vegetable oil and drop a few of the samosas. Bring the heat to medium and allow it to fry slowly. Do not overcrowd the pan and rotate it in between to brown it on all the sides. Once done, lift it from the oil and keep it in a kitchen towel, allowing it to drain any excess oil.

Allow the oil to cool down before you fry the next batch.
Notes
It's very important to start frying the samosas in room temperature oil and not hot oil. Allow the hot oil to cool completely before you fry the next batch.
Nutrition
Serving:
8
medium size samosas