On certain lousy days, there are two very specific things I like to do. Make a huge mug of coffee and laugh with FRIENDS back to back or put on an apron and surrender myself to flour. As I sift, mix and blend flavors, I build up this expectation that when the hot oven starts spreading the fresh baking aroma, it would change the crappy-me to happy-me. The kitchen is definitely a mess by then, but the effort works most of the time, unless of course what comes out of the oven looks worse than my state of mind. In that case, I switch off the light, don't bother to clean up for the moment and go back to watching two more episodes of FRIENDS and call it a day.
Thankfully, a good baking day arrives more often than awful days and luckily; baking to me is not only therapeutic but also entertaining.
I have had several baking disasters in the past and most of the times it would be while baking cookies. I haven't burnt cookies yet but very often, the end result would turn out to be hard as a rock that could knock someone down with one straight hit. Not that I have tried, but I am pretty sure it might do that. And every time that happened, I would be disappointed thinking about the wastage of food and energy. Looking at a brighter side, there was learning at every step and eventually my techniques improved. These days, we relish more and fear less of our teeth getting chipped.
Shortbread biscuits, butter cookies or butter biscuits as I like to call them, are filled with fresh rosemary and fennel seeds, a flavor composition that worked wonderfully. These are not the kind of biscuits that you dip in soup, but a mix of sweet and savory that goes perfect with tea or coffee. The fennel seeds added a sweet aroma and the pungent rosemary avoided the cookies from getting overly sweet. It was crumbly and melted in our mouths.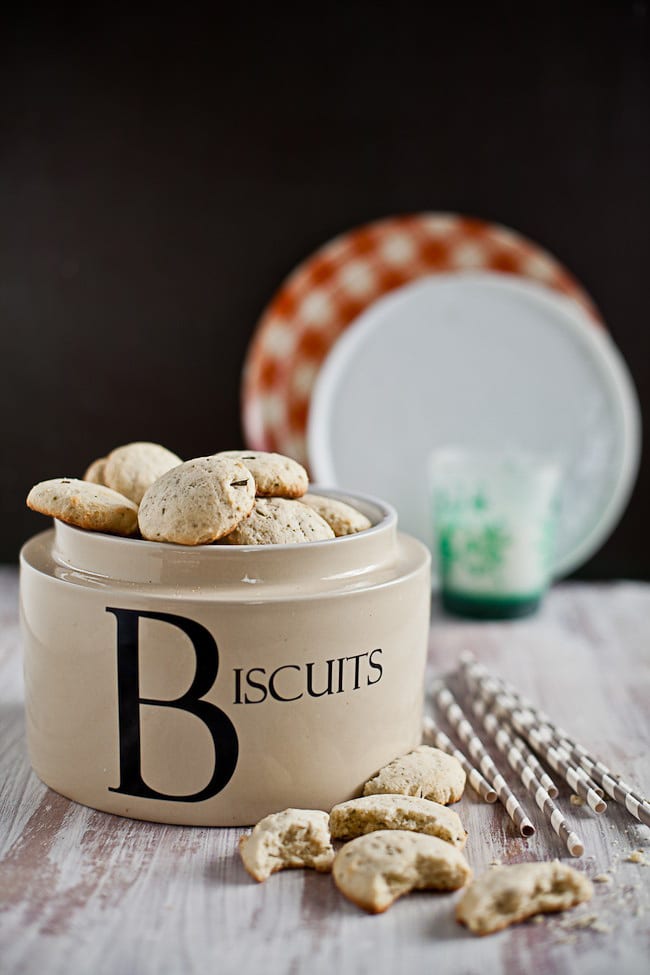 I played my favorite guessing game with Arvind after he ate the first one. He goes "fennel plus that herb" and even before I could ask him which one, he took out a couple marshmallows, toasted it on the stovetop using a fork and made a sandwich with the biscuits.
Huh! That was fun. I guess good butter biscuits always help the child inside us wake up and play around. Later at night, we sat with more of these biscuits and a huge mug of hot chocolate. Successful baking and delightful treat, it was a beautiful day!
Rosemary and Fennel Butter Biscuits
Ingredients
1-½

cups

all-purpose flour

¼

cup

cornstarch

1-½

cup

butter

(softened at room temperature)

½

cup

sugar

⅛

teaspoon

salt

1

tablespoon

crushed fennel seeds

1

tablespoon

finely chopped fresh rosemary
Instructions
Preheat the oven to 375F and line baking sheets with parchment paper.

Mix flour, cornstarch, fennel seeds, rosemary and salt in a bowl.

In another bowl, whisk butter with sugar until it's smooth and creamy.

Pour half of the dry mixture to the butter mixture and give it a mix. Pour the rest and mix till it all comes together. Do not over mix it.

Using an ice cream scooper, scoop out about 1 tablespoon of the dough and place it in the baking sheet. Place the scooped dough about an inch apart. Flatten the scooped dough slightly using your hand or back of a spoon.

Bake it for about 17 minutes or until the edges turn light brown in color.

Leave the biscuits in the baking sheet for 5 more minutes before you move them to the cooling wire rack.
Notes
Do not over bake the biscuits or else, they will become hard. When the edges get brown, the cookies should be done. It might feel undercooked, but don't worry. It continues to bake as you let it rest in the baking sheet giving it the perfect soft crumbly texture.
Nutrition
Serving:
1
about 25 biscuits