We both are bread lovers and every other week, we like to bite something new. Cheesy, crusty, spongy, soft buns, loaded with jalapeno or herbs; if it looks good, we pick it. Long back, we had borrowed our friend's bread maker, which we used almost every other day. That was the first time I saw little yeast buddies and the very first time I ate freshly baked homemade bread. I was on carb high for a while and it soon made me realize how much Arvind enjoys fresh bread. The warmth cozy feeling was inspiring and I wanted to learn bread baking.
It would have been easy to buy a bread maker of our own and Arvind tried his best to convince me but then, what's the fun in that! May be someday in future, I will buy my own gadget too but for now, I want to see the yeast activate and witness the dough double in size. I want to touch the dough and shape it as I like it and watch it change color as it bakes in the hot oven.
For the past year or so, I have been baking bread very frequently, sometimes even twice a week. And ever since Arvind surprised me with the sexy blue KitchenAid stand mixer, it became a lot easier. My right hand and right shoulder thanked him big time!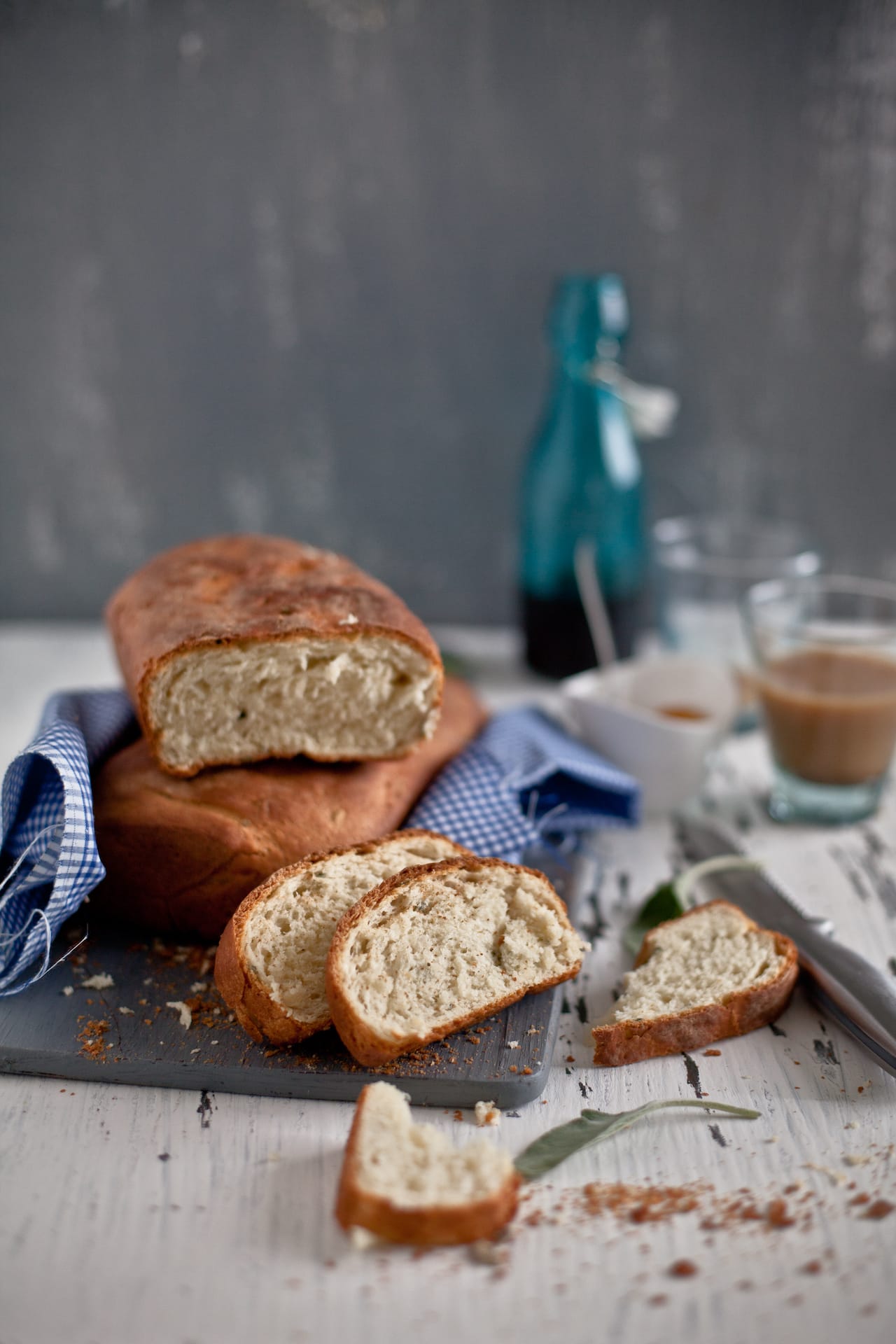 Baking is relaxing and some even say it's like a therapy. I agree with that. It helps you to ponder on your thoughts as you work on the dough and teaches you to gain patience as you wait for the bread to rise. It's an act that needs attention and time. In the past months, I made countless disasters and then eventually, I started to get the hang of it. With more and more practice, I am slowly absorbing the complexity of baking breads at home.
It doesn't scare me anymore.
One book that helped me a lot is Bread Making by Lauren Chattman. It's a great book for people like me who are novices and eager to learn baking bread at home. The easy language and detailed explanation about the science involved in baking eased me into grasping the logic. This bread recipe is adapted from the same book.
It was easy to put together and the bread came out just flawless. It had the perfect crumbly crust and chewy soft center. Fresh ricotta cheese added richness to the taste, kept it moist and sage added the flavor. I was extremely happy with the end result.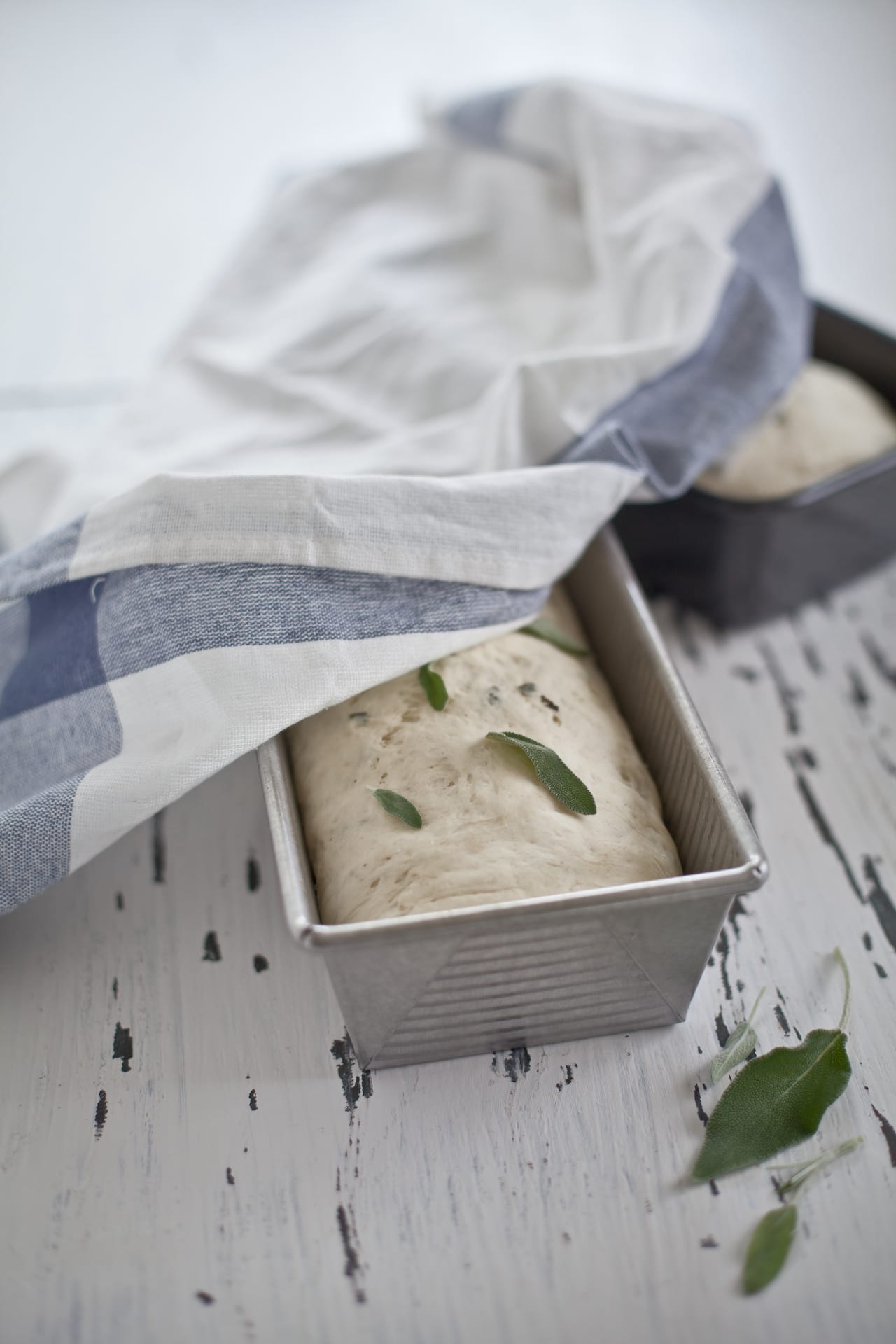 Ricotta And Sage Bread
Ingredients
¾

cup

warm water

2

tablespoons

sugar

1

tablespoon

yeast

3-¼

cups

all-purpose flour

1-½

teaspoons

salt

¾

cup

ricotta cheese

12

fresh sage leaves

(finely chopped)

2

tablespoons

olive oil
Instructions
In a cup, pour water with sugar and yeast. Give it a mix, cover and let it rest for 5 minutes to activate.

Add flour, salt, cheese, oil and chopped sage leaves in a bowl. Give it a mix. Make a well in the center and pour the activated yeast. Using a rubber spatula, give a mix to form rough dough.

Now, if you are using a stand mixer, attach the dough hook and knead at speed 2 for 12 minutes. If you kneading by hand, scrape the dough in a lightly floured counter top or wooden board and knead until it's smooth and elastic. It should take about 15 minutes.

Once the dough is ready, make a rough round ball of the dough and place it on a bowl that's lightly brushed with oil. Cover it with clear wrap/kitchen towel and keep it in a warm place. Give it a couple of hours to rise and double in size.

Once done, scrap the dough from the bowl to a wooden board or kitchen counter. Using a knife or a bench scraper, divide the dough in half. Gently flatten one part of the dough into 8-inch square. Make a light dent across the square and gently fold the dough over itself, pressing lightly on the edges. Lift it and place it on the loaf pan, seam side down. Repeat the same with the second half of the dough.

Cover the loaf pans with clear wrap/kitchen towel and let it rise once again for an hour.

Bake it in a preheated oven at 375F for 40 to 45 minutes. It will get a beautiful brown crust and when you knock in the center, it should feel hollow.

Remove bread from the loaf pan and put in on a wire rack to cool down. Give it about an hour before you slice the bread.
Notes
If you are using whole-wheat flour, you might need 2 tablespoons more water and 1 tablespoon more oil while kneading.
Depending on the weather and temperature inside your home, bread might rise sooner or later.
You can also slow rise the dough by keeping it covered in the fridge overnight. Next day, allow it to rest for an hour at room temperature before you shape the bread and keep it for a second rise.
Nutrition
Serving:
2
4-by-8- inch bread