In India, not many people are used to eating pork or beef but if you grow up in Shillong, it's tough to ignore it. One of the most popular dishes in Shillong is 'Jadoh' - a pork and rice dish found in every corner of the street.
Few months back, my friend Madhu opened a group in Facebook called 'Pork-Lover' and asked me if I could cook something special for the group. Well, why not! what are friends for 🙂 I have always enjoyed this red meat and decided to try Pork Vindaloo.
Vindaloo is originally derived from the Portuguese dish "Carne de Vinha d' Alhos" which is made with pork, wine and garlic. The dish was modified by addition of vinegar instead of wine and lots of kashmir chilies, which gives a rich color to the dish without making it too hot!
I have always wanted to try this recipe at home but my only concern was to convince Arvind. He is not a fan of red meat and specially, when it's in a curry. He prefers grilled red meat along with mashed potatoes. Having said that, he is one of those people who don't mind trying out any recipe, which makes me a very happy food blogger 😉
When it comes to a dish like Vindaloo, you need a lot of patience. Letting the meat marinate overnight is a must and then once it's cooked, you need to let it rest for another night. Trust me it will be worth the wait! Also, it's a slow cooking process and that's how all the spices combine to make the dish flavorful with the soft and juicy meat.
I used boneless meat and if you don't eat pork, you can try it with chicken too. Cooking time will differ depending on the meat you are using. Also, some people may prefer to boil the meat in advance, which will also reduce the entire cooking time.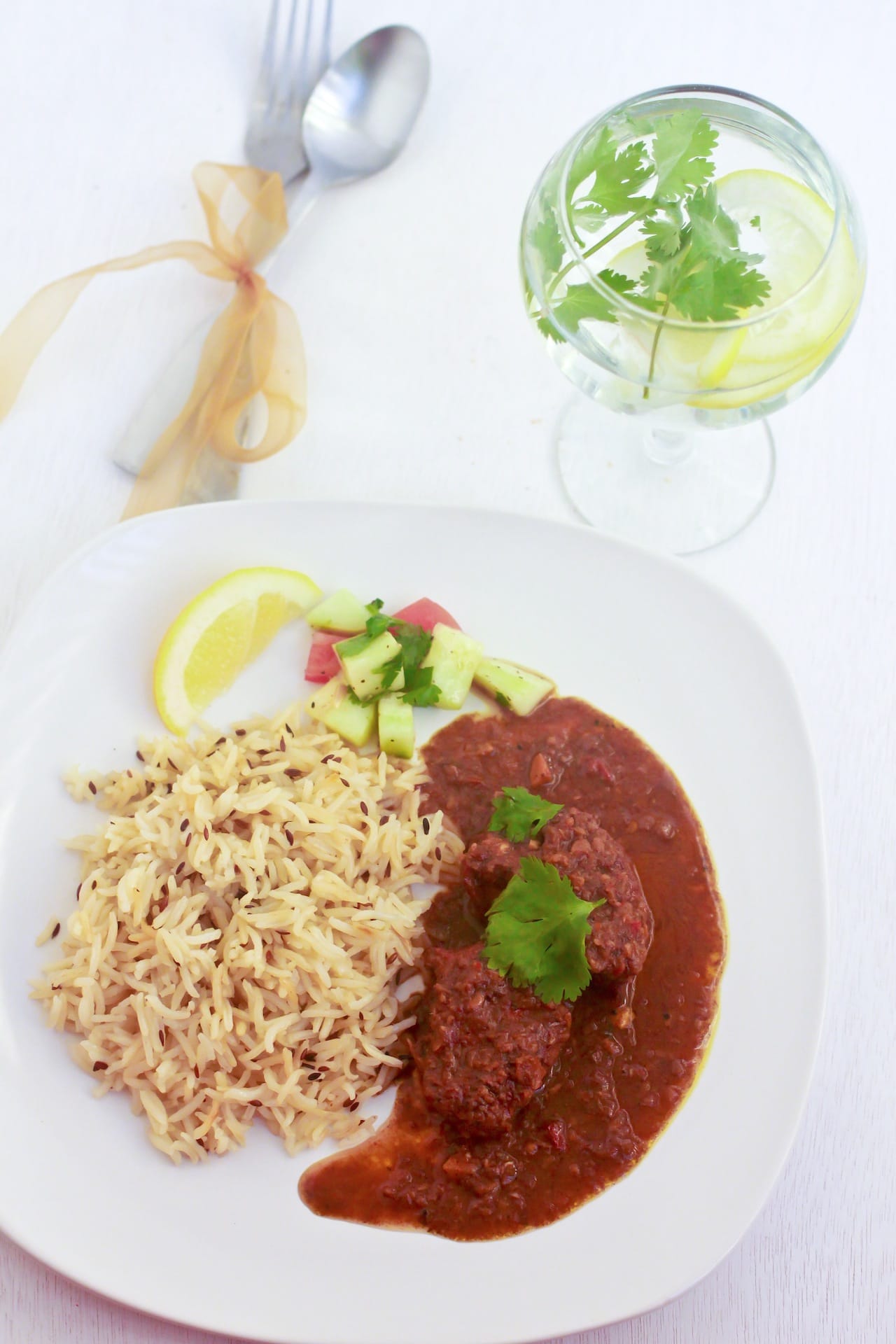 We enjoyed it with cumin rice and a simple salad. This simple salad goes perfect with this spicy curry and back at home, it was a tradition to make this salad every time we ate any meat curry.
The salad is made from cucumber and tomato, cut into bite size pieces, dressed with salt, pepper, lemon juice and fresh cilantro. Simple and quick!
Please feel free to add yourself in the group if you are a pork lover. It will make my friend and me very happy 🙂
Pork Vindaloo
Ingredients
1

lb

pork

(cut into bite size pieces)

1

large onion

(thinly sliced)

1

medium tomato

1

cup

red wine

(I used zinfandel)

salt

oil

cilantro

(for garnish)

1

inch

cinnamon stick
For the vindaloo paste :
6 to 8

kashmir chilies

1

inch

ginger

(grated)

6

garlic cloves

(finely grated)

2

tbs

cumin seeds

6 to 8

whole peppers

1

teaspoon

cardamom seeds

2

tbs

coriander seeds

juice of one lemon

salt
Instructions
In a pan, dry roast kashmir chili, cumin seed, whole pepper, cardamom seeds and coriander seeds separately for about 2 minutes.

Once done, let them cool and then, grind them to a fine dust.

Add lemon juice, garlic, ginger and salt to them and mix it properly.

Rub the spice mix on the pork and let it marinate for 8 hrs minimum or overnight.

In a deep pan, heat some oil and fry the pork pieces individually. Retain the juice from marination as it will be used later.

Once fried, keep the pork pieces aside.

In the same pan, add the cinnamon stick and onion and cook until the onion is translucent.

Add tomato and cook for another couple of minutes.

Pour the cooked onion and tomato into a food processor and blend it to a course paste.

Pour it back to the pan and add the fried pork. Also, add the remaining juice from the marinade.

Cook for few more minutes and add 1 cup water.

Cover the pan and let it simmer in low heat for about 30 minutes.

The water should be  reduced and the pork should be almost cooked.

At this point, add the wine and mix it properly. Then, cover the pan and let it simmer for another 30 to 40 minutes. Keep stirring occasionally.

Check for salt and add if required.

Once the pork is boiled and soft, switch off the heat and cover the pan. Let it rest for at-least an hour. If you want the best flavor from the dish, let it rest overnight before you enjoy it!
Notes
Cooking time will differ depending on the size and type of meat used.
Nutrition