For someone who doesn't like to eat Ice Cream, I sure love to make bucket after bucket. This year, our Ice Cream Machine is not getting much rest at all. I made this Nutella Chocolate Ice Cream recently and it turned out amazing. I mean with Nutella, chocolate and cookie, how could it go wrong?
This Ice Cream was not really planned. I had a little bit of Nutella at the bottom of the container that needed to be finished and a handful of dark chocolate chips. Adding the cookies was a last-minute thought and it worked out perfectly. It added a beautiful texture to the creamy ice cream.
Flavor Balance
It's extremely important for Chocolate Ice Cream to have a good balance of sweetness so that it's doesn't taste too sweet. At the same time, it shouldn't leave you craving for more chocolate. Nutella is nutty sweet and to balance that, I added dark chocolate that you could also replace with good quality cocoa powder.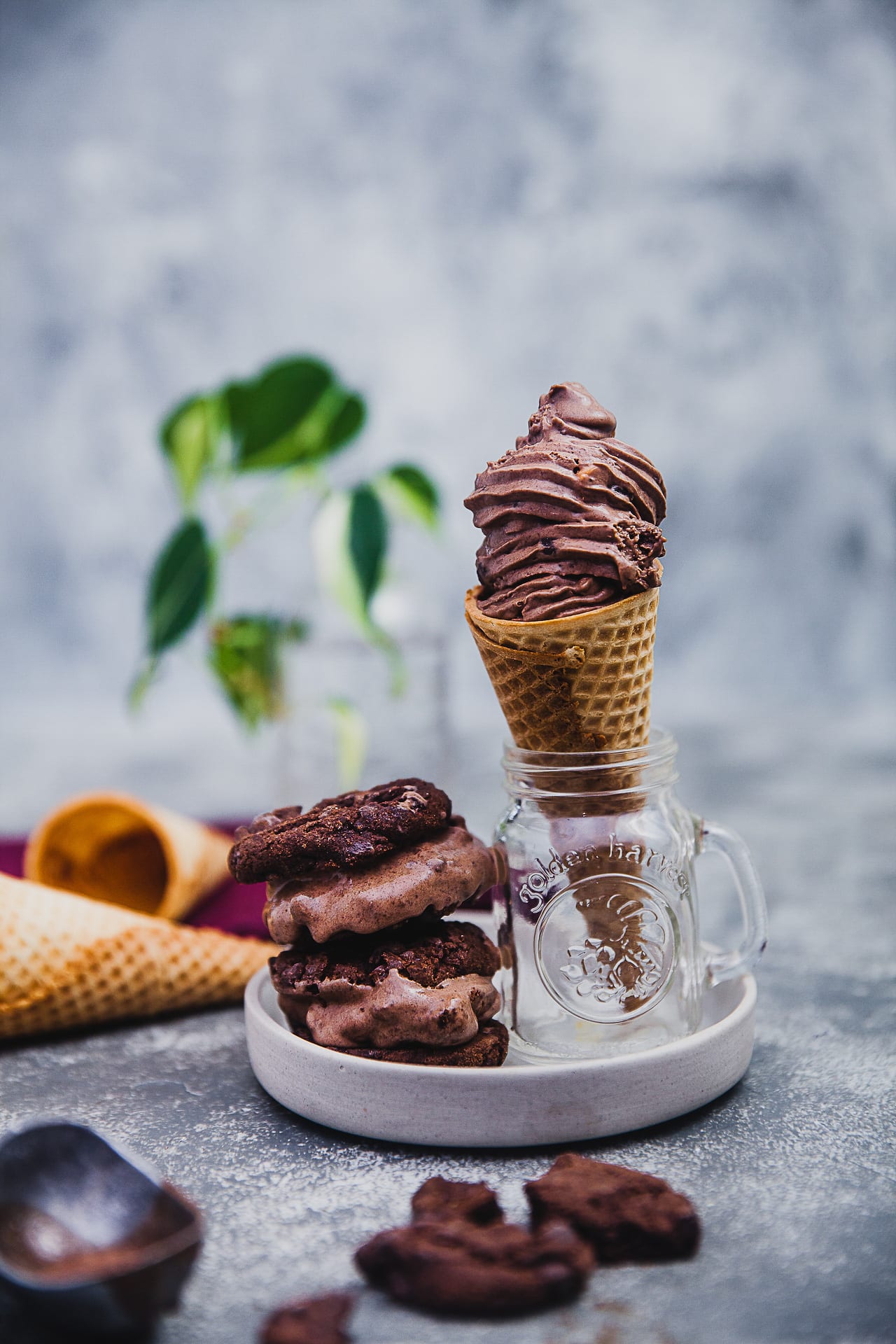 Composition of the Nutella Chocolate Cookie Ice Cream
I used egg yolks to make the ice cream base, but you could avoid eggs. Instead, you can add evaporated milk or heavy cream.
Keep in mind that if you add less sugar, the ice cream will be crystalized and not creamy. If you add too much sugar, it wouldn't freeze well.
One key tip that I learnt is to taste your Ice Cream base and it should taste a little over sweet because when it freezes, the sweetness mellows down a lot.
Churning Ice Cream With & Without Machine
With Ice Cream Machine: Make sure the bowl is cold. Keep it in the freezer for at least 24 hours. Also, make sure you chill the ice cream base in the refrigerator for at least a couple of hours before you start churning.
Without Ice Cream Machine: Pour the custard in a mixing bowl and place the mixing bowl in the freezer. Take it out every 2 hours and whisk to mix it around. Using a stand mixer or an electric whisker will make the task easy. You have to do this a few times until the ice cream consistency looks creamy and it is set.
Adding cookies to the Ice Cream was an afterthought but boy, did it taste good! I used store bought chocolate chip cookies. I just crumbled it with hand so that you get the bite in between and added it right in between churning.
Whether you decide to scoop the ice cream into a bowl or cone or just sandwich it between cookies, you will love it! Now, while I might not have reached out for the jar of Chocolate Ice Cream that often, I sure did lick the bowl clean every time I took a tiny scoop.
Nutella Chocolate Cookie Ice Cream
Ingredients
2

cups

heavy cream

½

cup

white granulated sugar

3

egg yolks

(substitute with ¼ cup evaporated cream)

½

cup

dark chocolate chips

½

cup

Nutella

4

chocolate chips cookies

(extra cookies if you want to serve it as cookie sandwich)
Instructions
Whisk the egg yolks in a mixing bowl.

Pour the sugar and heavy cream in a pan and place on medium heat. Keep stirring until it's warm and the sugar is dissolved. Take the pan off the heat once done.

Pour ⅓ cup of the warm cream to the egg yolk and whisk as your pour. Once it's mixed, pour it back into the warm cream.

Add the chocolate chips and Nutella to the mixture and whisk until its combined. Place it back at medium heat and stir for 3 minutes.

Strain the mixture and let it cool completely in the refrigerator before you churn it using the ice cream machine. When you churn, add the cookie chunks in between (keep the chunks medium, not too tiny or too big).

If you are not using ice cream machine, pour the custard in a mixing bowl along with cookie chunks and put it in the freezer. Take it out after every 2 hours and whisk. If you are using a stand mixer or an electric whisker, it will make the task easy. You have to repeat the process few times until the consistency looks creamy and it is set.
Nutrition