I just stood there, gazing at the leaves, tiny and vibrant green. Took a few pictures too, both from my camera and iPhone. It might not be that big of a deal for many but in my book, it was. My friend had said that all I had to do was to scatter the seeds, sprinkle water once a day and within couple of days, it should sprout. It totally did! Green, lively micro fenugreek leaves. Growing them was the easiest of all. Those petite leaves look so adorable that I just allowed it to grow for as long as they lasted. I might have used a few sprigs on fritters and that's about it. It was one of those few successful proud moments of gardening in my life. Eventually, the plant did die! I must have either forgotten to water the plant or overdid it. That's always the case. I am just terrible at gardening.
Arvind thinks I should start with cactus, but am not giving up yet. It's still my dream to have an edible garden someday. For now, I will just depend on the market.
Methi/Fenugreek had not been my preferred choice of flavor until a few years back. Credit goes to Arvind, who likes fresh fenugreek leaves a lot. So I started cooking with it more frequently. I prepared it with lentil soup, stuffed it in naan, sautéed with potatoes/paneer, made fritters and then I got my favorite, preparing it with chicken. It took a while for my palate to relish the bitter pungent taste and these days, I accept it more than ever.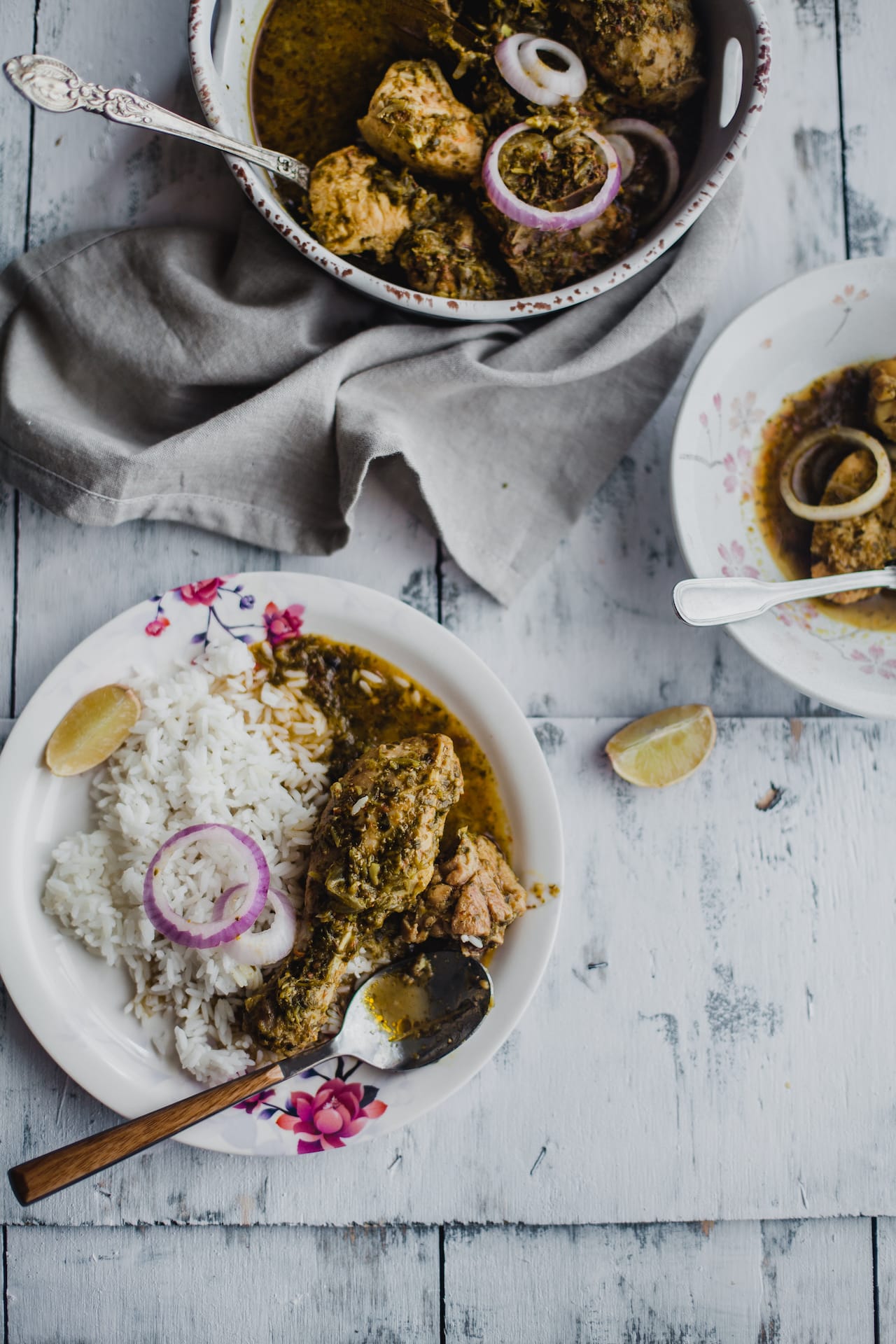 Methi Murgh/Chicken with fenugreek leaves is quite a popular dish in India. There are several versions and eventually, I found mine. Picking the leaves is a tedious task but other than that, the curry gets ready smoothly. Typically, in a chicken curry, I like to add a lot of spices but with this one, I avoid. The flavor of the fenugreek leaves is robust and I want that to shine through instead of getting submerged in the entire earthy spice flavors. With steamed rice or naan, it's quite a delicious treat.
Methi Murgh (Chicken In Fresh Fenugreek Leaves)
Ingredients
1

kg

chicken pieces

½

cup

yogurt

1

tablespoon

cumin powder

1

teaspoon

coriander powder

1

tablespoon

turmeric powder

1

teaspoon

chili powder

3

cups

fresh fenugreek leaves

(very finely chopped.)

3

garlic cloves

(grated)

½

inch

fresh ginger

(grated)

1

cinnamon stick

3

green cardamom

(crushed)

3 to 4

cloves

¼

teaspoon

fenugreek seeds

¼

teaspoon

sugar

1

onion

(thinly sliced)

1 to

mato

(finely chopped)

salt to taste

oil
Instructions
Marinate the chicken pieces with salt, cumin powder, coriander powder, half of the turmeric powder, chili powder and yogurt. Let it rest for at least 4 hrs or overnight for best result.

In a wok or a big pan, heat 3 tablespoon oil. Scatter the fenugreek seeds along with cinnamon sticks and cloves. Allow it to perfume the oil for few seconds and then drop the ginger paste, garlic paste along with the chopped onion. Sprinkle salt, sugar, turmeric powder and give it a stir. Let it cook for couple minutes in medium heat, until the onion turns mild brown in color.

Drop the marinated chicken pieces and save the marinated juice to add later. Spread the chicken pieces in the pan and let it cook for about 5 minutes, tossing once in between. Add the marinated juice and the fenugreek leaves. Stir nicely and mix everything. Simmer and let it cook for about 15 minutes. The chicken should release its juices hence there is no need to add any water but if you find it sticking to the bottom of the pan, add little water and continue cooking. Taste for salt and add any if required. Add the chopped tomatoes and let it cook for 5 more minutes. At this point check if the chicken pieces are cooked through. If not, continue cooking in low heat for few more minutes.

Once done, squeeze little bit of fresh lemon juice and serve warm with steamed rice or bread.
Nutrition