Few months back, I had shared a fish recipe in Vijitha's blog and today, she is sharing a spicy fish recipe from her hometown. This clearly shows how much we both love fish 🙂
Vijitha shares her love for Indian cooking through the stories and beautiful photos in her blog Spices And Aroma. She is one of those blogger friends whom I get to meet and chat - face to face. She not only shares recipes that will make you drool but she can also help you to stay on a diet. Check out her South Beach Diet menu to know more about it.
Thank you Vijji for taking time out and sharing this delicious Meen Kozhambhu.
Vijitha @ Spices And Aroma
1. Tell us a little about you and your family ?
I am a molecular biologist by profession and an ardent food blogger/photographer/ aspiring writer by passion. I live in the US of A with my two adorable boys - my husband and my son.
2. Why the name ' Spices N Aroma' ?
The word spice and its aroma evokes a lots of cherished memory from the kitchens I grew up eating. When I was thinking about a name for the blog, I was convinced naming it "Spices and aroma" which conveys the fact that the cuisine from my part of the world is rich in spices. Hence this blog - a tale about a foodie and her cooking hat was born.
3. How is the experience of blogging been so far ?
The experience has been exciting, inspiring and learning. It is through my humble blog I made good numbers of friends of whom I have never met in real life but in the virtual world we converse like childhood buddies.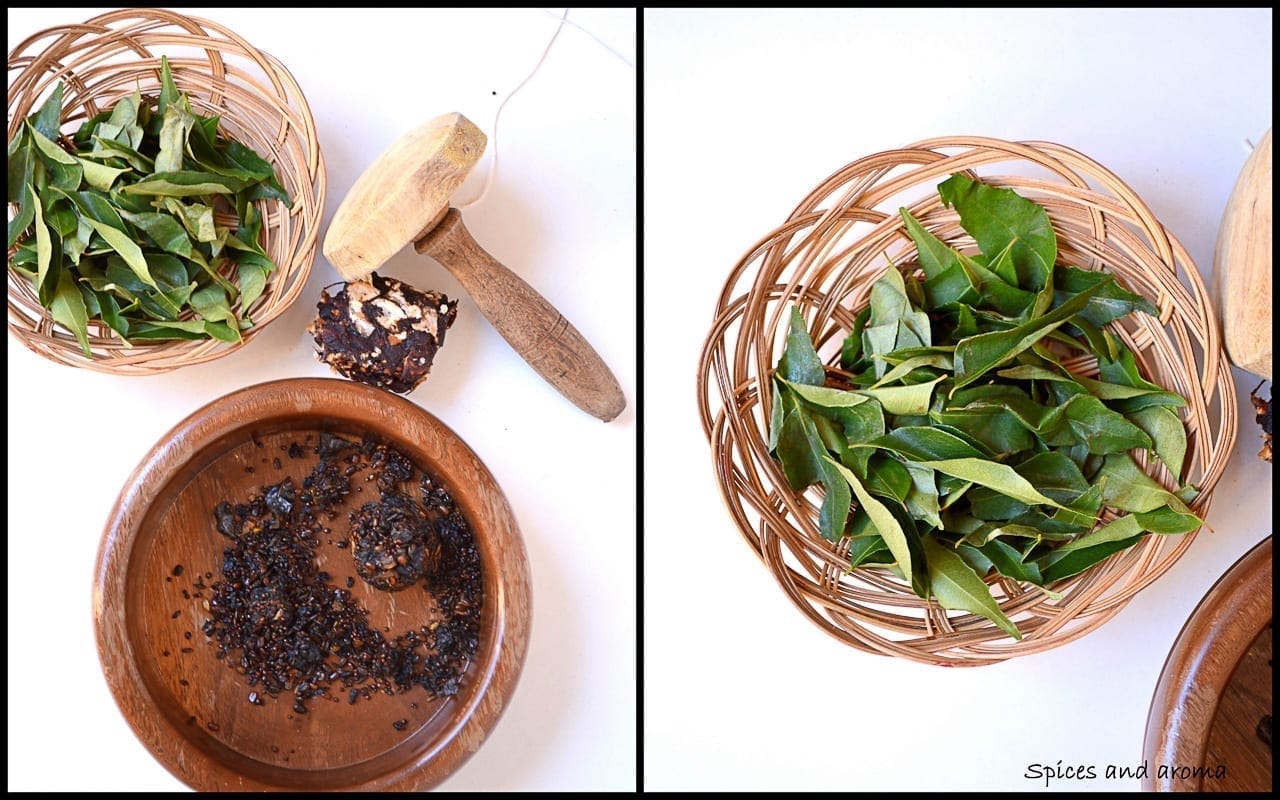 Thanks Kankana for having me over. I don't have to add any more adjectives appreciating the sweet lady for her kindness and good spirit. Our friendship has reached a point where we don't have to speak over phone/chat every other day, we don't need to praise each other for no reason and importantly we don't have to think twice before uttering a single word and we know that in our thought process we think about each other's blog (if not the personality) atleast once a day .
So here I am running straight to the post. I had been cracking my brain to decide what to cook for her blog. During one of our conversation I remember she mentioning about her love for seafood. Yes it is going to be a seafood curry from the state of Tamil Nadu. A place known for its heritage, temples, coffee, idly, dosa, sambhar and much more.
Meen kozhambhu is a very popular dish from Tamil Nadu. My mom is a hardcore herbivore and cann't really stands the smell of meat and fish. She gets so annoyed seeing me use her knives, utensils, spoons and ladles for cooking non-vegetarian dishes. It was my achi and aunts who got me in to the practice of eating meat since childhood.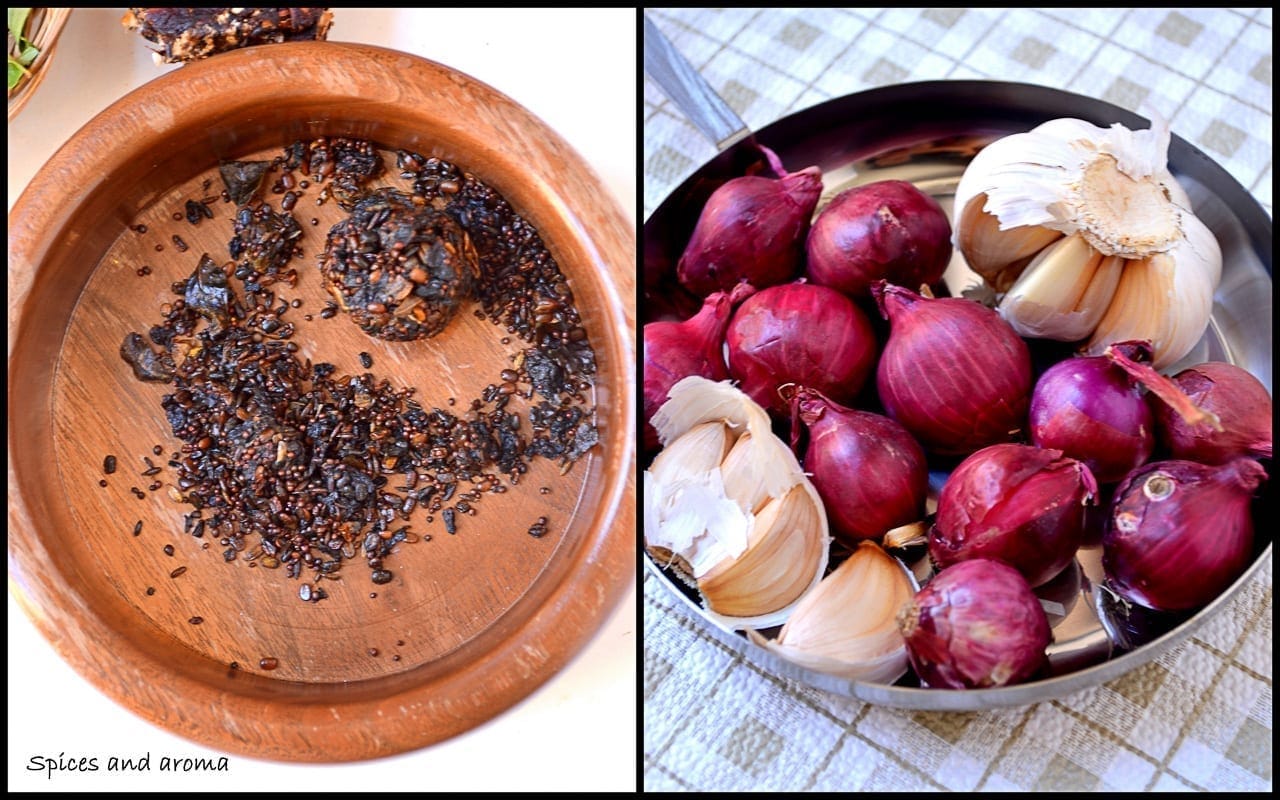 About 11 km from my achi's village, there is this boundaryless blue sea that meets with the skyline in the distance. I can still remember that beach, kattamarans placed on the shores, cosy independent houses on the other end of the road, mobile eateries on the road, backwater pond where boat rides are done and visible fishes swimming around. Even when far away from the shore, I will hear the sound of waves that would keep coming to the shore to lick the sand. Apart from these beautiful landscape images, coastal regions are also known for their fresh fishes.
Achi's home was nestled among the EID parry factory's housing complex. Her small home would look beautiful with her tiny garden. The entrance is separated by two huge coconut trees on extreme ends and aralli poo (oleander shrub) and hibiscus plants inbetween them. A majestic kollam in the front yard looks inviting for me as one enters the home. There would be acres of sugar cane fields on the way to her house. My summer breaks will always be related to her seafood dishes that are created from her humble kitchen. Her recipes were the best in town, neighbors and relatives will buzz around her like bees around a flower to have a recipe of hers in their kitchen. Her fish curry made with tamarind and marinated fish fry were one of her killer recipe. The way we would fight for the fish fries brings a huge smile on my face now, good old days. My thatha would make it a point to have fish as a definite food in the menu atleast 2 to 3 times a week when we were around. Being a hardcore foodie and experienced recipe developer, getting an appreciation from my achi for a dish I cook is so difficult. She isn't like usual grandmother's who would appreciate anything or everything their granddaughter cooks. She is one terrible critic, so best thing I realized as years went by was to not ask her views anymore he he he!! But last time I made this curry at home, she didn't say a word but her empty plate suggested that she loved it.
I cooked this gravy for my friends in UK too and they just loved it so much so that they didn't want to waste even a single drop of my fish curry. My best friend B mixed the rice inside the kadai to scrap even the last drop out. I have been cooking this dish for S every now and then. And every time I make it, it tastes perfect – spicy, tangy and delicious. All credits to my lovely achi who taught me her delicious spicy fish curry and I am sharing that recipe with you guys now.
Meen means fish and kozhambhu means gravy in Tamil. This is one of my achi's signature recipe. This is spicy gravy is cooked with tamarind juice and the taste would take you to another world. She uses a special ingredient called "vadagam" and I guess that gives it this exotic taste. Using shallots or pearl onions instead of usual onions will make the dish extra tasty. This classic
dish is a perfect accompaniment to rice and goes great with fish/shrimp fry. She cooks this in a terracotta pot and this fish curry tastes best the next day. I hope you will love it.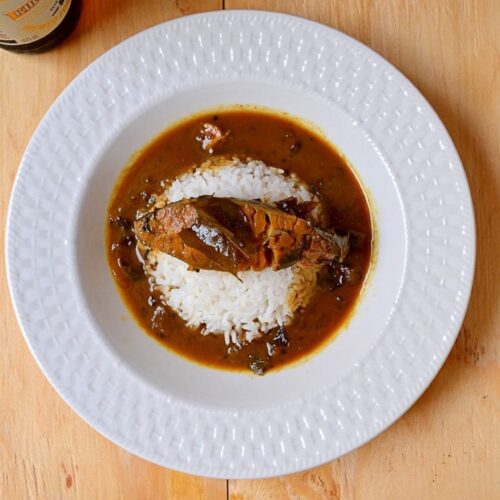 Meen Kozhambhu
Ingredients
for the curry
2

tablespoon

vadagam

(if you want it more tangy, then increase the quantity)

10-15

Shallots/Pearl onions or 2 large red onions - diced

7-8

Cleaned fish – Pomfret

(Mackerel, Sardines or Tilapia ( I used tilapia))

2

cups

tamarind pulp/juice

1000

ml

water + 500 ml

2

tablespoon

chilli powder

1

teaspoon

turmeric powder

4

tablespoon

coriander powder

10

garlic cloves - peeled

2

tablespoon

olive oil

Salt to taste

20

curry leaves

1

tabelspoon sugar
for the marinade
1

teaspoon

turmeric powder

2

tablespoon

chilli powder

2

tablespoon

coriander powder

2

teaspoon

salt

1

tablespoon

water
Instructions
Marinate the cleaned fish pieces in turmeric powder, chilli powder and coriander powder and little water for 30 minutes or overnight.

Add oil in a deep cooking pan. Once they are sizzle, add the vadagam. Saute for 2 minutes. Add the curry leaves and garlic and sauté for a minute. Now add the onions and cook for couple of minutes. Now add the turmeric powder, chilli powder,coriander powder and salt and cook till the raw smell disappears.

Add the tamarind juice and 1000ml water and cook on high flame for 5-10minutes. Once they start to boil, simmer the flame and cook the kadai with the lid on for another 20 minutes. Check for tanginess. Add little more water about 1 cup and cook for another 10minutes. When the gravy thickens add the marinated fish pieces. Cook for another 10 minutes on a medium flame. Adjust salt to taste. Finally sprinkle the sugar. Serve hot with rice and papads
Notes
Salmon doesn't work well for this dish as I noticed that the spices doesn't go into the fish. Try Red snapper/Butter fish/Tilapia/ Promfret instead.