Sometimes an easy and comforting food tends to get lost or ignored in between all the fancy smancy exciting ideas that keep revolving in our head. And it's good because without inspiration and variety, life can get pretty boring. But once in a while, it's nice to slow down, stay away from the kitchen and spend more time with the family. Make something light and easy, like this masala papad that doesn't require too much effort and call it a day!
Served in most Indian restaurants as a complimentary bite along with your choice of drinks, this healthy appetizer somehow doesn't seem to appeal anyone that much. I have very rarely seen it served in any party and I too usually make it only when pantry/refrigerator runs out of options.
Papad is a thin, sun dried cracker mostly made with lentils. The dough is prepared with peanut oil and salt, which is then rolled out to super fine thin sheets and left in the sun to dry. At times, papad is flavored with spices like cumin, black pepper, chili and asafetida and it is very easily available in any Indian store.
I doubt there is any Indian kitchen that doesn't store a packet of papad to enjoy with daily meal. Either deep fried or dry roast, it adds a lovely texture when served with a plain meal like rice and lentils, khichdi or even plain soup. And if you are in a mood for some quick snack, try masala papad, if you haven't already.
A little bit of knife skill is required to prepare the topping, which is typically a mix of red onions, cucumber, tomatoes and cilantro. It looks more appealing and is also easy to handle when all the ingredients are thinly sliced of almost equal size. Raw mangoes, green tomatoes or some fruit of your choice would definitely add a great variety. Both the toppings and the roasted papad can be made couple of hours in advance.  But once the topping is spread on the papad, it should be served immediately.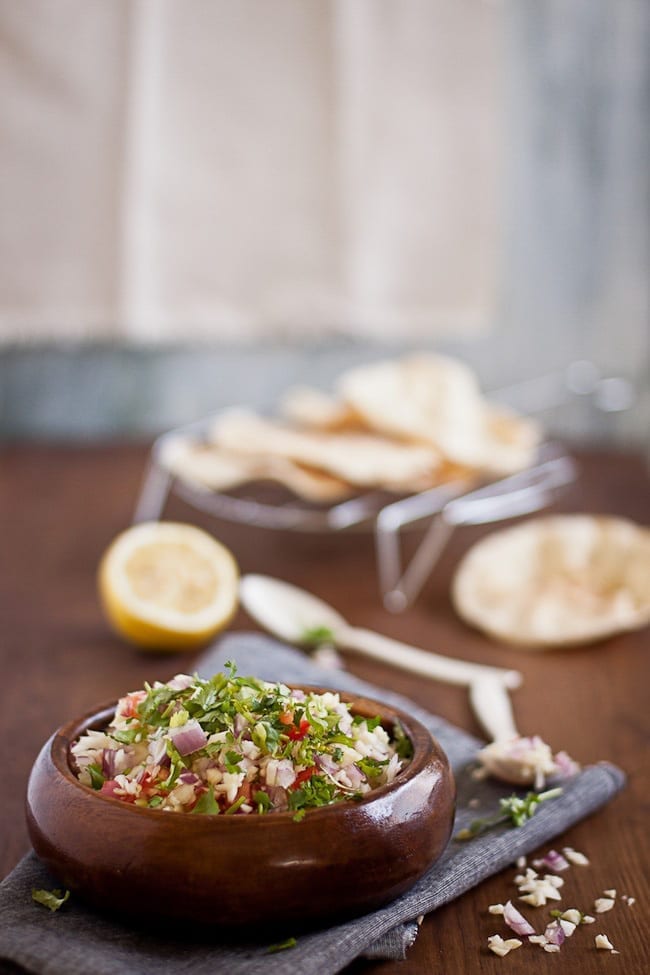 Masala Papad
Ingredients
6

mini papad

1

medium red onion

(very finely chopped)

1

medium tomato

(seeds removed and very finely chopped)

1

raw mango

(very finely chopped)

1

cucumber

(seeds removed and very finely chopped)

1

cup

finely chopped cilantro

2

green chilies

(finely chopped (optional))

juice of ½ lemon plus more to sprinkle on top while serving

salt

pepper

1

teaspoon

chili powder

1

teaspoon

cumin powder

1

teaspoon

chat masala plus more to sprinkle on top while serving
Instructions
Mix all the ingredients except the papad in a serving bowl and keep aside.

For dry roasting, place the papad on a stove top at medium heat and using a tong, flip every two seconds until it's roasted completely. Or you could place the papad in a microwave by keeping it in high for about a minute or so. However, the papad can curl up in a weird shape when roasted in a microwave.

Spoon the topping on the roasted papad.

Sprinkle some more chat powder and lemon juice as per your choice and serve.
Notes
I used plain papad which can be replaced with any other flavored papad. Both masala papad and chat masala are easily available in any Indian store.
Nutrition