Feb and March have always been the most eventful and exciting months for us. Our birthdays, our anniversary and this time, the months were quite brief, or at least it felt that way. After we returned from our trip, we had guests over, back to back. First, my in-laws along with my sister in law (Arvind's sister) and her delightful little daughter Ira, who is three months older than Avyan, came over. So, you can imagine the fun with two babies rocking the house! And after they left, my parents along with my brother and my sister in law came over. It was houseful and we had such good times together. They all had traveled out of town, mainly to attend Avyan's first birthday. He is a lucky chap!
Avyan loved all the attention and although people say that babies don't usually feel that much, I think that's not entirely true. After they left, Avyan was looking for them and in his own language tried to communicate something. He was, however, quite cheerful that once again he got mummy's full time attention.
During this time, there was a lot of cooking happening. While I didn't miss that part, I sure did miss sharing recipes with you guys.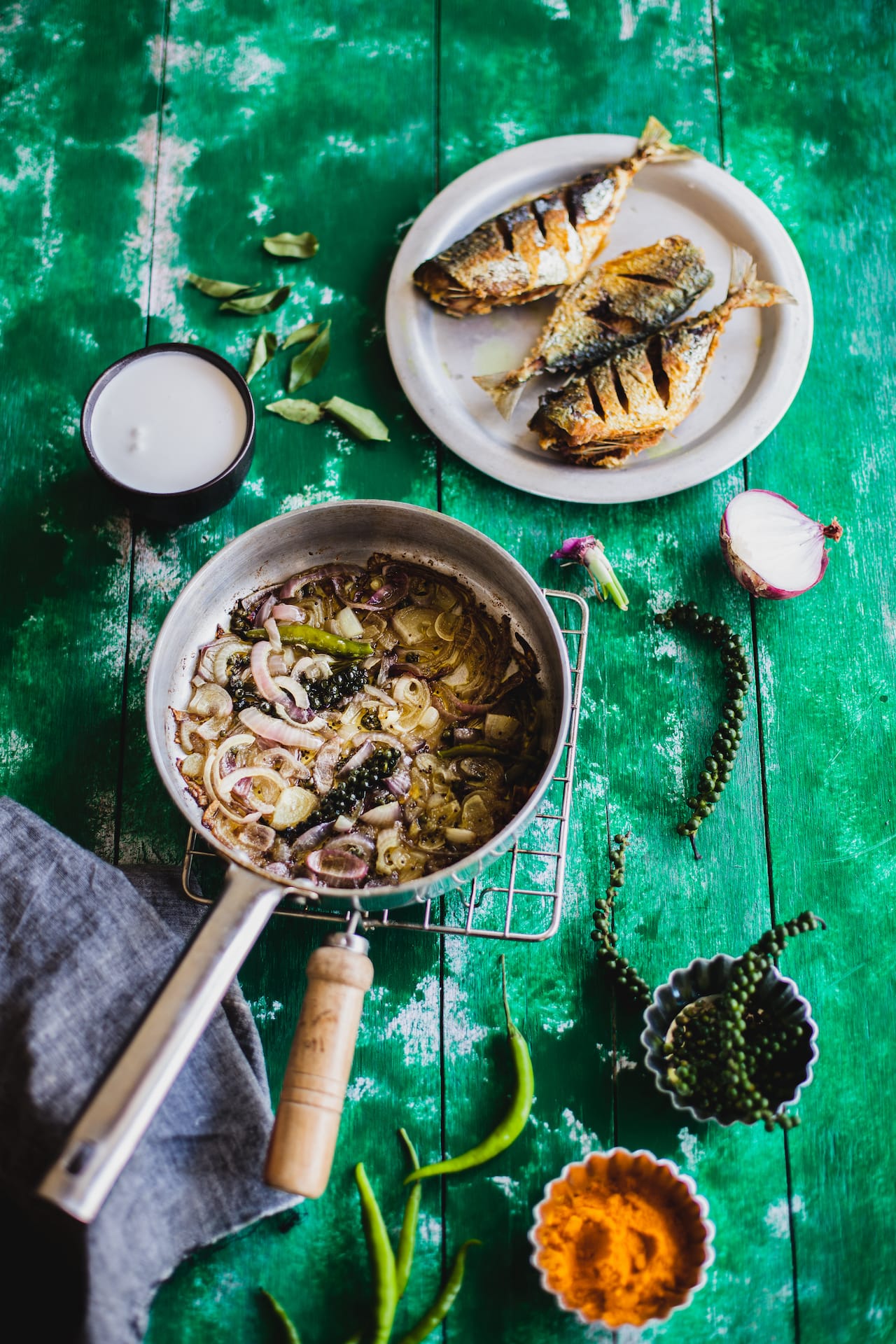 This was the first time we ate Mackerel. Deep-frying them wasn't the best idea. I should have asked Mom for some tips. Later, I leant from her that the best way to fry these fishes is to marinate with a little oil and always pan fry with less oil, in a non-stick pan. Huh!! Could have surely saved all the splitter and splatter!
Crispy fried Mackerel with a chilled beer would have been splendid but we needed something for lunch. And a quick curry with coconut milk plus handful of curry leaves is one of my favorites. Very close to a South Indian fish curry except, I threw in some fresh peppercorns too. Lately, I have been kind of obsessed with this ingredient. It's much milder than the dried black ones and adds a delicate heat to the palate. With steamed rice, it's quite a treat.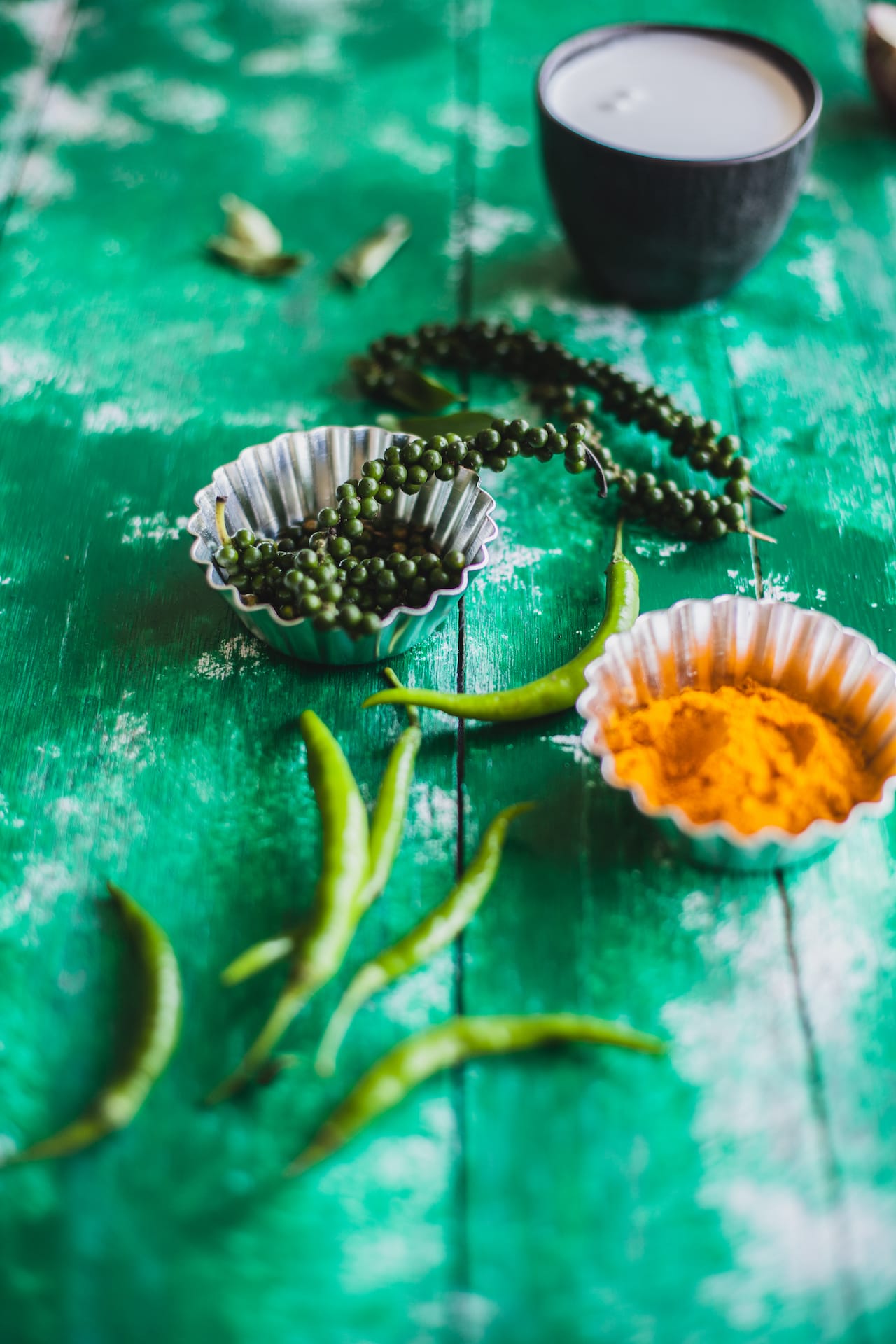 Mackerel with Fresh Peppercorn and Coconut Milk
Ingredients
3 to 4

mackerels

2

cups

coconut milk

1-

tablespoon

fresh green peppercorn

10 to 12

fresh curry leaves

1

onion

(thinly sliced)

2 to 3

green chilies

(slit in half)

1-

teaspoon

turmeric powder

1-

teaspoon

coriander powder

salt

oil
Instructions
Clean and marinate the fishes with salt, ½ teaspoon turmeric powder and ½ teaspoon of chili powder. Let it rest for at least an hour.

These fishes could be either deep-fried or pan-fried. If you are deep frying, make sure the oil is hot enough and be very careful as it might splatter. Keep the fish aside once done.

Heat a big pan with 2-tablespoons of oil. Drop the sliced onions and fresh peppercorns. Season with salt and sauté until onions are softened. Add coriander powder and cook for 2 more minutes. Then, add the green chilies and curry leaves. Pour coconut milk, add turmeric, salt and let it simmer for few minutes. Finally, drop the fried fishes in it and let it simmer for 2 more minutes.

Serve warm with steamed rice.
Nutrition