Out of the ample varieties of deep-fried food that my Mom prepares, the red lentil fritters have always been my favorite, especially on a cold afternoon. She would fry the fritters right before lunch and serve with piping hot yellow lentil soup (dal) and steamed rice. We call these fritters Daler Bora and they are quite common in Bengali food culture. It can be prepared with different kinds of lentil but red lentils are most frequently used. This time, I gave my own little twist by serving these crispy lentil fritters in a non-traditional way with bright green garlicky chimichurri sauce on a bed of creamy polenta. Equally comforting on a cold afternoon.

I am sure most of you can relate to the fact that our Mom has a magical way to figure out measurements while cooking. They like using their hand as measuring cups. They like to eyeball most of the time. Thankfully these fritters don't really need a lot of elements and hence it was easy to recreate it successfully, right on the first time. The key to making these perfectly crispy is by not grinding the lentil to a paste consistency. You want the mixture to be chunky. There are no extra binding components added. The batter/mixture should be thick and it holds the shape perfectly fine. Onion and green chili are also mixed in the batter for flavor but you can always go creative with it and add your choice of herbs and spices.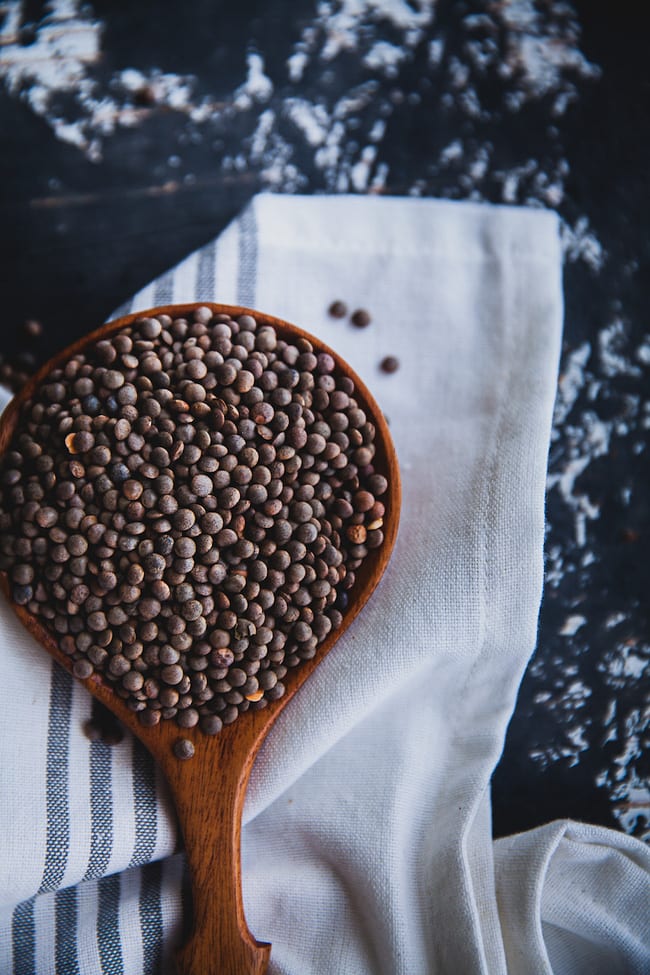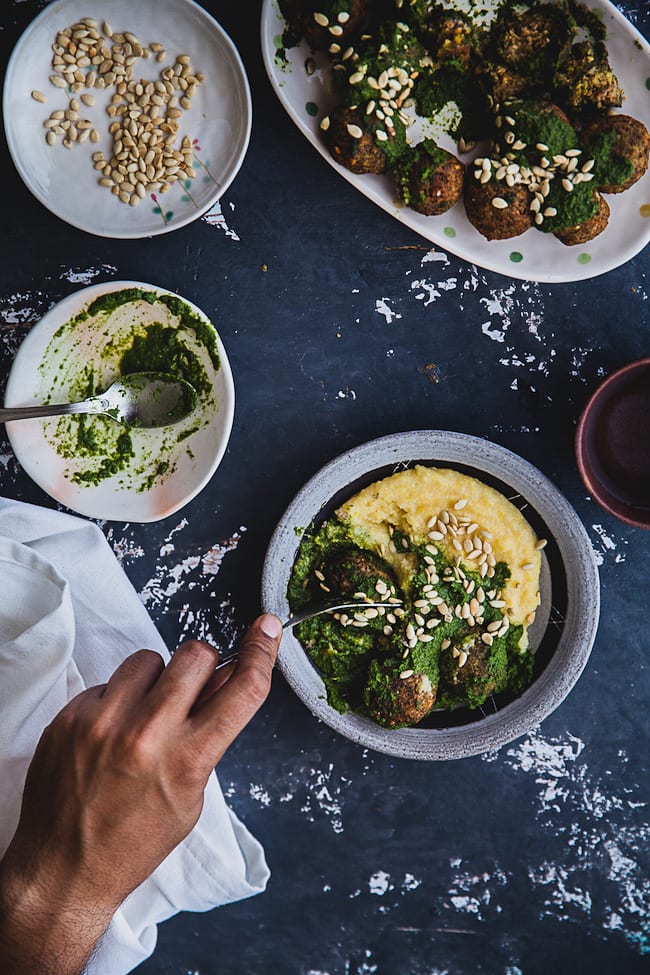 The creamy smooth polenta, the chunky bite of lentil fritters with the spicy vibrant chimichurri sauce, it's quite a mouthful at every bite.
Lentil Fritters With Chimichurri And Polenta
Ingredients
for lentil fritters
1

cup

red/brown lentil

(you can use whatever kid of lentils you like)

water to soak the lentil

1

medium red onion

(roughly chopped)

2

green chili

(roughly chopped)

1

teaspoon

cumin

salt
for chimichurri sauce
1

cup

fresh cilantro

½

cup

fresh mint leaves

2

garlic cloves

(roughly chopped)

1

jalapeno

(roughly chopped)

zest of 1 lemon

juice of half lemon

½

cup

extra-virgin olive oil

salt

pepper
for polenta
1

cup

polenta

1

tbs

butter

½

cup

milk/cream

4

cups

water or broth

(I used 2 cups water and 2 cups chicken broth)

½

cup

parmesan cheese

salt
Instructions
Soak the lentils over night in water. Next morning, strain the soaked lentils and save few spoons of the water. Put it in a grinder along with onion, chili and cumin seeds. Pulse it several times so it blends but doesn't get too pasty. The batter should be chunky.

Heat enough oil for deep-frying these fritters.

Sprinkle some salt on the batter and give a mix. To make the fritters, you could either use your hand, a spoon or an ice cream scoop to drop in the hot oil. Once golden brown in color, drain it to a paper towel.

To prepare the chimichurri sauce, add all the ingredients in a food processor and blend until it all combines together to a smooth consistency. Pour it in a big bowl.

To prepare the polenta, whisk the polenta in the cold broth/water and bring it to boil. Sprinkle salt and continue cooking in medium heat, stirring constantly until it's smooth and cooked through. Finally add butter, milk/cream and Parmesan cheese. Give a whisk and serve warm with fried lentil fritters and chimichurri sauce.
Notes
Typically no binding components are required to form the fritters, but if it's falling apart, add a little bit of all purpose flour to the batter.
Nutrition