Kaju Katli, also sometimes referred as Kaju Barfi, is one of the most favorite Indian sweets. It's fudgy, rich and melts in the mouth. Kaju refers to cashew and Katli refers to thin slices. It is also a popular festive treat, especially on Diwali. As a kid, I didn't have a sweet tooth and there were probably few sweets that I would really enjoy. Kaju Katli was definitely one of them. This thinly sliced cashew fudge is gluten free and needs only 3 ingredients!
My little one, Avyan, loves Indian sweets more than cakes or doughnuts. His current favorite is Jalebi and Kaju Katli.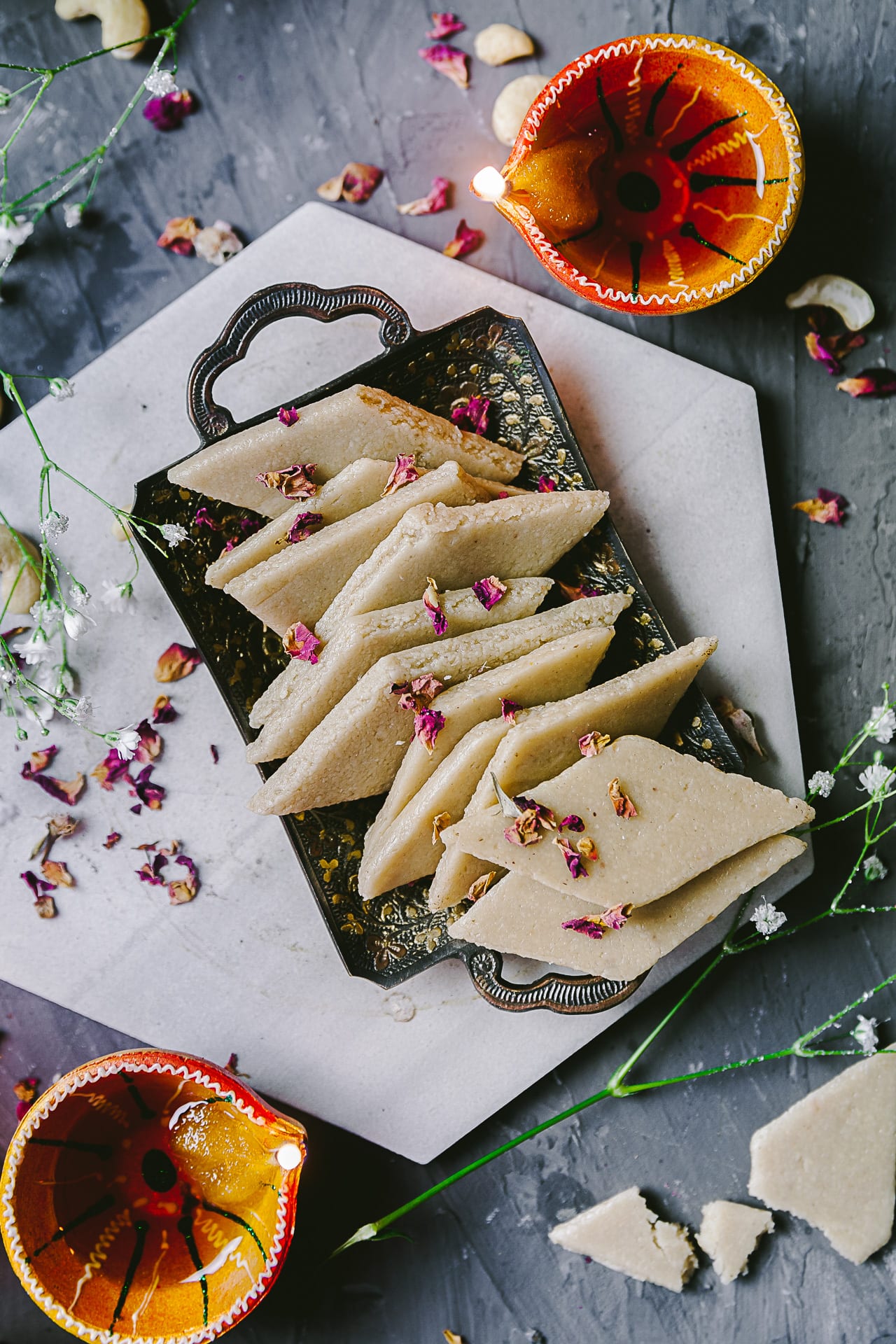 Kaju Barfi/Kaju Katli is a classic Indian sweet. It never gets old and people never get bored of it. It is either prepared or bought in boatload for any Indian festive occasion or special occurrence.
What key ingredients are needed for Kaju Katli?
Cashew
Sugar
Ghee (Clarified Butter)
Flavor choice:
Cardamom Powder
Saffron Thread
Rose Water
Most often, edible silver leaf is added on the Kaju Katli for garnish.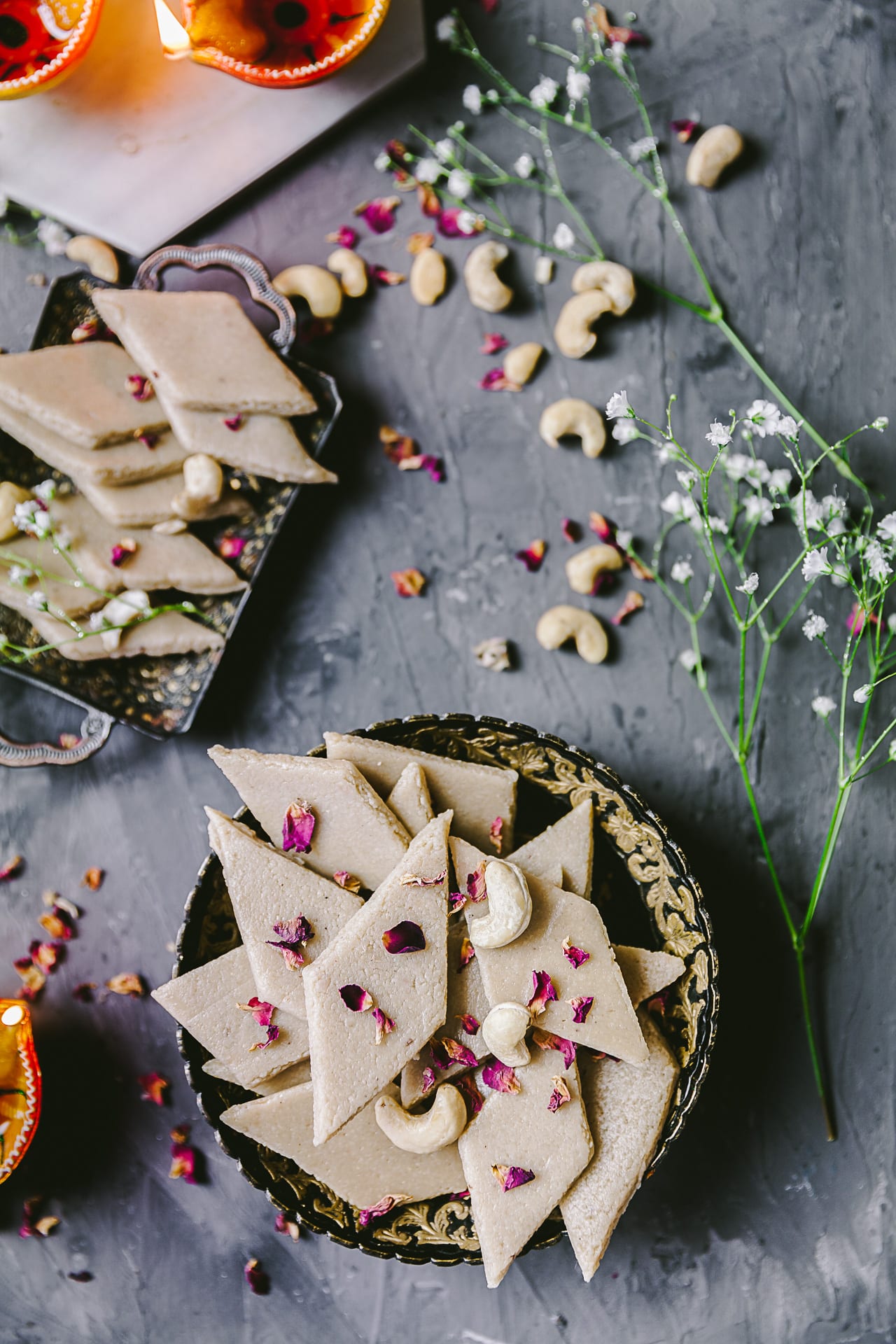 How to make Kaju Katli/Cashew Fudge
Ground the cashew and sift it to get dry cashew powder. I prefer using a coffee grinder for this!
Cook the cashew powder in sugar, water and ghee until it turns into pliable soft dough.
Knead the dough while it's still warm. Apply a little ghee on your hands as you knead the dough.
Roll it gently to 1 cm thick sheet on a greased parchment paper. Leave it aside for 1 hour.
Slice it into diamond shapes and leave it aside for a few more hours to dry up and set completely.
Key Notes to remember
When you are grinding the cashew, make sure you do not grind it for too long or else, it will start releasing oil and get lumpy. The cashew powder needs to mildly grainy and dry.
Make sure you sift the ground cashew and either grind the big chunks once again or save it to use in a curry.
Cook at medium heat and keep stirring constantly to avoid the cashew from getting stuck at the bottom of the pan.
Do not overcook as it will turn dry instead of creamy and fudge like.
How to know if the dough is ready?
Grease your fingers with a little ghee. Then, take a tiny lump of the hot dough and try to roll it into a ball. If it's not sticky and the shape is holding, the dough is ready.
Storing the Kaju Katli
Once it's completely set, store it in a clean dry airtight jar in the refrigerator. If stored properly, it will stay good for a month!
Cashews, as you know, are quite expensive and for dishes such as this, get the packet with broken cashews instead of whole. The broken cashew packets are always slightly cheaper than the whole cashew packets.
More Diwali sweets:
Making Kaju Katli at home might sound like a daunting task. Trust me, I thought so too and always depended on the store-bought ones. But, once I made it at home, I realized that it's actually not that difficult. And unlike store bought ones, you can have completely control on what goes in.
Kaju Katli
Kaju Katli, also sometimes referred as Kaju Barfi, is one of the most favorite Indian sweets. It's fudgy,
rich and melts in the mouth.
Ingredients
2

cups

broken cashews

¾

cup

white sugar

¼

cup

water

½

teaspoon

rose water

1

tablespoon

ghee

(plus extra to grease your hand and parchment paper.)
Instructions
Grind the cashews to a fine dust. (This step is extremely critical. Make sure you pulse instead of grinding at high speed as that might release
the oil from the cashew making it mushy. You want the cashew powder to stay dry. So, grind it in small batches. I found that using a coffee grinder makes it much easier. Here is the brand that I use)

Once you are done grinding, sift the cashew powder. If there are a few big chunks, you could either regrind the big chunks or save them to be
used later in a curry or smoothie.

Keep a parchment paper ready by brushing a little ghee on it. Keep it aside.

Place a non-stick skillet at high heat and add the water along with sugar. Stir it around to dissolve the sugar in the water. (Keep in mind that we are not making syrup here. We are just dissolving the sugar in the water)

Bring the heat down to medium and add the cashew powder. Mix
it around for 5 minutes and then, add 1 tablespoon of ghee and rosewater. Continue mixing for 10 to 15 minutes or until you see the mixture turn into a soft dough and it's not sticking to the pan anymore.

Check if the dough is ready. Grease your fingers and take a pinch of the dough. Roll it around to see if it forms a shape and doesn't stick
anymore. If the mixture still sticks, continue cooking the cashew for a couple of minutes. Else, switch off the heat.

Spread the dough on the prepared parchment paper. Leave it for 5 minutes and let it cool down just enough so you can handle it comfortably without burning your hand. (Keep in mindthat you have to prepare the kaju katli while the dough is still warm)

Rub a little ghee on your hands and knead the dough for 2 minutes. Then, press it on the parchment paper. Rub a little ghee on the rolling pin and gently roll it from center to outward to 1 cm thick. Try to shape it square if you can.

Let it set for 30 minutes and then, carefully slice into individual diamond shapes. The kaju katli will still not be set. So, leave it
aside for a couple of hours or overnight for it to set completely.

Store in a clean dry airtight jar in the refrigerator. It stays good for
one month!