I really don't know where to start! Undoubtedly, this is the longest pause I ever took in blogging and I truly hope it's over. I cook every single day, sometimes even twice. But in between changing the diapers and putting Avyan to sleep, I have no clue how my day starts and how it ends. I keep saying to myself, 'it's all about finding a method to the madness. I've got to make time, a little bit everyday, just for my blog'. So last week, I got my gear out and photographed food, after a long time. It was challenging. Wish I had all my props or at-least a better backdrop than our coffee table and I was not happy with the light. In spite of all that, it felt really nice to be able to make time to start once again!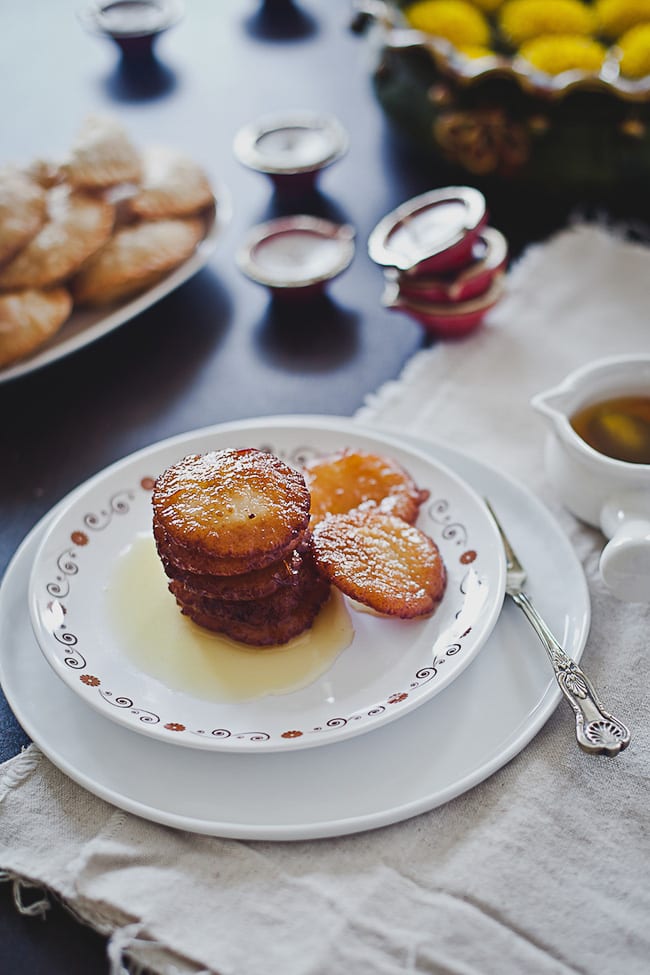 Moving back to India was a challenging mission. Avyan was just 4 months when he took his first flight, 21 hours from San Francisco to Bangalore, and he was a total sport. He slept through the flight, didn't fuss a lot and it took him just three days to adapt to a different time zone. It was we, the grownups, who were having a hard time. After arriving in India, we spent few weeks with family in Kolkata. Everybody was eagerly waiting to meet our baby and he was thoroughly enjoying all the attention. It was a much-needed break for us too. Gatherings, laughter's, lots of food and of course, catching up on sleep. It felt so good! And just like that, a month zoomed by before the madness started once again - finding a place to live in Bangalore, endless shopping list and of course, adjusting with life in general.
What kept our spirit elevated in the midst of the chaos was the festive season; the colors, the bling and the non-stop feasting. India, the land of many cultures and languages, shines brighter at this time of the year. Last week, we celebrated Diwali, festival of light.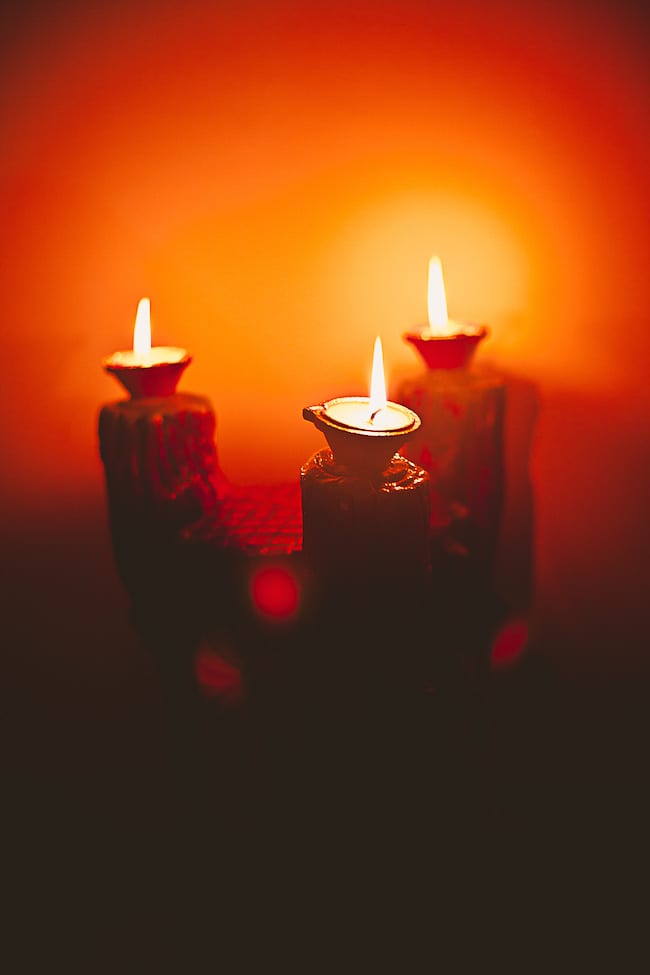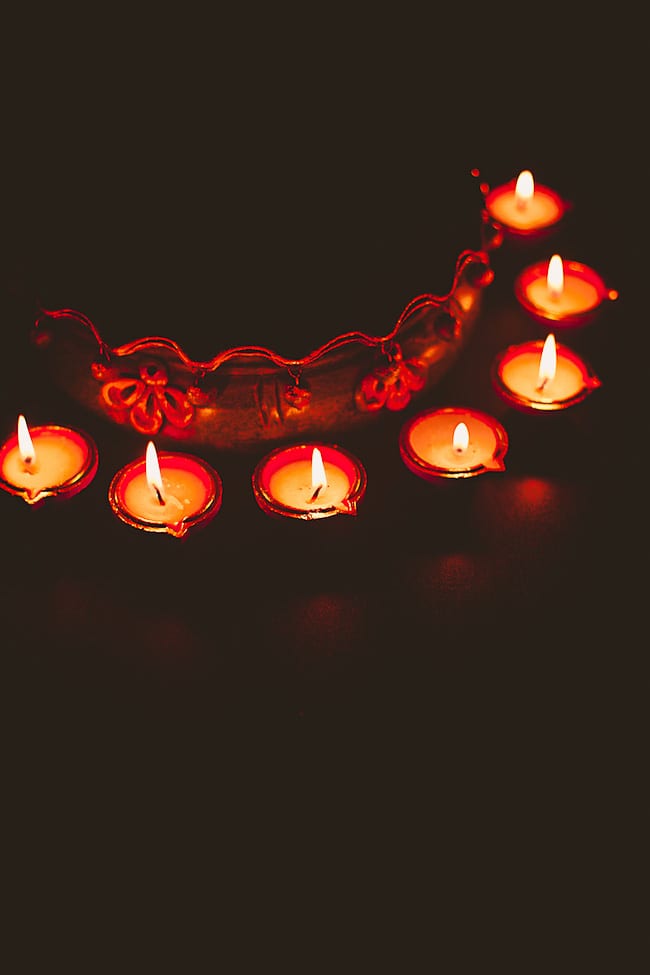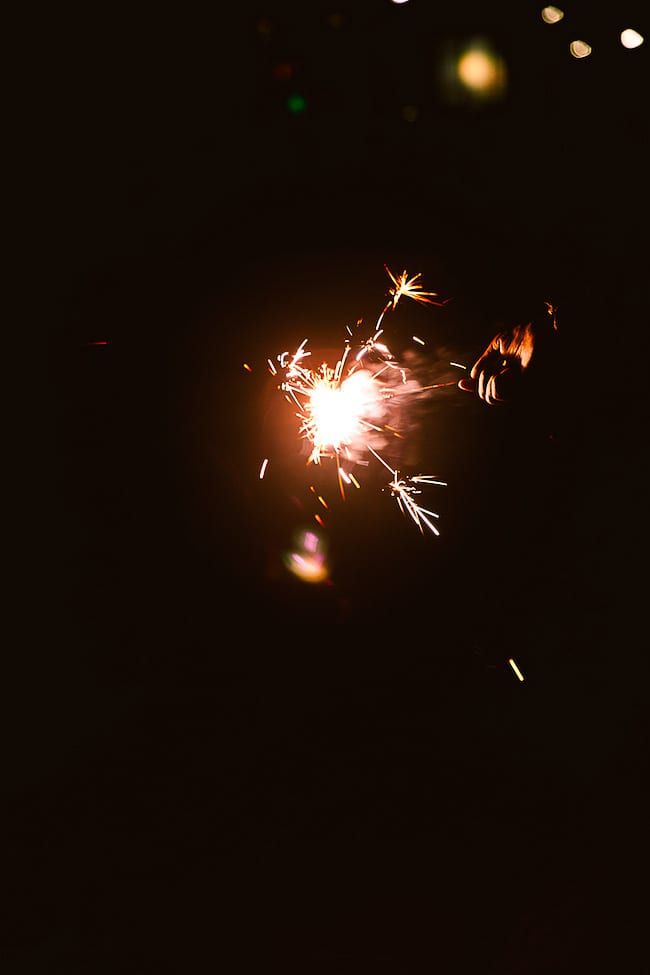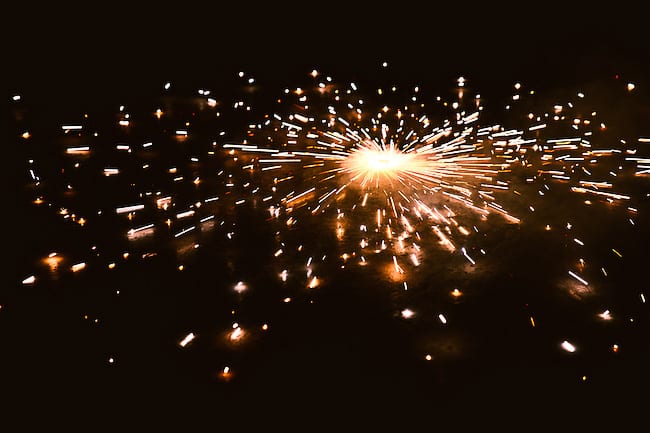 I prepared Malpuas for Diwali celebrations. It's are one of the popular Indian sweet treats and probably, one of the easiest desserts to prepare, even on a busy day. These are like mini pancakes, deep-fried until golden brown and then either dipped in sugar syrup or thickened cream called Rabri. I prepared the malpuas using chhena (fresh paneer) and that made it much more softer in texture. Dipped in golden syrup, flavored with cardamom powder and hint of saffron, these malpuas were quite a delight!
Chhena Malpua
Ingredients
1

litre milk

1

tablespoon

fresh lemon juice

1-½

tablespoon

all-purpose flour

1

teaspoon

baking soda

1

cup

sugar

1

cup

water

few cloves

1

teaspoon

cardamom powder

tiny pinch of saffron threads

pinch

of salt

oil

(for deep frying)
Instructions
To make chhena/fresh paneer, pour milk in a saucepan and bring to boil. Add lemon juice and stir. The milk should curdle immediately. Strain it in a muslin cloth or cheesecloth over colander. Bring the ends of cloth together and tie it. Hang it somewhere so that it can drain all the water out. This should take about an hour.

Once done, mix the fresh chhena with flour, cardamom powder, salt and baking soda. Knead to form smooth dough. If it's too watery, add more flour. Cover the dough with a damp cloth or kitchen towel and allow it to rest for a while.

In the meantime, make the sugar syrup. In a saucepan, add sugar and water. Then, add saffron threads along with the cloves. Bring it to a boil and allow it to darken. The syrup shouldn't be too watery or too sticky.

Once the syrup and dough is ready, heat enough oil in a pan to deep fry the malpuas. Make sure the oil is medium hot or else, the malpuas with burn as soon you drop them.

Take a lump of around 1-teaspoon from the dough and flatten it using your hand or a rolling pin. Don't make it too thin or too thick. Drop it in medium hot oil and let it fry until golden brown. Once done, dip it immediately in the hot syrup and allow it to float.

Once all the malpuas are ready, keep them floating in the sugar syrup. If you are not serving it immediately, refrigerate it. And before serving, heat it in the microwave. It tastes best when it's warm.
Notes
While making chhena/fresh paneer, make sure the milk is not too hot or else, it might not curdle. Also, while heating the milk, keep stirring in between to avoid it from getting burnt at the bottom.
Nutrition
Serving:
10
to 12 malpuas (depending on what size you shape the dough)