These Meringue Cookies are light and crisp sweet little bites! All you need is 5 basic ingredients and little time in hand to make these airy morsels. There are a few little things you need to be careful about but once you get the hang of it, you will be making these cookies more often.
There are a few desserts that took me several attempts to get it right and there are some that I am still trying to perfect. However, Meringue Cookies came very easy and effortless to me.
It happened pretty perfect at the very first attempt. Shaping these cookies can be tough but it really doesn't even matter how you shape them.
Meringue Cookies are extremely forgiving and even if it cracks, it's still tasty and can make an amazing dessert.
Raspberry Pistachio Eton Mess is a great example of turning meringue cookies into a fancy but easy dessert!
5 Basic Pantry Ingredients:
Egg Whites: Separate the egg whites while the eggs are still cold after storing them in the refrigerator. It's easy to separate egg whites while it's still cold. Then, leave the egg whites in room temperature for at least 30 minutes.
Granulated Sugar: Granulated white sugar works absolutely fine, but you can also use powdered sugar as it will dissolve faster.
Cream of Tartar: It helps in stabilizing the egg whites, which is needed to pipe the meringue to form cookie shapes. You can substitute it with lemon juice or white vinegar.
Salt: Just a tiny pinch is enough
Vanilla Extract: This is just for flavor.
Gel food Color: If you are using food color, definitely use gel food color and I use wilton food color
You can also make Vegan Meringue Cookies by using Aquafaba. It's the water (brine) from the chickpea can. The protein from the beans seeps into the water making it like egg white.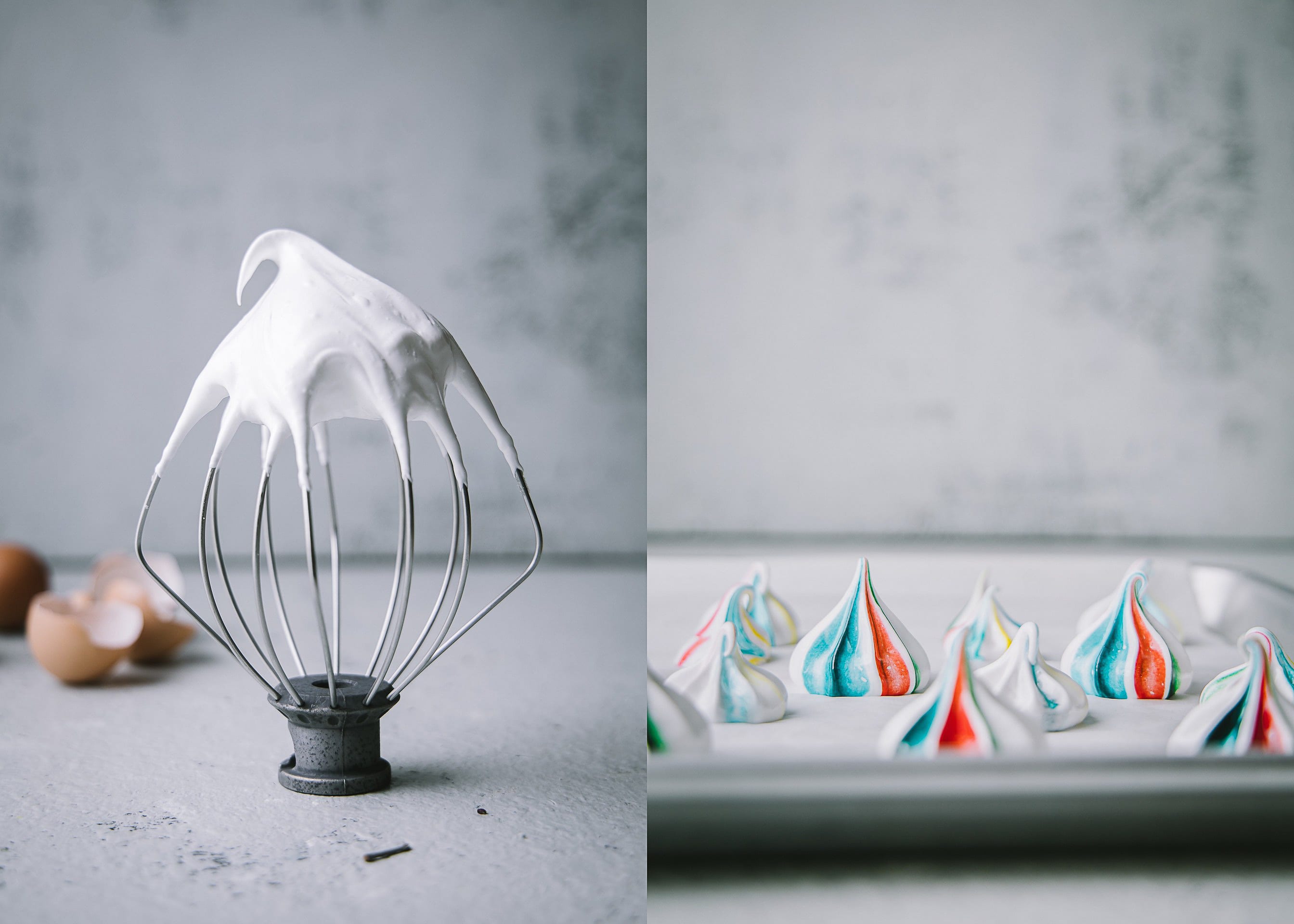 Tools needed to make Meringue Cookies
 Electric whisk: You need to whisk the egg whites at high speed for a long time to form the stiff peaks. That's a crucial step and although not impossible, it can be quite difficult with a hand whisk
Cookie sheet and parchment paper: It's always preferred to pipe the meringue on a parchment paper as it would avoid the bottom of the cookie from getting brown or burnt.
Piping bags and piping tips: You can just spoon the meringue into droplets but if you want a neat shape, a piping bag and tips will come in handy.
I like to shape them tiny as that's how my little one loves it. But, you could make these bigger too. Only thing to remember is to keep the cookies similar in size so that all of them bake uniformly.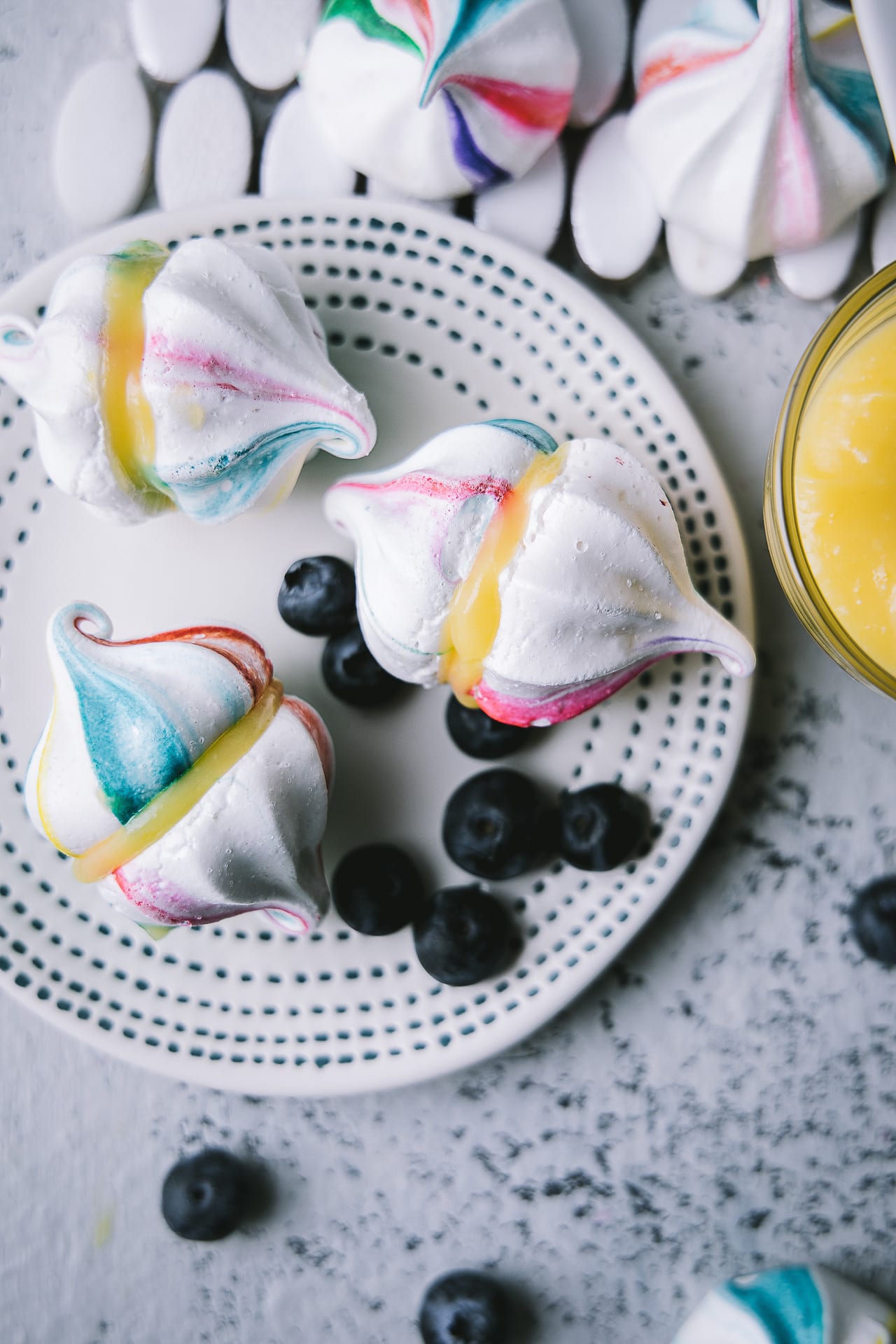 How to make Meringue Cookies
Whisk egg whites with cream of tartar, salt and vanilla essence (if using) until frothy and then, start adding sugar little by little until stiff peak is formed.
Pipe tiny morsel shapes on the cookie sheet layered with parchment paper.
Bake at a low temperature and then, switch off the heat and leave it inside for another hour before you take out the cookies.
Meringue Cookies are the easiest and yet the trickiest cookies to bake. So, make sure you read through these important steps:
The bowl and the whisk that you use to whisk egg white needs to be absolutely dry.
When you are baking the cookies or while it's resting in the oven for an extra 1 hour, make sure you do not open the oven door at all.
Keep in mind that climate does have an effect on the cookies. If it's too humid, chances are that you might need to bake the cookies a bit longer.
How to store Meringue Cookies?
In an airtight container in the refrigerator. Meringue cookies gets sticky if it's humid and hot. So once it's cooled, either serve right away or store in the refrigerator.
My little fella loves Meringue Cookies so much that it gets over even before I decide to serve it in a fancy way. I personally do like it with some fresh fruit and lemon curd. The acidity helps to cut the sweetness of the cookies.
Here is the link to the recipe of
How to Make Meringue Cookies
These Meringue Cookies are light and crisp sweet little bites! All you need is 5 basic ingredients and little time in hand to make these airy morsels.
Ingredients
2

egg whites

¼

teaspoon

cream of tartar

½

cup

granulated sugar

½

teaspoon

vanilla extract

tiny pinch of salt
Instructions
Preheat the oven to 225F and line a big cookie sheet with parchment paper

In your mixing bowl, pour the egg whites, cream of tartar and salt. Start whisking slowly and then, increase the speed to medium until the mixture looks frothy.

Pour 1 tablespoon of sugar, increase the speed to high and keep whisking. After every 20 seconds, add 1 tablespoon of sugar without stopping the mixer and continue whisking. Repeat the process until you have added all the sugar.

In about 5 to 7 minutes, it would look glossy and form stiff peak. Rub a little bit of the batter between your fingers to feel the texture. It shouldn't feel grainy.

Take a piping bag and fix a small or star piping tip. With a toothpick or a skewer, make lines in the piping bags. Pour the batter into the bag and pipe tiny morsels on the parchment paper. 

Place the cookie sheet in the middle rack of the oven and bake for 45 minutes. Then, switch off the oven and let it rest in the warm oven for an extra hour.

After one hour, take the cookie sheet off the oven and let it cool completely before you store the meringue cookies. 
Nutrition