Lemon Curd is a versatile condiment that is luscious, smooth and zingy. If you enjoy a little tang in your treats, you should definitely make it at home. Store bought ones are surely great but they are nothing like the taste of buttery creamy homemade fresh Lemon Curd. I also think Lemon Curd is a perfect edible gift. I don't know anyone who wouldn't like this citrusy deliciousness.
The Easy Lemon Curd need just 5 Ingredients:
Points to Keep in Mind:
You definitely need a heavy bottom pan and you cannot rush the process. It barely takes 10 minutes to make lemon curd but you have to allow the butter to melt slowly in lemon juice and eggs.
Don't leave the curd unattended. Keep stirring it constantly as you add the butter slowly while it thickens like a custard.
Once the curd thickens, it's always a good idea to strain the curd. The eggs white tends to cook faster and coagulate. You curd will be fine but straining would get rid of those bits.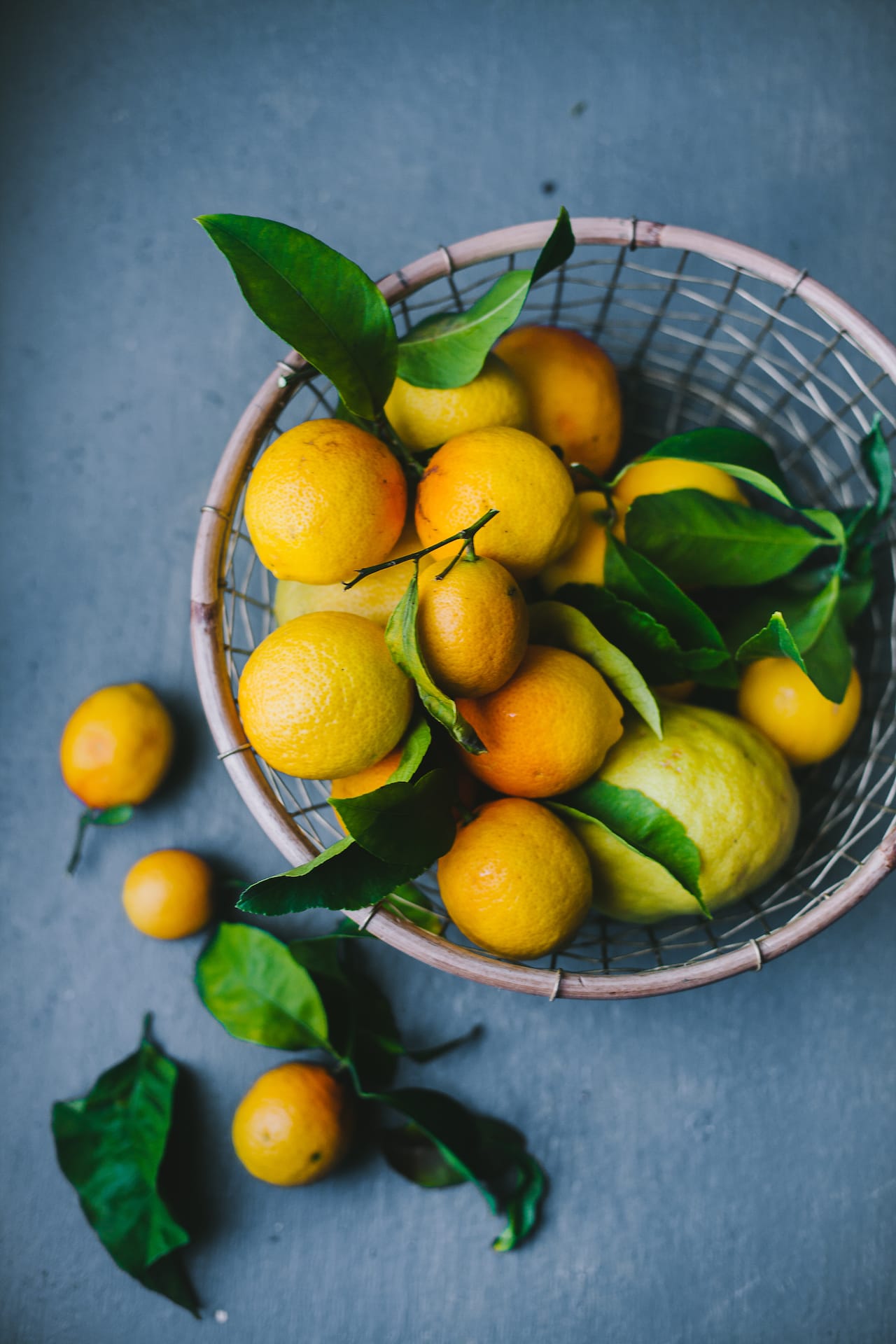 Lemon Tree
When we came to view the house that we currently live in, the first thing that caught my attention was the Lemon tree. In fact, two lemon trees, one pretty average size and one growing tall enough to reach from the bedroom window upstairs!
Even before we saw the inside of the house, I was ready to move in. I have always loved a little lemony flavor in everything, be it sweet or savory.
So, having a lemon tree was like a dream come true, especially because I don't have green thumb to grow one.
Our landlord said they are Lebanon Lemon trees and hence, the ginormous size and thick skin. The variety also reminded me to Gondhoraj Lebu, a strong fragrant lime that you get only in Kolkata.
My Dad had a gondhoraj lebu tree and you couldn't just pass by without sniffing the fresh leaves. However, unlike the Kolkata variety lime, these Lebanon Lemons are extremely juicy.
Last summer, the tree went a little wild and branches started to spread everywhere. So, we gave it a little trim. Since then, I have seen a change in the variety of the lemons.
We are still getting the big ones, the really big ones (bigger than grape fruit), several imperfect weird looking ones but most of them are smaller ones with thin skin and still juicy.
We shared a few bags with friends, colleagues and yet, there is a lot more to consume. So, I am on a mission here to make as many Lemon treats as I can think of, starting with Lemon Curd.
Store lemon curd in a clean glass jar with an airtight seal. Freeze it if you want to save it for longer or finish it in 1 week, if kept in the refrigerator.
You will also love these easy homemade condiments:
Easy Lemon Curd
Ingredients
2

egg yolks

3

whole eggs

1

cup

white sugar

2

tablespoons

lemon zest

⅓

cup

lemon juice

pinch

of salt

9

tablespoons

cold butter

(cut in 1- tablespoon cubes)
Instructions
Take a heavy bottom saucepan and add the lemon juice, lemon zest, sugar, salt and eggs. Whisk to combine everything and place it on medium heat. Keep stirring for 3 minutes as it slowly cooks and dissolves the sugar.

Reduce the heat to medium low and start adding butter cubes, 2 at a time. Keep stirring continuously and as the cubes melt, add 2 more. Continue the process till you have added all the butter cubes. In about 6 to 7 minutes, you will notice that the curd will start to thicken. You will know it's ready when it coats the back of the spoon.

Take the pan off the heat and let it cool down a bit. It will continue to thicken as it cools. Then, strain it into a clean airtight jar. Once it cooled down completely, seal it tight and keep it in the refrigerator.
Nutrition