Mustard seeds and mustard oil are quite essential components in Bengali kitchen. It's widely used in several dishes for everyday cooking. Past few years or so, people are trying to avoid mustard oil and switch to vegetable oil instead. However, there are still some dishes that are incomplete without that the distinctive sharp taste that only mustard oil can give. There are countless dishes where mustard seed paste is used along with mustard oil. Yellow mustard to be precise! As a kid, it was a flavor I couldn't embrace but now, it's a totally different story. I enjoy cooking with mustard seeds and a jar of Green Mango Mustard Kashundi is always there in my refrigerator.
My favorite mustard sauce is the one that is also at times referred as The Bengali Kashundi, something I learnt recently. I used to think that kashundi was this individual type of sauce prepared with green mango and mustard seeds. A classic condiment, used broadly in Kolkata, from street food to everyday cooking. And then I learnt from the food blog world that there are quite different varieties of kashundi available. So why the name 'Kashundi'! That's something I am still unaware of.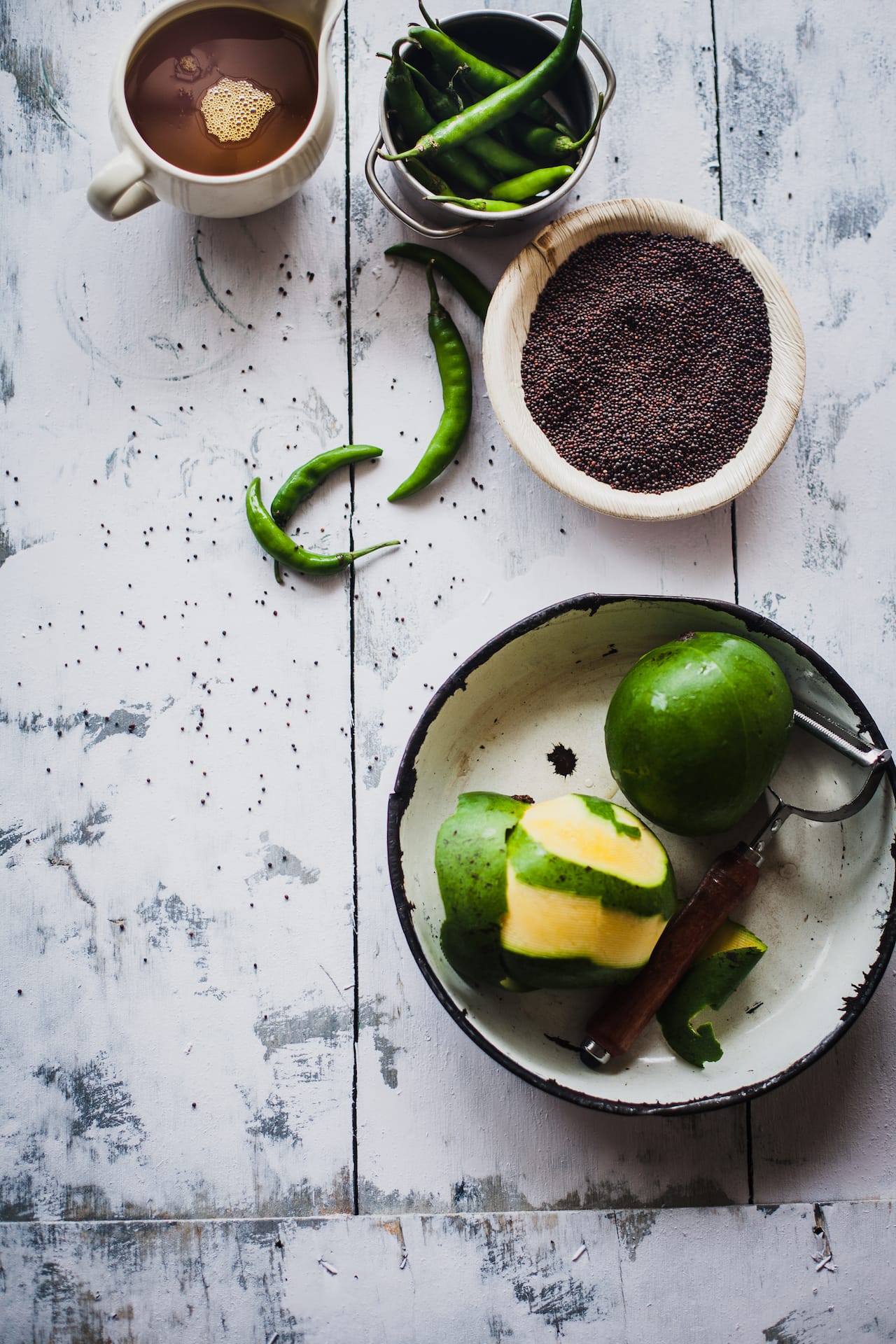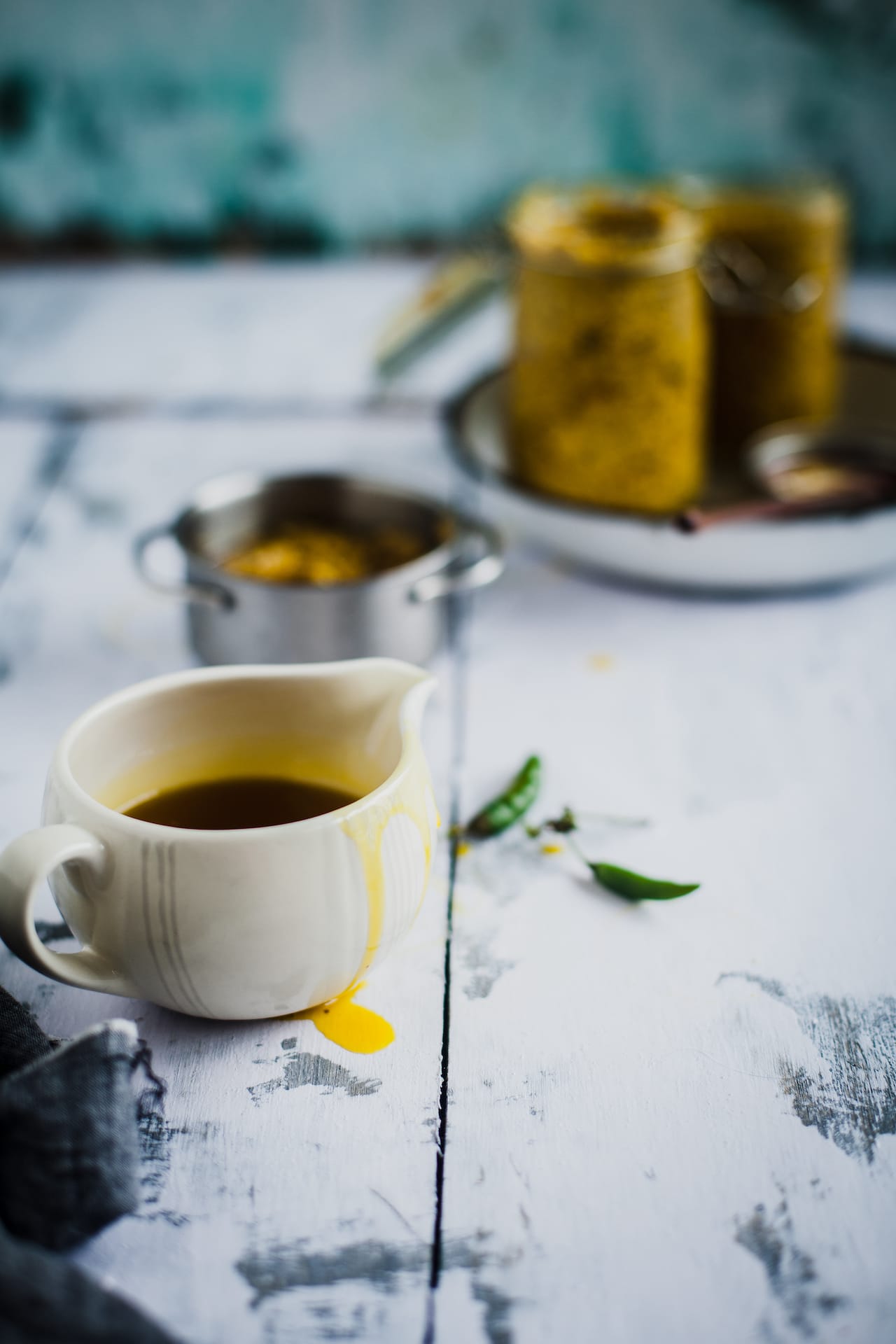 The Bengali Kashundi
My aunt makes a big batch of this sauce using raw mango with mustard kashundi (The Bengali Kashundi) every year. I like her homemade version much more than the store bought ones. It's fiery and quite pungent. This season, after observing the mango overload in every nook and corner, I got inspired too. It is a great dip that goes perfectly with the deep fried food. But you can also use it in various different ways and here is a fun way I like to occasionally use this sauce.
KEY POINTS
Mustard seed is a tricky ingredient; it can make or break the dish completely. A little over grinding of the seed or minute overcooking turns any dish super bitter. Another key element for this sauce is the mustard oil. It's the oil that makes it pungent. It's important to coat the entire sauce in mustard oil and let it rest for a few hours. I realized that after couple of days, the taste gets much better. It brings out the beautiful balance of flavor; hint of sour, the spice of mustard seed and green chili plus that super pungency from raw mustard oil.
I prefer to make in big batch and store in two jars. It is freezer friendly and can last for a year. Every time I have to use it, I just thaw the bottle by dunking it in a bowl of hot water. Storing in two or three small containers fastens the thawing process.
Green Mango Mustard Kashundi
Ingredients
3

sour green mangoes

½

cup

black mustard seeds

¼

cup

yellow mustard seeds

4 to 5

green chilies

1-

tablespoon

turmeric

1-

cup

mustard oil

½

cup

white vinegar

salt

(as per taste)
Instructions
Grind the mustard seeds to a coarse consistency.

Next, peel the mangoes and grind the pulp along with roughly chopped green chilies to a paste.

In a medium hot saucepan, add the mango paste, mustard powder, turmeric and salt to taste. Pour vinegar and half the mustard oil. Give it a mix and cook for just two minutes. Taste for salt.

Turn off the heat, pour rest of the mustard oil, mix and let it rest for couple of hours. Once it comes to a room temperature, pour it in airtight bottle and keep it in the refrigerator.

The spice and pungency gets better the next day.
Notes
I used a mix of yellow and black mustard seeds. However, it can easily be prepared with just black mustard seeds. If you prepare it with just black mustard seeds, add a little bit more turmeric to get the bright yellow color. Also, keep in mind that black mustard seeds are more pungent than the yellow one.
The kashundi might taste slightly bitter at the first go but as it rests, the pungency and spice comes out better.
If the mangoes are not too sour, add tamarind paste to compensate for the sourness.
If the consistency of the kashundi seems too thick, add more mustard oil and give it a mix.
Nutrition