With a hint of spice, this grape chutney makes a great condiment to go on your crackers or on your sandwich with cheese slices. It can also be served with a cured meat platter or with empanadas. The options are almost endless. I used it along with Brie cheese and baked it into a delicious treat that goes really well with a glass of wine. Grape Chutney on Baked Brie can be a great appetizer for your next party and trust me, your friends will love it.
Most of the Indian meals are incomplete without some chutney on the side. It's prepared fresh using seasonal fruits and vegetables without any preservatives. Occasionally, the chutney is saved in an airtight jar and stored only for a couple of days in the refrigerator. However, the best way is to enjoy it when its fresh. So, I always prefer to make chutney in small batches and it never lasts long. This grape chutney can also be paired beautifully with rich meat curry.
I prepared this grape chutney in collaboration with Divine Flavor, a Mexican family-run and grower-owned fruit and vegetable distribution company based out of Arizona. Divine Flavor believes in growing better food for a better world, meaning taking care of both its people and the environment. As such, the company produces fresh, non-GMO foods grown in nutrient-rich, never over-farmed soil.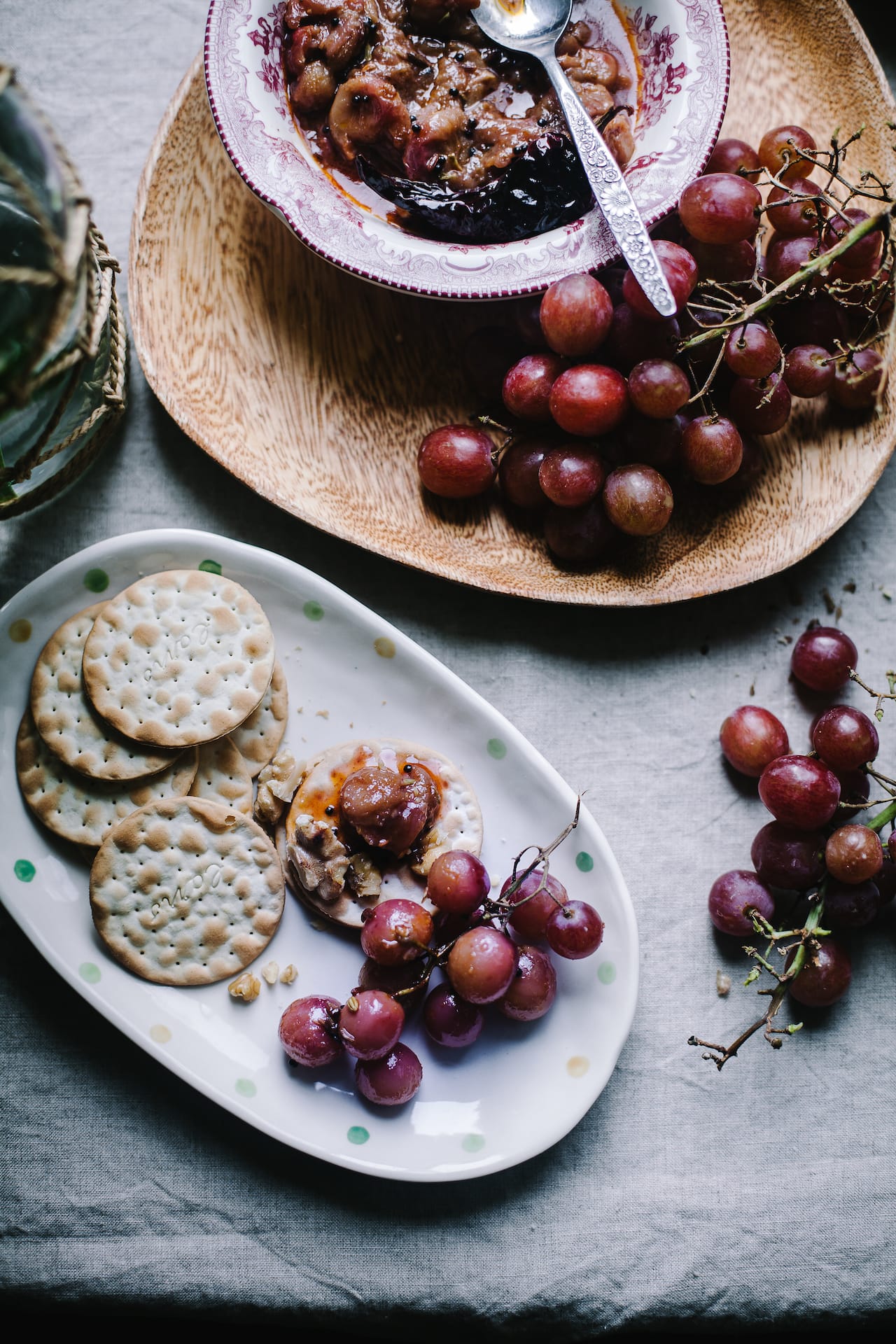 My family loves grapes and these gorgeous red grapes from Divine-Flavor were pleasant and sweet. I prepared the chutney similar to how I prepare other fruit chutneys. The grapes are slowly cooked in earthy spices until the flavors blend and the grapes are softened. This recipe is more on the sweet side but you could increase the heat level by adding some chili powder.
Our first experience with Brie was bad, really bad. It was in a party where un-baked Brie was served with crackers. But once I started to bake it with fruits on top, it became one of our favorite cheese bites. With the sweet and spiced grape chutney, the overall experience of this baked Brie was wonderful.
Grape Chutney on Baked Brie
Ingredients
12

oz./ 340 g grapes

1

teaspoon

oil

½

teaspoon

black mustard seeds

½

teaspoon

fennel seeds

1

dry red chili

½

teaspoon

salt

1

teaspoon

sugar

1

teaspoon

paprika

½

teaspoon

cumin powder

1

teaspoon

fennel powder

¼

cup

toasted walnut

8

oz.

brie

1

tablespoon

honey
Instructions
Place a heavy bottom pan on medium heat and drizzle the oil. Once the oil heats up, carefully drop the whole spices along with the dry red chili. Keep a watch as it will splatter a little bit. After a few seconds, drop the grapes and sprinkle salt and sugar. Stir and cook for 3 minutes.

Sprinkle the cumin powder, fennel powder and paprika. Stir and cook 5 more minutes or until the grapes are softened and can be easily crushed.

Give it a taste and depending on how sweet you like your chutney, add more sugar.

Crush the grapes lightly and take the pan off the heat. Let it cool down a bit.

Preheat oven to 375F.

Place the Brie on an oven proofed pan or skillet. Drizzle honey and spread some of the grape chutney. Then, top it with half of the toasted walnut.

Bake for 20 minutes.

Serve immediately with crackers along with rest of the chutney and walnuts on the side.
Nutrition