These Ginger Cinnamon Molasses Cookies are packed with the warmth flavor of ginger with a hint of cinnamon. The molasses gives a depth of flavor and the gorgeous color to the cookies. I baked it 2 ways, chewy and crispy!
Ginger Cinnamon Molasses Cookies - 2 Ways
I don't think I have ever baked cookies as frequently as I am doing this year. Last weekend, I baked these Ginger Cinnamon Molasses Cookies with my little elf.
It was crunchy, crumbly and the ratio of ginger with cinnamon was just perfect. At first, I was a little worried if Avyan will approve of these cookies because he wants chocolate or frosting all the time.
Thankfully, he loved it, although he thought they had chocolate because of the color. You see, I made the dough on the previous day while he was in school. Clever mommy act, right?
What ingredient goes in the Ginger Cinnamon Molasses Cookies ?
Butter
Molasses (This is the brand I use)
Brown Sugar
All purpose Flour
Baking Soda
Cinnamon Powder
Ginger Powder
A little white sugar to roll the cookie dough before placing it for baking
You can bake the Ginger Cinnamon Molasses Cookies - 2 WAYS :
I like a snappy ginger cookies but my kid and my husband likes chewy cookies, so I ended up baking it 2 ways!
Make it chewy: To make it soft and chewy place the rolled dough balls in the cookie sheet. As it bakes, it will spread and bake to perfection.
Make it crispy: You place the cookie dough balls on the cookie sheet and pressed it flat. Then baked it tad bit longer for that perfect snap.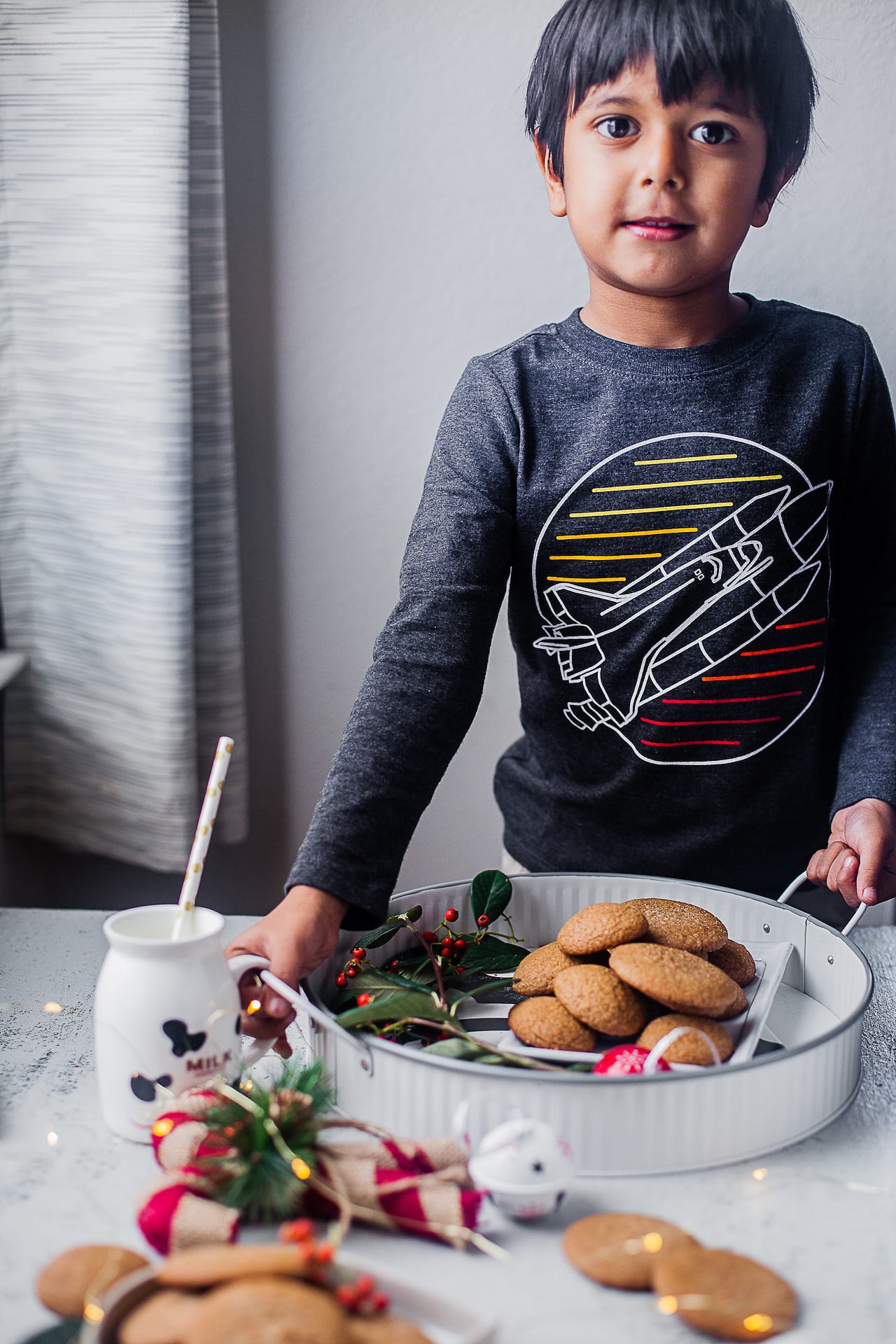 Prior to becoming a Mom of my handsome little fella, I didn't have a sweet tooth at all. And then, boom! From 6th months onward, I started feeling the sweet craving and now almost 5 years later, the love for sweets is still on.
Having said that, I still don't like anything too sugary. I stay far away from frosting and heavily loaded icing.
Those treats are typically baked only for my little helper.
These ginger cookies tastes amazing with milk, tea or even mulled wine!
We all know that cookies taste best with a tall glass of milk but these are surprisingly amazing even with a glass of mulled wine and even better with a cup of piping hot milk ginger tea.
So, if you haven't tried gingersnap cookies yet and you enjoy the flavor of ginger, you have got to bake these.
These cookies didn't last long and got over a lot before than I had imagined!
Ginger Cinnamon Molasses Cookies – 2 Ways
Ingredients
½

cup

unsalted butter

(softened at room temperature, not melted)

¾

cup

dark brown sugar

1

egg

¼

molasses/ honey

1½

cups

all-purpose flour

1

teaspoon

baking soda

1

teaspoon

ground cinnamon plus more to dust on the cookies before baking

1

tablespoon

ground ginger powder

¼

cup

white granulated sugar to dust the cookie dough before baking

pinch

of salt
Instructions
In mixing bowl, cream the butter and sugar until it looks smooth. If you are using an electric stand mixer, use the paddle attachment.

Drop the cracked egg and mix it again until it's fully incorporated.

Pour the molasses and mix again. Scrape from the sides as you mix the ingredients.

In a separate bowl, sift the flour, baking soda, ginger powder, cinnamon powder and salt. Whisk them mix it all together.

Add the dry ingredients, little by little, until it's all combined into a sticky thick dough.

Cover the mixing bowl with a clear wrap and place it in the fridge for at least an hour. You can keep it overnight or make the dough way in advance and freeze it.

When you are ready to prepare the cookies, preheat the oven to 350F. Place a parchment paper on a big cookie sheet. I baked these cookies in two batches in two different ways.

In a bowl, whisk the 1 tablespoon of cinnamon and the white granulated sugar.

Take 1 tablespoon of the dough and roll it into a ball. Then, drop it in the sugar-cinnamon mixture and gently roll again. Place it on the cookie sheet. Continue with the remaining cookie dough. Maintain about 1½ inch gap in between the dough balls.

For the soft chewy version – Place the cookie sheet in the preheated oven and bake for 13 minutes.

For the crispier version – Flatten the dough balls into a disc with the back of a glass or a bowl and then bake it for 16 minutes.

Once done, let the baked cookies stay in the hot cookie sheet for 5 minutes before transferring them to a cookie wire rack. Once cooled down completely, store it in an airtight jar!
Nutrition
Serving:
1
About 40 cookies
Here are more Christmas Cookie recipe ideas: